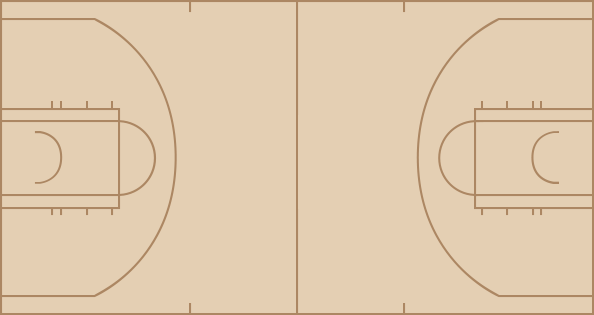 Bulls
time
TEAM
PLAY
SCORE
12:00
Start of the 1st Quarter
0 - 0
12:00
Jumpball: Kurt Thomas vs. David Lee (Carlos Boozer gains possession)
0 - 0
11:41
Keith Bogans makes 26-foot three point jumper (Derrick Rose assists)
3 - 0
11:22
Stephen Curry misses 19-foot jumper
3 - 0
11:22
Kurt Thomas defensive rebound
3 - 0
11:00
Derrick Rose misses 26-foot three point jumper
3 - 0
10:59
Andris Biedrins defensive rebound
3 - 0
10:49
David Lee makes 14-foot jumper (Monta Ellis assists)
3 - 2
10:36
Carlos Boozer misses jumper
3 - 2
10:33
Andris Biedrins defensive rebound
3 - 2
10:27
Monta Ellis makes driving layup (Stephen Curry assists)
3 - 4
10:14
Kurt Thomas makes 16-foot jumper (Luol Deng assists)
5 - 4
9:59
Kurt Thomas personal foul (Dorell Wright draws the foul)
5 - 4
9:52
Andris Biedrins makes 6-foot two point shot (Stephen Curry assists)
5 - 6
9:37
Derrick Rose bad pass (Monta Ellis steals)
5 - 6
9:29
Dorell Wright misses 22-foot three point jumper
5 - 6
9:27
Derrick Rose defensive rebound
5 - 6
9:10
Luol Deng makes driving layup (Carlos Boozer assists)
7 - 6
8:56
Monta Ellis makes 23-foot three point jumper (Andris Biedrins assists)
7 - 9
8:38
Kurt Thomas makes 16-foot jumper (Derrick Rose assists)
9 - 9
8:22
Monta Ellis misses 20-foot two point shot
9 - 9
8:21
Kurt Thomas defensive rebound
9 - 9
8:11
Carlos Boozer makes two point shot
11 - 9
8:02
Andris Biedrins makes slam dunk (Stephen Curry assists)
11 - 11
7:50
David Lee personal foul (Keith Bogans draws the foul)
11 - 11
7:46
Derrick Rose lost ball (Dorell Wright steals)
11 - 11
7:41
Dorell Wright makes two point shot (Monta Ellis assists)
11 - 13
7:24
Stephen Curry personal block (Luol Deng draws the foul)
11 - 13
7:16
Kurt Thomas makes 4-foot jumper (Keith Bogans assists)
13 - 13
7:01
Stephen Curry bad pass (Derrick Rose steals)
13 - 13
6:54
Keith Bogans misses layup
13 - 13
6:54
Derrick Rose offensive rebound
15 - 15
6:54
Derrick Rose misses tip shot
15 - 15
6:52
Luol Deng offensive rebound
13 - 13
6:48
Keith Bogans misses 20-foot jumper
13 - 13
6:48
David Lee defensive rebound
13 - 13
6:41
Stephen Curry makes 21-foot jumper (Monta Ellis assists)
13 - 15
6:22
Kurt Thomas misses 15-foot jumper
13 - 15
6:20
David Lee defensive rebound
13 - 15
6:09
David Lee misses 6-foot jumper
13 - 15
6:07
Kurt Thomas defensive rebound
13 - 15
6:01
Luol Deng makes 18-foot jumper (Kurt Thomas assists)
15 - 15
5:39
Monta Ellis makes two point shot (Andris Biedrins assists)
15 - 17
5:16
Derrick Rose makes driving layup (Kurt Thomas assists)
17 - 17
5:05
David Lee misses 21-foot jumper
17 - 17
5:03
Andris Biedrins offensive rebound
17 - 17
4:48
Monta Ellis misses 21-foot two point shot
17 - 17
4:47
Carlos Boozer defensive rebound
17 - 17
4:41
Derrick Rose makes 18-foot jumper
19 - 17
4:35
Golden State full timeout
19 - 17
4:35
Ronnie Brewer enters the game for Keith Bogans
19 - 17
4:24
David Lee misses two point shot
19 - 17
4:22
Luol Deng defensive rebound
19 - 17
4:05
Carlos Boozer makes slam dunk (Derrick Rose assists)
21 - 17
3:43
David Lee misses two point shot
21 - 17
3:42
Kurt Thomas defensive rebound
21 - 17
3:30
Derrick Rose makes 15-foot jumper
23 - 17
3:19
David Lee makes 17-foot jumper (Stephen Curry assists)
23 - 19
3:04
Derrick Rose offensive charge (David Lee draws the foul)
23 - 19
3:04
Derrick Rose turnover
23 - 19
3:04
Taj Gibson enters the game for Carlos Boozer
23 - 19
2:51
Dorell Wright misses 27-foot three pointer
23 - 19
2:50
Taj Gibson defensive rebound
23 - 19
2:33
Luol Deng traveling
23 - 19
2:33
Chicago full timeout
23 - 19
2:24
Monta Ellis misses 19-foot jumper
23 - 19
2:23
Golden State offensive team rebound
23 - 19
2:21
Omer Asik enters the game for Kurt Thomas
23 - 19
2:14
David Lee makes 19-foot jumper (Stephen Curry assists)
23 - 21
1:47
Luol Deng misses 21-foot jumper
23 - 21
1:47
Dorell Wright defensive rebound
23 - 21
1:32
Dorell Wright makes 19-foot jumper
23 - 23
1:10
Luol Deng misses three point jumper
23 - 23
1:08
Taj Gibson offensive rebound
23 - 23
0:55
Omer Asik makes layup (Luol Deng assists)
25 - 23
0:40
Andris Biedrins misses 6-foot two point shot
25 - 23
0:39
Taj Gibson defensive rebound
25 - 23
0:29
Derrick Rose misses 24-foot three point jumper
25 - 23
0:27
Andris Biedrins defensive rebound
25 - 23
0:03
Dorell Wright misses 18-foot jumper
25 - 23
0:02
Luol Deng defensive rebound
25 - 23
0:01
Luol Deng misses 69-foot three point jumper
25 - 23
0:00
Chicago offensive team rebound
25 - 23
0:00
End of the 1st Quarter
25 - 23

time
TEAM
PLAY
SCORE
12:00
Start of the 2nd Quarter
25 - 23
11:45
Stephen Curry misses 17-foot jumper
25 - 23
11:44
Andris Biedrins offensive rebound
25 - 23
11:34
Omer Asik shooting foul (David Lee draws the foul)
25 - 23
11:34
Ekpe Udoh enters the game for Andris Biedrins
25 - 23
11:34
David Lee misses free throw 1 of 2
25 - 23
11:34
Golden State offensive team rebound
25 - 23
11:34
David Lee makes free throw 2 of 2
25 - 24
11:21
Dorell Wright personal foul (Taj Gibson draws the foul)
25 - 24
11:21
Carlos Boozer enters the game for Omer Asik
25 - 24
11:21
Kyle Korver enters the game for Luol Deng
25 - 24
11:08
C.J. Watson misses 11-foot jumper
25 - 24
11:07
Taj Gibson offensive rebound
25 - 24
11:07
Taj Gibson makes 7-foot two point shot
27 - 24
10:48
Stephen Curry makes 18-foot two point shot (Ekpe Udoh assists)
27 - 26
10:26
Ronnie Brewer misses jumper
27 - 26
10:26
David Lee defensive rebound
27 - 26
10:18
Monta Ellis misses 5-foot jumper
27 - 26
10:17
Carlos Boozer defensive rebound
27 - 26
10:17
Ekpe Udoh loose ball foul (Carlos Boozer draws the foul)
27 - 26
10:00
Kyle Korver makes 25-foot three pointer (Carlos Boozer assists)
30 - 26
9:41
David Lee misses 19-foot jumper
30 - 26
9:41
C.J. Watson defensive rebound
30 - 26
9:34
Kyle Korver makes 25-foot three pointer (Ronnie Brewer assists)
33 - 26
9:22
Monta Ellis traveling
33 - 26
9:22
Reggie Williams enters the game for Monta Ellis
33 - 26
9:14
Ronnie Brewer step out of bounds turnover
33 - 26
9:14
Vladimir Radmanovic enters the game for David Lee
33 - 26
8:55
Ekpe Udoh misses 16-foot jumper
33 - 26
8:52
Kyle Korver defensive rebound
33 - 26
8:41
Ekpe Udoh blocks Ronnie Brewer's layup
33 - 26
8:40
Reggie Williams defensive rebound
33 - 26
8:33
Stephen Curry makes 23-foot three pointer (Reggie Williams assists)
33 - 29
8:15
Kyle Korver makes 21-foot two point shot (Taj Gibson assists)
35 - 29
8:07
Golden State full timeout
35 - 29
7:58
Stephen Curry misses 24-foot three pointer
35 - 29
7:58
Taj Gibson defensive rebound
35 - 29
7:43
Ekpe Udoh blocks Carlos Boozer's layup
35 - 29
7:43
Chicago offensive team rebound
35 - 29
7:39
Kyle Korver misses 23-foot three point jumper
35 - 29
7:37
Dorell Wright defensive rebound
35 - 29
7:31
Ekpe Udoh bad pass (Ronnie Brewer steals)
35 - 29
7:26
Ronnie Brewer misses slam dunk
35 - 29
7:26
Ekpe Udoh defensive rebound
35 - 29
7:20
Dorell Wright makes 4-foot two point shot
35 - 31
7:05
Reggie Williams personal foul (Taj Gibson draws the foul)
35 - 31
7:03
Carlos Boozer misses 4-foot jumper
35 - 31
7:01
Vladimir Radmanovic defensive rebound
35 - 31
7:01
Carlos Boozer technical foul (2nd technical foul)
35 - 31
7:01
Stephen Curry makes technical free throw
35 - 32
6:50
Ekpe Udoh makes dunk (Reggie Williams assists)
35 - 34
6:43
Chicago full timeout
35 - 34
6:35
C.J. Watson misses 28-foot three point jumper
35 - 34
6:35
Chicago defensive team rebound
35 - 34
6:24
Dorell Wright makes 26-foot three pointer (Reggie Williams assists)
35 - 37
6:11
Ekpe Udoh personal foul (Carlos Boozer draws the foul)
35 - 37
6:11
Derrick Rose enters the game for C.J. Watson
35 - 37
6:11
Luol Deng enters the game for Ronnie Brewer
35 - 37
6:01
Taj Gibson misses 15-foot two point shot
35 - 37
6:00
Reggie Williams defensive rebound
35 - 37
5:35
Stephen Curry misses 9-foot jumper
35 - 37
5:35
Carlos Boozer defensive rebound
35 - 37
5:16
Ekpe Udoh blocks Carlos Boozer's 3-foot jumper
35 - 37
5:16
Chicago offensive team rebound
35 - 37
5:16
Monta Ellis enters the game for Stephen Curry
35 - 37
5:11
Carlos Boozer makes 18-foot running jumper
37 - 37
4:54
Reggie Williams misses 11-foot jumper
37 - 37
4:52
Kyle Korver defensive rebound
37 - 37
4:37
Carlos Boozer misses 10-foot two point shot
37 - 37
4:37
Taj Gibson offensive rebound
37 - 37
4:35
Taj Gibson makes slam dunk
39 - 37
4:16
Dorell Wright makes 27-foot three pointer (Monta Ellis assists)
39 - 40
4:07
Chicago 20 Sec. timeout
39 - 40
3:59
Carlos Boozer makes two point shot (Derrick Rose assists)
41 - 40
3:38
Luol Deng shooting foul (Dorell Wright draws the foul)
41 - 40
3:38
Dorell Wright misses free throw 1 of 2
41 - 40
3:38
Golden State offensive team rebound
41 - 40
3:38
Andris Biedrins enters the game for Ekpe Udoh
41 - 40
3:38
Dorell Wright makes free throw 2 of 2
41 - 41
3:20
Taj Gibson makes two point shot (Carlos Boozer assists)
43 - 41
3:15
Monta Ellis makes two point shot
43 - 43
2:54
Derrick Rose bad pass (Vladimir Radmanovic steals)
43 - 43
2:45
Dorell Wright misses 27-foot three point jumper
43 - 43
2:43
Carlos Boozer defensive rebound
43 - 43
2:26
Luol Deng makes 27-foot three pointer (Taj Gibson assists)
46 - 43
2:15
Derrick Rose shooting foul (Monta Ellis draws the foul)
46 - 43
2:15
Official timeout
46 - 43
2:15
David Lee enters the game for Vladimir Radmanovic
46 - 43
2:15
Monta Ellis makes free throw 1 of 2
46 - 44
2:15
Monta Ellis makes free throw 2 of 2
46 - 45
2:06
Derrick Rose lost ball (Monta Ellis steals)
46 - 45
1:58
Taj Gibson shooting foul (David Lee draws the foul)
46 - 45
1:58
David Lee misses free throw 1 of 2
46 - 45
1:58
Golden State offensive team rebound
46 - 45
1:58
David Lee makes free throw 2 of 2
46 - 46
1:34
Andris Biedrins shooting foul (Taj Gibson draws the foul)
46 - 46
1:34
Taj Gibson misses free throw 1 of 2
46 - 46
1:34
Chicago offensive team rebound
46 - 46
1:34
Stephen Curry enters the game for Reggie Williams
46 - 46
1:34
Taj Gibson makes free throw 2 of 2
47 - 46
1:21
Dorell Wright misses 9-foot jumper
47 - 46
1:19
David Lee offensive rebound
47 - 46
1:19
David Lee misses jumper
47 - 46
1:15
Taj Gibson defensive rebound
47 - 46
1:13
Derrick Rose lost ball (Stephen Curry steals)
47 - 46
1:07
Luol Deng blocks Stephen Curry's layup
47 - 46
1:07
Kyle Korver defensive rebound
47 - 46
0:58
Derrick Rose lost ball (Monta Ellis steals)
47 - 46
0:56
Monta Ellis makes slam dunk (Dorell Wright assists)
47 - 48
0:37
David Lee blocks Luol Deng's 4-foot jumper
47 - 48
0:35
Taj Gibson offensive rebound
47 - 48
0:24
Luol Deng misses three point jumper
47 - 48
0:23
Carlos Boozer offensive rebound
47 - 48
0:13
Kyle Korver misses 26-foot three point jumper
47 - 48
0:10
Monta Ellis defensive rebound
47 - 48
0:02
Monta Ellis misses 9-foot jumper
47 - 48
0:00
Golden State offensive team rebound
47 - 48
0:00
End of the 2nd Quarter
47 - 48

time
TEAM
PLAY
SCORE
12:00
Start of the 3rd Quarter
47 - 48
11:45
Dorell Wright bad pass (Luol Deng steals)
47 - 48
11:23
Carlos Boozer offensive foul (Andris Biedrins draws the foul)
47 - 48
11:23
Carlos Boozer turnover
47 - 48
11:11
David Lee misses 21-foot jumper
47 - 48
11:10
Golden State defensive team rebound
47 - 48
10:45
Luol Deng makes 21-foot jumper (Derrick Rose assists)
49 - 48
10:22
Monta Ellis post lost ball turnover
49 - 48
10:02
Keith Bogans makes 24-foot three point jumper (Carlos Boozer assists)
52 - 48
9:40
David Lee offensive foul (Kurt Thomas draws the foul)
52 - 48
9:40
David Lee turnover
52 - 48
9:30
Kurt Thomas bad pass
52 - 48
9:19
Monta Ellis misses 26-foot three point jumper
52 - 48
9:18
Kurt Thomas defensive rebound
52 - 48
9:11
David Lee flagrant foul type 1 (Carlos Boozer draws the foul)
52 - 48
9:11
Carlos Boozer misses flagrant free throw 1 of 2
52 - 48
9:11
Chicago offensive team rebound
52 - 48
9:11
Carlos Boozer misses flagrant free throw 2 of 2
52 - 48
9:11
Chicago offensive team rebound
52 - 48
9:11
Golden State 20 Sec. timeout
52 - 48
9:02
Luol Deng makes 24-foot three point jumper (Keith Bogans assists)
55 - 48
8:48
David Lee misses driving layup
55 - 48
8:48
Kurt Thomas defensive rebound
55 - 48
8:41
Derrick Rose misses 25-foot three point jumper
55 - 48
8:40
Dorell Wright defensive rebound
55 - 48
8:29
David Lee makes 19-foot jumper (Stephen Curry assists)
55 - 50
8:11
Carlos Boozer makes 4-foot jumper (Kurt Thomas assists)
57 - 50
7:56
Dorell Wright misses 24-foot three point jumper
57 - 50
7:54
Carlos Boozer defensive rebound
57 - 50
7:45
Derrick Rose makes two point shot
59 - 50
7:26
Monta Ellis misses 21-foot jumper
59 - 50
7:24
Carlos Boozer defensive rebound
59 - 50
7:15
Carlos Boozer makes jumper (Kurt Thomas assists)
61 - 50
6:54
Carlos Boozer shooting foul (David Lee draws the foul)
61 - 50
6:54
David Lee misses free throw 1 of 2
61 - 50
6:54
Golden State offensive team rebound
61 - 50
6:54
David Lee makes free throw 2 of 2
61 - 51
6:37
Carlos Boozer makes dunk (Derrick Rose assists)
63 - 51
6:20
Monta Ellis makes 1-foot two point shot (Andris Biedrins assists)
63 - 53
6:00
Carlos Boozer makes 15-foot jumper (Derrick Rose assists)
65 - 53
5:45
Dorell Wright makes 26-foot three point jumper (David Lee assists)
65 - 56
5:24
Keith Bogans misses 25-foot three point jumper
65 - 56
5:24
Monta Ellis defensive rebound
65 - 56
5:18
David Lee makes two point shot (Monta Ellis assists)
65 - 58
5:00
Carlos Boozer misses 11-foot jumper
65 - 58
5:00
Chicago defensive team rebound
65 - 58
5:00
Golden State full timeout
65 - 58
5:00
Vladimir Radmanovic enters the game for Andris Biedrins
65 - 58
4:45
Stephen Curry makes 25-foot three point jumper (David Lee assists)
65 - 61
4:18
Kurt Thomas makes 11-foot jumper (Carlos Boozer assists)
67 - 61
4:05
Stephen Curry makes 6-foot two point shot
67 - 63
3:40
Carlos Boozer lost ball (Dorell Wright steals)
67 - 63
3:34
Dorell Wright makes slam dunk (Stephen Curry assists)
67 - 65
3:09
Derrick Rose makes driving layup
69 - 65
2:50
Carlos Boozer shooting foul (Monta Ellis draws the foul)
69 - 65
2:50
Chicago full timeout
69 - 65
2:50
Ronnie Brewer enters the game for Kurt Thomas
69 - 65
2:50
Taj Gibson enters the game for Keith Bogans
69 - 65
2:50
Monta Ellis makes free throw 1 of 2
69 - 66
2:50
Monta Ellis makes free throw 2 of 2
69 - 67
2:34
David Lee personal foul (Carlos Boozer draws the foul)
69 - 67
2:34
Ekpe Udoh enters the game for David Lee
69 - 67
2:25
Carlos Boozer misses 5-foot jumper
69 - 67
2:24
Stephen Curry defensive rebound
69 - 67
2:00
Dorell Wright misses 28-foot three point jumper
69 - 67
1:59
Golden State offensive team rebound
69 - 67
1:52
Vladimir Radmanovic misses 26-foot three point jumper
69 - 67
1:51
Luol Deng defensive rebound
69 - 67
1:36
Derrick Rose traveling
69 - 67
1:23
Stephen Curry lost ball (Luol Deng steals)
69 - 67
1:14
Ekpe Udoh shooting foul (Taj Gibson draws the foul)
69 - 67
1:14
Taj Gibson makes free throw 1 of 2
70 - 67
1:14
Taj Gibson misses free throw 2 of 2
70 - 67
1:12
Dorell Wright defensive rebound
70 - 67
0:58
Ekpe Udoh makes 6-foot two point shot
70 - 69
0:43
Derrick Rose bad pass (Monta Ellis steals)
70 - 69
0:40
Stephen Curry makes slam dunk
70 - 71
0:21
Derrick Rose makes 18-foot two point shot
72 - 71
0:04
Derrick Rose personal foul (Stephen Curry draws the foul)
72 - 71
0:04
Reggie Williams enters the game for Ekpe Udoh
72 - 71
0:04
C.J. Watson enters the game for Carlos Boozer
72 - 71
0:03
Monta Ellis makes two point shot (Dorell Wright assists)
72 - 73
0:00
Derrick Rose misses 33-foot three point jumper
72 - 73
0:00
Chicago offensive team rebound
72 - 73
0:00
End of the 3rd Quarter
72 - 73

time
TEAM
PLAY
SCORE
12:00
Start of the 4th Quarter
72 - 73
11:34
C.J. Watson misses 19-foot jumper
72 - 73
11:33
Vladimir Radmanovic defensive rebound
72 - 73
11:18
Kyle Korver shooting foul (Monta Ellis draws the foul)
72 - 73
11:18
Monta Ellis makes free throw 1 of 2
72 - 74
11:18
Monta Ellis makes free throw 2 of 2
72 - 75
10:53
Carlos Boozer makes 18-foot two point shot (Ronnie Brewer assists)
74 - 75
10:30
Monta Ellis makes 18-foot two point shot
74 - 77
10:11
Carlos Boozer post lost ball turnover
74 - 77
10:11
Derrick Rose enters the game for Ronnie Brewer
74 - 77
9:57
Vladimir Radmanovic misses 8-foot two point shot
74 - 77
9:56
Carlos Boozer defensive rebound
74 - 77
9:52
C.J. Watson misses 16-foot jumper
74 - 77
9:49
Vladimir Radmanovic defensive rebound
74 - 77
9:34
Monta Ellis makes two point shot
74 - 79
9:11
C.J. Watson misses 12-foot two point shot
74 - 79
9:10
Stephen Curry defensive rebound
74 - 79
9:02
Monta Ellis misses 25-foot three pointer
74 - 79
9:00
Carlos Boozer defensive rebound
74 - 79
8:37
shot clock turnover
74 - 79
8:37
Official timeout
74 - 79
8:37
Andris Biedrins enters the game for Ekpe Udoh
74 - 79
8:37
Luol Deng enters the game for Taj Gibson
74 - 79
8:27
C.J. Watson shooting foul (Monta Ellis draws the foul)
74 - 79
8:27
Monta Ellis makes free throw 1 of 2
74 - 80
8:27
Monta Ellis makes free throw 2 of 2
74 - 81
8:15
Luol Deng misses 26-foot three point jumper
74 - 81
8:12
Andris Biedrins defensive rebound
74 - 81
8:00
Monta Ellis misses 18-foot two point shot
74 - 81
8:00
Derrick Rose defensive rebound
74 - 81
7:48
Derrick Rose misses driving layup
74 - 81
7:48
Andris Biedrins defensive rebound
74 - 81
7:31
Stephen Curry makes 7-foot two point shot
74 - 83
7:22
Chicago full timeout
74 - 83
7:22
Ronnie Brewer enters the game for C.J. Watson
74 - 83
7:07
Kyle Korver misses 26-foot three point jumper
74 - 83
7:07
Andris Biedrins defensive rebound
74 - 83
7:01
Stephen Curry makes 17-foot two point shot
74 - 85
6:45
Derrick Rose misses 17-foot two point shot
74 - 85
6:43
Dorell Wright defensive rebound
74 - 85
6:20
Andris Biedrins makes two point shot (Vladimir Radmanovic assists)
74 - 87
6:05
Carlos Boozer traveling
74 - 87
5:48
Stephen Curry makes 19-foot two point shot
74 - 89
5:39
Chicago full timeout
74 - 89
5:31
Luol Deng misses three pointer
74 - 89
5:30
Dorell Wright defensive rebound
74 - 89
5:09
Dorell Wright misses 26-foot three pointer
74 - 89
5:07
Golden State defensive team rebound
74 - 89
4:54
Andris Biedrins shooting foul (Luol Deng draws the foul)
74 - 89
4:54
Luol Deng makes free throw 1 of 2
75 - 89
4:54
Luol Deng misses free throw 2 of 2
75 - 89
4:52
Kyle Korver offensive rebound
75 - 89
4:48
Ronnie Brewer makes 2-foot two point shot (Derrick Rose assists)
77 - 89
4:48
Vladimir Radmanovic shooting foul (Ronnie Brewer draws the foul)
77 - 89
4:48
Ronnie Brewer misses free throw 1 of 1
77 - 89
4:46
Stephen Curry defensive rebound
77 - 89
4:26
Monta Ellis misses 29-foot three pointer
77 - 89
4:24
Stephen Curry offensive rebound
77 - 89
4:01
Ronnie Brewer blocks Monta Ellis's 12-foot jumper
77 - 89
4:00
Golden State offensive team rebound
77 - 89
4:00
shot clock turnover
77 - 89
3:55
Vladimir Radmanovic shooting foul (Derrick Rose draws the foul)
77 - 89
3:55
David Lee enters the game for Vladimir Radmanovic
77 - 89
3:55
Derrick Rose makes free throw 1 of 2
78 - 89
3:55
Derrick Rose makes free throw 2 of 2
79 - 89
3:41
Golden State full timeout
79 - 89
3:41
Reggie Williams enters the game for Andris Biedrins
79 - 89
3:34
Ronnie Brewer shooting foul (Stephen Curry draws the foul)
79 - 89
3:34
Stephen Curry makes free throw 1 of 2
79 - 90
3:34
Stephen Curry makes free throw 2 of 2
79 - 91
3:26
Kyle Korver misses 26-foot three point jumper
79 - 91
3:24
Stephen Curry defensive rebound
79 - 91
3:17
Dorell Wright makes driving layup (Stephen Curry assists)
79 - 93
3:08
Dorell Wright shooting foul (Carlos Boozer draws the foul)
79 - 93
3:08
Carlos Boozer makes free throw 1 of 2
80 - 93
3:08
Carlos Boozer misses free throw 2 of 2
80 - 93
3:04
Reggie Williams defensive rebound
80 - 93
3:04
Kyle Korver personal foul (Reggie Williams draws the foul)
80 - 93
2:46
David Lee misses 4-foot two point shot
80 - 93
2:45
Carlos Boozer defensive rebound
80 - 93
2:35
Luol Deng misses 4-foot jumper
80 - 93
2:34
Luol Deng offensive rebound
80 - 93
2:33
Luol Deng makes two point shot
82 - 93
2:20
Luol Deng shooting foul (Reggie Williams draws the foul)
82 - 93
2:20
Reggie Williams makes free throw 1 of 2
82 - 94
2:20
Reggie Williams makes free throw 2 of 2
82 - 95
2:15
Dorell Wright kicked ball
82 - 95
2:04
Carlos Boozer makes driving layup (Kyle Korver assists)
84 - 95
1:58
Monta Ellis makes 2-foot two point shot (Reggie Williams assists)
84 - 97
1:49
Derrick Rose misses 28-foot three pointer
84 - 97
1:47
Stephen Curry defensive rebound
84 - 97
1:27
Stephen Curry misses 28-foot three point jumper
84 - 97
1:24
Ronnie Brewer defensive rebound
84 - 97
1:19
Luol Deng makes 28-foot three pointer (Derrick Rose assists)
87 - 97
0:54
David Lee misses 15-foot jumper
87 - 97
0:52
Reggie Williams offensive rebound
87 - 97
0:52
Reggie Williams misses tip shot
87 - 97
0:51
Luol Deng defensive rebound
87 - 97
0:47
Kyle Korver makes 28-foot three pointer (Derrick Rose assists)
90 - 97
0:24
Monta Ellis makes 19-foot two point shot
90 - 99
0:24
Chicago full timeout
90 - 99
0:19
Kyle Korver misses 23-foot three point jumper
90 - 99
0:16
Chicago defensive team rebound
90 - 99
0:16
Ronnie Brewer personal foul (Monta Ellis draws the foul)
90 - 99
0:16
Monta Ellis makes free throw 1 of 2
90 - 100
0:16
Monta Ellis makes free throw 2 of 2
90 - 101
0:06
Derrick Rose misses 21-foot two point shot
90 - 101
0:05
Monta Ellis defensive rebound
90 - 101
0:00
End of the 4th Quarter
90 - 101
0:00
End Game
90 - 101
The game was close… and then in a blink of an eye it wasn't. Here are all of the Pacers' field goals from their 32-5 game that made the game a laugher late in their 101-83 win against the Raptors.

Luke Walton is headed back to the Lakers -- this time as a head coach. The sides have agreed to a deal, with GM Mitch Kupchak saying "we feel he's going to start an outstanding" career here.

Heats center Hassan Whiteside blocks four Hornets' shots in the first half.
2015-2016 Central Standings
2015-2016 Pacific Standings