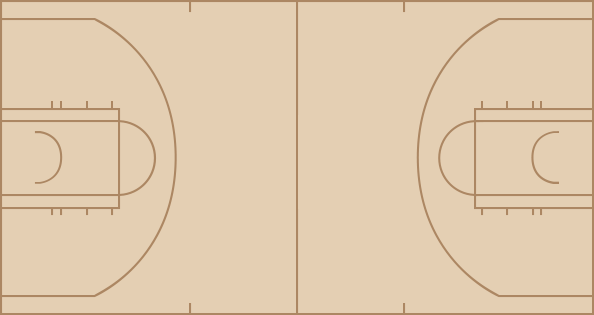 Cavaliers
time
TEAM
PLAY
SCORE
12:00
Start of the 1st Quarter
0 - 0
12:00
Jumpball: Anderson Varejao vs. Byron Mullens (D.J. Augustin gains possession)
0 - 0
11:33
Gerald Henderson makes 19-foot jumper (Byron Mullens assists)
0 - 2
11:07
Tyrus Thomas blocks Anderson Varejao's driving layup
0 - 2
11:04
Byron Mullens defensive rebound
0 - 2
10:56
Tyrus Thomas misses 16-foot jumper
0 - 2
10:53
Anderson Varejao defensive rebound
0 - 2
10:45
Anthony Parker misses 15-foot two point shot
0 - 2
10:45
Gerald Henderson defensive rebound
0 - 2
10:41
Gerald Henderson bad pass (Kyrie Irving steals)
0 - 2
10:37
Tyrus Thomas shooting foul (Omri Casspi draws the foul)
0 - 2
10:37
Omri Casspi makes free throw 1 of 2
1 - 2
10:37
Omri Casspi makes free throw 2 of 2
2 - 2
10:19
Byron Mullens misses 19-foot jumper
2 - 2
10:18
Omri Casspi defensive rebound
2 - 2
10:11
Anderson Varejao makes 1-foot two point shot (Omri Casspi assists)
4 - 2
9:59
Kemba Walker makes layup (D.J. Augustin assists)
4 - 4
9:49
Kyrie Irving misses 16-foot jumper
4 - 4
9:48
Byron Mullens defensive rebound
4 - 4
9:26
Kemba Walker misses layup
4 - 4
9:26
Charlotte defensive team rebound
4 - 4
9:17
Antawn Jamison makes 26-foot three point jumper (Kyrie Irving assists)
7 - 4
8:49
shot clock turnover
7 - 4
8:40
Antawn Jamison makes layup (Kyrie Irving assists)
9 - 4
8:17
D.J. Augustin misses 26-foot three point jumper
9 - 4
8:15
Byron Mullens offensive rebound
9 - 4
8:04
D.J. Augustin makes driving layup
9 - 6
8:02
Anderson Varejao bad pass (Kemba Walker steals)
9 - 6
7:58
D.J. Augustin makes layup (Kemba Walker assists)
9 - 8
7:45
Tyrus Thomas blocks Anderson Varejao's layup
9 - 8
7:43
Anderson Varejao offensive rebound
9 - 8
7:41
Anderson Varejao misses layup
9 - 8
7:39
Byron Mullens defensive rebound
9 - 8
7:31
Kemba Walker misses 19-foot jumper
9 - 8
7:28
Tyrus Thomas offensive rebound
9 - 8
7:16
Omri Casspi shooting foul (Gerald Henderson draws the foul)
9 - 8
7:16
Gerald Henderson makes free throw 1 of 2
9 - 9
7:16
Gerald Henderson misses free throw 2 of 2
9 - 9
7:16
Omri Casspi defensive rebound
9 - 9
7:03
Kyrie Irving makes 1-foot two point shot
11 - 9
7:03
D.J. Augustin shooting foul (Kyrie Irving draws the foul)
11 - 9
7:03
Kyrie Irving makes free throw 1 of 1
12 - 9
6:48
Gerald Henderson traveling
12 - 9
6:35
Kyrie Irving makes driving layup
14 - 9
6:31
Charlotte full timeout
14 - 9
6:18
Tyrus Thomas misses 10-foot jumper
14 - 9
6:16
Charlotte offensive team rebound
14 - 9
6:05
Byron Mullens misses 6-foot jumper
14 - 9
6:03
Antawn Jamison defensive rebound
14 - 9
5:56
Kemba Walker kicked ball
14 - 9
5:56
D.J. White enters the game for Tyrus Thomas
14 - 9
5:47
Kyrie Irving makes 16-foot jumper (Antawn Jamison assists)
16 - 9
5:24
D.J. White makes 16-foot jumper
16 - 11
5:05
Antawn Jamison misses 24-foot three point jumper
16 - 11
5:05
Kemba Walker defensive rebound
16 - 11
5:01
Kemba Walker lost ball (Omri Casspi steals)
16 - 11
4:50
Anderson Varejao makes 11-foot two point shot (Anthony Parker assists)
18 - 11
4:37
Gerald Henderson makes 19-foot jumper (D.J. Augustin assists)
18 - 13
4:22
Kyrie Irving bad pass (Byron Mullens steals)
18 - 13
4:11
D.J. Augustin makes driving layup
18 - 15
4:11
Anderson Varejao defensive goaltending
18 - 15
3:47
Antawn Jamison makes driving layup (Anderson Varejao assists)
20 - 15
3:25
Kemba Walker misses 19-foot jumper
20 - 15
3:24
Omri Casspi defensive rebound
20 - 15
3:14
Anderson Varejao makes 1-foot two point shot (Antawn Jamison assists)
22 - 15
2:49
D.J. White makes 1-foot two point shot (D.J. Augustin assists)
22 - 17
2:40
Antawn Jamison makes running jumper (Kyrie Irving assists)
24 - 17
2:40
D.J. White shooting foul (Antawn Jamison draws the foul)
24 - 17
2:40
Cleveland full timeout
24 - 17
2:40
Ramon Sessions enters the game for Anderson Varejao
24 - 17
2:40
Daniel Gibson enters the game for Anthony Parker
24 - 17
2:40
Semih Erden enters the game for Kyrie Irving
24 - 17
2:40
Boris Diaw enters the game for Byron Mullens
24 - 17
2:40
Cory Higgins enters the game for Kemba Walker
24 - 17
2:40
Antawn Jamison misses free throw 1 of 1
24 - 17
2:38
Boris Diaw defensive rebound
24 - 17
2:21
Tristan Thompson enters the game for Omri Casspi
24 - 17
2:21
Alonzo Gee enters the game for Antawn Jamison
24 - 17
2:15
Semih Erden blocks Gerald Henderson's two point shot
24 - 17
2:15
Semih Erden defensive rebound
24 - 17
1:57
Ramon Sessions misses jumper
24 - 17
1:55
Semih Erden offensive rebound
26 - 17
1:55
Semih Erden makes tip shot
26 - 17
1:44
Cory Higgins misses 23-foot three point jumper
26 - 17
1:43
Semih Erden defensive rebound
26 - 17
1:29
Tristan Thompson misses 6-foot two point shot
26 - 17
1:24
Boris Diaw defensive rebound
26 - 17
1:17
D.J. White makes 9-foot jumper
26 - 19
1:07
Cory Higgins shooting foul (Ramon Sessions draws the foul)
26 - 19
1:07
Ramon Sessions makes free throw 1 of 2
27 - 19
1:07
Derrick Brown enters the game for Gerald Henderson
27 - 19
1:07
Ramon Sessions makes free throw 2 of 2
28 - 19
0:45
Boris Diaw makes 14-foot two point shot
28 - 21
0:37
Derrick Brown blocks Semih Erden's layup
28 - 21
0:37
Cleveland offensive team rebound
28 - 21
0:34
Daniel Gibson misses 26-foot three point jumper
28 - 21
0:32
Cleveland defensive team rebound
28 - 21
0:29
Daniel Gibson personal foul (Boris Diaw draws the foul)
28 - 21
0:13
Boris Diaw makes 1-foot two point shot (D.J. Augustin assists)
28 - 23
0:01
Semih Erden makes layup (Ramon Sessions assists)
30 - 23
0:00
End of the 1st Quarter
30 - 23

time
TEAM
PLAY
SCORE
12:00
Start of the 2nd Quarter
30 - 23
11:45
Alonzo Gee traveling
30 - 23
11:30
Cory Higgins misses driving layup
30 - 23
11:30
Charlotte defensive team rebound
30 - 23
11:21
Daniel Gibson bad pass (Kemba Walker steals)
30 - 23
11:21
Ramon Sessions personal foul (Kemba Walker draws the foul)
30 - 23
11:07
Derrick Brown makes dunk (Boris Diaw assists)
30 - 25
10:48
Semih Erden misses dunk
30 - 25
10:45
Derrick Brown defensive rebound
30 - 25
10:37
Kemba Walker misses 8-foot two point shot
30 - 25
10:36
Tristan Thompson defensive rebound
30 - 25
10:32
Derrick Brown personal foul (Daniel Gibson draws the foul)
30 - 25
10:22
Ramon Sessions makes 19-foot jumper (Alonzo Gee assists)
32 - 25
10:00
Derrick Brown makes layup (Boris Diaw assists)
32 - 27
9:47
Cory Higgins blocks Tristan Thompson's 4-foot jumper
32 - 27
9:42
Cleveland defensive team rebound
32 - 27
9:27
Kemba Walker misses 26-foot three point jumper
32 - 27
9:26
Semih Erden defensive rebound
32 - 27
9:12
Daniel Gibson misses 23-foot three point jumper
32 - 27
9:12
Cleveland offensive team rebound
32 - 27
9:12
Boris Diaw loose ball foul (Semih Erden draws the foul)
32 - 27
9:12
Byron Mullens enters the game for Boris Diaw
32 - 27
9:08
Byron Mullens shooting foul (Semih Erden draws the foul)
32 - 27
9:08
Semih Erden misses free throw 1 of 2
32 - 27
9:08
Cleveland offensive team rebound
32 - 27
9:08
Semih Erden makes free throw 2 of 2
33 - 27
8:56
Daniel Gibson personal foul (Derrick Brown draws the foul)
33 - 27
8:56
Official timeout
33 - 27
8:48
Cory Higgins makes 17-foot jumper (D.J. White assists)
33 - 29
8:18
Alonzo Gee makes 22-foot jumper (Ramon Sessions assists)
35 - 29
8:04
Byron Mullens makes jumper (Kemba Walker assists)
35 - 31
7:54
Alonzo Gee lost ball (Derrick Brown steals)
35 - 31
7:46
D.J. White makes 17-foot jumper (Kemba Walker assists)
35 - 33
7:22
Derrick Brown personal foul (Tristan Thompson draws the foul)
35 - 33
7:22
Antawn Jamison enters the game for Semih Erden
35 - 33
7:22
Tyrus Thomas enters the game for D.J. White
35 - 33
7:13
Antawn Jamison misses 17-foot jumper
35 - 33
7:11
Kemba Walker defensive rebound
35 - 33
7:00
Byron Mullens makes layup (Kemba Walker assists)
35 - 35
6:43
Kemba Walker blocks Ramon Sessions's 3-foot jumper
35 - 35
6:41
Kemba Walker defensive rebound
35 - 35
6:35
Kemba Walker misses 6-foot jumper
35 - 35
6:33
Alonzo Gee defensive rebound
35 - 35
6:31
Cory Higgins shooting foul (Alonzo Gee draws the foul)
35 - 35
6:31
Alonzo Gee misses free throw 1 of 2
35 - 35
6:31
Cleveland offensive team rebound
35 - 35
6:31
Kyrie Irving enters the game for Daniel Gibson
35 - 35
6:31
Gerald Henderson enters the game for Cory Higgins
35 - 35
6:31
D.J. Augustin enters the game for Kemba Walker
35 - 35
6:31
Alonzo Gee makes free throw 2 of 2
36 - 35
6:15
Byron Mullens lost ball (Antawn Jamison steals)
36 - 35
6:09
Tristan Thompson makes layup (Ramon Sessions assists)
38 - 35
6:09
Tyrus Thomas shooting foul (Tristan Thompson draws the foul)
38 - 35
6:09
Tristan Thompson misses free throw 1 of 1
38 - 35
6:07
Byron Mullens defensive rebound
38 - 35
5:58
Tristan Thompson illegal defense foul
38 - 35
5:58
Charlotte full timeout
38 - 35
5:58
Anderson Varejao enters the game for Tristan Thompson
38 - 35
5:58
D.J. Augustin makes technical free throw
38 - 36
5:45
Gerald Henderson misses 18-foot jumper
38 - 36
5:43
Anderson Varejao defensive rebound
38 - 36
5:39
Antawn Jamison traveling
38 - 36
5:18
Derrick Brown makes layup (D.J. Augustin assists)
38 - 38
4:54
Antawn Jamison misses 20-foot jumper
38 - 38
4:54
Byron Mullens defensive rebound
38 - 38
4:37
D.J. Augustin makes 25-foot three point jumper (Gerald Henderson assists)
38 - 41
4:18
Ramon Sessions misses 18-foot jumper
38 - 41
4:16
D.J. Augustin defensive rebound
38 - 41
4:07
Gerald Henderson makes driving layup
38 - 43
4:07
Ramon Sessions shooting foul (Gerald Henderson draws the foul)
38 - 43
4:07
Omri Casspi enters the game for Ramon Sessions
38 - 43
4:07
Gerald Henderson misses free throw 1 of 1
38 - 43
4:05
Anderson Varejao defensive rebound
38 - 43
3:46
Kyrie Irving misses jumper
38 - 43
3:45
Antawn Jamison offensive rebound
38 - 43
3:45
Antawn Jamison misses layup
38 - 43
3:45
Cleveland offensive team rebound
38 - 43
3:36
Antawn Jamison lost ball (D.J. Augustin steals)
38 - 43
3:14
Tyrus Thomas misses 19-foot jumper
38 - 43
3:13
Derrick Brown offensive rebound
38 - 43
3:08
D.J. Augustin makes 26-foot three point jumper (Derrick Brown assists)
38 - 46
3:04
Tyrus Thomas personal foul (Kyrie Irving draws the foul)
38 - 46
3:04
Kyrie Irving makes free throw 1 of 2
39 - 46
3:04
D.J. White enters the game for Tyrus Thomas
39 - 46
3:04
Kyrie Irving makes free throw 2 of 2
40 - 46
2:48
D.J. Augustin makes driving layup
40 - 48
2:36
Anderson Varejao misses layup
40 - 48
2:36
Cleveland defensive team rebound
40 - 48
2:36
Anderson Varejao loose ball foul (D.J. White draws the foul)
40 - 48
2:36
Cleveland full timeout
40 - 48
2:27
Kyrie Irving shooting foul (Byron Mullens draws the foul)
40 - 48
2:27
Byron Mullens makes free throw 1 of 2
40 - 49
2:27
Byron Mullens misses free throw 2 of 2
40 - 49
2:25
Derrick Brown offensive rebound
40 - 49
2:19
Kyrie Irving shooting foul (D.J. Augustin draws the foul)
40 - 49
2:19
D.J. Augustin makes free throw 1 of 2
40 - 50
2:19
D.J. Augustin makes free throw 2 of 2
40 - 51
2:09
Kyrie Irving bad pass (D.J. Augustin steals)
40 - 51
2:03
D.J. Augustin bad pass (Antawn Jamison steals)
40 - 51
1:59
Kyrie Irving makes driving layup
42 - 51
1:44
D.J. Augustin bad pass (Alonzo Gee steals)
42 - 51
1:38
Alonzo Gee misses 23-foot three point jumper
42 - 51
1:35
D.J. Augustin defensive rebound
42 - 51
1:30
Derrick Brown makes driving dunk (D.J. Augustin assists)
42 - 53
1:16
Omri Casspi misses layup
42 - 53
1:15
Omri Casspi offensive rebound
44 - 53
1:15
Omri Casspi makes layup
44 - 53
0:56
D.J. Augustin misses 25-foot three point jumper
44 - 53
0:54
Anderson Varejao defensive rebound
44 - 53
0:39
Kyrie Irving makes driving layup
46 - 53
0:30
D.J. Augustin makes driving layup
46 - 55
0:12
Antawn Jamison misses 25-foot three point jumper
46 - 55
0:11
Gerald Henderson defensive rebound
46 - 55
0:03
Gerald Henderson makes driving layup
46 - 57
0:00
End of the 2nd Quarter
46 - 57

time
TEAM
PLAY
SCORE
12:00
Start of the 3rd Quarter
46 - 57
11:41
Tyrus Thomas blocks Anderson Varejao's 8-foot jumper
46 - 57
11:41
Cleveland offensive team rebound
46 - 57
11:37
Daniel Gibson misses 19-foot jumper
46 - 57
11:34
Kyrie Irving offensive rebound
46 - 57
11:29
Antawn Jamison makes 25-foot three point jumper (Kyrie Irving assists)
49 - 57
11:11
Gerald Henderson makes 19-foot jumper (D.J. Augustin assists)
49 - 59
10:56
Omri Casspi misses layup
49 - 59
10:55
D.J. Augustin defensive rebound
49 - 59
10:52
Daniel Gibson shooting foul (Tyrus Thomas draws the foul)
49 - 59
10:52
Tyrus Thomas misses free throw 1 of 2
49 - 59
10:52
Charlotte offensive team rebound
49 - 59
10:52
Tyrus Thomas makes free throw 2 of 2
49 - 60
10:36
Anderson Varejao makes two point shot (Antawn Jamison assists)
51 - 60
10:11
Kyrie Irving blocks Kemba Walker's 18-foot jumper
51 - 60
10:08
Omri Casspi defensive rebound
51 - 60
9:56
Omri Casspi misses 27-foot three point jumper
51 - 60
9:53
Kemba Walker defensive rebound
51 - 60
9:40
Byron Mullens makes 26-foot three point jumper (D.J. Augustin assists)
51 - 63
9:27
Kyrie Irving post lost ball turnover (Kemba Walker steals)
54 - 65
9:22
Kemba Walker makes layup (Tyrus Thomas assists)
51 - 65
9:02
Daniel Gibson bad pass (Tyrus Thomas steals)
51 - 65
8:52
Byron Mullens misses 27-foot three point jumper
51 - 65
8:52
Antawn Jamison defensive rebound
51 - 65
8:45
Kyrie Irving makes 1-foot two point shot
53 - 65
8:45
Byron Mullens shooting foul (Kyrie Irving draws the foul)
53 - 65
8:45
Kyrie Irving makes free throw 1 of 1
54 - 65
8:29
Kemba Walker misses 10-foot jumper
54 - 65
8:26
Charlotte defensive team rebound
54 - 65
8:15
Kyrie Irving misses layup
54 - 65
8:14
Anderson Varejao offensive rebound
54 - 65
8:14
Anderson Varejao misses tip shot
54 - 65
8:12
Byron Mullens defensive rebound
54 - 65
8:06
D.J. Augustin makes driving layup
54 - 67
8:03
Omri Casspi makes layup (Kyrie Irving assists)
56 - 67
8:03
Kemba Walker shooting foul (Omri Casspi draws the foul)
56 - 67
8:03
Omri Casspi makes free throw 1 of 1
57 - 67
7:46
D.J. Augustin misses 26-foot three point jumper
57 - 67
7:46
Omri Casspi defensive rebound
57 - 67
7:37
Kyrie Irving misses layup
57 - 67
7:37
Cleveland defensive team rebound
57 - 67
7:37
Anderson Varejao loose ball foul (D.J. Augustin draws the foul)
57 - 67
7:18
Anderson Varejao blocks Byron Mullens's layup
57 - 67
7:16
Byron Mullens offensive rebound
57 - 67
7:15
Byron Mullens bad pass (Anderson Varejao steals)
57 - 67
7:07
Antawn Jamison makes two point shot (Kyrie Irving assists)
59 - 67
7:07
Charlotte full timeout
59 - 67
7:07
Ramon Sessions enters the game for Kyrie Irving
59 - 67
6:47
Byron Mullens misses 16-foot jumper
59 - 67
6:45
D.J. Augustin offensive rebound
59 - 67
6:45
D.J. Augustin misses tip shot
59 - 67
6:43
Anderson Varejao defensive rebound
59 - 67
6:41
Omri Casspi makes layup (Ramon Sessions assists)
61 - 67
6:41
Gerald Henderson shooting foul (Omri Casspi draws the foul)
61 - 67
6:41
Omri Casspi makes free throw 1 of 1
62 - 67
6:22
Gerald Henderson misses jumper
62 - 67
6:20
Ramon Sessions defensive rebound
62 - 67
6:05
Ramon Sessions out of bounds lost ball turnover
62 - 67
6:05
D.J. White enters the game for Tyrus Thomas
62 - 67
5:50
Kemba Walker makes 24-foot three point jumper (D.J. White assists)
62 - 70
5:31
Antawn Jamison makes 18-foot jumper (Ramon Sessions assists)
64 - 70
5:16
Antawn Jamison shooting foul (Gerald Henderson draws the foul)
64 - 70
5:16
Gerald Henderson misses free throw 1 of 2
64 - 70
5:16
Charlotte offensive team rebound
64 - 70
5:16
Gerald Henderson makes free throw 2 of 2
64 - 71
4:56
Anderson Varejao makes 16-foot jumper (Omri Casspi assists)
66 - 71
4:31
Kemba Walker misses 25-foot three point jumper
66 - 71
4:31
Antawn Jamison defensive rebound
66 - 71
4:24
Antawn Jamison misses 26-foot three point jumper
66 - 71
4:24
Byron Mullens defensive rebound
66 - 71
4:15
Antawn Jamison blocks Gerald Henderson's layup
66 - 71
4:13
Antawn Jamison defensive rebound
66 - 71
4:11
Byron Mullens shooting foul (Omri Casspi draws the foul)
66 - 71
4:11
Omri Casspi misses free throw 1 of 2
66 - 71
4:11
Cleveland offensive team rebound
66 - 71
4:11
Boris Diaw enters the game for Byron Mullens
66 - 71
4:11
Tristan Thompson enters the game for Anderson Varejao
66 - 71
4:11
Omri Casspi makes free throw 2 of 2
67 - 71
3:51
Kemba Walker misses layup
67 - 71
3:50
Antawn Jamison defensive rebound
67 - 71
3:47
Omri Casspi misses 24-foot three point jumper
67 - 71
3:47
Cleveland defensive team rebound
67 - 71
3:47
Tristan Thompson loose ball foul (Boris Diaw draws the foul)
67 - 71
3:31
Boris Diaw bad pass
67 - 71
3:21
Ramon Sessions bad pass (Gerald Henderson steals)
67 - 71
3:15
Omri Casspi personal foul (Gerald Henderson draws the foul)
67 - 71
3:15
Gerald Henderson misses free throw 1 of 2
67 - 71
3:15
Charlotte offensive team rebound
67 - 71
3:15
Gerald Henderson makes free throw 2 of 2
67 - 72
3:00
Daniel Gibson misses 25-foot three point jumper
67 - 72
2:59
Gerald Henderson defensive rebound
67 - 72
2:40
D.J. White misses 18-foot jumper
67 - 72
2:39
Omri Casspi defensive rebound
67 - 72
2:31
Tristan Thompson makes dunk (Ramon Sessions assists)
69 - 72
2:17
Kemba Walker makes 16-foot two point shot
69 - 74
2:13
Omri Casspi makes layup (Ramon Sessions assists)
71 - 74
2:13
Gerald Henderson shooting foul (Omri Casspi draws the foul)
71 - 74
2:13
Cleveland full timeout
71 - 74
2:13
Kyrie Irving enters the game for Daniel Gibson
71 - 74
2:13
Cory Higgins enters the game for Gerald Henderson
71 - 74
2:13
Derrick Brown enters the game for D.J. Augustin
71 - 74
2:13
Omri Casspi makes free throw 1 of 1
72 - 74
1:52
Kemba Walker makes 7-foot jumper
72 - 76
1:31
Kemba Walker blocks Tristan Thompson's layup
72 - 76
1:31
Derrick Brown defensive rebound
72 - 76
1:31
Omri Casspi personal foul (Kemba Walker draws the foul)
72 - 76
1:31
Kemba Walker makes free throw 1 of 2
72 - 77
1:31
Alonzo Gee enters the game for Omri Casspi
72 - 77
1:31
Kemba Walker misses free throw 2 of 2
72 - 77
1:27
Tristan Thompson defensive rebound
72 - 77
1:16
Alonzo Gee makes layup (Antawn Jamison assists)
74 - 77
1:01
Kemba Walker misses jumper
74 - 77
0:59
Kyrie Irving defensive rebound
74 - 77
0:51
Alonzo Gee makes 23-foot three point jumper (Ramon Sessions assists)
77 - 77
0:27
Cory Higgins misses 18-foot jumper
77 - 77
0:27
Charlotte offensive team rebound
77 - 77
0:27
Alonzo Gee loose ball foul (Derrick Brown draws the foul)
77 - 77
0:27
Derrick Brown misses free throw 1 of 2
77 - 77
0:27
Charlotte offensive team rebound
77 - 77
0:27
Derrick Brown misses free throw 2 of 2
77 - 77
0:26
Boris Diaw offensive rebound
77 - 77
0:05
Boris Diaw bad pass
77 - 77
0:05
Derrick Brown loose ball foul (Tristan Thompson draws the foul)
77 - 77
0:05
Tristan Thompson misses free throw 1 of 2
77 - 77
0:05
Tristan Thompson misses free throw 2 of 2
77 - 77
0:05
Cleveland offensive team rebound
79 - 77
0:03
Ramon Sessions offensive rebound
77 - 77
0:01
Antawn Jamison makes jumper (Ramon Sessions assists)
79 - 77
0:00
Kemba Walker misses 52-foot three point jumper
79 - 77
0:00
Charlotte offensive team rebound
79 - 77
0:00
End of the 3rd Quarter
79 - 77

time
TEAM
PLAY
SCORE
12:00
Start of the 4th Quarter
79 - 77
11:41
Semih Erden shooting foul (D.J. Augustin draws the foul)
79 - 77
11:41
D.J. Augustin misses free throw 1 of 2
79 - 77
11:41
Charlotte offensive team rebound
79 - 77
11:41
D.J. Augustin makes free throw 2 of 2
79 - 78
11:21
Alonzo Gee bad pass (Boris Diaw steals)
79 - 78
11:19
Ramon Sessions personal foul (D.J. Augustin draws the foul)
79 - 78
11:06
Cory Higgins misses 26-foot three point jumper
79 - 78
11:03
Boris Diaw offensive rebound
79 - 78
11:00
Boris Diaw misses 11-foot jumper
79 - 78
11:00
Charlotte offensive team rebound
79 - 78
11:00
Semih Erden loose ball foul (Cory Higgins draws the foul)
79 - 78
10:51
Cory Higgins misses 17-foot jumper
79 - 78
10:49
Semih Erden defensive rebound
79 - 78
10:45
D.J. Augustin personal foul (Ramon Sessions draws the foul)
79 - 78
10:45
Kemba Walker enters the game for Cory Higgins
79 - 78
10:33
D.J. White shooting foul (Alonzo Gee draws the foul)
79 - 78
10:33
Alonzo Gee makes free throw 1 of 2
80 - 78
10:33
Alonzo Gee makes free throw 2 of 2
81 - 78
10:07
Boris Diaw misses 25-foot three point jumper
81 - 78
10:06
Semih Erden defensive rebound
81 - 78
9:52
Semih Erden bad pass (Kemba Walker steals)
81 - 78
9:52
Semih Erden personal foul (Kemba Walker draws the foul)
81 - 78
9:52
Byron Mullens enters the game for Boris Diaw
81 - 78
9:41
Semih Erden personal foul (Byron Mullens draws the foul)
81 - 78
9:41
Byron Mullens misses free throw 1 of 2
81 - 78
9:41
Charlotte offensive team rebound
81 - 78
9:41
Anderson Varejao enters the game for Semih Erden
81 - 78
9:41
Byron Mullens makes free throw 2 of 2
81 - 79
9:23
Derrick Brown blocks Tristan Thompson's layup
81 - 79
9:23
Kyrie Irving offensive rebound
81 - 79
9:23
Byron Mullens shooting foul (Kyrie Irving draws the foul)
81 - 79
9:23
Kyrie Irving misses free throw 1 of 2
81 - 79
9:23
Cleveland offensive team rebound
81 - 79
9:23
Kyrie Irving makes free throw 2 of 2
82 - 79
9:07
Kemba Walker misses 18-foot jumper
82 - 79
9:06
Derrick Brown offensive rebound
82 - 79
8:52
D.J. Augustin misses 25-foot three point jumper
82 - 79
8:49
D.J. White offensive rebound
82 - 79
8:32
D.J. White misses 15-foot jumper
82 - 79
8:30
Ramon Sessions defensive rebound
82 - 79
8:07
Tristan Thompson makes jumper
84 - 79
7:54
Kemba Walker misses 18-foot jumper
84 - 79
7:52
Kyrie Irving defensive rebound
84 - 79
7:47
Kyrie Irving makes 25-foot three pointer
87 - 79
7:47
Charlotte full timeout
87 - 79
7:47
Daniel Gibson enters the game for Ramon Sessions
87 - 79
7:47
Gerald Henderson enters the game for Derrick Brown
87 - 79
7:31
Gerald Henderson makes 12-foot two point shot
87 - 81
7:13
Kyrie Irving misses 17-foot jumper
87 - 81
7:13
D.J. White defensive rebound
87 - 81
7:00
Tristan Thompson blocks Byron Mullens's 2-foot two point shot
87 - 81
6:58
Byron Mullens offensive rebound
87 - 81
6:54
Byron Mullens misses 15-foot two point shot
87 - 81
6:52
Alonzo Gee defensive rebound
87 - 81
6:35
Tristan Thompson makes 9-foot jumper
89 - 81
6:26
Alonzo Gee personal foul (Gerald Henderson draws the foul)
89 - 81
6:26
Gerald Henderson makes free throw 1 of 2
89 - 82
6:26
Gerald Henderson makes free throw 2 of 2
89 - 83
6:11
Daniel Gibson bad pass
89 - 83
5:50
Tristan Thompson shooting foul (D.J. White draws the foul)
89 - 83
5:50
Official timeout
89 - 83
5:50
D.J. White misses free throw 1 of 2
89 - 83
5:50
Charlotte offensive team rebound
89 - 83
5:50
D.J. White makes free throw 2 of 2
89 - 84
5:28
Tristan Thompson offensive foul (D.J. White draws the foul)
89 - 84
5:28
Tristan Thompson turnover
89 - 84
5:20
Antawn Jamison enters the game for Tristan Thompson
89 - 84
5:11
Gerald Henderson misses 9-foot jumper
89 - 84
5:09
Anderson Varejao defensive rebound
89 - 84
5:01
Antawn Jamison makes 18-foot jumper (Kyrie Irving assists)
91 - 84
4:39
D.J. White makes layup
91 - 86
4:24
Antawn Jamison misses 26-foot three point jumper
91 - 86
4:24
Byron Mullens defensive rebound
91 - 86
4:03
Kemba Walker makes driving layup
91 - 88
3:50
Anderson Varejao misses 6-foot hook shot
91 - 88
3:49
D.J. White defensive rebound
91 - 88
3:43
D.J. Augustin misses 2-foot two point shot
91 - 88
3:41
D.J. White offensive rebound
91 - 90
3:41
D.J. White makes layup
91 - 90
3:40
Cleveland full timeout
91 - 90
3:08
Daniel Gibson misses 33-foot three point jumper
91 - 90
3:02
D.J. White defensive rebound
91 - 90
2:54
D.J. White makes 15-foot jumper
91 - 92
2:38
Kyrie Irving makes 1-foot two point shot
93 - 92
2:11
D.J. Augustin makes 10-foot jumper
93 - 94
2:00
Kyrie Irving misses driving layup
93 - 94
2:00
Anderson Varejao offensive rebound
95 - 94
2:00
Anderson Varejao makes layup
95 - 94
1:36
shot clock turnover
95 - 94
1:20
Kyrie Irving misses 6-foot two point shot
95 - 94
1:19
Kemba Walker defensive rebound
95 - 94
1:07
Kemba Walker bad pass
95 - 94
1:07
Kemba Walker loose ball foul (Daniel Gibson draws the foul)
95 - 94
1:07
Omri Casspi enters the game for Alonzo Gee
97 - 94
0:54
Anderson Varejao makes layup (Antawn Jamison assists)
97 - 94
0:54
Charlotte full timeout
97 - 94
0:48
Byron Mullens misses 25-foot three point jumper
97 - 94
0:46
Anderson Varejao defensive rebound
97 - 94
0:38
Kyrie Irving makes driving layup
99 - 94
0:38
Charlotte 20 Sec. timeout
99 - 94
0:32
D.J. Augustin misses 9-foot jumper
99 - 94
0:31
Anderson Varejao defensive rebound
99 - 94
0:29
Gerald Henderson personal foul (Kyrie Irving draws the foul)
99 - 94
0:29
Kyrie Irving makes free throw 1 of 2
100 - 94
0:29
Kyrie Irving misses free throw 2 of 2
100 - 94
0:27
Byron Mullens defensive rebound
100 - 94
0:20
Kemba Walker misses driving layup
100 - 94
0:19
Anderson Varejao defensive rebound
100 - 94
0:18
D.J. White personal foul (Daniel Gibson draws the foul)
100 - 94
0:18
Daniel Gibson makes free throw 1 of 2
101 - 94
0:18
Daniel Gibson makes free throw 2 of 2
102 - 94
0:08
D.J. Augustin misses 23-foot three point jumper
102 - 94
0:07
Antawn Jamison defensive rebound
102 - 94
0:00
End of the 4th Quarter
102 - 94
0:00
End Game
102 - 94
The Mavericks are expected to meet with the Hornets' Nicolas Batum to replace SF Chandler Parsons, who is expected to leave in free agency.

With $30 million in cap space, the New York Knicks could be looking to add more firepower as free agency begins.

Bulls guard Jimmy Butler sits down with Cari Champion to talk about what went wrong for the Bulls last season, the current state of the team and his thoughts on the departure of Derrick Rose.