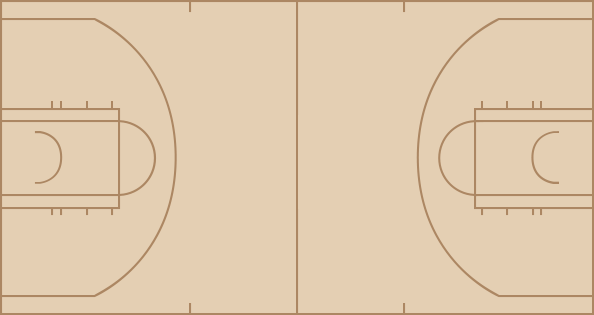 Hawks
time
TEAM
PLAY
SCORE
12:00
Start of the 1st Quarter
0 - 0
12:00
Jumpball: Josh Smith vs. Marcus Camby (Raymond Felton gains possession)
0 - 0
11:41
Nicolas Batum lost ball (Josh Smith steals)
0 - 0
11:21
Joe Johnson makes 6-foot running jumper
2 - 0
11:03
Marcus Camby misses two point shot
2 - 0
11:03
Marvin Williams defensive rebound
2 - 0
10:56
Zaza Pachulia makes hook shot (Jeff Teague assists)
4 - 0
10:30
LaMarcus Aldridge makes 21-foot jumper
4 - 2
10:15
Joe Johnson makes dunk (Josh Smith assists)
6 - 2
9:51
Raymond Felton makes 4-foot running jumper
6 - 4
9:34
Marvin Williams makes 20-foot jumper (Jeff Teague assists)
8 - 4
9:18
LaMarcus Aldridge makes 17-foot jumper (Marcus Camby assists)
8 - 6
8:53
Joe Johnson misses 25-foot three point jumper
8 - 6
8:52
Gerald Wallace defensive rebound
8 - 6
8:36
Zaza Pachulia blocks Raymond Felton's running jumper
8 - 6
8:36
Portland offensive team rebound
8 - 6
8:30
Nicolas Batum makes 25-foot three point jumper (Raymond Felton assists)
8 - 9
8:14
Joe Johnson makes two point shot (Zaza Pachulia assists)
10 - 9
8:08
Portland full timeout
10 - 9
7:54
LaMarcus Aldridge makes 13-foot two point shot (Raymond Felton assists)
10 - 11
7:41
Joe Johnson makes 25-foot three point jumper (Zaza Pachulia assists)
13 - 11
7:24
LaMarcus Aldridge makes 17-foot two point shot
13 - 13
7:03
Jeff Teague misses 25-foot three point jumper
13 - 13
7:03
Marcus Camby defensive rebound
13 - 13
6:50
Raymond Felton makes three point jumper (LaMarcus Aldridge assists)
13 - 16
6:35
Josh Smith makes 19-foot jumper (Zaza Pachulia assists)
15 - 16
6:20
Josh Smith personal foul (Raymond Felton draws the foul)
15 - 16
6:07
LaMarcus Aldridge misses 20-foot jumper
15 - 16
6:05
Nicolas Batum offensive rebound
15 - 16
6:05
Nicolas Batum makes layup
15 - 18
5:56
Jeff Teague makes driving layup
17 - 18
5:43
Marcus Camby makes jumper (LaMarcus Aldridge assists)
17 - 20
5:28
Zaza Pachulia lost ball (Gerald Wallace steals)
17 - 20
5:22
Raymond Felton makes layup (Gerald Wallace assists)
17 - 22
5:03
Josh Smith misses 20-foot jumper
17 - 22
5:01
Marcus Camby defensive rebound
17 - 22
4:46
Raymond Felton misses 24-foot three point jumper
17 - 22
4:43
Nicolas Batum offensive rebound
17 - 24
4:43
Nicolas Batum makes two point shot
17 - 24
4:35
Atlanta full timeout
17 - 24
4:16
Joe Johnson misses 19-foot two point shot
17 - 24
4:16
Gerald Wallace defensive rebound
17 - 24
4:07
Marcus Camby makes two point shot (Nicolas Batum assists)
17 - 26
4:07
Marvin Williams shooting foul (Marcus Camby draws the foul)
17 - 26
4:07
Kirk Hinrich enters the game for Jeff Teague
17 - 26
4:07
Marcus Camby misses free throw 1 of 1
17 - 26
4:07
Marvin Williams defensive rebound
17 - 26
3:54
Josh Smith bad pass (Nicolas Batum steals)
17 - 26
3:46
Nicolas Batum makes driving layup
17 - 28
3:29
Nicolas Batum personal foul (Zaza Pachulia draws the foul)
17 - 28
3:29
Willie Green enters the game for Marvin Williams
17 - 28
3:25
Josh Smith makes dunk (Willie Green assists)
19 - 28
3:04
Wesley Matthews enters the game for Nicolas Batum
19 - 28
3:00
Gerald Wallace makes 25-foot three point jumper (LaMarcus Aldridge assists)
19 - 31
2:43
Joe Johnson misses 25-foot three point jumper
19 - 31
2:43
Marcus Camby defensive rebound
19 - 31
2:30
LaMarcus Aldridge misses 18-foot jumper
19 - 31
2:30
Josh Smith defensive rebound
19 - 31
2:24
Willie Green makes 1-foot two point shot (Josh Smith assists)
21 - 31
1:54
LaMarcus Aldridge misses two point shot
21 - 31
1:53
Portland offensive team rebound
21 - 31
1:53
shot clock turnover
21 - 31
1:53
Kurt Thomas enters the game for Marcus Camby
21 - 31
1:53
Vladimir Radmanovic enters the game for Joe Johnson
21 - 31
1:53
Jamal Crawford enters the game for LaMarcus Aldridge
21 - 31
1:37
Willie Green makes 19-foot jumper (Kirk Hinrich assists)
23 - 31
1:15
Wesley Matthews lost ball (Zaza Pachulia steals)
23 - 31
1:07
Kirk Hinrich misses 25-foot three point jumper
23 - 31
1:06
Kurt Thomas defensive rebound
23 - 31
1:00
Gerald Wallace makes two point shot (Raymond Felton assists)
23 - 33
0:42
Josh Smith makes driving dunk (Vladimir Radmanovic assists)
25 - 33
0:25
Kurt Thomas misses 4-foot two point shot
25 - 33
0:25
Portland offensive team rebound
25 - 33
0:25
Kirk Hinrich loose ball foul (Kurt Thomas draws the foul)
25 - 33
0:01
Kurt Thomas misses 18-foot jumper
25 - 33
0:00
Josh Smith defensive rebound
25 - 33
0:00
End of the 1st Quarter
25 - 33

time
TEAM
PLAY
SCORE
12:00
Start of the 2nd Quarter
25 - 33
11:38
Vladimir Radmanovic misses 25-foot three point jumper
25 - 33
11:38
Kurt Thomas defensive rebound
25 - 33
11:25
Vladimir Radmanovic blocks Kurt Thomas's layup
25 - 33
11:22
Zaza Pachulia defensive rebound
25 - 33
11:12
Willie Green makes three point jumper (Tracy McGrady assists)
28 - 33
10:52
Tracy McGrady personal foul (Gerald Wallace draws the foul)
28 - 33
10:52
Ivan Johnson enters the game for Zaza Pachulia
28 - 33
10:44
Gerald Wallace misses two point shot
28 - 33
10:41
Kurt Thomas offensive rebound
28 - 35
10:41
Kurt Thomas makes two point shot
28 - 35
10:25
Kirk Hinrich misses driving layup
28 - 35
10:22
Kurt Thomas defensive rebound
28 - 35
10:08
Vladimir Radmanovic personal foul (Gerald Wallace draws the foul)
28 - 35
10:03
Vladimir Radmanovic personal foul (Gerald Wallace draws the foul)
28 - 35
9:52
Nolan Smith makes 24-foot three point jumper (Gerald Wallace assists)
28 - 38
9:34
Nolan Smith shooting foul (Ivan Johnson draws the foul)
28 - 38
9:34
Ivan Johnson misses free throw 1 of 2
28 - 38
9:34
Atlanta offensive team rebound
28 - 38
9:34
Ivan Johnson makes free throw 2 of 2
29 - 38
9:10
Wesley Matthews misses driving layup
29 - 38
9:07
Tracy McGrady defensive rebound
29 - 38
9:03
Jamal Crawford blocks Tracy McGrady's layup
29 - 38
9:00
Gerald Wallace defensive rebound
29 - 38
8:52
Gerald Wallace misses 9-foot two point shot
29 - 38
8:49
Vladimir Radmanovic defensive rebound
29 - 38
8:45
Kurt Thomas blocks Ivan Johnson's driving layup
29 - 38
8:45
Atlanta defensive team rebound
29 - 38
8:45
Official timeout
29 - 38
8:45
Nicolas Batum enters the game for Gerald Wallace
29 - 38
8:45
LaMarcus Aldridge enters the game for Kurt Thomas
29 - 38
8:26
Jamal Crawford misses 25-foot three point jumper
29 - 38
8:25
Portland offensive team rebound
29 - 38
8:25
Joe Johnson enters the game for Vladimir Radmanovic
29 - 38
8:25
Zaza Pachulia enters the game for Ivan Johnson
29 - 38
8:18
Nicolas Batum misses driving layup
29 - 38
8:15
Zaza Pachulia defensive rebound
29 - 38
8:07
Joe Johnson misses 22-foot three point jumper
29 - 38
8:06
LaMarcus Aldridge defensive rebound
29 - 38
7:52
Jeff Teague enters the game for Kirk Hinrich
29 - 38
7:50
Wesley Matthews makes 21-foot jumper (Jamal Crawford assists)
29 - 40
7:28
Tracy McGrady lost ball (Nolan Smith steals)
29 - 40
7:20
Marvin Williams enters the game for Tracy McGrady
29 - 40
7:20
Josh Smith enters the game for Willie Green
29 - 40
7:07
LaMarcus Aldridge misses 12-foot two point shot
29 - 40
7:07
Zaza Pachulia defensive rebound
29 - 40
6:54
Jumpball: Josh Smith vs. Nolan Smith (Zaza Pachulia gains possession)
29 - 40
6:52
LaMarcus Aldridge shooting foul (Zaza Pachulia draws the foul)
29 - 40
6:52
Zaza Pachulia misses free throw 1 of 2
29 - 40
6:52
Atlanta offensive team rebound
29 - 40
6:52
Zaza Pachulia makes free throw 2 of 2
30 - 40
6:35
LaMarcus Aldridge misses layup
30 - 40
6:31
LaMarcus Aldridge offensive rebound
30 - 40
6:24
Nicolas Batum misses 24-foot three point jumper
30 - 40
6:24
LaMarcus Aldridge offensive rebound
30 - 40
6:20
Wesley Matthews misses layup
30 - 40
6:18
Nicolas Batum offensive rebound
30 - 40
6:16
Nolan Smith misses three point jumper
30 - 40
6:15
Nicolas Batum offensive rebound
30 - 40
6:03
LaMarcus Aldridge bad pass
30 - 40
5:46
Josh Smith misses 23-foot three point jumper
30 - 40
5:43
Atlanta defensive team rebound
30 - 40
5:43
Marvin Williams loose ball foul (Nolan Smith draws the foul)
30 - 40
5:43
Portland full timeout
30 - 40
5:43
Raymond Felton enters the game for Nolan Smith
30 - 40
5:43
Marcus Camby enters the game for Jamal Crawford
30 - 40
5:24
LaMarcus Aldridge makes 5-foot two point shot (Raymond Felton assists)
30 - 42
5:09
Josh Smith bad pass
30 - 42
4:58
Zaza Pachulia personal foul (LaMarcus Aldridge draws the foul)
30 - 42
4:58
LaMarcus Aldridge misses free throw 1 of 2
30 - 42
4:58
Portland offensive team rebound
30 - 42
4:58
LaMarcus Aldridge makes free throw 2 of 2
30 - 43
4:46
Wesley Matthews personal foul (Joe Johnson draws the foul)
30 - 43
4:35
Joe Johnson bad pass
30 - 43
4:13
LaMarcus Aldridge misses 20-foot two point shot
30 - 43
4:11
Josh Smith defensive rebound
30 - 43
4:09
Marcus Camby personal foul (Josh Smith draws the foul)
30 - 43
3:59
Marcus Camby blocks Jeff Teague's running jumper
30 - 43
3:57
Nicolas Batum defensive rebound
30 - 43
3:47
Nicolas Batum bad pass (Josh Smith steals)
30 - 43
3:39
Joe Johnson makes 9-foot jumper (Josh Smith assists)
32 - 43
3:24
Raymond Felton bad pass (Zaza Pachulia steals)
32 - 43
3:18
Nicolas Batum blocks Zaza Pachulia's layup
32 - 43
3:16
Raymond Felton defensive rebound
32 - 43
3:12
Wesley Matthews misses 23-foot three point jumper
32 - 43
3:10
Marcus Camby offensive rebound
32 - 43
3:10
Marcus Camby misses tip shot
32 - 43
3:08
LaMarcus Aldridge offensive rebound
32 - 43
2:59
LaMarcus Aldridge offensive foul (Jeff Teague draws the foul)
32 - 43
2:59
LaMarcus Aldridge turnover
32 - 43
2:59
Atlanta full timeout
32 - 43
2:59
Gerald Wallace enters the game for Wesley Matthews
32 - 43
2:44
Marvin Williams misses three point jumper
32 - 43
2:43
Marcus Camby defensive rebound
32 - 43
2:24
Nicolas Batum makes 3-foot two point shot
32 - 45
2:08
Marcus Camby blocks Marvin Williams's layup
32 - 45
2:06
Zaza Pachulia offensive rebound
32 - 45
2:06
Marcus Camby shooting foul (Zaza Pachulia draws the foul)
32 - 45
2:06
Zaza Pachulia makes free throw 1 of 2
33 - 45
2:06
Wesley Matthews enters the game for LaMarcus Aldridge
33 - 45
2:06
Zaza Pachulia makes free throw 2 of 2
34 - 45
1:52
Josh Smith blocks Nicolas Batum's layup
34 - 45
1:49
Wesley Matthews offensive rebound
34 - 45
1:47
Jeff Teague personal foul (Marcus Camby draws the foul)
34 - 45
1:47
Marcus Camby makes free throw 1 of 2
34 - 46
1:47
Marcus Camby makes free throw 2 of 2
34 - 47
1:38
Wesley Matthews personal foul (Zaza Pachulia draws the foul)
34 - 47
1:38
Zaza Pachulia makes free throw 1 of 2
35 - 47
1:38
Kurt Thomas enters the game for Marcus Camby
35 - 47
1:38
Willie Green enters the game for Marvin Williams
35 - 47
1:38
Zaza Pachulia misses free throw 2 of 2
35 - 47
1:37
Gerald Wallace defensive rebound
35 - 47
1:22
Nicolas Batum misses 25-foot three point jumper
35 - 47
1:21
Zaza Pachulia defensive rebound
35 - 47
1:13
Jeff Teague misses driving layup
35 - 47
1:12
Zaza Pachulia offensive rebound
37 - 47
1:12
Zaza Pachulia makes tip shot
37 - 47
0:55
Nicolas Batum makes 17-foot jumper (Raymond Felton assists)
37 - 49
0:40
Josh Smith bad pass (Wesley Matthews steals)
37 - 49
0:36
Wesley Matthews misses driving layup
37 - 49
0:34
Joe Johnson defensive rebound
37 - 49
0:29
Jeff Teague misses 17-foot two point shot
37 - 49
0:28
Nicolas Batum defensive rebound
37 - 49
0:27
Zaza Pachulia personal foul (Nicolas Batum draws the foul)
37 - 49
0:27
Nicolas Batum misses free throw 1 of 2
37 - 49
0:27
Portland offensive team rebound
37 - 49
0:27
Vladimir Radmanovic enters the game for Zaza Pachulia
37 - 49
0:27
Nolan Smith enters the game for Wesley Matthews
37 - 49
0:27
Nicolas Batum makes free throw 2 of 2
37 - 50
0:10
Joe Johnson misses 9-foot running jumper
37 - 50
0:09
Nolan Smith defensive rebound
37 - 50
0:00
Raymond Felton makes 7-foot running jumper
37 - 52
0:00
Josh Smith misses 18-foot jumper
37 - 52
0:00
Atlanta offensive team rebound
37 - 52
0:00
End of the 2nd Quarter
37 - 52

time
TEAM
PLAY
SCORE
12:00
Start of the 3rd Quarter
37 - 52
11:41
Marvin Williams makes 23-foot three point jumper (Jeff Teague assists)
40 - 52
11:11
LaMarcus Aldridge misses 9-foot two point shot
40 - 52
11:10
Marcus Camby offensive rebound
40 - 52
11:00
Jeff Teague blocks Raymond Felton's 4-foot running jumper
40 - 52
10:57
Portland defensive team rebound
40 - 52
10:37
Joe Johnson misses 24-foot three point jumper
40 - 52
10:34
LaMarcus Aldridge defensive rebound
40 - 52
10:33
Zaza Pachulia personal foul (LaMarcus Aldridge draws the foul)
40 - 52
10:18
LaMarcus Aldridge misses 4-foot hook shot
40 - 52
10:18
Marcus Camby offensive rebound
40 - 54
10:18
Marcus Camby makes tip shot
40 - 54
10:18
Joe Johnson shooting foul (Marcus Camby draws the foul)
40 - 54
10:18
Marcus Camby misses free throw 1 of 1
40 - 54
10:17
Zaza Pachulia defensive rebound
40 - 54
9:52
Zaza Pachulia misses 21-foot jumper
40 - 54
9:49
Raymond Felton defensive rebound
40 - 54
9:36
Gerald Wallace misses 23-foot three point jumper
40 - 54
9:33
Zaza Pachulia defensive rebound
40 - 54
9:18
Marvin Williams misses 25-foot three point jumper
40 - 54
9:15
LaMarcus Aldridge defensive rebound
40 - 54
9:03
Josh Smith shooting foul (LaMarcus Aldridge draws the foul)
40 - 54
9:03
LaMarcus Aldridge makes free throw 1 of 2
40 - 55
9:03
LaMarcus Aldridge makes free throw 2 of 2
40 - 56
8:51
Joe Johnson makes 6-foot running jumper (Josh Smith assists)
42 - 56
8:30
LaMarcus Aldridge misses 10-foot two point shot
42 - 56
8:26
LaMarcus Aldridge offensive rebound
42 - 56
8:22
Nicolas Batum misses driving layup
42 - 56
8:21
Portland defensive team rebound
42 - 56
8:21
Marcus Camby loose ball foul (Zaza Pachulia draws the foul)
42 - 56
8:08
Zaza Pachulia misses 12-foot jumper
42 - 56
8:07
Marcus Camby defensive rebound
42 - 56
7:54
LaMarcus Aldridge makes layup
42 - 58
7:37
Jeff Teague misses 14-foot two point shot
42 - 58
7:35
Nicolas Batum defensive rebound
42 - 58
7:18
Raymond Felton makes 25-foot three pointer (LaMarcus Aldridge assists)
42 - 61
7:07
Atlanta full timeout
42 - 61
6:56
Jeff Teague misses 25-foot three point jumper
42 - 61
6:52
Gerald Wallace defensive rebound
42 - 61
6:35
Nicolas Batum misses 27-foot three point jumper
42 - 61
6:33
Joe Johnson defensive rebound
42 - 61
6:26
Josh Smith misses jumper
42 - 61
6:24
Zaza Pachulia offensive rebound
42 - 61
6:18
Marcus Camby shooting foul (Jeff Teague draws the foul)
42 - 61
6:18
Jeff Teague makes free throw 1 of 2
43 - 61
6:18
Kurt Thomas enters the game for Marcus Camby
43 - 61
6:18
Jeff Teague makes free throw 2 of 2
44 - 61
5:56
Gerald Wallace misses 18-foot jumper
44 - 61
5:56
Zaza Pachulia defensive rebound
44 - 61
5:43
Marvin Williams makes three point jumper (Josh Smith assists)
47 - 61
5:28
Josh Smith shooting foul (Gerald Wallace draws the foul)
47 - 61
5:28
Gerald Wallace makes free throw 1 of 2
47 - 62
5:28
Gerald Wallace makes free throw 2 of 2
47 - 63
5:18
Nicolas Batum personal foul (Marvin Williams draws the foul)
47 - 63
5:03
Josh Smith misses 25-foot three point jumper
47 - 63
5:03
Atlanta defensive team rebound
47 - 63
5:03
Zaza Pachulia loose ball foul (Gerald Wallace draws the foul)
47 - 63
5:03
Gerald Wallace makes free throw 1 of 2
47 - 64
5:03
Vladimir Radmanovic enters the game for Zaza Pachulia
47 - 64
5:03
Gerald Wallace makes free throw 2 of 2
47 - 65
4:43
Joe Johnson makes 23-foot three pointer (Josh Smith assists)
50 - 65
4:37
Portland full timeout
50 - 65
4:37
Wesley Matthews enters the game for Kurt Thomas
50 - 65
4:28
LaMarcus Aldridge misses 3-foot hook shot
50 - 65
4:26
Josh Smith defensive rebound
50 - 65
4:20
Raymond Felton defensive rebound
50 - 65
4:20
Josh Smith misses driving layup
50 - 65
4:11
Raymond Felton misses 25-foot three point jumper
50 - 65
4:09
Josh Smith defensive rebound
50 - 65
4:01
Joe Johnson misses 25-foot three point jumper
50 - 65
4:01
Nicolas Batum defensive rebound
50 - 65
3:38
LaMarcus Aldridge makes layup (Raymond Felton assists)
50 - 67
3:17
Wesley Matthews personal foul (Josh Smith draws the foul)
50 - 67
3:03
Marvin Williams lost ball (LaMarcus Aldridge steals)
50 - 67
2:47
Gerald Wallace misses 25-foot three point jumper
50 - 67
2:46
Josh Smith defensive rebound
50 - 67
2:26
Josh Smith makes 20-foot jumper (Jeff Teague assists)
52 - 67
2:03
Wesley Matthews makes 25-foot three point jumper (Raymond Felton assists)
52 - 70
1:40
Marvin Williams makes two point shot (Josh Smith assists)
54 - 70
1:23
Gerald Wallace backcourt
54 - 70
1:23
Willie Green enters the game for Marvin Williams
54 - 70
1:23
Jamal Crawford enters the game for Nicolas Batum
54 - 70
1:10
Vladimir Radmanovic misses 23-foot three point jumper
54 - 70
1:08
LaMarcus Aldridge defensive rebound
54 - 70
0:52
Gerald Wallace lost ball (Joe Johnson steals)
54 - 70
0:50
Willie Green makes layup (Josh Smith assists)
56 - 70
0:28
Raymond Felton makes 22-foot jumper (Wesley Matthews assists)
56 - 72
0:14
Jeff Teague misses 24-foot three point jumper
56 - 72
0:13
LaMarcus Aldridge defensive rebound
56 - 72
0:00
Raymond Felton misses 25-foot three point jumper
56 - 72
0:00
Portland offensive team rebound
56 - 72
0:00
End of the 3rd Quarter
56 - 72

time
TEAM
PLAY
SCORE
12:00
Gerald Wallace technical foul (2nd technical foul)
56 - 72
12:00
Start of the 4th Quarter
56 - 72
12:00
Vladimir Radmanovic makes technical free throw
57 - 72
11:34
Wesley Matthews makes 20-foot jumper
57 - 74
11:11
Willie Green makes 23-foot three point jumper (Kirk Hinrich assists)
60 - 74
11:03
Wesley Matthews makes 5-foot running jumper
60 - 76
11:03
Wesley Matthews technical foul (1st technical foul)
60 - 76
11:03
Jeff Teague makes technical free throw
61 - 76
10:47
Jeff Teague misses driving layup
61 - 76
10:45
Kurt Thomas defensive rebound
61 - 76
10:30
Kurt Thomas misses 19-foot jumper
61 - 76
10:29
Josh Smith defensive rebound
61 - 76
10:11
Willie Green misses 18-foot jumper
61 - 76
10:11
Josh Smith offensive rebound
61 - 76
10:11
Kurt Thomas personal foul (Josh Smith draws the foul)
61 - 76
10:00
Jeff Teague misses 5-foot running jumper
61 - 76
10:00
Kurt Thomas defensive rebound
61 - 76
9:52
Joe Johnson enters the game for Jeff Teague
61 - 76
9:37
Nolan Smith lost ball (Kirk Hinrich steals)
61 - 76
9:23
Kirk Hinrich misses 24-foot three point jumper
61 - 76
9:22
Kurt Thomas defensive rebound
61 - 76
9:08
Wesley Matthews makes driving layup (Gerald Wallace assists)
61 - 78
8:49
Joe Johnson misses 16-foot jumper
61 - 78
8:48
Kurt Thomas defensive rebound
61 - 78
8:27
Jamal Crawford bad pass
61 - 78
8:27
Official timeout
61 - 78
8:27
LaMarcus Aldridge enters the game for Gerald Wallace
61 - 78
8:27
Nicolas Batum enters the game for Jamal Crawford
61 - 78
8:11
Vladimir Radmanovic misses 24-foot three point jumper
61 - 78
8:11
Nolan Smith defensive rebound
61 - 78
7:58
Wesley Matthews misses 21-foot jumper
61 - 78
7:56
Joe Johnson defensive rebound
61 - 78
7:41
Josh Smith makes hook shot
63 - 78
7:18
LaMarcus Aldridge misses 6-foot hook shot
63 - 78
7:15
Kurt Thomas offensive rebound
63 - 78
7:01
Vladimir Radmanovic personal foul (LaMarcus Aldridge draws the foul)
63 - 78
6:47
Wesley Matthews makes 21-foot two point shot (Nolan Smith assists)
63 - 80
6:33
Kirk Hinrich offensive charge (Nolan Smith draws the foul)
63 - 80
6:33
Kirk Hinrich turnover
63 - 80
6:22
Nicolas Batum makes driving dunk (Nolan Smith assists)
63 - 82
6:05
Josh Smith makes 20-foot jumper (Joe Johnson assists)
65 - 82
5:54
Vladimir Radmanovic shooting foul (Nolan Smith draws the foul)
65 - 82
5:54
Portland full timeout
65 - 82
5:54
Nolan Smith makes free throw 1 of 2
65 - 83
5:54
Nolan Smith makes free throw 2 of 2
65 - 84
5:41
Joe Johnson misses 25-foot three point jumper
65 - 84
5:41
Nolan Smith defensive rebound
65 - 84
5:28
Nolan Smith bad pass
65 - 84
5:28
Raymond Felton enters the game for Nolan Smith
65 - 84
5:09
Willie Green misses three pointer
65 - 84
5:07
LaMarcus Aldridge defensive rebound
65 - 84
5:01
Nicolas Batum makes three point jumper (Raymond Felton assists)
65 - 87
4:39
Josh Smith makes 13-foot two point shot
67 - 87
4:26
Raymond Felton lost ball (Kirk Hinrich steals)
67 - 87
4:22
Willie Green lost ball (Wesley Matthews steals)
67 - 87
4:11
LaMarcus Aldridge makes 12-foot two point shot
67 - 89
3:51
Josh Smith misses 20-foot jumper
67 - 89
3:51
Kurt Thomas defensive rebound
67 - 89
3:32
Wesley Matthews misses 23-foot three point jumper
67 - 89
3:31
Josh Smith defensive rebound
67 - 89
3:28
Willie Green makes dunk (Joe Johnson assists)
69 - 89
3:01
Wesley Matthews misses 12-foot jumper
69 - 89
3:00
Josh Smith defensive rebound
69 - 89
2:50
Joe Johnson makes 24-foot three point jumper (Josh Smith assists)
72 - 89
2:31
Willie Green personal foul (Raymond Felton draws the foul)
72 - 89
2:31
Atlanta full timeout
72 - 89
2:31
Luke Babbitt enters the game for LaMarcus Aldridge
72 - 89
2:31
Jannero Pargo enters the game for Joe Johnson
72 - 89
2:31
Ivan Johnson enters the game for Vladimir Radmanovic
72 - 89
2:23
Nicolas Batum makes three point jumper (Kurt Thomas assists)
72 - 92
2:00
Ivan Johnson makes two point shot
74 - 92
2:00
Portland full timeout
74 - 92
2:00
Nolan Smith enters the game for Nicolas Batum
74 - 92
2:00
Chris Johnson enters the game for Raymond Felton
74 - 92
2:00
Elliot Williams enters the game for Wesley Matthews
74 - 92
2:00
Craig Smith enters the game for Kurt Thomas
74 - 92
2:00
Vladimir Radmanovic enters the game for Josh Smith
74 - 92
1:42
Luke Babbitt bad pass (Kirk Hinrich steals)
74 - 92
1:38
Nolan Smith shooting foul (Willie Green draws the foul)
76 - 92
1:38
Willie Green makes layup (Kirk Hinrich assists)
76 - 92
1:38
Willie Green makes free throw 1 of 1
77 - 92
1:17
Luke Babbitt misses 25-foot three point jumper
77 - 92
1:15
Craig Smith offensive rebound
77 - 92
1:06
Elliot Williams makes 25-foot three pointer
77 - 95
0:49
Ivan Johnson misses 7-foot hook shot
77 - 95
0:49
Craig Smith defensive rebound
77 - 95
0:39
Elliot Williams makes 10-foot two point shot (Luke Babbitt assists)
77 - 97
0:18
Kirk Hinrich misses 25-foot three point jumper
77 - 97
0:17
Atlanta defensive team rebound
77 - 97
0:00
End of the 4th Quarter
77 - 97
0:00
End Game
77 - 97
Kyle Korver ball fakes to shake off a defender then knocks down a 3-pointer to give the Hawks at 51-50 lead over the Cavaliers.

Jeff Teague tosses an alley-oop pass to a driving Al Horford, who finishes with a two-handed slam.

After a LeBron James miss, Iman Shumpert throws down a powerful slam on the putback which causes the Cavaliers bench to go crazy.
2015-2016 Southeast Standings
2015-2016 Northwest Standings