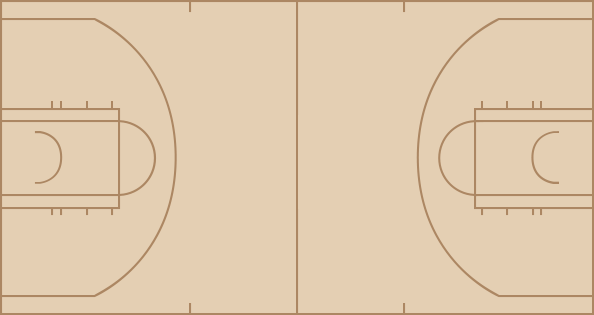 Mavericks
time
TEAM
PLAY
SCORE
12:00
Start of the 1st Quarter
0 - 0
12:00
Jumpball: Brendan Haywood vs. Tyson Chandler (Amare Stoudemire gains possession)
0 - 0
11:48
Shawn Marion personal foul (Jeremy Lin draws the foul)
0 - 0
11:33
Iman Shumpert makes 14-foot running jumper
0 - 2
11:14
Vince Carter makes driving layup
2 - 2
10:59
Amare Stoudemire misses 13-foot jumper
2 - 2
10:56
Vince Carter defensive rebound
2 - 2
10:48
Dirk Nowitzki misses 11-foot two point shot
2 - 2
10:47
Amare Stoudemire defensive rebound
2 - 2
10:38
Iman Shumpert misses 24-foot three point jumper
2 - 2
10:37
Jason Kidd defensive rebound
2 - 2
10:30
Jason Kidd misses 24-foot three point jumper
2 - 2
10:29
Dallas defensive team rebound
2 - 2
10:14
Landry Fields makes 11-foot two point shot (Jeremy Lin assists)
2 - 4
10:02
Brendan Haywood makes driving layup (Shawn Marion assists)
4 - 4
10:02
Amare Stoudemire shooting foul (Brendan Haywood draws the foul)
4 - 4
10:02
Brendan Haywood misses free throw 1 of 1
4 - 4
10:00
Dallas offensive team rebound
4 - 4
9:52
Jason Kidd misses 26-foot three point jumper
4 - 4
9:49
Landry Fields defensive rebound
4 - 4
9:41
Amare Stoudemire lost ball (Dirk Nowitzki steals)
4 - 4
9:33
Vince Carter misses 27-foot three point jumper
4 - 4
9:32
Jeremy Lin defensive rebound
4 - 4
9:21
Iman Shumpert misses 17-foot two point shot
4 - 4
9:18
Iman Shumpert offensive rebound
4 - 4
9:15
Landry Fields makes two point shot
4 - 6
8:56
Iman Shumpert personal foul (Dirk Nowitzki draws the foul)
4 - 6
8:51
Iman Shumpert shooting foul (Dirk Nowitzki draws the foul)
4 - 6
8:51
Dirk Nowitzki makes free throw 1 of 2
5 - 6
8:51
Jared Jeffries enters the game for Iman Shumpert
5 - 6
8:51
Dirk Nowitzki makes free throw 2 of 2
6 - 6
8:30
Landry Fields makes 24-foot three point jumper (Jeremy Lin assists)
6 - 9
8:22
Shawn Marion makes 8-foot two point shot
8 - 9
8:12
Jeremy Lin misses driving layup
8 - 9
8:10
Brendan Haywood defensive rebound
8 - 9
8:03
Dirk Nowitzki makes 26-foot three point jumper (Jason Kidd assists)
11 - 9
7:46
Jared Jeffries out of bounds lost ball turnover
11 - 9
7:39
Shawn Marion makes 14-foot jumper
13 - 9
7:20
Jeremy Lin makes 21-foot two point shot
13 - 11
7:00
Dirk Nowitzki misses 13-foot two point shot
13 - 11
6:58
Tyson Chandler defensive rebound
13 - 11
6:50
Amare Stoudemire makes slam dunk (Jeremy Lin assists)
13 - 13
6:41
Dallas full timeout
13 - 13
6:41
Jason Terry enters the game for Vince Carter
13 - 13
6:31
Shawn Marion makes driving layup (Jason Terry assists)
15 - 13
6:18
Brendan Haywood blocks Amare Stoudemire's 7-foot jumper
15 - 13
6:16
Tyson Chandler offensive rebound
15 - 13
6:09
Jeremy Lin misses 24-foot three point jumper
15 - 13
6:07
Jared Jeffries offensive rebound
15 - 13
6:00
Jared Jeffries misses 23-foot three point jumper
15 - 13
5:58
Dirk Nowitzki defensive rebound
15 - 13
5:43
Jared Jeffries personal foul (Brendan Haywood draws the foul)
15 - 13
5:43
J.R. Smith enters the game for Amare Stoudemire
15 - 13
5:31
Jason Terry makes 27-foot three point jumper (Brendan Haywood assists)
18 - 13
5:18
Landry Fields bad pass (Jason Kidd steals)
18 - 13
5:13
Jason Kidd lost ball (J.R. Smith steals)
18 - 13
5:05
Jeremy Lin makes driving layup
18 - 15
4:48
Dirk Nowitzki lost ball (Jeremy Lin steals)
18 - 15
4:45
Jason Terry flagrant foul type 1 (Jeremy Lin draws the foul)
18 - 15
4:45
Jeremy Lin makes flagrant free throw 1 of 2
18 - 16
4:45
Jeremy Lin misses flagrant free throw 2 of 2
18 - 16
4:45
New York offensive team rebound
18 - 16
4:45
Brandan Wright enters the game for Dirk Nowitzki
18 - 16
4:45
Vince Carter enters the game for Brendan Haywood
18 - 16
4:45
Lamar Odom enters the game for Jason Kidd
18 - 16
4:26
J.R. Smith makes 24-foot three point jumper (Landry Fields assists)
18 - 19
4:09
Jason Terry offensive foul (Jeremy Lin draws the foul)
18 - 19
4:09
Jason Terry turnover
18 - 19
4:09
Dominique Jones enters the game for Jason Terry
18 - 19
4:00
J.R. Smith misses 25-foot three point jumper
18 - 19
3:58
Tyson Chandler offensive rebound
18 - 19
3:57
Tyson Chandler makes layup
18 - 21
3:31
Shawn Marion misses 25-foot three point jumper
18 - 21
3:30
Dallas defensive team rebound
18 - 21
3:14
Jared Jeffries misses 19-foot jumper
18 - 21
3:12
Landry Fields offensive rebound
18 - 21
3:08
J.R. Smith makes 24-foot three point jumper (Jared Jeffries assists)
18 - 24
3:04
Dallas 20 Sec. timeout
18 - 24
2:49
Vince Carter misses 9-foot two point shot
18 - 24
2:47
Tyson Chandler defensive rebound
18 - 24
2:30
Dominique Jones personal foul (Jeremy Lin draws the foul)
18 - 24
2:30
New York full timeout
18 - 24
2:30
Steve Novak enters the game for Landry Fields
18 - 24
2:16
J.R. Smith makes 22-foot three pointer
18 - 27
1:57
Shawn Marion misses 6-foot two point shot
18 - 27
1:54
J.R. Smith defensive rebound
18 - 27
1:42
Jeremy Lin makes 24-foot three point jumper (J.R. Smith assists)
18 - 30
1:23
Tyson Chandler illegal defense foul
18 - 30
1:23
Vince Carter makes technical free throw
19 - 30
1:23
Dirk Nowitzki enters the game for Shawn Marion
19 - 30
1:13
Vince Carter misses 4-foot running jumper
19 - 30
1:12
Dallas offensive team rebound
19 - 30
1:12
Tyson Chandler loose ball foul (Brandan Wright draws the foul)
19 - 30
1:12
Brandan Wright misses free throw 1 of 2
19 - 30
1:12
Dallas offensive team rebound
19 - 30
1:12
Brandan Wright makes free throw 2 of 2
20 - 30
0:48
J.R. Smith misses 31-foot three point jumper
20 - 30
0:48
New York offensive team rebound
20 - 30
0:48
shot clock turnover
20 - 30
0:33
Vince Carter bad pass
20 - 30
0:19
J.R. Smith misses 18-foot jumper
20 - 30
0:17
Tyson Chandler offensive rebound
20 - 30
0:06
Dominique Jones personal foul (Jeremy Lin draws the foul)
20 - 30
0:01
Jeremy Lin makes 6-foot two point shot
20 - 32
0:00
Lamar Odom misses 56-foot three point jumper
20 - 32
0:00
Dallas offensive team rebound
20 - 32
0:00
End of the 1st Quarter
20 - 32

time
TEAM
PLAY
SCORE
12:00
Start of the 2nd Quarter
20 - 32
11:41
J.R. Smith personal foul (Dirk Nowitzki draws the foul)
20 - 32
11:30
Jason Terry misses 25-foot three point jumper
20 - 32
11:27
J.R. Smith defensive rebound
20 - 32
11:15
Amare Stoudemire misses 16-foot jumper
20 - 32
11:14
Lamar Odom defensive rebound
20 - 32
11:04
Dirk Nowitzki makes 17-foot jumper (Dominique Jones assists)
22 - 32
10:51
J.R. Smith misses 25-foot three point jumper
22 - 32
10:48
Lamar Odom defensive rebound
22 - 32
10:40
Dirk Nowitzki misses jumper
22 - 32
10:38
Amare Stoudemire defensive rebound
22 - 32
10:37
Amare Stoudemire out of bounds lost ball turnover
22 - 32
10:30
Jared Jeffries blocks Brandan Wright's layup
22 - 32
10:30
Brandan Wright offensive rebound
22 - 32
10:29
Brandan Wright lost ball (Jared Jeffries steals)
22 - 32
10:08
Iman Shumpert lost ball (Dominique Jones steals)
22 - 32
10:04
Dominique Jones misses layup
22 - 32
10:03
Jason Terry offensive rebound
22 - 32
10:00
Dirk Nowitzki makes 24-foot three point jumper (Jason Terry assists)
25 - 32
9:41
Steve Novak misses 23-foot three point jumper
25 - 32
9:40
Jason Terry defensive rebound
25 - 32
9:37
Lamar Odom makes layup (Dirk Nowitzki assists)
27 - 32
9:36
New York full timeout
27 - 32
9:36
Landry Fields enters the game for Iman Shumpert
27 - 32
9:36
Jeremy Lin enters the game for J.R. Smith
27 - 32
9:25
Amare Stoudemire makes two point shot (Jeremy Lin assists)
27 - 34
9:11
Brandan Wright makes slam dunk (Dominique Jones assists)
29 - 34
8:59
Jared Jeffries out of bounds lost ball turnover
29 - 34
8:45
Jason Terry makes 25-foot three point jumper (Dominique Jones assists)
32 - 34
8:22
Jeremy Lin misses 26-foot three point jumper
32 - 34
8:21
Jared Jeffries offensive rebound
32 - 34
8:18
Jared Jeffries misses 15-foot two point shot
32 - 34
8:17
Lamar Odom defensive rebound
32 - 34
8:11
Dirk Nowitzki makes driving layup (Lamar Odom assists)
34 - 34
7:56
Amare Stoudemire makes driving layup (Jared Jeffries assists)
34 - 36
7:41
Lamar Odom misses three point jumper
34 - 36
7:39
Jared Jeffries defensive rebound
34 - 36
7:22
Landry Fields makes driving layup
34 - 38
7:20
Dallas full timeout
34 - 38
7:20
Iman Shumpert enters the game for Steve Novak
34 - 38
7:05
Dirk Nowitzki makes 8-foot two point shot
36 - 38
6:39
Jeremy Lin misses 4-foot two point shot
36 - 38
6:37
New York offensive team rebound
36 - 38
6:31
Tyson Chandler enters the game for Jared Jeffries
36 - 38
6:31
Brendan Haywood enters the game for Brandan Wright
36 - 38
6:31
Jumpball: Lamar Odom vs. Amare Stoudemire (Jeremy Lin gains possession)
36 - 38
6:24
Landry Fields misses 8-foot two point shot
36 - 38
6:22
Amare Stoudemire offensive rebound
36 - 38
6:22
Amare Stoudemire makes slam dunk
36 - 40
5:58
Jason Terry bad pass
36 - 40
5:41
Iman Shumpert misses 25-foot three point jumper
36 - 40
5:39
Lamar Odom defensive rebound
36 - 40
5:37
Jason Terry makes 13-foot two point shot (Lamar Odom assists)
38 - 40
5:20
Tyson Chandler misses layup
38 - 40
5:20
Brendan Haywood defensive rebound
38 - 40
5:11
Dominique Jones lost ball (Jeremy Lin steals)
38 - 40
5:07
Landry Fields makes slam dunk (Jeremy Lin assists)
38 - 42
4:48
Dirk Nowitzki misses layup
38 - 42
4:46
Landry Fields defensive rebound
38 - 42
4:35
Landry Fields misses 6-foot jumper
38 - 42
4:33
Lamar Odom defensive rebound
38 - 42
4:18
Landry Fields personal foul (Dirk Nowitzki draws the foul)
38 - 42
4:18
Jason Kidd enters the game for Dominique Jones
38 - 42
4:18
Vince Carter enters the game for Dirk Nowitzki
38 - 42
4:18
Shawn Marion enters the game for Lamar Odom
38 - 42
4:18
J.R. Smith enters the game for Iman Shumpert
38 - 42
4:09
Jason Terry misses 26-foot three point jumper
38 - 42
4:07
Landry Fields defensive rebound
38 - 42
4:03
Brendan Haywood shooting foul (Tyson Chandler draws the foul)
38 - 42
4:03
Tyson Chandler makes free throw 1 of 2
38 - 43
4:03
Tyson Chandler makes free throw 2 of 2
38 - 44
3:43
Shawn Marion misses 9-foot jumper
38 - 44
3:41
Shawn Marion offensive rebound
38 - 44
3:36
Brendan Haywood makes 4-foot hook shot (Shawn Marion assists)
40 - 44
3:14
Jeremy Lin makes 6-foot two point shot
40 - 46
3:02
Jeremy Lin blocks Shawn Marion's 8-foot jumper
40 - 46
3:02
Dallas defensive team rebound
40 - 46
2:48
Amare Stoudemire misses 19-foot jumper
40 - 46
2:47
New York offensive team rebound
40 - 46
2:47
Official timeout
40 - 46
2:36
Jeremy Lin misses 4-foot two point shot
40 - 46
2:35
Jason Kidd defensive rebound
40 - 46
2:17
J.R. Smith shooting foul (Brendan Haywood draws the foul)
40 - 46
2:17
Brendan Haywood misses free throw 1 of 2
40 - 46
2:17
Dallas offensive team rebound
40 - 46
2:17
Brendan Haywood makes free throw 2 of 2
41 - 46
2:00
J.R. Smith misses 15-foot jumper
41 - 46
1:59
Jason Terry defensive rebound
41 - 46
1:52
Shawn Marion makes layup (Jason Terry assists)
43 - 46
1:35
Tyson Chandler bad pass (Jason Terry steals)
43 - 46
1:31
Landry Fields shooting foul (Shawn Marion draws the foul)
43 - 46
1:31
Shawn Marion makes free throw 1 of 2
44 - 46
1:31
Dirk Nowitzki enters the game for Vince Carter
44 - 46
1:31
Shawn Marion makes free throw 2 of 2
45 - 46
1:21
Tyson Chandler makes slam dunk (Jeremy Lin assists)
45 - 48
0:57
Dirk Nowitzki misses 9-foot two point shot
45 - 48
0:56
Tyson Chandler defensive rebound
45 - 48
0:40
Landry Fields misses 23-foot three point jumper
45 - 48
0:38
Brendan Haywood defensive rebound
45 - 48
0:32
Jason Kidd bad pass (Landry Fields steals)
45 - 48
0:32
Jason Kidd personal foul (Landry Fields draws the foul)
45 - 48
0:32
Brandan Wright enters the game for Brendan Haywood
45 - 48
0:25
Landry Fields misses 25-foot three point jumper
45 - 48
0:23
New York offensive team rebound
45 - 48
0:01
Jeremy Lin lost ball (Jason Terry steals)
45 - 48
0:00
End of the 2nd Quarter
45 - 48

time
TEAM
PLAY
SCORE
12:00
Start of the 3rd Quarter
45 - 48
11:45
Dirk Nowitzki makes 8-foot two point shot
47 - 48
11:33
Jason Kidd personal foul (Amare Stoudemire draws the foul)
47 - 48
11:19
Amare Stoudemire misses 14-foot jumper
47 - 48
11:18
Vince Carter defensive rebound
47 - 48
11:07
Shawn Marion lost ball (Landry Fields steals)
47 - 48
11:03
Tyson Chandler makes slam dunk (Landry Fields assists)
47 - 50
10:45
Dirk Nowitzki makes layup
49 - 50
10:37
Iman Shumpert makes 24-foot three point jumper (Jeremy Lin assists)
49 - 53
10:19
Vince Carter makes 24-foot three point jumper (Dirk Nowitzki assists)
52 - 53
10:06
Jeremy Lin lost ball (Vince Carter steals)
52 - 53
9:55
Jason Kidd makes 13-foot jumper
54 - 53
9:34
Jeremy Lin bad pass (Jason Kidd steals)
54 - 53
9:26
Dirk Nowitzki bad pass (Iman Shumpert steals)
54 - 53
9:19
Iman Shumpert misses 25-foot three point jumper
54 - 53
9:18
Brendan Haywood defensive rebound
54 - 53
9:06
Jason Kidd misses 26-foot three point jumper
54 - 53
9:03
Tyson Chandler defensive rebound
54 - 53
8:56
Landry Fields lost ball (Dirk Nowitzki steals)
54 - 53
8:51
Dirk Nowitzki makes 25-foot three point jumper
57 - 53
8:51
Amare Stoudemire shooting foul (Dirk Nowitzki draws the foul)
57 - 53
8:51
Dirk Nowitzki makes free throw 1 of 1
58 - 53
8:30
Landry Fields misses 21-foot jumper
58 - 53
8:29
Dirk Nowitzki defensive rebound
58 - 53
8:14
Shawn Marion makes 7-foot two point shot (Dirk Nowitzki assists)
60 - 53
8:14
New York full timeout
60 - 53
8:04
Brendan Haywood blocks Jeremy Lin's two point shot
60 - 53
8:03
Jason Kidd defensive rebound
60 - 53
7:54
Vince Carter misses driving layup
63 - 55
7:52
Brendan Haywood offensive rebound
63 - 58
7:52
Brendan Haywood misses tip shot
63 - 58
7:50
Amare Stoudemire defensive rebound
60 - 53
7:43
Landry Fields makes driving layup (Jeremy Lin assists)
60 - 55
7:26
Dirk Nowitzki makes 25-foot three point jumper (Jason Kidd assists)
63 - 55
7:15
Amare Stoudemire misses 18-foot jumper
63 - 55
7:13
New York offensive team rebound
63 - 55
7:03
Jeremy Lin makes 4-foot two point shot
63 - 57
6:48
Amare Stoudemire personal foul (Dirk Nowitzki draws the foul)
63 - 57
6:48
Jason Terry enters the game for Vince Carter
63 - 57
6:39
Jason Kidd bad pass (Landry Fields steals)
63 - 57
6:31
Iman Shumpert misses 7-foot jumper
63 - 57
6:31
Amare Stoudemire offensive rebound
63 - 57
6:31
Dirk Nowitzki shooting foul (Amare Stoudemire draws the foul)
63 - 57
6:31
Amare Stoudemire makes free throw 1 of 2
63 - 58
6:31
Amare Stoudemire misses free throw 2 of 2
63 - 58
6:30
Dirk Nowitzki defensive rebound
63 - 58
6:16
Dirk Nowitzki bad pass (Landry Fields steals)
63 - 58
6:11
Jeremy Lin lost ball (Shawn Marion steals)
63 - 58
6:03
Jason Terry misses 24-foot three point jumper
63 - 58
6:01
Tyson Chandler defensive rebound
63 - 58
5:50
Landry Fields misses layup
63 - 58
5:48
Jason Kidd defensive rebound
63 - 58
5:43
Tyson Chandler blocks Brendan Haywood's layup
63 - 58
5:41
Jason Kidd offensive rebound
63 - 58
5:37
Jason Kidd makes 22-foot three point jumper (Jason Terry assists)
66 - 58
5:16
Landry Fields bad pass
66 - 58
5:16
J.R. Smith enters the game for Iman Shumpert
66 - 58
5:16
Jared Jeffries enters the game for Amare Stoudemire
66 - 58
5:03
Brendan Haywood makes two point shot (Jason Terry assists)
68 - 58
4:37
Jared Jeffries misses 20-foot jumper
68 - 58
4:35
Jason Terry defensive rebound
68 - 58
4:16
J.R. Smith shooting foul (Dirk Nowitzki draws the foul)
68 - 58
4:16
Dirk Nowitzki makes free throw 1 of 2
69 - 58
4:16
Steve Novak enters the game for Landry Fields
69 - 58
4:16
Vince Carter enters the game for Jason Kidd
69 - 58
4:16
Brandan Wright enters the game for Brendan Haywood
69 - 58
4:16
Dirk Nowitzki makes free throw 2 of 2
70 - 58
4:03
Tyson Chandler misses 4-foot jumper
70 - 58
4:01
Dirk Nowitzki defensive rebound
70 - 58
3:56
Brandan Wright misses 7-foot jumper
70 - 58
3:54
Steve Novak defensive rebound
70 - 58
3:47
Tyson Chandler makes slam dunk (J.R. Smith assists)
70 - 60
3:47
Dallas full timeout
70 - 60
3:47
Lamar Odom enters the game for Dirk Nowitzki
70 - 60
3:30
Tyson Chandler blocks Vince Carter's driving layup
70 - 60
3:28
Jared Jeffries defensive rebound
70 - 60
3:18
Jeremy Lin makes driving layup
70 - 62
3:18
Lamar Odom shooting foul (Jeremy Lin draws the foul)
70 - 62
3:18
Jeremy Lin misses free throw 1 of 1
70 - 62
3:17
Shawn Marion defensive rebound
70 - 62
3:04
Vince Carter makes three point jumper (Lamar Odom assists)
73 - 62
2:49
Jeremy Lin makes driving layup
73 - 64
2:49
Lamar Odom shooting foul (Jeremy Lin draws the foul)
73 - 64
2:49
Jeremy Lin makes free throw 1 of 1
73 - 65
2:33
Shawn Marion misses 3-foot jumper
73 - 65
2:31
Shawn Marion offensive rebound
73 - 65
2:26
Brandan Wright makes 5-foot two point shot (Vince Carter assists)
75 - 65
2:02
Shawn Marion personal foul (Jeremy Lin draws the foul)
75 - 65
2:02
Jeremy Lin misses free throw 1 of 2
75 - 65
2:02
New York offensive team rebound
75 - 65
2:02
Jeremy Lin makes free throw 2 of 2
75 - 66
1:45
Lamar Odom offensive foul (Tyson Chandler draws the foul)
75 - 66
1:45
Lamar Odom turnover
75 - 66
1:31
Jeremy Lin misses 25-foot three point jumper
75 - 66
1:30
Vince Carter defensive rebound
75 - 66
1:19
Vince Carter misses 25-foot three point jumper
75 - 66
1:16
Tyson Chandler defensive rebound
75 - 66
1:07
J.R. Smith misses 24-foot three point jumper
75 - 66
1:05
Jeremy Lin offensive rebound
75 - 66
0:57
J.R. Smith makes 21-foot two point shot
75 - 68
0:33
Lamar Odom misses 25-foot three point jumper
75 - 68
0:31
J.R. Smith defensive rebound
75 - 68
0:23
Jeremy Lin misses jumper
75 - 68
0:22
Jared Jeffries offensive rebound
75 - 68
0:21
Jared Jeffries makes 3-foot two point shot
75 - 70
0:14
Lamar Odom bad pass (Jeremy Lin steals)
75 - 70
0:12
Jeremy Lin makes slam dunk
75 - 72
0:00
Jason Terry misses 28-foot three point jumper
75 - 72
0:00
Dallas offensive team rebound
75 - 72
0:00
End of the 3rd Quarter
75 - 72

time
TEAM
PLAY
SCORE
12:00
Start of the 4th Quarter
75 - 72
11:41
Steve Novak makes 23-foot three point jumper (Jeremy Lin assists)
75 - 75
11:23
Lamar Odom misses 26-foot three point jumper
75 - 75
11:22
Jason Terry offensive rebound
75 - 75
11:19
Dominique Jones bad pass
75 - 75
11:07
Steve Novak makes 17-foot jumper (Jeremy Lin assists)
75 - 77
10:41
Dominique Jones makes 24-foot three point jumper (Jason Terry assists)
78 - 77
10:27
Dominique Jones shooting foul (Jared Jeffries draws the foul)
78 - 77
10:27
Jared Jeffries misses free throw 1 of 2
78 - 77
10:27
New York offensive team rebound
78 - 77
10:27
Jared Jeffries makes free throw 2 of 2
78 - 78
10:11
Brandan Wright misses 8-foot two point shot
78 - 78
10:11
Jeremy Lin defensive rebound
78 - 78
9:53
J.R. Smith misses 19-foot two point shot
78 - 78
9:51
Iman Shumpert offensive rebound
78 - 78
9:48
Brandan Wright blocks Iman Shumpert's 27-foot three point jumper
78 - 78
9:45
New York offensive team rebound
78 - 78
9:45
shot clock turnover
78 - 78
9:32
Jason Terry makes driving layup
80 - 78
9:25
J.R. Smith misses layup
80 - 78
9:23
New York defensive team rebound
80 - 78
9:23
Jared Jeffries loose ball foul (Dirk Nowitzki draws the foul)
80 - 78
9:07
Dirk Nowitzki misses 25-foot three point jumper
80 - 78
9:06
Dominique Jones offensive rebound
80 - 78
9:04
Brandan Wright lost ball (Steve Novak steals)
80 - 78
9:03
Brandan Wright personal foul (Jared Jeffries draws the foul)
80 - 78
8:52
Iman Shumpert misses 16-foot jumper
80 - 78
8:51
Lamar Odom defensive rebound
80 - 78
8:42
Lamar Odom misses jumper
80 - 78
8:41
Jared Jeffries defensive rebound
80 - 78
8:36
Steve Novak makes 23-foot three point jumper (Jeremy Lin assists)
80 - 81
8:34
Dallas full timeout
80 - 81
8:34
Shawn Marion enters the game for Lamar Odom
80 - 81
8:34
Jason Kidd enters the game for Dominique Jones
80 - 81
8:34
Amare Stoudemire enters the game for Iman Shumpert
80 - 81
8:22
Jason Kidd lost ball (Jeremy Lin steals)
80 - 81
8:19
Jason Terry personal foul (J.R. Smith draws the foul)
80 - 81
8:14
Steve Novak makes 24-foot three point jumper (Jeremy Lin assists)
80 - 84
7:48
J.R. Smith shooting foul (Dirk Nowitzki draws the foul)
80 - 84
7:48
Dirk Nowitzki makes free throw 1 of 2
81 - 84
7:48
Vince Carter enters the game for Jason Terry
81 - 84
7:48
Dirk Nowitzki misses free throw 2 of 2
81 - 84
7:47
Steve Novak defensive rebound
81 - 84
7:31
J.R. Smith misses 25-foot three point jumper
81 - 84
7:30
Amare Stoudemire offensive rebound
81 - 84
7:28
Steve Novak makes 22-foot three point jumper (Amare Stoudemire assists)
81 - 87
7:07
Jason Kidd misses 24-foot three point jumper
81 - 87
7:05
Steve Novak defensive rebound
81 - 87
6:50
Jeremy Lin makes 25-foot three point jumper
81 - 90
6:48
Dallas 20 Sec. timeout
81 - 90
6:48
Brendan Haywood enters the game for Brandan Wright
81 - 90
6:35
Dirk Nowitzki makes two point shot
83 - 90
6:13
Vince Carter personal foul (Jared Jeffries draws the foul)
83 - 90
6:05
J.R. Smith makes 14-foot two point shot
83 - 92
5:45
Jason Kidd makes 23-foot three point jumper (Vince Carter assists)
86 - 92
5:22
Jeremy Lin bad pass (Jason Kidd steals)
86 - 92
5:18
Dirk Nowitzki makes driving layup (Jason Kidd assists)
88 - 92
5:01
Jeremy Lin bad pass (Vince Carter steals)
88 - 92
4:54
Jason Kidd misses 25-foot three point jumper
88 - 92
4:52
Jared Jeffries defensive rebound
88 - 92
4:52
Brendan Haywood personal foul (Jared Jeffries draws the foul)
88 - 92
4:52
Official timeout
88 - 92
4:52
Jason Terry enters the game for Vince Carter
88 - 92
4:52
Jared Jeffries makes free throw 1 of 2
88 - 93
4:52
Jared Jeffries misses free throw 2 of 2
88 - 93
4:50
Shawn Marion defensive rebound
88 - 93
4:39
Jared Jeffries personal foul (Dirk Nowitzki draws the foul)
88 - 93
4:28
Dirk Nowitzki misses layup
88 - 93
4:28
Amare Stoudemire shooting foul (Dirk Nowitzki draws the foul)
88 - 93
4:28
Dirk Nowitzki makes free throw 1 of 2
89 - 93
4:28
Dirk Nowitzki offensive rebound
88 - 93
4:28
Dirk Nowitzki makes free throw 2 of 2
90 - 93
4:07
J.R. Smith misses three point jumper
90 - 93
4:07
Amare Stoudemire offensive rebound
90 - 93
4:05
Dirk Nowitzki shooting foul (Amare Stoudemire draws the foul)
90 - 93
4:05
Amare Stoudemire makes free throw 1 of 2
90 - 94
4:05
Tyson Chandler enters the game for Jared Jeffries
90 - 94
4:05
Amare Stoudemire makes free throw 2 of 2
90 - 95
3:56
Jason Kidd bad pass
90 - 95
3:38
Jeremy Lin bad pass (Shawn Marion steals)
90 - 95
3:26
Jason Terry makes 24-foot three point jumper (Jason Kidd assists)
93 - 95
2:57
Jeremy Lin makes 26-foot three point jumper
93 - 98
2:39
Dirk Nowitzki misses 13-foot jumper
93 - 98
2:38
Brendan Haywood offensive rebound
93 - 98
2:34
Brendan Haywood makes 14-foot jumper
95 - 98
2:05
Steve Novak misses 21-foot jumper
95 - 98
2:05
New York offensive team rebound
95 - 98
2:05
Brendan Haywood loose ball foul (Tyson Chandler draws the foul)
95 - 98
2:05
New York full timeout
95 - 98
2:05
Tyson Chandler makes free throw 1 of 2
95 - 99
2:05
Tyson Chandler makes free throw 2 of 2
95 - 100
1:51
Dirk Nowitzki misses 3-foot jumper
95 - 100
1:49
Tyson Chandler defensive rebound
95 - 100
1:24
shot clock turnover
95 - 100
1:08
Tyson Chandler blocks Jason Terry's 4-foot jumper
95 - 100
1:07
Jason Terry offensive rebound
95 - 100
1:07
Shawn Marion makes layup
97 - 100
1:07
Tyson Chandler defensive goaltending
97 - 100
0:44
Jeremy Lin misses jumper
97 - 100
0:42
Jason Terry defensive rebound
97 - 100
0:33
Jason Terry misses 25-foot three point jumper
97 - 100
0:32
Jeremy Lin defensive rebound
97 - 100
0:28
J.R. Smith makes layup (Jeremy Lin assists)
97 - 102
0:28
Dallas full timeout
97 - 102
0:28
Vince Carter enters the game for Brendan Haywood
97 - 102
0:28
Jared Jeffries enters the game for Amare Stoudemire
97 - 102
0:24
Jason Terry misses 24-foot three point jumper
97 - 102
0:22
Shawn Marion offensive rebound
97 - 102
0:20
Jason Kidd misses 26-foot three point jumper
97 - 102
0:18
Shawn Marion offensive rebound
97 - 102
0:16
Dirk Nowitzki lost ball (Jeremy Lin steals)
97 - 102
0:08
Tyson Chandler makes dunk (Jeremy Lin assists)
97 - 104
0:04
Jason Terry misses 26-foot three point jumper
97 - 104
0:01
Shawn Marion offensive rebound
97 - 104
0:00
End of the 4th Quarter
97 - 104
0:00
End Game
97 - 104
Cavs forward Richard Jefferson has decided not to retire and wants to play for at least two more seasons.

The basketball star, visiting China, took time out to reflect as well as to spend time with friends and young basketball hopefuls.

The long-awated Kevin Durant Sweepstakes are almost upon us.Free agency is just a couple more days away.Yet I hope you can indulge me for a few lines of tribute to my .
Regular Season Series
Series tied 1-1
2015-2016 Southwest Standings
2015-2016 Atlantic Standings