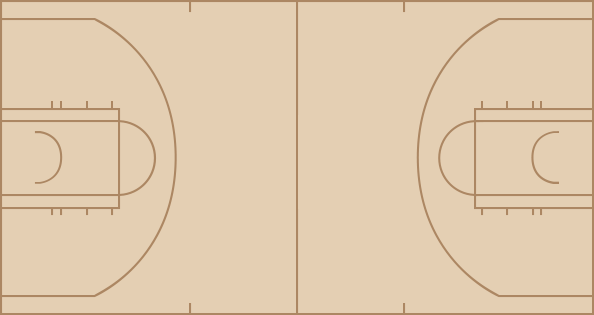 Mavericks
time
TEAM
PLAY
SCORE
12:00
Start of the 1st Quarter
0 - 0
12:00
Jumpball: Brendan Haywood vs. Joakim Noah (Derrick Rose gains possession)
0 - 0
11:42
Richard Hamilton makes 14-foot jumper (Derrick Rose assists)
0 - 2
11:21
Dirk Nowitzki misses 22-foot jumper
0 - 2
11:19
Carlos Boozer defensive rebound
0 - 2
11:06
Joakim Noah misses layup
0 - 2
11:04
Delonte West defensive rebound
0 - 2
10:48
Shawn Marion step out of bounds turnover
0 - 2
10:36
Carlos Boozer makes 16-foot two point shot (Joakim Noah assists)
0 - 4
10:11
Dirk Nowitzki makes 22-foot jumper (Rodrigue Beaubois assists)
2 - 4
9:55
Dirk Nowitzki shooting foul (Joakim Noah draws the foul)
2 - 4
9:55
Joakim Noah makes free throw 1 of 2
2 - 5
9:55
Joakim Noah misses free throw 2 of 2
2 - 5
9:52
Dirk Nowitzki defensive rebound
2 - 5
9:40
Joakim Noah personal foul (Delonte West draws the foul)
2 - 5
9:26
Rodrigue Beaubois misses 16-foot jumper
2 - 5
9:26
Luol Deng defensive rebound
2 - 5
9:15
Joakim Noah misses 12-foot two point shot
2 - 5
9:14
Shawn Marion defensive rebound
2 - 5
8:57
Rodrigue Beaubois misses driving layup
2 - 5
8:56
Luol Deng defensive rebound
2 - 5
8:49
Carlos Boozer misses 18-foot jumper
2 - 5
8:48
Shawn Marion defensive rebound
2 - 5
8:40
Dirk Nowitzki makes two point shot (Rodrigue Beaubois assists)
4 - 5
8:22
Richard Hamilton makes 15-foot jumper (Derrick Rose assists)
4 - 7
8:03
Dirk Nowitzki misses driving layup
4 - 7
8:03
Carlos Boozer defensive rebound
4 - 7
7:54
Derrick Rose misses 20-foot jumper
4 - 7
7:52
Dirk Nowitzki defensive rebound
4 - 7
7:33
Delonte West makes 15-foot two point shot
6 - 7
7:15
Richard Hamilton misses 26-foot three point jumper
6 - 7
7:13
Rodrigue Beaubois defensive rebound
6 - 7
7:11
Rodrigue Beaubois offensive charge (Derrick Rose draws the foul)
6 - 7
7:11
Rodrigue Beaubois turnover
6 - 7
6:56
Joakim Noah misses 12-foot jumper
6 - 7
6:56
Brendan Haywood defensive rebound
6 - 7
6:33
Brendan Haywood misses 11-foot jumper
6 - 7
6:33
Joakim Noah defensive rebound
6 - 7
6:26
Carlos Boozer makes layup (Richard Hamilton assists)
6 - 9
6:05
Shawn Marion misses 23-foot three point jumper
6 - 9
6:03
Joakim Noah defensive rebound
6 - 9
5:58
Chicago full timeout
6 - 9
5:54
Luol Deng bad pass (Rodrigue Beaubois steals)
6 - 9
5:39
Shawn Marion makes 8-foot two point shot
8 - 9
5:20
Richard Hamilton misses 17-foot jumper
8 - 9
5:20
Dirk Nowitzki defensive rebound
8 - 9
5:13
Dirk Nowitzki misses 21-foot jumper
8 - 9
5:11
Richard Hamilton defensive rebound
8 - 9
5:07
Richard Hamilton makes 2-foot two point shot
8 - 11
5:07
Rodrigue Beaubois defensive goaltending
8 - 11
4:48
Delonte West misses 22-foot jumper
8 - 11
4:47
Luol Deng defensive rebound
8 - 11
4:43
Richard Hamilton makes layup (Derrick Rose assists)
8 - 13
4:41
Dallas 20 Sec. timeout
8 - 13
4:41
Vince Carter enters the game for Brendan Haywood
8 - 13
4:41
Ian Mahinmi enters the game for Dirk Nowitzki
8 - 13
4:24
Rodrigue Beaubois misses 26-foot three point jumper
8 - 13
4:22
Joakim Noah defensive rebound
8 - 13
4:05
Derrick Rose makes 8-foot two point shot
8 - 15
3:47
Rodrigue Beaubois misses 26-foot three point jumper
8 - 15
3:47
Carlos Boozer defensive rebound
8 - 15
3:40
Derrick Rose misses 26-foot three point jumper
8 - 15
3:39
Shawn Marion defensive rebound
8 - 15
3:20
Rodrigue Beaubois bad pass (Richard Hamilton steals)
8 - 15
3:13
Joakim Noah bad pass (Shawn Marion steals)
8 - 15
3:05
Vince Carter misses 26-foot three point jumper
8 - 15
3:04
Joakim Noah defensive rebound
8 - 15
2:59
Chicago 20 Sec. timeout
8 - 15
2:59
Dallas full timeout
8 - 15
2:59
Kelenna Azubuike enters the game for Rodrigue Beaubois
8 - 15
2:57
C.J. Watson enters the game for Derrick Rose
8 - 15
2:42
shot clock turnover
8 - 15
2:23
Vince Carter misses 20-foot two point shot
8 - 15
2:21
Carlos Boozer defensive rebound
8 - 15
2:12
Carlos Boozer makes 16-foot jumper (C.J. Watson assists)
8 - 17
1:45
Vince Carter misses jumper
8 - 17
1:43
Carlos Boozer defensive rebound
8 - 17
1:23
Carlos Boozer makes 8-foot two point shot
8 - 19
1:00
Ian Mahinmi misses jumper
8 - 19
0:59
Joakim Noah defensive rebound
8 - 19
0:44
Richard Hamilton makes 12-foot jumper
8 - 21
0:44
Dallas full timeout
8 - 21
0:44
Taj Gibson enters the game for Carlos Boozer
8 - 21
0:44
Omer Asik enters the game for Joakim Noah
8 - 21
0:44
Dominique Jones enters the game for Shawn Marion
8 - 21
0:44
Rodrigue Beaubois enters the game for Delonte West
8 - 21
0:44
Dirk Nowitzki enters the game for Kelenna Azubuike
8 - 21
0:29
Ian Mahinmi lost ball (Omer Asik steals)
8 - 21
0:13
Luol Deng misses 18-foot two point shot
8 - 21
0:12
Rodrigue Beaubois defensive rebound
8 - 21
0:04
Vince Carter misses 18-foot jumper
8 - 21
0:03
Taj Gibson defensive rebound
8 - 21
0:00
C.J. Watson misses 27-foot three point jumper
8 - 21
0:00
Chicago offensive team rebound
8 - 21
0:00
End of the 1st Quarter
8 - 21

time
TEAM
PLAY
SCORE
12:00
Start of the 2nd Quarter
8 - 21
11:37
Rodrigue Beaubois misses 21-foot jumper
8 - 21
11:36
Ian Mahinmi offensive rebound
8 - 21
11:36
Ian Mahinmi misses tip shot
8 - 21
11:34
Ronnie Brewer defensive rebound
8 - 21
11:17
C.J. Watson bad pass (Dominique Jones steals)
8 - 21
11:11
Rodrigue Beaubois makes layup (Dominique Jones assists)
10 - 21
10:48
Dominique Jones shooting foul (Ronnie Brewer draws the foul)
10 - 21
10:48
Ronnie Brewer makes free throw 1 of 2
10 - 22
10:48
Ronnie Brewer makes free throw 2 of 2
10 - 23
10:34
Dominique Jones lost ball (Omer Asik steals)
10 - 23
10:18
Taj Gibson misses 8-foot jumper
10 - 23
10:18
Ian Mahinmi defensive rebound
10 - 23
10:15
Ian Mahinmi bad pass (Ronnie Brewer steals)
10 - 23
10:14
Ronnie Brewer makes layup
10 - 25
10:06
Omer Asik shooting foul (Vince Carter draws the foul)
10 - 25
10:06
Vince Carter makes free throw 1 of 3
11 - 25
10:06
Vince Carter makes free throw 2 of 3
12 - 25
10:06
Vince Carter makes free throw 3 of 3
13 - 25
9:48
Taj Gibson misses 16-foot jumper
13 - 25
9:47
Dominique Jones defensive rebound
13 - 25
9:40
Dirk Nowitzki misses 24-foot three point jumper
13 - 25
9:38
Ronnie Brewer defensive rebound
13 - 25
9:26
C.J. Watson misses 21-foot jumper
13 - 25
9:26
Dirk Nowitzki defensive rebound
13 - 25
9:18
C.J. Watson shooting foul (Ian Mahinmi draws the foul)
13 - 25
9:18
Ian Mahinmi makes free throw 1 of 2
14 - 25
9:18
Kyle Korver enters the game for Omer Asik
14 - 25
9:18
Ian Mahinmi makes free throw 2 of 2
15 - 25
9:00
Luol Deng misses 25-foot three point jumper
15 - 25
9:00
Dominique Jones defensive rebound
15 - 25
8:49
Dominique Jones makes 5-foot jumper
17 - 25
8:27
C.J. Watson misses 20-foot jumper
17 - 25
8:26
Dirk Nowitzki defensive rebound
17 - 25
8:18
Dirk Nowitzki makes 26-foot three point jumper (Rodrigue Beaubois assists)
20 - 25
7:58
Kyle Korver makes 24-foot three point jumper (C.J. Watson assists)
20 - 28
7:50
Taj Gibson shooting foul (Dominique Jones draws the foul)
20 - 28
7:50
full timeout
20 - 28
7:50
Carlos Boozer enters the game for Luol Deng
20 - 28
7:50
Brandan Wright enters the game for Ian Mahinmi
20 - 28
7:50
Dominique Jones makes free throw 1 of 2
21 - 28
7:50
Dominique Jones makes free throw 2 of 2
22 - 28
7:37
Ronnie Brewer misses driving layup
22 - 28
7:37
Taj Gibson offensive rebound
22 - 28
7:37
Taj Gibson misses tip shot
22 - 28
7:35
Brandan Wright defensive rebound
22 - 28
7:31
Dallas full timeout
22 - 28
7:31
Derrick Rose enters the game for C.J. Watson
22 - 28
7:31
Delonte West enters the game for Rodrigue Beaubois
22 - 28
7:18
Dirk Nowitzki misses 15-foot two point shot
22 - 28
7:16
Brandan Wright offensive rebound
22 - 28
7:07
Brandan Wright makes 3-foot two point shot (Delonte West assists)
24 - 28
6:41
Kyle Korver misses three point jumper
24 - 28
6:39
Brandan Wright defensive rebound
24 - 28
6:24
Dirk Nowitzki makes layup (Vince Carter assists)
26 - 28
6:16
Chicago full timeout
26 - 28
6:16
Joakim Noah enters the game for Taj Gibson
26 - 28
6:16
Luol Deng enters the game for Ronnie Brewer
26 - 28
6:07
Carlos Boozer misses layup
26 - 28
6:05
Brandan Wright defensive rebound
26 - 28
5:54
Dominique Jones misses driving layup
26 - 28
5:52
Kyle Korver defensive rebound
26 - 28
5:48
Derrick Rose misses 19-foot jumper
26 - 28
5:48
Chicago offensive team rebound
26 - 28
5:43
Derrick Rose makes 26-foot three point jumper
26 - 31
5:20
Luol Deng shooting foul (Vince Carter draws the foul)
26 - 31
5:20
Vince Carter makes free throw 1 of 2
27 - 31
5:20
Vince Carter misses free throw 2 of 2
27 - 31
5:18
Joakim Noah defensive rebound
27 - 31
5:01
Luol Deng misses 5-foot two point shot
27 - 31
5:01
Vince Carter defensive rebound
27 - 31
4:54
Dirk Nowitzki makes driving layup
29 - 31
4:35
Vince Carter personal foul (Joakim Noah draws the foul)
29 - 31
4:26
Luol Deng makes 25-foot three point jumper (Derrick Rose assists)
29 - 34
4:07
Vince Carter misses 24-foot three point jumper
29 - 34
4:07
Dallas offensive team rebound
29 - 34
4:07
Kyle Korver loose ball foul (Dirk Nowitzki draws the foul)
29 - 34
4:07
Dirk Nowitzki makes free throw 1 of 2
30 - 34
4:07
Dirk Nowitzki misses free throw 2 of 2
30 - 34
4:05
Carlos Boozer defensive rebound
30 - 34
3:51
Carlos Boozer misses 12-foot jumper
30 - 34
3:50
Dominique Jones defensive rebound
30 - 34
3:46
Delonte West misses 20-foot jumper
30 - 34
3:45
Joakim Noah defensive rebound
30 - 34
3:43
Joakim Noah bad pass (Dominique Jones steals)
30 - 34
3:26
Vince Carter misses 19-foot jumper
30 - 34
3:24
Kyle Korver defensive rebound
30 - 34
3:19
Dominique Jones shooting foul (Joakim Noah draws the foul)
30 - 34
3:19
Joakim Noah makes free throw 1 of 2
30 - 35
3:19
Shawn Marion enters the game for Dirk Nowitzki
30 - 35
3:19
Rodrigue Beaubois enters the game for Dominique Jones
30 - 35
3:19
Joakim Noah misses free throw 2 of 2
30 - 35
3:18
Shawn Marion defensive rebound
30 - 35
3:00
Delonte West makes 15-foot jumper
32 - 35
2:38
Luol Deng makes 23-foot three point jumper (Joakim Noah assists)
32 - 38
2:23
Kyle Korver shooting foul (Vince Carter draws the foul)
32 - 38
2:23
Vince Carter makes free throw 1 of 2
33 - 38
2:23
Taj Gibson enters the game for Joakim Noah
33 - 38
2:23
Richard Hamilton enters the game for Kyle Korver
33 - 38
2:23
Vince Carter makes free throw 2 of 2
34 - 38
1:58
Taj Gibson misses 18-foot jumper
34 - 38
1:57
Shawn Marion defensive rebound
34 - 38
1:43
Shawn Marion misses 12-foot two point shot
34 - 38
1:42
Taj Gibson defensive rebound
34 - 38
1:19
Derrick Rose makes 22-foot jumper
34 - 40
1:00
Brandan Wright misses 10-foot jumper
34 - 40
1:00
Taj Gibson defensive rebound
34 - 40
0:54
Carlos Boozer makes layup (Luol Deng assists)
34 - 42
0:35
Rodrigue Beaubois makes 6-foot jumper
36 - 42
0:25
Derrick Rose makes 14-foot jumper
36 - 44
0:07
Shawn Marion makes slam dunk (Rodrigue Beaubois assists)
38 - 44
0:03
Rodrigue Beaubois personal take (Derrick Rose draws the foul)
38 - 44
0:03
Dominique Jones enters the game for Vince Carter
38 - 44
0:00
Richard Hamilton misses jumper
38 - 44
0:00
Chicago offensive team rebound
38 - 44
0:00
End of the 2nd Quarter
38 - 44

time
TEAM
PLAY
SCORE
12:00
Start of the 3rd Quarter
38 - 44
11:41
Delonte West makes 22-foot jumper
40 - 44
11:17
Richard Hamilton misses driving layup
40 - 44
11:15
Joakim Noah offensive rebound
40 - 44
11:15
Joakim Noah misses two point shot
40 - 44
11:14
Brendan Haywood defensive rebound
40 - 44
11:03
Delonte West misses 20-foot jumper
40 - 44
11:03
Carlos Boozer defensive rebound
40 - 44
10:56
Luol Deng misses 19-foot jumper
40 - 44
10:55
Rodrigue Beaubois defensive rebound
40 - 44
10:41
Dirk Nowitzki misses 17-foot jumper
40 - 44
10:38
Luol Deng defensive rebound
40 - 44
10:22
Carlos Boozer misses 17-foot jumper
40 - 44
10:21
Dirk Nowitzki defensive rebound
40 - 44
10:11
Delonte West misses driving layup
40 - 44
10:11
Carlos Boozer defensive rebound
40 - 44
10:06
Richard Hamilton makes 2-foot two point shot (Carlos Boozer assists)
40 - 46
9:40
Rodrigue Beaubois misses 17-foot jumper
40 - 46
9:38
Brendan Haywood offensive rebound
40 - 46
9:33
Dirk Nowitzki misses 25-foot three point jumper
40 - 46
9:33
Carlos Boozer defensive rebound
40 - 46
9:26
Carlos Boozer traveling
40 - 46
9:12
Dirk Nowitzki makes 21-foot jumper (Delonte West assists)
42 - 46
8:51
Carlos Boozer makes layup (Joakim Noah assists)
42 - 48
8:26
Luol Deng personal foul (Shawn Marion draws the foul)
42 - 48
8:12
Delonte West makes 18-foot jumper
44 - 48
8:12
Richard Hamilton shooting foul (Delonte West draws the foul)
44 - 48
8:12
Delonte West makes free throw 1 of 1
45 - 48
7:54
Richard Hamilton misses 11-foot jumper
45 - 48
7:52
Delonte West defensive rebound
45 - 48
7:43
Joakim Noah shooting foul (Dirk Nowitzki draws the foul)
45 - 48
7:43
Dirk Nowitzki makes free throw 1 of 2
46 - 48
7:43
Dirk Nowitzki makes free throw 2 of 2
47 - 48
7:28
Richard Hamilton makes 23-foot three point jumper (Derrick Rose assists)
47 - 51
7:11
Delonte West misses 17-foot jumper
47 - 51
7:09
Luol Deng defensive rebound
47 - 51
7:05
Richard Hamilton makes 19-foot jumper (Luol Deng assists)
47 - 53
7:03
Dallas full timeout
47 - 53
6:47
Rodrigue Beaubois makes 13-foot jumper
49 - 53
6:22
Joakim Noah makes slam dunk (Carlos Boozer assists)
49 - 55
6:01
Brendan Haywood lost ball (Carlos Boozer steals)
49 - 55
5:54
Luol Deng bad pass
49 - 55
5:31
Delonte West misses 15-foot jumper
49 - 55
5:30
Rodrigue Beaubois offensive rebound
49 - 55
5:24
double personal foul: Richard Hamilton (3) and Dirk Nowitzki (2) are each charged with a personal foul
49 - 55
5:24
Richard Hamilton technical foul (1st technical foul)
49 - 55
5:24
Dirk Nowitzki makes technical free throw
50 - 55
5:13
Brendan Haywood misses 13-foot jumper
50 - 55
5:13
Richard Hamilton defensive rebound
50 - 55
5:03
Joakim Noah bad pass (Brendan Haywood steals)
50 - 55
5:00
Luol Deng shooting foul (Shawn Marion draws the foul)
50 - 55
5:00
Shawn Marion makes free throw 1 of 2
51 - 55
5:00
Ian Mahinmi enters the game for Brendan Haywood
51 - 55
5:00
Shawn Marion makes free throw 2 of 2
52 - 55
4:35
Luol Deng misses 26-foot three point jumper
52 - 55
4:35
Delonte West defensive rebound
52 - 55
4:24
Dirk Nowitzki misses 16-foot jumper
52 - 55
4:24
Ian Mahinmi offensive rebound
52 - 55
4:24
Ian Mahinmi misses tip shot
52 - 55
4:22
Carlos Boozer defensive rebound
52 - 55
4:13
Luol Deng lost ball (Shawn Marion steals)
52 - 55
4:03
Delonte West makes 17-foot jumper
54 - 55
3:56
Chicago full timeout
54 - 55
3:56
C.J. Watson enters the game for Derrick Rose
54 - 55
3:56
Vince Carter enters the game for Dirk Nowitzki
54 - 55
3:56
Dominique Jones enters the game for Rodrigue Beaubois
54 - 55
3:46
Dominique Jones personal foul (Richard Hamilton draws the foul)
54 - 55
3:34
Carlos Boozer misses driving layup
54 - 55
3:33
Shawn Marion defensive rebound
54 - 55
3:27
Delonte West misses 26-foot three point jumper
54 - 55
3:26
C.J. Watson defensive rebound
54 - 55
3:19
C.J. Watson misses 25-foot three point jumper
54 - 55
3:16
Ian Mahinmi defensive rebound
54 - 55
3:00
Delonte West makes 20-foot jumper
56 - 55
2:49
Ian Mahinmi personal foul (Carlos Boozer draws the foul)
56 - 55
2:49
Taj Gibson enters the game for Carlos Boozer
56 - 55
2:35
Shawn Marion blocks Taj Gibson's 4-foot jumper
56 - 55
2:35
Chicago offensive team rebound
56 - 55
2:33
Richard Hamilton makes 9-foot two point shot (Luol Deng assists)
56 - 57
2:18
Delonte West bad pass (Luol Deng steals)
56 - 57
2:15
Vince Carter shooting foul (Luol Deng draws the foul)
56 - 57
2:15
Luol Deng makes free throw 1 of 2
56 - 58
2:15
Luol Deng makes free throw 2 of 2
56 - 59
1:51
Dominique Jones misses 11-foot running jumper
56 - 59
1:50
Luol Deng defensive rebound
56 - 59
1:34
C.J. Watson misses 25-foot three point jumper
56 - 59
1:32
Joakim Noah offensive rebound
56 - 59
1:30
Luol Deng makes two point shot (Joakim Noah assists)
56 - 61
1:28
Dallas 20 Sec. timeout
56 - 61
1:05
Shawn Marion misses 11-foot jumper
56 - 61
1:05
Dallas defensive team rebound
56 - 61
0:47
Taj Gibson makes 15-foot jumper (Richard Hamilton assists)
56 - 63
0:31
Vince Carter bad pass
56 - 63
0:20
Richard Hamilton misses jumper
56 - 63
0:18
Joakim Noah offensive rebound
56 - 63
0:18
Shawn Marion blocks Joakim Noah's 2-foot two point shot
56 - 63
0:17
Ian Mahinmi defensive rebound
56 - 63
0:06
Ian Mahinmi offensive foul (C.J. Watson draws the foul)
56 - 63
0:06
Ian Mahinmi turnover
56 - 63
0:00
Luol Deng makes 26-foot three point jumper (C.J. Watson assists)
56 - 66
0:00
End of the 3rd Quarter
56 - 66

time
TEAM
PLAY
SCORE
12:00
Start of the 4th Quarter
56 - 66
11:45
Richard Hamilton misses 20-foot jumper
56 - 66
11:44
Rodrigue Beaubois defensive rebound
56 - 66
11:30
Ian Mahinmi lost ball (C.J. Watson steals)
56 - 66
11:26
C.J. Watson bad pass (Dominique Jones steals)
56 - 66
11:21
Dirk Nowitzki misses 25-foot three point jumper
56 - 66
11:18
Vince Carter offensive rebound
56 - 66
11:10
Vince Carter makes 17-foot jumper
58 - 66
10:48
C.J. Watson misses 17-foot jumper
58 - 66
10:47
Taj Gibson offensive rebound
58 - 66
10:45
Luol Deng misses 25-foot three point jumper
58 - 66
10:41
Rodrigue Beaubois defensive rebound
58 - 66
10:37
Vince Carter makes dunk (Rodrigue Beaubois assists)
60 - 66
10:37
Chicago full timeout
60 - 66
10:37
Kyle Korver enters the game for Richard Hamilton
60 - 66
10:21
C.J. Watson makes 23-foot jumper (Joakim Noah assists)
60 - 68
10:03
Vince Carter makes 11-foot jumper
62 - 68
9:45
Luol Deng makes 19-foot two point shot (C.J. Watson assists)
62 - 70
9:22
Vince Carter misses three point jumper
62 - 70
9:22
Dirk Nowitzki offensive rebound
62 - 70
9:22
Taj Gibson personal foul (Dirk Nowitzki draws the foul)
62 - 70
9:15
Dominique Jones misses 4-foot jumper
62 - 70
9:14
Ian Mahinmi offensive rebound
62 - 70
9:14
Ian Mahinmi misses tip shot
62 - 70
9:12
Joakim Noah defensive rebound
62 - 70
8:56
Dirk Nowitzki personal foul (Taj Gibson draws the foul)
62 - 70
8:56
Brandan Wright enters the game for Ian Mahinmi
62 - 70
8:45
Kyle Korver makes 26-foot three point jumper (C.J. Watson assists)
62 - 73
8:26
Vince Carter makes 22-foot three point jumper (Dominique Jones assists)
65 - 73
8:03
Luol Deng misses jumper
65 - 73
8:02
Chicago offensive team rebound
65 - 73
7:58
Brandan Wright kicked ball
65 - 73
7:48
Kyle Korver misses 21-foot jumper
65 - 73
7:48
Taj Gibson offensive rebound
65 - 73
7:35
Kyle Korver misses 20-foot jumper
65 - 73
7:35
Chicago defensive team rebound
65 - 73
7:15
Rodrigue Beaubois makes 26-foot three point jumper (Dominique Jones assists)
68 - 73
7:01
Dominique Jones personal foul (C.J. Watson draws the foul)
68 - 73
7:01
Derrick Rose enters the game for Luol Deng
68 - 73
6:50
Kyle Korver makes 20-foot jumper (Derrick Rose assists)
68 - 75
6:28
Dominique Jones makes driving layup
70 - 75
6:03
Kyle Korver misses 26-foot three point jumper
70 - 75
6:01
Brandan Wright defensive rebound
70 - 75
5:52
Rodrigue Beaubois misses layup
70 - 75
5:52
Brandan Wright offensive rebound
72 - 75
5:52
Brandan Wright makes tip shot
72 - 75
5:52
Chicago full timeout
72 - 75
5:52
Shawn Marion enters the game for Dirk Nowitzki
72 - 75
5:35
C.J. Watson makes 21-foot jumper (Kyle Korver assists)
72 - 77
5:11
Rodrigue Beaubois makes 21-foot jumper
74 - 77
4:54
Derrick Rose misses 25-foot three point jumper
74 - 77
4:52
Joakim Noah offensive rebound
74 - 77
4:52
Brandan Wright shooting foul (Joakim Noah draws the foul)
74 - 77
4:52
Joakim Noah misses free throw 1 of 2
74 - 77
4:52
Chicago offensive team rebound
74 - 77
4:52
Joakim Noah makes free throw 2 of 2
74 - 78
4:30
Rodrigue Beaubois makes driving layup
76 - 78
4:09
Kyle Korver misses 21-foot jumper
76 - 78
4:09
Joakim Noah offensive rebound
76 - 80
4:09
Joakim Noah makes tip shot
76 - 80
3:54
Taj Gibson blocks Brandan Wright's 8-foot jumper
76 - 80
3:51
C.J. Watson defensive rebound
76 - 80
3:48
Dominique Jones blocks Kyle Korver's 3-foot two point shot
76 - 80
3:48
Chicago offensive team rebound
76 - 80
3:43
Derrick Rose makes 11-foot jumper (Joakim Noah assists)
76 - 82
3:42
Luol Deng enters the game for C.J. Watson
76 - 82
3:42
Dirk Nowitzki enters the game for Vince Carter
76 - 82
3:42
Dallas full timeout
76 - 82
3:30
Dominique Jones lost ball (Taj Gibson steals)
76 - 82
3:13
Kyle Korver makes 25-foot three point jumper (Derrick Rose assists)
76 - 85
2:58
Rodrigue Beaubois makes 25-foot three point jumper
79 - 85
2:32
Luol Deng makes jumper (Derrick Rose assists)
79 - 87
2:15
Joakim Noah blocks Brandan Wright's jumper
79 - 87
2:13
Taj Gibson defensive rebound
79 - 87
1:54
Luol Deng makes 24-foot three point jumper (Joakim Noah assists)
79 - 90
1:54
Dallas full timeout
79 - 90
1:54
Brian Cardinal enters the game for Shawn Marion
79 - 90
1:54
Kelenna Azubuike enters the game for Dirk Nowitzki
79 - 90
1:40
Rodrigue Beaubois misses 26-foot three point jumper
79 - 90
1:39
Brandan Wright offensive rebound
79 - 90
1:35
Kelenna Azubuike misses 20-foot jumper
79 - 90
1:34
Joakim Noah defensive rebound
79 - 90
1:17
Derrick Rose bad pass
79 - 90
1:07
Brandan Wright makes 16-foot jumper (Dominique Jones assists)
81 - 90
0:48
Brian Cardinal shooting foul (Joakim Noah draws the foul)
81 - 90
0:48
Joakim Noah misses free throw 1 of 2
81 - 90
0:48
Chicago offensive team rebound
81 - 90
0:48
Joakim Noah makes free throw 2 of 2
81 - 91
0:41
Dominique Jones makes 21-foot jumper
83 - 91
0:29
Luol Deng makes layup (Joakim Noah assists)
83 - 93
0:17
Dominique Jones misses 22-foot jumper
83 - 93
0:15
Taj Gibson defensive rebound
83 - 93
0:00
End of the 4th Quarter
83 - 93
0:00
End Game
83 - 93
The Pelicans select Buddy Hield from Oklahoma with the No. 6 pick in the NBA draft.

The Minnesota Timberwolves selected Providence point guard Kris Dunn with the No. 5 overall pick of the 2016 NBA draft on Thursday night.

Amin Elhassan and Myron Medcalf break down the Kris Dun being drafted by Minnesota.
Regular Season Series
CHI wins series 1-0
2015-2016 Southwest Standings