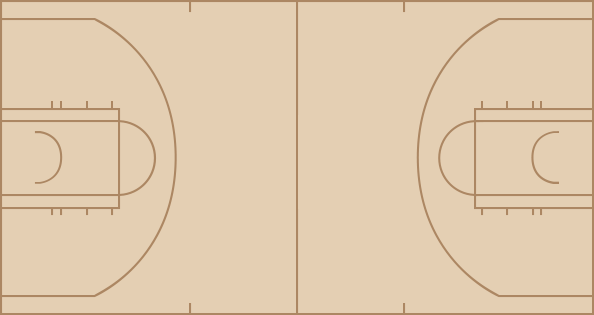 Hornets
time
TEAM
PLAY
SCORE
12:00
Robin Lopez vs. Samuel Dalembert (Brandon Jennings gains possession)
0 - 0
11:56
Tobias Harris misses jumper
0 - 0
11:52
Al-Farouq Aminu defensive rebound
0 - 0
11:48
Robin Lopez makes layup (Greivis Vasquez assists)
2 - 0
11:22
Samuel Dalembert traveling
2 - 0
11:11
Greivis Vasquez makes 9-foot two point shot
4 - 0
11:03
Samuel Dalembert makes 1-foot two point shot (Monta Ellis assists)
4 - 2
10:56
Robin Lopez misses
4 - 0
10:47
Robin Lopez makes 10-foot two point shot (Greivis Vasquez assists)
6 - 2
10:47
null
6 - 2
10:33
Tobias Harris misses Regular Jump Shot
6 - 2
10:07
Robin Lopez makes 16-foot two point shot (Greivis Vasquez assists)
8 - 2
9:48
Brandon Jennings makes 26-foot three point jumper (Monta Ellis assists)
4 - 3
9:30
Austin Rivers traveling
4 - 3
9:19
Tobias Harris misses layup
4 - 3
9:18
Ersan Ilyasova makes two point shot
4 - 5
9:18
Ersan Ilyasova offensive rebound
4 - 3
8:55
Greivis Vasquez misses 16-foot jumper
4 - 5
8:42
Ersan Ilyasova makes layup (Monta Ellis assists)
4 - 7
8:17
Austin Rivers out of bounds lost ball turnover
6 - 7
8:00
Monta Ellis makes 15-foot jumper
6 - 9
7:37
Ersan Ilyasova misses layup
8 - 11
7:37
Ersan Ilyasova offensive rebound
6 - 9
7:35
Samuel Dalembert misses tip shot
8 - 11
7:35
Ersan Ilyasova offensive rebound
6 - 9
7:26
Samuel Dalembert makes two point shot
6 - 11
7:26
Samuel Dalembert offensive rebound
6 - 9
7:16
Anthony Davis makes layup (Austin Rivers assists)
8 - 11
7:03
Monta Ellis misses jumper
8 - 11
7:01
Al-Farouq Aminu defensive rebound
8 - 11
6:54
Greivis Vasquez offensive foul (Ersan Ilyasova draws the foul)
10 - 13
6:48
Greivis Vasquez turnover
8 - 11
6:48
Anthony Davis personal foul (Brandon Jennings draws the foul)
8 - 11
6:48
Bucks Full timeout
8 - 11
6:45
Samuel Dalembert offensive foul (Robin Lopez draws the foul)
8 - 13
6:45
Samuel Dalembert turnover
8 - 13
6:30
Al-Farouq Aminu makes dunk (Greivis Vasquez assists)
10 - 13
6:20
Brandon Jennings makes three point jumper (Monta Ellis assists)
10 - 16
6:20
Greivis Vasquez shooting foul (Brandon Jennings draws the foul)
10 - 16
6:20
Brandon Jennings makes free throw 1 of 1
10 - 17
5:33
Al-Farouq Aminu blocks Samuel Dalembert 's 2-foot shot
12 - 17
5:33
Samuel Dalembert offensive rebound
12 - 17
5:33
Brian Roberts enters the game for Greivis Vasquez
12 - 17
5:28
Brandon Jennings misses three point jumper
12 - 17
5:26
Anthony Davis defensive rebound
12 - 17
5:20
Brian Roberts makes 13-foot jumper
14 - 17
5:05
Tobias Harris makes jumper (Brandon Jennings assists)
14 - 19
4:41
Samuel Dalembert makes layup (Monta Ellis assists)
16 - 21
4:41
Al-Farouq Aminu shooting foul (Samuel Dalembert draws the foul)
16 - 22
4:41
Mike Dunleavy enters the game for Tobias Harris
16 - 21
4:41
Roger Mason Jr. enters the game for Austin Rivers
16 - 21
4:41
Ryan Anderson enters the game for Robin Lopez
16 - 21
4:41
Samuel Dalembert makes free throw 1 of 1
16 - 22
4:24
Samuel Dalembert shooting foul (Anthony Davis draws the foul)
16 - 22
4:24
Anthony Davis makes free throw 1 of 2
17 - 22
4:24
Larry Sanders enters the game for Samuel Dalembert
17 - 22
4:24
Anthony Davis makes free throw 2 of 2
18 - 22
4:03
Ersan Ilyasova misses jumper
18 - 22
4:03
Anthony Davis defensive rebound
18 - 22
3:56
Anthony Davis makes dunk (Brian Roberts assists)
20 - 22
3:32
Brandon Jennings misses jumper
20 - 22
3:31
Roger Mason Jr. defensive rebound
20 - 22
3:19
Ryan Anderson misses 27-foot three point jumper
20 - 22
3:19
Bucks defensive team rebound
20 - 22
3:19
Al-Farouq Aminu loose ball foul (Mike Dunleavy draws the foul)
20 - 22
3:09
Monta Ellis misses jumper
20 - 22
3:08
Monta Ellis offensive rebound
20 - 22
3:01
Monta Ellis misses layup
20 - 22
3:01
Jason Smith enters the game for Anthony Davis
20 - 22
3:01
Darius Miller enters the game for Al-Farouq Aminu
20 - 22
2:44
Brian Roberts makes 21-foot jumper (Roger Mason Jr. assists)
22 - 22
2:32
Brandon Jennings misses layup
23 - 22
2:29
Darius Miller defensive rebound
23 - 22
2:21
Darius Miller makes three point jumper (Roger Mason Jr. assists)
25 - 22
2:09
Ersan Ilyasova makes 15-foot jumper (Mike Dunleavy assists)
25 - 24
2:00
Hornets Full timeout
25 - 24
2:00
Beno Udrih enters the game for Brandon Jennings
25 - 24
1:52
Larry Sanders shooting foul (Jason Smith draws the foul)
25 - 24
1:52
Jason Smith makes free throw 1 of 2
26 - 24
1:52
Jason Smith makes free throw 2 of 2
27 - 24
1:34
Mike Dunleavy misses 26-foot three point jumper
27 - 24
1:32
Ryan Anderson defensive rebound
27 - 24
1:15
Jason Smith misses jumper
27 - 24
1:15
Mike Dunleavy defensive rebound
27 - 24
1:05
Brian Roberts shooting foul (Larry Sanders draws the foul)
27 - 24
1:05
Larry Sanders makes free throw 1 of 2
27 - 25
1:05
Ekpe Udoh enters the game for Ersan Ilyasova
27 - 25
1:05
Marquis Daniels enters the game for Monta Ellis
27 - 25
1:05
Larry Sanders misses free throw 2 of 2
27 - 25
1:02
Jason Smith defensive rebound
27 - 25
0:42
Brian Roberts misses 18-foot jumper
27 - 25
0:40
Bucks defensive team rebound
27 - 25
0:17
Mike Dunleavy misses 20-foot jumper
27 - 25
0:16
Bucks offensive team rebound
27 - 25
0:16
shot clock turnover
27 - 25
0:07
Brian Roberts lost ball turnover (Larry Sanders steals)
27 - 25
0:07
Brian Roberts personal foul (Larry Sanders draws the foul)
27 - 25
0:07
Larry Sanders misses free throw 1 of 2
27 - 25
0:07
Bucks offensive team rebound
27 - 25
0:07
Larry Sanders misses free throw 2 of 2
27 - 25
0:03
Ryan Anderson defensive rebound
27 - 25
0:00
Jason Smith misses
27 - 25
0:00
Larry Sanders defensive rebound
27 - 25
0:00
End of the 1st Quarter
27 - 25

time
TEAM
PLAY
SCORE
11:41
Roger Mason Jr. makes layup (Brian Roberts assists)
29 - 25
11:17
Larry Sanders misses layup
29 - 25
11:15
Larry Sanders offensive rebound
29 - 25
11:14
Larry Sanders misses tip shot
29 - 25
11:12
Larry Sanders misses tip shot
29 - 25
11:12
Larry Sanders offensive rebound
29 - 25
11:11
Darius Miller defensive rebound
29 - 25
11:03
Larry Sanders shooting foul (Jason Smith draws the foul)
29 - 25
11:03
Jason Smith makes free throw 1 of 2
30 - 25
11:03
John Henson enters the game for Larry Sanders
30 - 25
11:03
Jason Smith makes free throw 2 of 2
31 - 25
10:49
Beno Udrih misses 5-foot jumper
31 - 25
10:48
Jason Smith defensive rebound
31 - 25
10:41
Ryan Anderson makes 21-foot jumper (Brian Roberts assists)
33 - 25
10:26
Mike Dunleavy makes 27-foot three point jumper (Marquis Daniels assists)
33 - 28
10:14
Roger Mason Jr. misses hook shot
33 - 28
10:12
Mike Dunleavy defensive rebound
33 - 28
10:07
Beno Udrih misses jumper
33 - 28
10:06
Mike Dunleavy offensive rebound
33 - 28
9:57
Beno Udrih bad pass
33 - 28
9:57
Anthony Davis enters the game for Jason Smith
33 - 28
9:45
Darius Miller misses 14-foot jumper
33 - 28
9:44
Ekpe Udoh defensive rebound
33 - 28
9:30
Mike Dunleavy makes 26-foot three point jumper (Beno Udrih assists)
33 - 31
9:11
Ryan Anderson misses 27-foot three point jumper
33 - 31
9:10
John Henson defensive rebound
33 - 31
9:03
Darius Miller personal foul (Mike Dunleavy draws the foul)
33 - 31
9:03
Austin Rivers enters the game for Brian Roberts
33 - 31
8:55
Beno Udrih bad pass (Austin Rivers steals)
33 - 31
8:52
Beno Udrih shooting foul (Austin Rivers draws the foul)
33 - 31
8:52
Official timeout
33 - 31
8:52
Brandon Jennings enters the game for Beno Udrih
33 - 31
8:52
Austin Rivers makes free throw 1 of 2
34 - 31
8:52
Austin Rivers makes free throw 2 of 2
35 - 31
8:37
Marquis Daniels misses 6-foot jumper
35 - 31
8:37
Bucks offensive team rebound
35 - 31
8:37
Ryan Anderson loose ball foul (Ekpe Udoh draws the foul)
35 - 31
8:26
Ekpe Udoh makes layup (Mike Dunleavy assists)
35 - 33
8:17
Roger Mason Jr. bad pass (Brandon Jennings steals)
35 - 33
8:11
Brandon Jennings makes layup
35 - 35
8:00
Austin Rivers bad pass (John Henson steals)
35 - 35
7:56
Marquis Daniels makes 1-foot dunk (Brandon Jennings assists)
35 - 37
7:48
Hornets Full timeout
35 - 37
7:35
Anthony Davis out of bounds lost ball turnover
35 - 37
7:22
Mike Dunleavy makes 25-foot three point jumper (Brandon Jennings assists)
35 - 40
7:03
Roger Mason Jr. misses 26-foot three point jumper
35 - 40
7:03
Ekpe Udoh defensive rebound
35 - 40
6:52
John Henson makes dunk (Mike Dunleavy assists)
35 - 42
6:37
Ryan Anderson makes 26-foot three point jumper (Austin Rivers assists)
38 - 42
6:20
Mike Dunleavy makes 25-foot three point jumper (Brandon Jennings assists)
38 - 45
5:54
Anthony Davis misses layup
38 - 45
5:54
Anthony Davis offensive rebound
38 - 45
5:52
Anthony Davis misses layup
38 - 45
5:52
Ekpe Udoh defensive rebound
38 - 45
5:43
Marquis Daniels makes 25-foot three point jumper (Brandon Jennings assists)
38 - 48
5:24
John Henson shooting foul (Austin Rivers draws the foul)
38 - 48
5:24
Austin Rivers makes free throw 1 of 2
39 - 48
5:24
Monta Ellis enters the game for Marquis Daniels
39 - 48
5:24
Robin Lopez enters the game for Anthony Davis
39 - 48
5:24
Greivis Vasquez enters the game for Roger Mason Jr.
39 - 48
5:24
Austin Rivers makes free throw 2 of 2
40 - 48
5:11
Brandon Jennings misses 27-foot three point jumper
40 - 48
5:09
Jason Smith enters the game for Ryan Anderson
40 - 48
4:54
Greivis Vasquez makes layup
42 - 48
4:46
John Henson misses 6-foot hook shot
42 - 48
4:45
Darius Miller defensive rebound
42 - 48
4:24
Greivis Vasquez makes 27-foot three point jumper (Jason Smith assists)
45 - 48
4:13
Greivis Vasquez personal foul (Brandon Jennings draws the foul)
45 - 48
4:13
Ersan Ilyasova enters the game for Ekpe Udoh
45 - 48
4:13
Brian Roberts enters the game for Greivis Vasquez
45 - 48
4:13
Samuel Dalembert enters the game for John Henson
45 - 48
4:03
Brandon Jennings misses 7-foot jumper
45 - 48
4:03
Samuel Dalembert misses tip shot
45 - 48
4:03
Samuel Dalembert offensive rebound
45 - 48
4:01
Samuel Dalembert offensive rebound
45 - 48
3:50
Robin Lopez blocks Ersan Ilyasova's layup
45 - 48
3:48
Brandon Jennings offensive rebound
45 - 48
3:44
Mike Dunleavy misses jumper
45 - 48
3:43
Robin Lopez defensive rebound
45 - 48
3:38
Ersan Ilyasova shooting foul (Austin Rivers draws the foul)
45 - 48
3:38
Austin Rivers makes free throw 1 of 2
46 - 48
3:38
Al-Farouq Aminu enters the game for Darius Miller
46 - 48
3:38
Austin Rivers makes free throw 2 of 2
47 - 48
3:17
Monta Ellis misses 26-foot three point jumper
47 - 48
3:16
Mike Dunleavy offensive rebound
47 - 48
3:09
Samuel Dalembert makes two point shot
47 - 50
2:49
Robin Lopez makes layup (Al-Farouq Aminu assists)
49 - 50
2:39
Ersan Ilyasova makes layup (Monta Ellis assists)
49 - 52
2:23
Brian Roberts makes 19-foot jumper
51 - 52
2:10
Brandon Jennings makes layup (Ersan Ilyasova assists)
51 - 54
1:42
Al-Farouq Aminu makes 25-foot three point jumper (Robin Lopez assists)
54 - 54
1:32
Samuel Dalembert makes dunk (Monta Ellis assists)
54 - 56
1:14
Brandon Jennings personal foul (Brian Roberts draws the foul)
54 - 56
1:14
Bucks Full timeout
54 - 56
1:14
Brian Roberts makes free throw 1 of 2
55 - 56
1:14
Brian Roberts makes free throw 2 of 2
56 - 56
1:00
Mike Dunleavy misses 27-foot three point jumper
56 - 56
0:59
Robin Lopez defensive rebound
56 - 56
0:46
Jason Smith makes 17-foot jumper (Brian Roberts assists)
58 - 56
0:43
Jason Smith personal foul (Ersan Ilyasova draws the foul)
58 - 56
0:36
Mike Dunleavy misses layup
58 - 56
0:35
Ersan Ilyasova misses layup
58 - 56
0:35
Ersan Ilyasova offensive rebound
58 - 56
0:34
Al-Farouq Aminu defensive rebound
58 - 56
0:31
Al-Farouq Aminu offensive foul (Mike Dunleavy draws the foul)
58 - 56
0:31
Al-Farouq Aminu turnover
58 - 56
0:31
Darius Miller enters the game for Al-Farouq Aminu
58 - 56
0:08
Mike Dunleavy makes 22-foot jumper (Brandon Jennings assists)
58 - 58
0:01
Brian Roberts bad pass (Mike Dunleavy steals)
58 - 58
0:01
Jason Smith personal foul (Mike Dunleavy draws the foul)
58 - 58
0:01
Mike Dunleavy makes free throw 1 of 2
58 - 59
0:01
Mike Dunleavy makes free throw 2 of 2
58 - 60
0:00
Austin Rivers misses 41-foot three point jumper
58 - 60
0:00
Hornets offensive team rebound
58 - 60
0:00
End of the 2nd Quarter
58 - 60

time
TEAM
PLAY
SCORE
11:36
Greivis Vasquez misses layup
58 - 60
11:34
Robin Lopez offensive rebound
58 - 60
11:26
Al-Farouq Aminu misses jumper
58 - 60
11:26
Anthony Davis offensive rebound
58 - 60
11:22
Anthony Davis makes 5-foot jumper
60 - 60
11:11
Tobias Harris offensive foul (Austin Rivers draws the foul)
60 - 60
11:11
Tobias Harris turnover
60 - 60
10:52
Ersan Ilyasova personal foul (Austin Rivers draws the foul)
60 - 60
10:42
Greivis Vasquez bad pass (Brandon Jennings steals)
60 - 60
10:30
Monta Ellis misses 17-foot jumper
60 - 60
10:27
Tobias Harris offensive rebound
60 - 60
10:15
Samuel Dalembert misses 15-foot jumper
60 - 60
10:14
Anthony Davis defensive rebound
60 - 60
9:59
Al-Farouq Aminu makes dunk (Robin Lopez assists)
62 - 60
9:42
Tobias Harris misses 7-foot jumper
62 - 60
9:41
Samuel Dalembert makes two point shot
62 - 62
9:41
Samuel Dalembert offensive rebound
62 - 60
9:22
Monta Ellis shooting foul (Anthony Davis draws the foul)
65 - 62
9:22
Anthony Davis turnover
62 - 62
9:22
Anthony Davis makes 7-foot jumper (Greivis Vasquez assists)
64 - 62
9:22
Monta Ellis shooting foul (Anthony Davis draws the foul)
65 - 62
9:22
Anthony Davis makes free throw 1 of 1
65 - 62
9:08
Monta Ellis makes 7-foot jumper (Ersan Ilyasova assists)
65 - 64
8:45
Anthony Davis makes 4-foot jumper (Greivis Vasquez assists)
67 - 64
8:25
Brandon Jennings misses 11-foot jumper
67 - 64
8:23
Al-Farouq Aminu defensive rebound
67 - 64
8:18
Samuel Dalembert blocks Greivis Vasquez 's 3-foot jumper
67 - 64
8:15
Monta Ellis defensive rebound
67 - 64
8:07
Monta Ellis makes jumper
67 - 66
7:48
Ersan Ilyasova shooting foul (Anthony Davis draws the foul)
67 - 66
7:48
Anthony Davis makes free throw 1 of 2
68 - 66
7:48
Anthony Davis makes free throw 2 of 2
69 - 66
7:33
Tobias Harris misses 24-foot three point jumper
69 - 66
7:31
Ersan Ilyasova offensive rebound
69 - 66
7:26
Brandon Jennings makes 25-foot three point jumper (Monta Ellis assists)
69 - 69
6:58
Al-Farouq Aminu misses 6-foot jumper
69 - 69
6:56
Samuel Dalembert defensive rebound
69 - 69
6:39
Tobias Harris makes three point jumper (Monta Ellis assists)
69 - 72
6:16
Greivis Vasquez makes 18-foot jumper (Robin Lopez assists)
71 - 72
6:01
Anthony Davis shooting foul (Samuel Dalembert draws the foul)
71 - 72
6:01
Samuel Dalembert makes free throw 1 of 2
71 - 73
6:01
Roger Mason Jr. enters the game for Austin Rivers
71 - 73
6:01
Samuel Dalembert makes free throw 2 of 2
71 - 74
5:46
Greivis Vasquez misses jumper
71 - 74
5:43
Samuel Dalembert defensive rebound
71 - 74
5:39
Robin Lopez shooting foul (Monta Ellis draws the foul)
71 - 74
5:39
Bucks Full timeout
71 - 74
5:39
Ryan Anderson enters the game for Robin Lopez
71 - 74
5:39
Monta Ellis makes free throw 1 of 2
71 - 75
5:39
Monta Ellis makes free throw 2 of 2
71 - 76
5:30
Anthony Davis offensive foul (Brandon Jennings draws the foul)
71 - 76
5:30
Anthony Davis turnover
71 - 76
5:20
Tobias Harris steps out of bounds turnover
71 - 76
5:03
Roger Mason Jr. makes three point jumper (Ryan Anderson assists)
74 - 76
4:52
Monta Ellis makes two point shot
74 - 78
4:35
Al-Farouq Aminu misses jumper
74 - 78
4:35
Al-Farouq Aminu offensive rebound
74 - 78
4:30
Greivis Vasquez misses 25-foot three point jumper
74 - 78
4:28
Samuel Dalembert defensive rebound
74 - 78
4:24
Tobias Harris makes layup
74 - 80
4:24
Al-Farouq Aminu defensive goaltending violation
74 - 80
4:09
Ryan Anderson misses 26-foot three point jumper
74 - 80
4:07
Brandon Jennings defensive rebound
74 - 80
4:05
Samuel Dalembert offensive foul (Ryan Anderson draws the foul)
74 - 80
4:05
Samuel Dalembert turnover
74 - 80
3:47
Al-Farouq Aminu makes layup (Greivis Vasquez assists)
76 - 80
3:36
Ersan Ilyasova misses 14-foot jumper
76 - 80
3:34
Anthony Davis defensive rebound
76 - 80
3:29
Greivis Vasquez makes 26-foot three point jumper (Al-Farouq Aminu assists)
79 - 80
3:29
Brandon Jennings shooting foul (Greivis Vasquez draws the foul)
80 - 80
3:29
Larry Sanders enters the game for Samuel Dalembert
79 - 80
3:29
Greivis Vasquez makes free throw 1 of 1
80 - 80
3:13
Tobias Harris makes three point jumper (Brandon Jennings assists)
80 - 83
2:47
Ryan Anderson makes layup (Greivis Vasquez assists)
82 - 83
2:33
Brandon Jennings makes 14-foot jumper
82 - 85
2:26
Al-Farouq Aminu bad pass (Brandon Jennings steals)
82 - 85
2:20
Ersan Ilyasova makes layup (Brandon Jennings assists)
82 - 87
2:10
Larry Sanders personal foul (Anthony Davis draws the foul)
82 - 87
2:10
Hornets Full timeout
82 - 87
2:10
Ekpe Udoh enters the game for Tobias Harris
82 - 87
2:10
Mike Dunleavy enters the game for Ersan Ilyasova
82 - 87
2:10
Beno Udrih enters the game for Brandon Jennings
82 - 87
2:10
Anthony Davis makes free throw 1 of 2
83 - 87
2:10
Anthony Davis misses free throw 2 of 2
83 - 87
2:08
Monta Ellis defensive rebound
83 - 87
1:55
Roger Mason Jr. shooting foul (Monta Ellis draws the foul)
83 - 87
1:55
Monta Ellis makes free throw 1 of 2
83 - 88
1:55
Jason Smith enters the game for Anthony Davis
83 - 88
1:55
Monta Ellis makes free throw 2 of 2
83 - 89
1:42
Ryan Anderson bad pass (Beno Udrih steals)
83 - 89
1:38
Beno Udrih bad pass (Al-Farouq Aminu steals)
83 - 89
1:32
Roger Mason Jr. makes 25-foot three point jumper (Al-Farouq Aminu assists)
86 - 89
1:12
Monta Ellis misses 26-foot three point jumper
86 - 89
1:09
Greivis Vasquez defensive rebound
86 - 89
1:01
Ryan Anderson makes 27-foot three point jumper (Greivis Vasquez assists)
89 - 89
0:45
Monta Ellis makes driving layup
89 - 91
0:31
Jason Smith makes layup (Greivis Vasquez assists)
91 - 91
0:10
Beno Udrih misses three point jumper
91 - 91
0:09
Al-Farouq Aminu defensive rebound
91 - 91
0:06
Al-Farouq Aminu offensive foul (Mike Dunleavy draws the foul)
91 - 91
0:06
Al-Farouq Aminu turnover
91 - 91
0:00
Monta Ellis misses 27-foot three point jumper
91 - 91
0:00
Bucks offensive team rebound
91 - 91
0:00
End of the 3rd Quarter
91 - 91

time
TEAM
PLAY
SCORE
11:47
Mike Dunleavy misses layup
91 - 91
11:45
Greivis Vasquez defensive rebound
91 - 91
11:29
Ryan Anderson makes 26-foot three point jumper (Darius Miller assists)
94 - 91
11:11
Ekpe Udoh misses 7-foot hook shot
94 - 91
11:11
Bucks offensive team rebound
94 - 91
11:00
Brandon Jennings misses 25-foot three point jumper
94 - 91
11:00
Roger Mason Jr. defensive rebound
94 - 91
10:45
Greivis Vasquez misses 5-foot jumper
94 - 91
10:44
Mike Dunleavy defensive rebound
94 - 91
10:37
Ekpe Udoh misses layup
94 - 91
10:36
Mike Dunleavy offensive rebound
94 - 91
10:26
Beno Udrih makes 24-foot three point jumper (Mike Dunleavy assists)
94 - 94
10:00
Greivis Vasquez misses 18-foot jumper
94 - 94
10:00
Beno Udrih defensive rebound
94 - 94
9:49
Brandon Jennings makes 24-foot three point jumper (Ekpe Udoh assists)
94 - 97
9:30
Greivis Vasquez bad pass (Brandon Jennings steals)
94 - 97
9:27
Larry Sanders makes 1-foot dunk (Mike Dunleavy assists)
94 - 99
9:26
Hornets Full timeout
94 - 99
9:26
Brian Roberts enters the game for Greivis Vasquez
94 - 99
9:11
Roger Mason Jr. makes jumper (Darius Miller assists)
96 - 99
8:57
Brandon Jennings misses layup
96 - 99
8:56
Jason Smith defensive rebound
96 - 99
8:49
Larry Sanders blocks Roger Mason Jr.'s layup
96 - 99
8:49
Hornets offensive team rebound
96 - 99
8:38
Brian Roberts misses 26-foot three point jumper
96 - 99
8:37
Larry Sanders defensive rebound
96 - 99
8:37
Larry Sanders offensive foul (Jason Smith draws the foul)
96 - 99
8:37
Larry Sanders turnover
96 - 99
8:25
Ryan Anderson misses 25-foot three point jumper
96 - 99
8:23
Beno Udrih defensive rebound
96 - 99
8:11
Beno Udrih makes three point jumper (Brandon Jennings assists)
96 - 102
7:58
Ryan Anderson offensive foul (Brandon Jennings draws the foul)
96 - 102
7:58
Ryan Anderson turnover
96 - 102
7:58
Greivis Vasquez enters the game for Brian Roberts
96 - 102
7:58
Anthony Davis enters the game for Jason Smith
96 - 102
7:46
Brandon Jennings bad pass (Roger Mason Jr. steals)
96 - 102
7:39
Greivis Vasquez misses 3-foot jumper
96 - 102
7:37
Anthony Davis makes dunk
98 - 102
7:37
Anthony Davis offensive rebound
96 - 102
7:22
Roger Mason Jr. shooting foul (Larry Sanders draws the foul)
98 - 103
7:22
Larry Sanders misses free throw 1 of 2
98 - 102
7:22
Bucks offensive team rebound
98 - 102
7:22
Al-Farouq Aminu enters the game for Darius Miller
98 - 102
7:22
Larry Sanders makes free throw 2 of 2
98 - 103
7:01
Larry Sanders blocks Anthony Davis's layup
98 - 103
7:00
Ekpe Udoh defensive rebound
98 - 103
6:43
Beno Udrih misses jumper
98 - 103
6:30
Al-Farouq Aminu bad pass (Beno Udrih steals)
98 - 103
6:26
Ryan Anderson shooting foul (Beno Udrih draws the foul)
98 - 103
6:26
Beno Udrih makes free throw 1 of 2
98 - 104
6:26
Beno Udrih makes free throw 2 of 2
98 - 105
6:09
Greivis Vasquez misses 4-foot jumper
98 - 105
6:07
Anthony Davis makes 1-foot two point shot
100 - 105
6:07
Anthony Davis offensive rebound
98 - 105
5:47
Beno Udrih bad pass (Roger Mason Jr. steals)
100 - 105
5:39
Official timeout
100 - 105
5:39
Monta Ellis enters the game for Beno Udrih
100 - 105
5:35
Ryan Anderson traveling
100 - 105
5:24
Greivis Vasquez personal foul (Ekpe Udoh draws the foul)
100 - 105
5:16
Brandon Jennings makes 21-foot jumper
100 - 107
5:00
Anthony Davis misses 6-foot jumper
100 - 107
4:58
Ryan Anderson makes two point shot
102 - 107
4:58
Ryan Anderson offensive rebound
100 - 107
4:41
Monta Ellis makes layup
102 - 109
4:18
Ryan Anderson misses 27-foot three point jumper
102 - 109
4:18
Larry Sanders defensive rebound
102 - 109
4:11
Anthony Davis personal foul (Ekpe Udoh draws the foul)
102 - 109
4:01
Monta Ellis misses two point shot
102 - 109
4:01
Al-Farouq Aminu defensive rebound
102 - 109
3:39
Greivis Vasquez misses 26-foot three point jumper
102 - 109
3:38
Mike Dunleavy defensive rebound
102 - 109
3:32
Bucks Full timeout
102 - 109
3:27
Ryan Anderson shooting foul (Mike Dunleavy draws the foul)
102 - 109
3:27
Mike Dunleavy makes free throw 1 of 2
102 - 110
3:27
Mike Dunleavy misses free throw 2 of 2
102 - 110
3:26
Al-Farouq Aminu defensive rebound
102 - 110
3:06
Roger Mason Jr. misses 27-foot three point jumper
102 - 110
3:04
Mike Dunleavy defensive rebound
102 - 110
2:47
Mike Dunleavy misses 25-foot three point jumper
102 - 110
2:47
Anthony Davis defensive rebound
102 - 110
2:39
Anthony Davis makes layup (Ryan Anderson assists)
104 - 110
2:39
Larry Sanders shooting foul (Anthony Davis draws the foul)
104 - 110
2:39
Anthony Davis misses free throw 1 of 1
104 - 110
2:39
Anthony Davis makes free throw 1 of 1
105 - 110
2:18
Ekpe Udoh misses 4-foot jumper
105 - 110
2:17
Anthony Davis defensive rebound
105 - 110
2:01
Anthony Davis makes 8-foot jumper (Greivis Vasquez assists)
107 - 110
2:01
Mike Dunleavy shooting foul (Anthony Davis draws the foul)
108 - 110
2:01
Anthony Davis makes free throw 1 of 1
108 - 110
1:51
Monta Ellis makes 20-foot jumper
108 - 112
1:35
Greivis Vasquez misses layup
108 - 112
1:35
Ryan Anderson makes 1-foot two point shot
110 - 112
1:35
Ryan Anderson offensive rebound
108 - 112
1:17
Monta Ellis makes 18-foot two point shot
110 - 114
1:00
Ryan Anderson misses 9-foot jumper
110 - 114
0:59
Mike Dunleavy defensive rebound
110 - 114
0:41
Bucks 20 Sec. timeout
110 - 114
0:41
Ersan Ilyasova enters the game for Ekpe Udoh
110 - 114
0:38
Larry Sanders misses layup
110 - 114
0:37
Anthony Davis defensive rebound
110 - 114
0:18
Larry Sanders blocks Ryan Anderson 's 2-foot layup
110 - 114
0:15
Larry Sanders defensive rebound
110 - 114
0:12
Roger Mason Jr. personal take foul (Brandon Jennings draws the foul)
110 - 115
0:12
Brandon Jennings misses free throw 1 of 2
110 - 114
0:12
Bucks offensive team rebound
110 - 114
0:12
Brandon Jennings makes free throw 2 of 2
110 - 115
0:12
Hornets Full timeout
110 - 115
0:12
Ekpe Udoh enters the game for Ersan Ilyasova
110 - 115
0:04
Ryan Anderson makes 25-foot three point jumper (Anthony Davis assists)
113 - 115
0:03
Greivis Vasquez personal take foul (Monta Ellis draws the foul)
113 - 115
0:03
Monta Ellis makes free throw 1 of 2
113 - 116
0:03
Monta Ellis makes free throw 2 of 2
113 - 117
0:03
Hornets 20 Sec. timeout
113 - 117
0:03
Anthony Davis bad pass
113 - 117
0:00
End of the 4th Quarter
113 - 117
0:00
End of Game
113 - 117
Chris Broussard and Amin Elhassan discuss Dwight Howard's motivation to agree to a three year deal with Atlanta and how it can be a mutually beneficial deal.

The Thunder have added Adrian Griffin an assistant coach and also promoted Vin Bhavnani and Royal Ivey as assistant coaches.

Former Clippers forward Jeff Green opted for a short term contract and signed with a 1-year, $15 million deal with the Orlando Magi, according with multiple reports.
Regular Season Series
Series tied 1-1