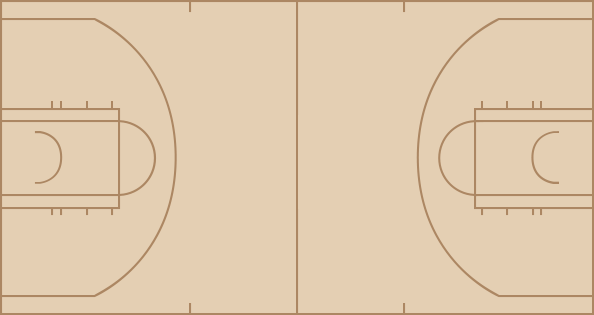 Hornets
time
TEAM
PLAY
SCORE
12:00
Robin Lopez vs. Josh Smith (Eric Gordon gains possession)
0 - 0
11:42
Anthony Davis makes 5-foot two point shot (Robin Lopez assists)
2 - 0
11:42
Anthony Tolliver defensive goaltending violation
2 - 0
11:25
Al Horford misses 15-foot jumper
2 - 0
11:23
Anthony Davis defensive rebound
2 - 0
11:03
Robin Lopez misses 8-foot hook shot
2 - 0
11:02
Anthony Tolliver defensive rebound
2 - 0
10:53
Josh Smith misses 19-foot two point shot
2 - 0
10:52
Al-Farouq Aminu defensive rebound
2 - 0
10:44
Greivis Vasquez bad pass (Josh Smith steals)
2 - 0
10:38
Al Horford makes dunk (Josh Smith assists)
2 - 2
10:22
Eric Gordon misses layup
2 - 2
10:22
Kyle Korver defensive rebound
2 - 2
10:14
Josh Smith makes two point shot (Jeff Teague assists)
2 - 4
9:49
Eric Gordon makes 21-foot jumper
4 - 4
9:36
Anthony Tolliver makes 23-foot three point jumper (Jeff Teague assists)
4 - 7
9:12
Eric Gordon misses 18-foot jumper
4 - 7
9:11
Josh Smith defensive rebound
4 - 7
9:10
Jeff Teague makes two point shot (Josh Smith assists)
4 - 9
8:47
Greivis Vasquez makes 22-foot jumper (Anthony Davis assists)
6 - 9
8:36
Josh Smith makes 24-foot three point jumper (Al Horford assists)
6 - 12
8:11
Greivis Vasquez makes 20-foot jumper (Robin Lopez assists)
8 - 12
8:00
Jeff Teague misses 26-foot three point jumper
8 - 12
7:56
Robin Lopez defensive rebound
8 - 12
7:48
Greivis Vasquez makes 26-foot three point jumper
11 - 12
7:31
Kyle Korver misses 20-foot jumper
11 - 12
7:30
Al-Farouq Aminu defensive rebound
11 - 12
7:22
Eric Gordon makes 15-foot two point shot (Greivis Vasquez assists)
13 - 12
6:58
Josh Smith misses 22-foot jumper
13 - 12
6:58
Greivis Vasquez defensive rebound
13 - 12
6:50
Josh Smith blocks Robin Lopez 's 1-foot layup
13 - 12
6:48
Josh Smith defensive rebound
13 - 12
6:43
Josh Smith misses two point shot
13 - 12
6:41
Anthony Davis defensive rebound
13 - 12
6:35
Al-Farouq Aminu misses
13 - 12
6:33
Anthony Tolliver defensive rebound
13 - 12
6:30
Jeff Teague bad pass (Anthony Davis steals)
13 - 12
6:22
Eric Gordon makes 3-foot two point shot
15 - 12
6:22
Hawks Full timeout
15 - 12
6:01
Josh Smith misses jumper
15 - 12
6:00
Al-Farouq Aminu defensive rebound
15 - 12
5:45
Anthony Davis misses 20-foot jumper
15 - 12
5:43
Kyle Korver defensive rebound
15 - 12
5:35
Kyle Korver bad pass
15 - 12
5:18
Eric Gordon misses 21-foot jumper
15 - 12
5:18
Josh Smith defensive rebound
15 - 12
5:09
Josh Smith traveling
15 - 12
4:52
Greivis Vasquez misses
15 - 12
4:50
Kyle Korver defensive rebound
15 - 12
4:43
Jeff Teague makes 24-foot three point jumper (Anthony Tolliver assists)
15 - 15
4:26
Eric Gordon makes 21-foot jumper
17 - 15
4:11
Kyle Korver misses 20-foot jumper
17 - 15
4:11
Al-Farouq Aminu defensive rebound
17 - 15
4:03
Greivis Vasquez bad pass (Al Horford steals)
17 - 15
3:58
Josh Smith makes two point shot (Jeff Teague assists)
17 - 17
3:35
Anthony Davis misses 18-foot jumper
17 - 17
3:33
Josh Smith defensive rebound
17 - 17
3:27
Kyle Korver makes 25-foot three point jumper (Jeff Teague assists)
17 - 20
3:26
Hornets Full timeout
17 - 20
3:26
John Jenkins enters the game for Kyle Korver
17 - 20
3:26
Devin Harris enters the game for Jeff Teague
17 - 20
3:26
Austin Rivers enters the game for Anthony Davis
17 - 20
3:26
Ryan Anderson enters the game for Eric Gordon
17 - 20
3:10
Ryan Anderson makes 21-foot jumper (Greivis Vasquez assists)
19 - 20
2:53
Al-Farouq Aminu blocks Anthony Tolliver 's 24-foot three point jumper
19 - 20
2:50
Greivis Vasquez defensive rebound
19 - 20
2:45
Devin Harris shooting foul (Greivis Vasquez draws the foul)
19 - 20
2:45
Greivis Vasquez makes free throw 1 of 2
20 - 20
2:45
Zaza Pachulia enters the game for Anthony Tolliver
20 - 20
2:45
Greivis Vasquez misses free throw 2 of 2
20 - 20
2:43
Ryan Anderson offensive rebound
20 - 20
2:31
Ryan Anderson makes 26-foot three point jumper (Greivis Vasquez assists)
23 - 20
2:11
Zaza Pachulia bad pass (Al-Farouq Aminu steals)
23 - 20
2:03
Al-Farouq Aminu out of bounds lost ball turnover
23 - 20
1:45
Josh Smith makes 23-foot three point jumper (Devin Harris assists)
23 - 23
1:29
Greivis Vasquez misses 9-foot Running Jumper
23 - 23
1:28
Greivis Vasquez offensive rebound
23 - 23
1:16
Austin Rivers makes driving layup
25 - 23
1:00
John Jenkins makes 25-foot three point jumper (Al Horford assists)
25 - 26
0:44
Greivis Vasquez bad pass (Josh Smith steals)
25 - 26
0:39
Devin Harris misses two point shot
25 - 26
0:37
Greivis Vasquez defensive rebound
25 - 26
0:25
Austin Rivers bad pass (Devin Harris steals)
25 - 26
0:21
Devin Harris bad pass
25 - 26
0:21
Brian Roberts enters the game for Greivis Vasquez
25 - 26
0:21
Jason Smith enters the game for Robin Lopez
25 - 26
0:21
Ivan Johnson enters the game for Al Horford
25 - 26
0:07
Zaza Pachulia personal take foul (Austin Rivers draws the foul)
25 - 26
0:05
Ryan Anderson traveling
25 - 26
0:05
Kyle Korver enters the game for Zaza Pachulia
25 - 26
0:03
Brian Roberts personal take foul (Devin Harris draws the foul)
25 - 26
0:02
Ivan Johnson misses 26-foot three point jumper
25 - 26
0:01
Al-Farouq Aminu defensive rebound
25 - 26
0:00
End of the 1st Quarter
25 - 26

time
TEAM
PLAY
SCORE
11:41
Jason Smith personal block (Ivan Johnson draws the foul)
25 - 26
11:30
Ivan Johnson makes layup (Kyle Korver assists)
25 - 28
11:12
Jason Smith makes 20-foot jumper (Brian Roberts assists)
27 - 28
10:56
Jason Smith shooting foul (Ivan Johnson draws the foul)
27 - 28
10:56
Ivan Johnson makes free throw 1 of 2
27 - 29
10:56
Robin Lopez enters the game for Jason Smith
27 - 29
10:56
Ivan Johnson makes free throw 2 of 2
27 - 30
10:42
Zaza Pachulia blocks Austin Rivers 's 6-foot 2-pt jumper
27 - 30
10:41
Zaza Pachulia defensive rebound
27 - 30
10:41
Devin Harris steps out of bounds turnover
27 - 30
10:41
5 sec inbound turnover
27 - 30
10:27
Ivan Johnson makes 8-foot jumper (Kyle Korver assists)
27 - 32
10:21
Hornets Full timeout
27 - 32
10:21
Jeff Teague enters the game for Devin Harris
27 - 32
10:04
Ryan Anderson misses 25-foot three point jumper
27 - 32
10:03
Kyle Korver defensive rebound
27 - 32
9:45
Jeff Teague traveling
27 - 32
9:26
Brian Roberts makes 21-foot jumper
29 - 32
9:07
Robin Lopez blocks Zaza Pachulia 's 7-foot shot
29 - 32
9:04
Zaza Pachulia offensive rebound
29 - 32
9:00
Kyle Korver makes 25-foot three point jumper (Zaza Pachulia assists)
29 - 35
8:56
Ryan Anderson offensive foul (Ivan Johnson draws the foul)
29 - 35
8:56
Ryan Anderson turnover
29 - 35
8:56
Roger Mason Jr. enters the game for Xavier Henry
29 - 35
8:45
Robin Lopez shooting foul (Ivan Johnson draws the foul)
29 - 35
8:45
Ivan Johnson misses free throw 1 of 2
29 - 35
8:45
Hawks offensive team rebound
29 - 35
8:45
Ivan Johnson misses free throw 2 of 2
29 - 35
8:44
Robin Lopez defensive rebound
29 - 35
8:30
Ryan Anderson misses two point shot
29 - 35
8:30
Robin Lopez offensive rebound
29 - 35
8:27
Robin Lopez makes two point shot
31 - 35
8:18
Zaza Pachulia makes layup (Jeff Teague assists)
31 - 37
8:02
Austin Rivers bad pass (Zaza Pachulia steals)
31 - 37
7:56
Zaza Pachulia makes two point shot
31 - 39
7:35
John Jenkins blocks Austin Rivers 's 6-foot two point shot
31 - 39
7:33
Zaza Pachulia defensive rebound
31 - 39
7:26
Zaza Pachulia misses layup
31 - 39
7:26
Ryan Anderson defensive rebound
31 - 39
7:22
Ryan Anderson lost ball turnover (Ivan Johnson steals)
31 - 39
7:16
Kyle Korver makes two point shot (Jeff Teague assists)
31 - 41
6:56
Brian Roberts misses 19-foot jumper
31 - 41
6:54
Ivan Johnson defensive rebound
31 - 41
6:50
Brian Roberts shooting foul (Jeff Teague draws the foul)
31 - 41
6:50
Jeff Teague makes free throw 1 of 2
31 - 42
6:50
Greivis Vasquez enters the game for Brian Roberts
31 - 42
6:50
Anthony Davis enters the game for Ryan Anderson
31 - 42
6:50
Al Horford enters the game for Zaza Pachulia
31 - 42
6:50
Jeff Teague makes free throw 2 of 2
31 - 43
6:26
Austin Rivers misses 26-foot three point jumper
31 - 43
6:24
Kyle Korver defensive rebound
31 - 43
6:18
Austin Rivers shooting foul (John Jenkins draws the foul)
31 - 43
6:18
John Jenkins misses free throw 1 of 3
31 - 43
6:18
Hawks offensive team rebound
31 - 43
6:18
John Jenkins makes free throw 2 of 3
31 - 44
6:18
Eric Gordon enters the game for Austin Rivers
31 - 44
6:18
Josh Smith enters the game for Ivan Johnson
31 - 44
6:18
John Jenkins makes free throw 3 of 3
31 - 45
6:05
Eric Gordon makes 5-foot two point shot
33 - 45
5:41
Al Horford misses 20-foot jumper
33 - 45
5:39
Anthony Davis defensive rebound
33 - 45
5:15
Greivis Vasquez misses 17-foot
33 - 45
5:13
Robin Lopez makes two point shot
35 - 45
5:13
Robin Lopez offensive rebound
33 - 45
4:48
Jeff Teague makes 25-foot three point jumper (Josh Smith assists)
35 - 48
4:24
Eric Gordon makes 20-foot two point shot
37 - 48
4:13
Jeff Teague bad pass (Greivis Vasquez steals)
37 - 48
4:09
Kyle Korver shooting foul (Eric Gordon draws the foul)
37 - 48
4:09
Official timeout
37 - 48
4:09
Anthony Tolliver enters the game for John Jenkins
37 - 48
4:09
Eric Gordon makes free throw 1 of 2
38 - 48
4:09
Eric Gordon makes free throw 2 of 2
39 - 48
4:00
Ryan Anderson enters the game for Roger Mason Jr.
39 - 48
3:54
Kyle Korver misses 24-foot three point jumper
39 - 48
3:50
Al Horford offensive rebound
39 - 48
3:48
Anthony Tolliver makes layup (Josh Smith assists)
39 - 50
3:32
Greivis Vasquez makes two point shot
41 - 50
3:10
Josh Smith loose ball foul (Anthony Davis draws the foul)
41 - 50
3:10
Josh Smith turnover
41 - 50
2:54
Greivis Vasquez misses driving layup
41 - 50
2:53
Al Horford defensive rebound
41 - 50
2:47
Kyle Korver misses 25-foot three point jumper
41 - 50
2:44
Hawks offensive team rebound
41 - 50
2:44
Hawks Full timeout
41 - 50
2:25
Josh Smith makes layup (Jeff Teague assists)
41 - 52
2:08
Robin Lopez makes 7-foot two point shot
43 - 52
1:57
Josh Smith misses 26-foot three point jumper
43 - 52
1:55
Robin Lopez defensive rebound
43 - 52
1:31
Eric Gordon misses 19-foot
43 - 52
1:29
Robin Lopez offensive rebound
43 - 52
1:28
Robin Lopez makes two point shot
45 - 52
1:01
Anthony Tolliver misses 25-foot three point jumper
45 - 52
1:00
Anthony Davis defensive rebound
45 - 52
0:54
Anthony Davis possession lost ball turnover
45 - 52
0:54
Zaza Pachulia enters the game for Al Horford
45 - 52
0:46
Jeff Teague makes 25-foot three point jumper
45 - 55
0:32
Greivis Vasquez makes 25-foot three point jumper (Ryan Anderson assists)
48 - 55
0:19
Robin Lopez blocks Josh Smith's shot
48 - 55
0:17
Greivis Vasquez defensive rebound
48 - 55
0:13
Anthony Davis makes dunk (Greivis Vasquez assists)
50 - 55
0:00
End of the 2nd Quarter
50 - 55

time
TEAM
PLAY
SCORE
11:41
Robin Lopez personal foul (Al Horford draws the foul)
50 - 55
11:30
Josh Smith makes driving dunk
50 - 57
11:22
Jeff Teague personal foul (Anthony Davis draws the foul)
50 - 57
11:17
Robin Lopez makes 18-foot jumper (Eric Gordon assists)
52 - 57
10:53
Jeff Teague makes driving layup
52 - 59
10:29
Greivis Vasquez makes 26-foot three point jumper
55 - 59
10:10
Jeff Teague makes 26-foot three point jumper (Josh Smith assists)
55 - 62
9:40
Eric Gordon misses driving layup
55 - 62
9:38
Anthony Tolliver defensive rebound
55 - 62
9:32
Jeff Teague bad pass (Anthony Davis steals)
55 - 62
9:18
Eric Gordon makes 19-foot jumper
57 - 62
9:02
Jeff Teague misses 16-foot jumper
57 - 62
9:00
Al-Farouq Aminu defensive rebound
57 - 62
8:52
Eric Gordon misses driving layup
57 - 62
8:52
Anthony Tolliver defensive rebound
57 - 62
8:47
Greivis Vasquez shooting foul (Josh Smith draws the foul)
57 - 62
8:47
Josh Smith makes free throw 1 of 2
57 - 63
8:47
Josh Smith makes free throw 2 of 2
57 - 64
8:36
Robin Lopez makes 3-foot jumper (Greivis Vasquez assists)
59 - 64
8:22
Al Horford misses driving layup
59 - 64
8:21
Al-Farouq Aminu defensive rebound
59 - 64
8:11
Anthony Davis misses
60 - 64
8:11
Robin Lopez offensive rebound
59 - 64
8:11
Al Horford shooting foul (Robin Lopez draws the foul)
59 - 64
8:11
Robin Lopez misses free throw 1 of 2
59 - 64
8:11
Hornets offensive team rebound
59 - 64
8:11
Zaza Pachulia enters the game for Anthony Tolliver
59 - 64
8:11
Robin Lopez makes free throw 2 of 2
60 - 64
7:54
Kyle Korver misses 14-foot jumper
60 - 64
7:54
Hawks offensive team rebound
60 - 64
7:39
Zaza Pachulia offensive foul (Greivis Vasquez draws the foul)
60 - 64
7:39
Zaza Pachulia turnover
60 - 64
7:28
Anthony Davis makes dunk (Robin Lopez assists)
62 - 64
7:11
Kyle Korver makes 18-foot jumper (Al Horford assists)
62 - 66
6:50
Robin Lopez misses 17-foot jumper
62 - 66
6:48
Al-Farouq Aminu offensive rebound
62 - 66
6:41
Eric Gordon misses 25-foot three point jumper
62 - 66
6:39
Hornets offensive team rebound
62 - 66
6:28
Greivis Vasquez makes 20-foot jumper
64 - 66
6:28
Jeff Teague shooting foul (Greivis Vasquez draws the foul)
64 - 66
6:28
Greivis Vasquez makes free throw 1 of 1
65 - 66
6:24
Hawks Full timeout
65 - 66
6:05
Josh Smith misses 11-foot
65 - 66
6:03
Anthony Davis defensive rebound
65 - 66
5:43
Anthony Davis misses 17-foot two point shot
65 - 66
5:41
Al Horford defensive rebound
65 - 66
5:20
Anthony Davis blocks Kyle Korver 's 4-foot layup
65 - 66
5:18
Greivis Vasquez defensive rebound
65 - 66
5:13
Eric Gordon makes 25-foot three point jumper (Greivis Vasquez assists)
68 - 66
4:48
Al Horford misses 20-foot jumper
68 - 66
4:47
Anthony Davis defensive rebound
68 - 66
4:41
Eric Gordon misses 15-foot Running Jumper
68 - 66
4:41
Josh Smith defensive rebound
68 - 66
4:33
Josh Smith out of bounds lost ball turnover
68 - 66
4:33
Ivan Johnson enters the game for Al Horford
68 - 66
4:33
Devin Harris enters the game for Jeff Teague
68 - 66
4:33
Ryan Anderson enters the game for Al-Farouq Aminu
68 - 66
4:20
Ivan Johnson blocks Anthony Davis 's 5-foot two point shot
68 - 66
4:18
Greivis Vasquez offensive rebound
68 - 66
4:13
Greivis Vasquez misses 4-foot
68 - 66
4:11
Anthony Davis offensive rebound
68 - 66
4:11
Anthony Davis makes two point shot
70 - 66
3:55
Kyle Korver makes 16-foot two point shot (Ivan Johnson assists)
70 - 68
3:36
Greivis Vasquez misses three point jumper
70 - 68
3:35
Hornets offensive team rebound
70 - 68
3:34
John Jenkins enters the game for Josh Smith
70 - 68
3:34
Roger Mason Jr. enters the game for Eric Gordon
70 - 68
3:34
Austin Rivers enters the game for Anthony Davis
70 - 68
3:25
Ryan Anderson makes 25-foot three point jumper (Greivis Vasquez assists)
73 - 68
3:03
Kyle Korver misses 23-foot three point jumper
73 - 68
3:01
Ryan Anderson defensive rebound
73 - 68
2:49
Robin Lopez makes two point shot (Greivis Vasquez assists)
75 - 68
2:49
Zaza Pachulia shooting foul (Robin Lopez draws the foul)
75 - 68
2:49
Hornets Full timeout
75 - 68
2:49
Robin Lopez misses free throw 1 of 1
75 - 68
2:47
Ivan Johnson defensive rebound
75 - 68
2:36
Robin Lopez blocks Ivan Johnson 's 3-foot jumper
75 - 68
2:33
Greivis Vasquez defensive rebound
75 - 68
2:31
Roger Mason Jr. makes two point shot (Greivis Vasquez assists)
77 - 68
2:15
John Jenkins steps out of bounds turnover
77 - 68
2:01
Greivis Vasquez misses 26-foot three point jumper
77 - 68
2:00
John Jenkins defensive rebound
77 - 68
1:53
John Jenkins misses 17-foot jumper
77 - 68
1:52
Greivis Vasquez defensive rebound
77 - 68
1:45
Ryan Anderson misses 26-foot three point jumper
77 - 68
1:44
Hornets offensive team rebound
77 - 68
1:44
Ivan Johnson loose ball foul (Robin Lopez draws the foul)
77 - 68
1:44
Robin Lopez misses free throw 1 of 2
77 - 68
1:44
Hornets offensive team rebound
77 - 68
1:44
Brian Roberts enters the game for Greivis Vasquez
77 - 68
1:44
Jeff Teague enters the game for Kyle Korver
77 - 68
1:44
Robin Lopez misses free throw 2 of 2
77 - 68
1:44
Ivan Johnson defensive rebound
77 - 68
1:29
Austin Rivers personal foul (Devin Harris draws the foul)
77 - 68
1:29
Jason Smith enters the game for Robin Lopez
77 - 68
1:25
Ivan Johnson misses 20-foot jumper
77 - 68
1:24
Hawks offensive team rebound
77 - 68
1:24
Jason Smith loose ball foul (Zaza Pachulia draws the foul)
77 - 68
1:24
Zaza Pachulia makes free throw 1 of 2
77 - 69
1:24
Zaza Pachulia makes free throw 2 of 2
77 - 70
1:10
Roger Mason Jr. misses 18-foot jumper
77 - 70
1:08
Ivan Johnson defensive rebound
77 - 70
0:46
John Jenkins misses 25-foot three point jumper
77 - 70
0:45
Austin Rivers defensive rebound
77 - 70
0:27
Jason Smith makes 18-foot jumper (Brian Roberts assists)
79 - 70
0:07
Jason Smith shooting foul (Jeff Teague draws the foul)
79 - 70
0:07
Jeff Teague misses free throw 1 of 2
79 - 70
0:07
Hawks offensive team rebound
79 - 70
0:07
Anthony Tolliver enters the game for Zaza Pachulia
79 - 70
0:07
Jeff Teague makes free throw 2 of 2
79 - 71
0:00
Austin Rivers misses layup
79 - 71
0:00
Devin Harris defensive rebound
79 - 71
0:00
End of the 3rd Quarter
79 - 71

time
TEAM
PLAY
SCORE
11:41
Ryan Anderson makes 25-foot three point jumper (Jason Smith assists)
82 - 71
11:27
Ivan Johnson offensive foul (Jason Smith draws the foul)
82 - 71
11:27
Ivan Johnson turnover
82 - 71
11:27
Al Horford enters the game for Zaza Pachulia
82 - 71
11:27
Josh Smith enters the game for Ivan Johnson
82 - 71
11:14
Jason Smith misses 12-foot two point shot
82 - 71
11:14
Hawks defensive team rebound
82 - 71
11:14
Ryan Anderson loose ball foul (Al Horford draws the foul)
82 - 71
11:14
Kyle Korver enters the game for Devin Harris
82 - 71
11:00
Al Horford makes driving dunk (Jeff Teague assists)
82 - 73
10:44
Jason Smith traveling
82 - 73
10:26
Al Horford misses 18-foot jumper
82 - 73
10:22
John Jenkins offensive rebound
82 - 73
10:22
Brian Roberts personal foul (John Jenkins draws the foul)
82 - 73
10:15
Al Horford makes 6-foot two point shot (Kyle Korver assists)
82 - 75
9:56
Brian Roberts makes 26-foot three point jumper (Austin Rivers assists)
85 - 75
9:30
John Jenkins makes 23-foot three point jumper (Kyle Korver assists)
85 - 78
9:15
Jason Smith makes 17-foot jumper (Brian Roberts assists)
87 - 78
8:59
Jeff Teague misses 6-foot
87 - 78
8:57
Roger Mason Jr. defensive rebound
87 - 78
8:36
Roger Mason Jr. makes driving layup
89 - 78
8:22
Jeff Teague steps out of bounds turnover
89 - 78
8:22
Official timeout
89 - 78
8:03
Roger Mason Jr. misses driving layup
89 - 78
8:00
Ryan Anderson makes two point shot
91 - 78
8:00
Ryan Anderson offensive rebound
89 - 78
7:48
Roger Mason Jr. personal foul (Kyle Korver draws the foul)
91 - 78
7:48
Hawks Full timeout
91 - 78
7:43
Jason Smith shooting foul (Al Horford draws the foul)
91 - 78
7:43
Al Horford misses free throw 1 of 2
91 - 78
7:43
Hawks offensive team rebound
91 - 78
7:43
Al Horford makes free throw 2 of 2
91 - 79
7:28
Jason Smith makes 19-foot jumper (Austin Rivers assists)
93 - 79
7:11
Roger Mason Jr. shooting foul (Al Horford draws the foul)
93 - 79
7:11
Al Horford makes free throw 1 of 2
93 - 80
7:11
Devin Harris enters the game for John Jenkins
93 - 80
7:11
Eric Gordon enters the game for Austin Rivers
93 - 80
7:11
Greivis Vasquez enters the game for Brian Roberts
93 - 80
7:11
Anthony Davis enters the game for Jason Smith
93 - 80
7:11
Al Horford makes free throw 2 of 2
93 - 81
7:00
Anthony Davis misses 17-foot jumper
93 - 81
6:58
Ryan Anderson offensive rebound
93 - 81
6:54
Ryan Anderson misses 24-foot three point jumper
93 - 81
6:54
Al Horford defensive rebound
93 - 81
6:41
Josh Smith makes 27-foot three point jumper (Jeff Teague assists)
93 - 84
6:24
Josh Smith blocks Anthony Davis's layup
93 - 84
6:22
Devin Harris defensive rebound
93 - 84
6:20
Devin Harris makes two point shot (Josh Smith assists)
93 - 86
6:18
Hornets Full timeout
93 - 86
6:07
Josh Smith shooting foul (Anthony Davis draws the foul)
93 - 86
6:07
Ryan Anderson misses free throw 1 of 2
93 - 86
6:07
Hornets offensive team rebound
93 - 86
6:07
Ryan Anderson makes free throw 2 of 2
94 - 86
5:54
Kyle Korver makes 25-foot three point jumper (Josh Smith assists)
94 - 89
5:33
Ryan Anderson makes 5-foot two point shot
96 - 89
5:22
Kyle Korver misses layup
96 - 89
5:22
Hawks offensive team rebound
96 - 89
5:22
Robin Lopez enters the game for Anthony Davis
96 - 89
5:20
Roger Mason Jr. personal foul (Kyle Korver draws the foul)
96 - 91
5:20
Kyle Korver makes free throw 1 of 2
96 - 90
5:20
Kyle Korver makes free throw 2 of 2
96 - 91
5:03
Al Horford blocks Greivis Vasquez 's 7-foot 2-pt jumper
96 - 91
5:01
Hawks defensive team rebound
96 - 91
4:47
Josh Smith bad pass
96 - 91
4:33
Eric Gordon makes two point shot (Greivis Vasquez assists)
98 - 91
4:16
Josh Smith misses 25-foot three point jumper
98 - 91
4:16
Greivis Vasquez defensive rebound
98 - 91
4:03
Eric Gordon bad pass (Al Horford steals)
98 - 91
4:01
Ryan Anderson shooting foul (Al Horford draws the foul)
98 - 91
4:01
Al Horford makes free throw 1 of 2
98 - 92
4:01
Al Horford misses free throw 2 of 2
98 - 92
3:59
Greivis Vasquez defensive rebound
98 - 92
3:44
Robin Lopez misses 4-foot hook shot
98 - 92
3:42
Josh Smith defensive rebound
98 - 92
3:35
Al Horford makes 1-foot driving dunk (Josh Smith assists)
98 - 94
3:15
Ryan Anderson makes 24-foot three point jumper (Greivis Vasquez assists)
101 - 94
3:05
Jeff Teague bad pass
101 - 94
2:49
Greivis Vasquez bad pass (Kyle Korver steals)
101 - 94
2:45
Josh Smith makes two point shot (Kyle Korver assists)
101 - 96
2:36
Hornets Full timeout
101 - 96
2:17
Eric Gordon misses Running Jumper
101 - 96
2:16
Al Horford defensive rebound
101 - 96
2:10
Josh Smith misses hook shot
101 - 96
2:08
Al Horford offensive rebound
101 - 96
2:04
Jeff Teague misses 25-foot three point jumper
101 - 96
2:03
Ryan Anderson defensive rebound
101 - 96
1:47
Josh Smith shooting foul (Greivis Vasquez draws the foul)
101 - 96
1:47
Greivis Vasquez makes free throw 1 of 2
102 - 96
1:47
Greivis Vasquez makes free throw 2 of 2
103 - 96
1:29
Josh Smith misses 6-foot hook shot
103 - 96
1:27
Ryan Anderson defensive rebound
103 - 96
1:23
Robin Lopez makes dunk (Greivis Vasquez assists)
105 - 96
1:23
Hawks Full timeout
105 - 96
1:15
Al Horford misses 5-foot
105 - 96
1:13
Robin Lopez defensive rebound
105 - 96
0:56
Devin Harris shooting foul (Eric Gordon draws the foul)
105 - 96
0:56
Eric Gordon makes free throw 1 of 2
106 - 96
0:56
Eric Gordon makes free throw 2 of 2
107 - 96
0:56
Hawks 20 Sec. timeout
107 - 96
0:51
Jeff Teague makes 3-foot two point shot (Devin Harris assists)
107 - 98
0:51
Hornets 20 Sec. timeout
107 - 98
0:51
Anthony Davis enters the game for Robin Lopez
107 - 98
0:49
Josh Smith personal take foul (Eric Gordon draws the foul)
107 - 98
0:49
Eric Gordon makes free throw 1 of 2
108 - 98
0:49
Robin Lopez enters the game for Anthony Davis
108 - 98
0:49
Eric Gordon makes free throw 2 of 2
109 - 98
0:49
Hawks 20 Sec. timeout
109 - 98
0:44
Al Horford misses hook shot
109 - 98
0:42
Ryan Anderson defensive rebound
109 - 98
0:23
Eric Gordon makes 20-foot two point shot
111 - 98
0:06
Josh Smith makes driving dunk
111 - 100
0:00
End of the 4th Quarter
111 - 100
An elite NCAA wing defender imagines guarding back-to-back MVP Stephen Curry.

The elite NBA prospect has been meditating every day as long as he can remember.

Chad Ford says the Philadelphia 76ers are increasing their efforts to acquire the No. 3 pick in the NBA draft from the Celtics. Ford also offers two players Boston can select if they keep the pick.
Regular Season Series
Series tied 1-1
2015-2016 Southeast Standings