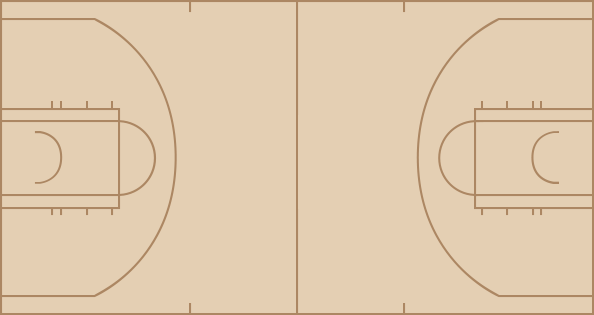 Thunder
time
TEAM
PLAY
SCORE
12:00
Hasheem Thabeet vs. J.J. Hickson (LaMarcus Aldridge gains possession)
0 - 0
11:44
LaMarcus Aldridge makes driving layup
0 - 2
11:19
Russell Westbrook misses 18-foot jumper
0 - 2
11:18
Hasheem Thabeet makes two point shot
2 - 2
11:18
Hasheem Thabeet offensive rebound
0 - 2
11:03
Victor Claver bad pass (Kevin Durant steals)
2 - 2
10:57
Russell Westbrook lost ball turnover (J.J. Hickson steals)
2 - 2
10:49
Damian Lillard misses 24-foot three point jumper
2 - 2
10:49
J.J. Hickson offensive rebound
2 - 2
10:48
J.J. Hickson makes 6-foot two point shot
2 - 4
10:26
Kevin Durant misses 22-foot jumper
2 - 4
10:26
Trail Blazers defensive team rebound
2 - 4
10:26
Hasheem Thabeet personal foul (J.J. Hickson draws the foul)
2 - 4
10:10
LaMarcus Aldridge makes jumper
2 - 6
9:53
Serge Ibaka makes two point shot (Kevin Durant assists)
4 - 6
9:45
Hasheem Thabeet blocks Damian Lillard's layup
4 - 6
9:42
Thabo Sefolosha defensive rebound
4 - 6
9:40
Thabo Sefolosha makes two point shot
6 - 6
9:18
LaMarcus Aldridge misses 20-foot jumper
6 - 6
9:18
Thabo Sefolosha defensive rebound
6 - 6
9:07
Will Barton personal foul (Thabo Sefolosha draws the foul)
6 - 6
9:02
Damian Lillard shooting foul (Russell Westbrook draws the foul)
6 - 6
9:02
Russell Westbrook makes free throw 1 of 2
7 - 6
9:02
Russell Westbrook makes free throw 2 of 2
8 - 6
8:41
LaMarcus Aldridge misses 20-foot two point shot
8 - 6
8:41
J.J. Hickson offensive rebound
8 - 6
8:32
J.J. Hickson makes 14-foot jumper
8 - 8
8:14
Kevin Durant makes 19-foot two point shot
10 - 8
8:00
LaMarcus Aldridge misses 10-foot two point jumper
10 - 8
7:58
Serge Ibaka defensive rebound
10 - 8
7:48
Kevin Durant out of bounds lost ball turnover
10 - 8
7:35
LaMarcus Aldridge makes two point shot (Victor Claver assists)
10 - 10
7:09
Serge Ibaka makes 20-foot jumper
12 - 10
6:54
Hasheem Thabeet shooting foul (J.J. Hickson draws the foul)
12 - 10
6:54
J.J. Hickson misses free throw 1 of 2
12 - 10
6:54
Trail Blazers offensive team rebound
12 - 10
6:54
Nick Collison enters the game for Hasheem Thabeet
12 - 10
6:54
J.J. Hickson makes free throw 2 of 2
12 - 11
6:41
Kevin Durant bad pass
12 - 11
6:24
LaMarcus Aldridge makes 10-foot two point shot
12 - 13
6:11
Kevin Durant makes two point shot (Russell Westbrook assists)
14 - 13
5:50
Victor Claver misses 25-foot three point jumper
14 - 13
5:47
Thabo Sefolosha defensive rebound
14 - 13
5:41
Serge Ibaka makes dunk (Thabo Sefolosha assists)
16 - 13
5:39
Eric Maynor enters the game for Will Barton
16 - 13
5:39
Trail Blazers Full timeout
16 - 13
5:30
Victor Claver bad pass
16 - 13
5:16
Thabo Sefolosha makes 23-foot three point jumper (Kevin Durant assists)
19 - 13
5:00
J.J. Hickson makes layup (Damian Lillard assists)
19 - 15
4:37
Kevin Durant misses 13-foot two point shot
19 - 15
4:37
J.J. Hickson defensive rebound
19 - 15
4:33
Eric Maynor lost ball turnover (Russell Westbrook steals)
19 - 15
4:30
Russell Westbrook makes driving layup
21 - 15
4:09
Victor Claver misses 24-foot three point jumper
21 - 15
4:09
Russell Westbrook defensive rebound
21 - 15
3:57
Russell Westbrook makes three point jumper (Kevin Durant assists)
24 - 15
3:54
Trail Blazers 20 Sec. timeout
24 - 15
3:54
Ronnie Brewer enters the game for Kevin Durant
24 - 15
3:54
Meyers Leonard enters the game for J.J. Hickson
24 - 15
3:54
Sasha Pavlovic enters the game for Victor Claver
24 - 15
3:35
Meyers Leonard makes dunk (Eric Maynor assists)
24 - 17
3:15
Russell Westbrook makes 11-foot two point shot
26 - 17
3:00
Damian Lillard misses driving layup
26 - 17
2:59
Nick Collison defensive rebound
26 - 17
2:42
Serge Ibaka makes 20-foot jumper (Russell Westbrook assists)
28 - 17
2:18
Eric Maynor makes 11-foot two point shot (LaMarcus Aldridge assists)
28 - 19
2:18
Thabo Sefolosha shooting foul (Eric Maynor draws the foul)
28 - 20
2:18
Thunder Full timeout
28 - 19
2:18
Reggie Jackson enters the game for Thabo Sefolosha
28 - 19
2:18
Eric Maynor makes free throw 1 of 1
28 - 20
1:50
Ronnie Brewer misses 22-foot jumper
28 - 20
1:47
LaMarcus Aldridge defensive rebound
28 - 20
1:36
Eric Maynor bad pass (Reggie Jackson steals)
28 - 20
1:31
Russell Westbrook misses driving layup
28 - 20
1:29
Serge Ibaka offensive rebound
28 - 20
1:29
Serge Ibaka makes two point shot
30 - 20
1:09
LaMarcus Aldridge misses 20-foot jumper
30 - 20
1:07
Ronnie Brewer defensive rebound
30 - 20
1:02
Russell Westbrook offensive Charge (Damian Lillard draws the foul)
30 - 20
1:02
Russell Westbrook turnover
30 - 20
1:02
Derek Fisher enters the game for Russell Westbrook
30 - 20
0:48
Eric Maynor makes 25-foot three point jumper (Sasha Pavlovic assists)
30 - 23
0:36
Derek Fisher misses 24-foot three point jumper
30 - 23
0:35
Damian Lillard defensive rebound
30 - 23
0:23
Meyers Leonard makes two point shot (Eric Maynor assists)
30 - 25
0:23
Nick Collison shooting foul (Meyers Leonard draws the foul)
30 - 26
0:23
Will Barton enters the game for Damian Lillard
30 - 25
0:23
Kevin Durant enters the game for Serge Ibaka
30 - 25
0:23
Meyers Leonard makes free throw 1 of 1
30 - 26
0:05
Reggie Jackson misses 10-foot two point jumper
30 - 26
0:04
Meyers Leonard defensive rebound
30 - 26
0:00
Eric Maynor misses three point jumper
30 - 26
0:00
Trail Blazers offensive team rebound
30 - 26
0:00
End of the 1st Quarter
30 - 26

time
TEAM
PLAY
SCORE
11:41
Kevin Durant traveling
30 - 26
11:32
Will Barton makes two point shot (Eric Maynor assists)
30 - 28
11:14
Kevin Durant makes 12-foot two point shot
32 - 28
10:52
Will Barton misses 23-foot three point jumper
32 - 28
10:51
Ronnie Brewer defensive rebound
32 - 28
10:41
Nick Collison makes 21-foot jumper (Reggie Jackson assists)
34 - 28
10:22
Meyers Leonard 3 second turnover
34 - 28
10:07
Derek Fisher makes 24-foot three point jumper (Kevin Durant assists)
37 - 28
10:07
Meyers Leonard loose ball foul (Nick Collison draws the foul)
37 - 28
10:07
Nick Collison misses free throw 1 of 1
37 - 28
10:06
Meyers Leonard defensive rebound
37 - 28
9:45
Eric Maynor makes 15-foot two point shot
37 - 30
9:27
Reggie Jackson makes driving layup
39 - 30
9:06
Meyers Leonard misses 6-foot hook shot
39 - 30
9:03
Ronnie Brewer defensive rebound
39 - 30
9:00
LaMarcus Aldridge personal foul (Kevin Durant draws the foul)
39 - 30
8:48
Kevin Durant makes two point shot (Derek Fisher assists)
41 - 30
8:47
Trail Blazers Full timeout
41 - 30
8:47
Damian Lillard enters the game for Eric Maynor
41 - 30
8:47
Joel Freeland enters the game for Meyers Leonard
41 - 30
8:26
LaMarcus Aldridge misses 14-foot two point shot
41 - 30
8:06
Reggie Jackson misses 25-foot three point jumper
41 - 30
8:04
Will Barton defensive rebound
41 - 30
7:56
Sasha Pavlovic misses 14-foot two point jumper
41 - 30
7:56
Joel Freeland offensive rebound
41 - 30
7:52
Joel Freeland makes 10-foot jumper
41 - 32
7:33
Nick Collison misses 20-foot jumper
41 - 32
7:33
Sasha Pavlovic defensive rebound
41 - 32
7:26
Will Barton misses 17-foot jumper
41 - 32
7:24
Ronnie Brewer defensive rebound
41 - 32
7:15
Kevin Durant lost ball turnover (Will Barton steals)
41 - 32
7:11
Will Barton misses layup
41 - 32
7:09
LaMarcus Aldridge makes two point shot
41 - 34
7:09
LaMarcus Aldridge offensive rebound
41 - 32
6:54
Joel Freeland shooting foul (Nick Collison draws the foul)
41 - 34
6:54
Nick Collison misses free throw 1 of 2
41 - 34
6:54
Thunder offensive team rebound
41 - 34
6:54
Russell Westbrook enters the game for Reggie Jackson
41 - 34
6:54
Serge Ibaka enters the game for Ronnie Brewer
41 - 34
6:54
Victor Claver enters the game for LaMarcus Aldridge
41 - 34
6:54
Nick Collison makes free throw 2 of 2
42 - 34
6:46
Joel Freeland misses 7-foot jumper
42 - 34
6:45
Nick Collison defensive rebound
42 - 34
6:35
Kevin Durant makes 22-foot two point shot
44 - 34
6:24
Serge Ibaka shooting foul (Joel Freeland draws the foul)
44 - 34
6:24
Joel Freeland makes free throw 1 of 2
44 - 35
6:24
Thabo Sefolosha enters the game for Nick Collison
44 - 35
6:24
Joel Freeland misses free throw 2 of 2
44 - 35
6:22
Kevin Durant defensive rebound
44 - 35
5:58
Thabo Sefolosha misses three point jumper
44 - 35
5:56
Kevin Durant offensive rebound
44 - 35
5:52
Derek Fisher misses jumper
44 - 35
5:50
Joel Freeland defensive rebound
44 - 35
5:41
Will Barton makes layup (Damian Lillard assists)
44 - 37
5:26
Serge Ibaka misses 8-foot two point shot
44 - 37
5:26
Joel Freeland defensive rebound
44 - 37
5:03
Damian Lillard misses three point jumper
44 - 37
5:01
Kevin Durant defensive rebound
44 - 37
4:50
Russell Westbrook misses driving layup
44 - 37
4:48
Will Barton defensive rebound
44 - 37
4:43
Kevin Durant blocks Will Barton's layup
44 - 37
4:41
Thabo Sefolosha defensive rebound
44 - 37
4:37
Thabo Sefolosha bad pass
44 - 37
4:37
Official timeout
44 - 37
4:24
Damian Lillard misses two point shot
44 - 37
4:24
Trail Blazers offensive team rebound
44 - 37
4:18
Russell Westbrook shooting foul (Will Barton draws the foul)
44 - 37
4:18
Will Barton makes free throw 1 of 2
44 - 38
4:18
Reggie Jackson enters the game for Derek Fisher
44 - 38
4:18
Will Barton makes free throw 2 of 2
44 - 39
4:07
Serge Ibaka misses 10-foot jumper
44 - 39
4:05
Victor Claver defensive rebound
44 - 39
4:01
Will Barton makes two point shot (Damian Lillard assists)
44 - 41
3:40
Russell Westbrook misses 25-foot three point jumper
44 - 41
3:39
Sasha Pavlovic defensive rebound
44 - 41
3:28
Sasha Pavlovic makes 3-foot two point shot (Damian Lillard assists)
44 - 43
3:18
Kevin Durant misses 24-foot three point jumper
44 - 43
3:16
Joel Freeland defensive rebound
44 - 43
3:09
Victor Claver makes 23-foot three point jumper (Sasha Pavlovic assists)
44 - 46
3:05
Thunder Full timeout
44 - 46
2:51
Kevin Durant makes 12-foot two point shot
46 - 46
2:38
Will Barton makes two point shot (Sasha Pavlovic assists)
46 - 48
2:20
Reggie Jackson misses 9-foot jumper
46 - 48
2:19
Serge Ibaka offensive rebound
46 - 48
2:19
Victor Claver shooting foul (Serge Ibaka draws the foul)
46 - 48
2:19
Serge Ibaka makes free throw 1 of 2
47 - 48
2:19
Serge Ibaka misses free throw 2 of 2
47 - 48
2:18
Joel Freeland defensive rebound
47 - 48
2:01
Joel Freeland makes 14-foot two point shot (Sasha Pavlovic assists)
47 - 50
1:40
Russell Westbrook makes 16-foot two point shot
49 - 50
1:20
Will Barton makes two point shot
49 - 52
1:01
Thabo Sefolosha misses 23-foot three point jumper
49 - 52
0:59
Thabo Sefolosha offensive rebound
49 - 52
0:54
Victor Claver personal foul (Russell Westbrook draws the foul)
49 - 52
0:54
Russell Westbrook misses free throw 1 of 2
49 - 52
0:54
Thunder offensive team rebound
49 - 52
0:54
Russell Westbrook makes free throw 2 of 2
50 - 52
0:32
Russell Westbrook blocks Damian Lillard's layup
50 - 52
0:32
Trail Blazers offensive team rebound
50 - 52
0:30
Damian Lillard makes two point shot (Sasha Pavlovic assists)
50 - 54
0:28
Damian Lillard shooting foul (Russell Westbrook draws the foul)
50 - 54
0:28
Russell Westbrook makes free throw 1 of 2
51 - 54
0:28
Russell Westbrook makes free throw 2 of 2
52 - 54
0:06
Damian Lillard misses 27-foot three point jumper
52 - 54
0:05
Serge Ibaka defensive rebound
52 - 54
0:00
Thabo Sefolosha makes 23-foot three point jumper (Kevin Durant assists)
55 - 54
0:00
End of the 2nd Quarter
55 - 54

time
TEAM
PLAY
SCORE
11:40
Thabo Sefolosha makes 25-foot three point jumper (Serge Ibaka assists)
58 - 54
11:18
Damian Lillard misses jumper
58 - 54
11:18
Hasheem Thabeet defensive rebound
58 - 54
11:08
Victor Claver shooting foul (Kevin Durant draws the foul)
58 - 54
11:08
Kevin Durant makes free throw 1 of 2
59 - 54
11:08
Kevin Durant makes free throw 2 of 2
60 - 54
10:56
Hasheem Thabeet blocks Victor Claver 's 1-foot layup
60 - 54
10:56
Trail Blazers offensive team rebound
60 - 54
10:49
LaMarcus Aldridge misses 23-foot three point jumper
60 - 54
10:48
J.J. Hickson offensive rebound
60 - 54
10:45
J.J. Hickson misses 4-foot two point shot
60 - 54
10:44
Serge Ibaka defensive rebound
60 - 54
10:37
Russell Westbrook misses 22-foot jumper
60 - 54
10:37
J.J. Hickson defensive rebound
60 - 54
10:37
Hasheem Thabeet personal foul (J.J. Hickson draws the foul)
60 - 54
10:22
LaMarcus Aldridge bad pass
60 - 54
10:04
Kevin Durant misses 22-foot jumper
60 - 54
10:03
Damian Lillard defensive rebound
60 - 54
9:55
Will Barton misses 17-foot jumper
60 - 54
9:53
Kevin Durant defensive rebound
60 - 54
9:37
Serge Ibaka misses 5-foot running hook shot
60 - 54
9:37
Victor Claver defensive rebound
60 - 54
9:22
J.J. Hickson misses 18-foot jumper
60 - 54
9:22
Hasheem Thabeet defensive rebound
60 - 54
9:07
Russell Westbrook makes 2-foot two point shot
62 - 54
8:52
Kevin Durant blocks Damian Lillard 's 11-foot jumper
62 - 54
8:51
Damian Lillard offensive rebound
62 - 54
8:49
Trail Blazers Full timeout
62 - 54
8:41
Victor Claver misses 21-foot jumper
62 - 54
8:27
Russell Westbrook makes two point shot (Kevin Durant assists)
64 - 54
8:00
LaMarcus Aldridge makes 18-foot jumper
64 - 56
7:47
Serge Ibaka misses three point jumper
64 - 56
7:46
J.J. Hickson defensive rebound
64 - 56
7:39
Victor Claver misses two point shot
64 - 56
7:37
J.J. Hickson offensive rebound
64 - 56
7:37
Serge Ibaka shooting foul (J.J. Hickson draws the foul)
64 - 56
7:37
J.J. Hickson misses free throw 1 of 2
64 - 56
7:37
Trail Blazers offensive team rebound
64 - 56
7:37
J.J. Hickson misses free throw 2 of 2
64 - 56
7:33
Hasheem Thabeet defensive rebound
64 - 56
7:26
Russell Westbrook makes 14-foot jumper
66 - 56
7:18
Serge Ibaka blocks Damian Lillard's shot
66 - 56
7:18
Trail Blazers offensive team rebound
66 - 56
7:07
Will Barton misses 25-foot three point jumper
66 - 56
7:05
Kevin Durant defensive rebound
66 - 56
6:58
Kevin Durant makes 17-foot two point shot
68 - 56
6:39
Thabo Sefolosha personal foul (LaMarcus Aldridge draws the foul)
68 - 56
6:39
Sasha Pavlovic enters the game for Victor Claver
68 - 56
6:39
Joel Freeland enters the game for J.J. Hickson
68 - 56
6:35
Kevin Durant kicked ball violation
68 - 56
6:30
Sasha Pavlovic makes 25-foot three point jumper (Damian Lillard assists)
68 - 59
6:16
Thabo Sefolosha misses 25-foot three point jumper
68 - 59
6:15
Serge Ibaka offensive rebound
68 - 59
6:07
Serge Ibaka traveling
68 - 59
5:50
Will Barton misses two point shot
68 - 59
5:37
Russell Westbrook makes 20-foot two point shot
70 - 59
5:18
Will Barton lost ball turnover (Thabo Sefolosha steals)
70 - 59
5:18
Will Barton personal foul (Thabo Sefolosha draws the foul)
70 - 59
5:18
Nick Collison enters the game for Serge Ibaka
70 - 59
5:18
Eric Maynor enters the game for Will Barton
70 - 59
5:18
Ronnie Brewer enters the game for Thabo Sefolosha
70 - 59
5:05
Ronnie Brewer misses 17-foot jumper
70 - 59
5:05
Trail Blazers defensive team rebound
70 - 59
4:48
Hasheem Thabeet blocks Joel Freeland 's 3-foot hook shot
70 - 59
4:46
Joel Freeland offensive rebound
70 - 59
4:45
Joel Freeland misses layup
70 - 59
4:43
Ronnie Brewer defensive rebound
70 - 59
4:31
Russell Westbrook misses 19-foot jumper
70 - 59
4:31
Thunder offensive team rebound
70 - 59
4:31
Joel Freeland loose ball foul (Nick Collison draws the foul)
70 - 59
4:16
Hasheem Thabeet misses 13-foot jumper
70 - 59
4:15
Eric Maynor defensive rebound
70 - 59
4:09
LaMarcus Aldridge misses 4-foot jump bank shot
70 - 59
4:07
Nick Collison defensive rebound
70 - 59
4:00
Thunder Full timeout
70 - 59
4:00
Daniel Orton enters the game for Kevin Durant
70 - 59
4:00
Reggie Jackson enters the game for Hasheem Thabeet
70 - 59
3:49
Russell Westbrook makes jumper
72 - 59
3:39
Eric Maynor bad pass (Russell Westbrook steals)
72 - 59
3:33
Sasha Pavlovic shooting foul (Russell Westbrook draws the foul)
72 - 59
3:33
Russell Westbrook makes free throw 1 of 2
73 - 59
3:33
Russell Westbrook makes free throw 2 of 2
74 - 59
3:11
Damian Lillard bad pass (Ronnie Brewer steals)
74 - 59
3:09
Reggie Jackson traveling
74 - 59
2:47
Sasha Pavlovic makes 20-foot jumper (Damian Lillard assists)
74 - 61
2:28
Reggie Jackson makes driving layup (Ronnie Brewer assists)
76 - 61
2:05
Sasha Pavlovic misses 26-foot three point jumper
76 - 61
2:05
Nick Collison defensive rebound
76 - 61
2:00
Damian Lillard shooting foul (Russell Westbrook draws the foul)
76 - 61
2:00
Russell Westbrook makes free throw 1 of 2
77 - 61
2:00
Russell Westbrook makes free throw 2 of 2
78 - 61
1:42
LaMarcus Aldridge misses 16-foot two point shot
78 - 61
1:40
Reggie Jackson defensive rebound
78 - 61
1:23
Russell Westbrook makes 25-foot three pointer
81 - 61
1:00
Sasha Pavlovic misses 25-foot three point jumper
81 - 61
0:58
Reggie Jackson defensive rebound
81 - 61
0:47
Russell Westbrook misses 7-foot Running Jumper
81 - 61
0:47
Thunder offensive team rebound
81 - 61
0:47
Will Barton enters the game for Damian Lillard
81 - 61
0:47
Victor Claver enters the game for LaMarcus Aldridge
81 - 61
0:39
Russell Westbrook misses 27-foot three point jumper
81 - 61
0:37
Ronnie Brewer offensive rebound
81 - 61
0:22
Russell Westbrook out of bounds lost ball turnover
81 - 61
0:05
Will Barton lost ball turnover (Russell Westbrook steals)
81 - 61
0:00
Reggie Jackson misses
81 - 61
0:00
Thunder offensive team rebound
81 - 61
0:00
End of the 3rd Quarter
81 - 61

time
TEAM
PLAY
SCORE
11:42
Meyers Leonard makes 15-foot two point shot
81 - 63
11:30
Daniel Orton misses jumper
81 - 63
11:29
Will Barton defensive rebound
81 - 63
11:18
Luke Babbitt makes 4-foot two point shot
81 - 65
10:57
Reggie Jackson misses 25-foot three point jumper
81 - 65
10:56
Will Barton defensive rebound
81 - 65
10:45
Meyers Leonard misses 4-foot hook shot
81 - 65
10:45
Reggie Jackson defensive rebound
81 - 65
10:27
Nick Collison makes two point shot
83 - 65
10:19
Derek Fisher kicked ball violation
83 - 65
10:03
Eric Maynor misses 16-foot jumper
83 - 65
10:03
Daniel Orton defensive rebound
83 - 65
9:52
Reggie Jackson makes 1-foot two point shot
85 - 65
9:26
Will Barton makes jumper (Luke Babbitt assists)
85 - 67
9:04
Daniel Orton misses jumper
85 - 67
9:03
Meyers Leonard defensive rebound
85 - 67
8:59
Daniel Orton shooting foul (Eric Maynor draws the foul)
85 - 67
8:59
Official timeout
85 - 67
8:59
Eric Maynor makes free throw 1 of 2
85 - 68
8:59
Eric Maynor makes free throw 2 of 2
85 - 69
8:44
Derek Fisher makes 23-foot three point jumper (Nick Collison assists)
88 - 69
8:27
Luke Babbitt misses 25-foot three point jumper
88 - 69
8:26
Damian Lillard enters the game for Victor Claver
88 - 69
8:14
Derek Fisher misses 25-foot three point jumper
88 - 69
8:12
Will Barton defensive rebound
88 - 69
8:07
Eric Maynor misses driving layup
88 - 69
8:04
Trail Blazers offensive team rebound
88 - 69
7:56
Will Barton misses 20-foot jumper
88 - 69
7:56
Nick Collison defensive rebound
88 - 69
7:39
Derek Fisher bad pass (Damian Lillard steals)
88 - 69
7:28
Meyers Leonard misses 9-foot jumper
88 - 69
7:28
Ronnie Brewer defensive rebound
88 - 69
7:11
Reggie Jackson makes 25-foot three pointer
91 - 69
7:07
Trail Blazers Full timeout
91 - 69
6:54
Luke Babbitt makes 23-foot three point jumper (Damian Lillard assists)
91 - 72
6:37
Derek Fisher misses 23-foot three point jumper
91 - 72
6:37
Meyers Leonard defensive rebound
91 - 72
6:31
Will Barton makes two point shot (Damian Lillard assists)
91 - 74
6:07
Eric Maynor shooting foul (Reggie Jackson draws the foul)
91 - 74
6:07
Reggie Jackson makes free throw 1 of 2
92 - 74
6:07
Reggie Jackson makes free throw 2 of 2
93 - 74
5:56
Daniel Orton personal foul (Damian Lillard draws the foul)
93 - 74
5:48
Damian Lillard makes 27-foot three point jumper
93 - 77
5:26
Daniel Orton makes dunk (Nick Collison assists)
95 - 77
5:22
Reggie Jackson personal take foul (Damian Lillard draws the foul)
95 - 77
5:22
Hasheem Thabeet enters the game for Nick Collison
95 - 77
5:16
Derek Fisher shooting foul (Damian Lillard draws the foul)
95 - 77
5:16
Damian Lillard makes free throw 1 of 2
95 - 78
5:16
Damian Lillard makes free throw 2 of 2
95 - 79
5:03
Meyers Leonard blocks Daniel Orton's shot
95 - 79
5:01
Thunder offensive team rebound
95 - 79
4:52
Reggie Jackson makes two point shot
97 - 79
4:43
Damian Lillard makes driving layup
97 - 81
4:26
Derek Fisher offensive Charge (Damian Lillard draws the foul)
97 - 81
4:26
Derek Fisher turnover
97 - 81
4:16
Hasheem Thabeet shooting foul (Damian Lillard draws the foul)
97 - 81
4:16
Damian Lillard misses free throw 1 of 2
97 - 81
4:16
Trail Blazers offensive team rebound
97 - 81
4:16
Damian Lillard makes free throw 2 of 2
97 - 82
4:05
Daniel Orton lost ball turnover (Will Barton steals)
97 - 82
4:03
Will Barton makes driving dunk
97 - 84
4:01
Thunder Full timeout
97 - 84
4:01
Russell Westbrook enters the game for Ronnie Brewer
97 - 84
4:01
Kevin Durant enters the game for Daniel Orton
97 - 84
3:46
Derek Fisher makes 23-foot three point jumper (Reggie Jackson assists)
100 - 84
3:35
Damian Lillard misses 26-foot three point jumper
100 - 84
3:34
Hasheem Thabeet defensive rebound
100 - 84
3:18
Hasheem Thabeet misses 9-foot jumper
100 - 84
3:17
Will Barton defensive rebound
100 - 84
3:03
Meyers Leonard misses 21-foot jumper
100 - 84
3:02
Reggie Jackson defensive rebound
100 - 84
2:48
Damian Lillard shooting foul (Russell Westbrook draws the foul)
100 - 84
2:48
Russell Westbrook makes free throw 1 of 2
101 - 84
2:48
Daniel Orton enters the game for Kevin Durant
101 - 84
2:48
Nolan Smith enters the game for Damian Lillard
101 - 84
2:48
Russell Westbrook makes free throw 2 of 2
102 - 84
2:47
Russell Westbrook personal take foul (Eric Maynor draws the foul)
102 - 84
2:47
Ronnie Brewer enters the game for Russell Westbrook
102 - 84
2:47
Eric Maynor misses free throw 1 of 2
102 - 84
2:47
Trail Blazers offensive team rebound
102 - 84
2:47
Eric Maynor makes free throw 2 of 2
102 - 85
2:29
Reggie Jackson makes 9-foot two point shot
104 - 85
2:08
Will Barton misses jumper
104 - 85
2:06
Meyers Leonard offensive rebound
104 - 85
1:59
Nolan Smith makes driving layup
104 - 87
1:43
Derek Fisher misses 26-foot three point jumper
104 - 87
1:42
Luke Babbitt defensive rebound
104 - 87
1:38
Reggie Jackson blocks Nolan Smith's shot
104 - 87
1:35
Will Barton offensive rebound
104 - 87
1:31
Victor Claver enters the game for Nolan Smith
104 - 87
1:25
Will Barton lost ball turnover (Ronnie Brewer steals)
104 - 87
1:04
Reggie Jackson makes two point shot
106 - 87
0:48
Hasheem Thabeet blocks Will Barton 's 3-foot layup
106 - 87
0:47
Trail Blazers offensive team rebound
106 - 87
0:39
Meyers Leonard makes 25-foot (Luke Babbitt assists)
106 - 90
0:07
Will Barton misses 25-foot three point jumper
106 - 90
0:05
Hasheem Thabeet defensive rebound
106 - 90
0:00
End of the 4th Quarter
106 - 90
The Knicks are acquiring former NBA MVP Derrick Rose from the Chicago Bulls, sources told ESPN.

In the moments leading up to the first championship parade in Cleveland since 1964, LeBron James expresses his excitement for the moment.

Brian Windhorst breaks down the three-team deal that sends Jeff Teague to the Pacers, George Hill to the Jazz and Atlanta receiving Utah's 12th pick in the draft.
Regular Season Series
OKC wins series 4-0
2015-2016 Northwest Standings