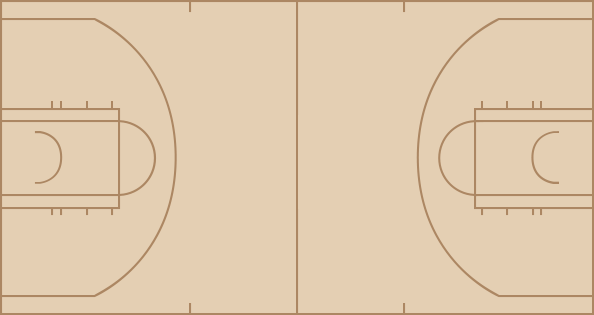 Celtics
time
TEAM
PLAY
SCORE
12:00
Brandon Bass vs. Jonas Valanciunas
0 - 0
11:34
Rudy Gay misses 25-foot three point jumper
0 - 0
11:33
Avery Bradley defensive rebound
0 - 0
11:26
Rudy Gay personal foul (Vitor Faverani draws the foul)
0 - 0
11:15
Vitor Faverani makes 5-foot two point shot (Gerald Wallace assists)
2 - 0
10:57
DeMar DeRozan misses 20-foot jumper
2 - 0
10:56
Avery Bradley defensive rebound
2 - 0
10:47
Avery Bradley makes driving layup
4 - 0
10:26
Jonas Valanciunas lost ball turnover (Brandon Bass steals)
4 - 0
10:14
Brandon Bass makes 14-foot two point shot (Avery Bradley assists)
6 - 0
10:00
Jeff Green personal foul (DeMar DeRozan draws the foul)
6 - 0
9:51
Jonas Valanciunas traveling
6 - 0
9:34
Vitor Faverani misses two point shot
6 - 0
9:33
Jonas Valanciunas defensive rebound
6 - 0
9:23
Amir Johnson makes 6-foot two point shot (Kyle Lowry assists)
6 - 2
9:00
Vitor Faverani makes 17-foot jumper (Brandon Bass assists)
8 - 2
8:47
Rudy Gay misses 16-foot two point jumper
8 - 2
8:45
Jonas Valanciunas offensive rebound
8 - 2
8:44
Jonas Valanciunas makes two point shot
8 - 4
8:29
Avery Bradley steps out of bounds turnover
8 - 4
8:15
Amir Johnson misses 26-foot three point jumper
8 - 4
8:14
Jeff Green defensive rebound
8 - 4
8:00
Amir Johnson personal foul (Avery Bradley draws the foul)
8 - 4
7:54
Jonas Valanciunas blocks Vitor Faverani 's 4-foot jumper
8 - 4
7:54
Celtics offensive team rebound
8 - 4
7:52
Amir Johnson shooting block foul (Jeff Green draws the foul)
8 - 4
7:52
Jeff Green makes free throw 1 of 2
9 - 4
7:52
Tyler Hansbrough enters the game for Amir Johnson
9 - 4
7:52
Jeff Green misses free throw 2 of 2
9 - 4
7:50
Jonas Valanciunas defensive rebound
9 - 4
7:37
Rudy Gay misses 19-foot jumper
9 - 4
7:37
Gerald Wallace defensive rebound
9 - 4
7:26
Brandon Bass lost ball turnover (Kyle Lowry steals)
9 - 4
7:22
Kyle Lowry makes layup
9 - 6
7:01
Tyler Hansbrough blocks Jeff Green 's 5-foot jumper
9 - 6
6:58
Jonas Valanciunas defensive rebound
9 - 6
6:56
Kyle Lowry lost ball turnover (Avery Bradley steals)
9 - 6
6:52
Jeff Green makes dunk (Avery Bradley assists)
11 - 6
6:43
Vitor Faverani blocks Tyler Hansbrough 's 2-foot layup
11 - 6
6:41
Jeff Green defensive rebound
11 - 6
6:37
Avery Bradley bad pass (DeMar DeRozan steals)
11 - 6
6:28
DeMar DeRozan misses layup
11 - 6
6:26
Vitor Faverani defensive rebound
11 - 6
6:24
Kyle Lowry personal block (Avery Bradley draws the foul)
11 - 6
6:24
Jordan Crawford enters the game for Brandon Bass
11 - 6
6:24
Kelly Olynyk enters the game for Jeff Green
11 - 6
6:09
Kelly Olynyk traveling
11 - 6
6:09
Jordan Crawford personal foul (Kyle Lowry draws the foul)
11 - 6
5:58
DeMar DeRozan misses
11 - 6
5:58
Jonas Valanciunas offensive rebound
11 - 6
5:54
Jonas Valanciunas makes 1-foot two point shot
11 - 8
5:43
Vitor Faverani misses 26-foot three point jumper
11 - 8
5:43
DeMar DeRozan defensive rebound
11 - 8
5:37
Vitor Faverani shooting block foul (DeMar DeRozan draws the foul)
11 - 8
5:37
Raptors Full timeout
11 - 8
5:37
DeMar DeRozan misses free throw 1 of 2
11 - 8
5:37
Raptors offensive team rebound
11 - 8
5:37
DeMar DeRozan misses free throw 2 of 2
11 - 8
5:37
Celtics defensive team rebound
11 - 8
5:20
Avery Bradley traveling
11 - 8
5:03
Jonas Valanciunas misses 8-foot two point shot
11 - 8
5:03
Avery Bradley defensive rebound
11 - 8
4:54
Jordan Crawford makes 16-foot two point shot
13 - 8
4:39
Rudy Gay makes 19-foot two point shot
13 - 10
4:16
Jonas Valanciunas blocks Vitor Faverani 's 3-foot shot
13 - 10
4:13
Jonas Valanciunas defensive rebound
13 - 10
4:05
DeMar DeRozan makes two point shot
13 - 12
3:48
Vitor Faverani makes two point shot (Avery Bradley assists)
15 - 12
3:32
Jonas Valanciunas misses 3-foot two point shot
15 - 12
3:31
Raptors offensive team rebound
15 - 12
3:31
Landry Fields enters the game for Jonas Valanciunas
15 - 12
3:26
Rudy Gay makes two point shot (DeMar DeRozan assists)
15 - 14
3:14
Tyler Hansbrough shooting foul (Vitor Faverani draws the foul)
15 - 14
3:14
Vitor Faverani makes free throw 1 of 2
16 - 14
3:14
Vitor Faverani misses free throw 2 of 2
16 - 14
3:14
Raptors defensive team rebound
16 - 14
3:02
Kyle Lowry misses driving layup
16 - 14
3:01
Tyler Hansbrough offensive rebound
16 - 14
2:59
Tyler Hansbrough makes two point shot
16 - 16
2:53
Landry Fields personal foul (Vitor Faverani draws the foul)
16 - 16
2:53
Celtics Full timeout
16 - 16
2:53
Steve Novak enters the game for Rudy Gay
16 - 16
2:53
Jeff Green enters the game for Gerald Wallace
16 - 16
2:53
Vitor Faverani makes free throw 1 of 2
17 - 16
2:53
Vitor Faverani makes free throw 2 of 2
18 - 16
2:42
Vitor Faverani blocks DeMar DeRozan 's 3-foot layup
18 - 16
2:42
Raptors offensive team rebound
18 - 16
2:42
Kris Humphries enters the game for Vitor Faverani
18 - 16
2:28
Landry Fields makes 7-foot two point shot
18 - 18
2:06
Kelly Olynyk misses 26-foot three point jumper
18 - 18
2:05
Avery Bradley offensive rebound
18 - 18
2:00
Avery Bradley makes two point shot
20 - 18
1:47
Kris Humphries blocks Kyle Lowry 's 2-foot layup
20 - 18
1:47
Raptors offensive team rebound
20 - 18
1:47
Courtney Lee enters the game for Avery Bradley
20 - 18
1:35
Landry Fields makes 9-foot two point shot (Kyle Lowry assists)
20 - 20
1:22
Kelly Olynyk makes two point shot (Jeff Green assists)
22 - 20
1:06
DeMar DeRozan misses 20-foot step back jumpshot
22 - 20
1:05
Kris Humphries defensive rebound
22 - 20
0:58
Jeff Green makes driving layup
24 - 20
0:37
Kris Humphries personal foul (Tyler Hansbrough draws the foul)
24 - 20
0:29
Kyle Lowry misses 27-foot three point jumper
24 - 20
0:28
Landry Fields offensive rebound
24 - 20
0:23
Steve Novak misses 22-foot jump bank shot
24 - 20
0:23
Raptors offensive team rebound
24 - 20
0:23
shot clock turnover
24 - 20
0:02
Courtney Lee makes 15-foot two point shot (Jordan Crawford assists)
26 - 20
0:01
Jordan Crawford shooting block foul (Kyle Lowry draws the foul)
26 - 20
0:01
Kyle Lowry makes free throw 1 of 2
26 - 21
0:01
Kyle Lowry misses free throw 2 of 2
26 - 21
0:00
Celtics defensive team rebound
26 - 21
0:00
End of the 1st Quarter
26 - 21

time
TEAM
PLAY
SCORE
12:00
Kelly Olynyk offensive foul (Steve Novak draws the foul)
26 - 21
12:00
Kelly Olynyk turnover
26 - 21
11:57
Rudy Gay makes two point shot
26 - 23
11:07
Kelly Olynyk misses 5-foot jumper
26 - 23
11:07
Landry Fields defensive rebound
26 - 23
10:56
Steve Novak makes 24-foot three point jumper (D.J. Augustin assists)
26 - 26
10:48
Rudy Gay shooting block foul (Jeff Green draws the foul)
26 - 26
10:48
Jeff Green makes free throw 1 of 2
27 - 26
10:48
Jeff Green makes free throw 2 of 2
28 - 26
10:33
D.J. Augustin misses 6-foot jumper
28 - 26
10:32
Tyler Hansbrough offensive rebound
28 - 26
10:25
Jordan Crawford kicked ball violation
28 - 26
10:17
Rudy Gay makes 17-foot jumper
28 - 28
10:02
Courtney Lee misses 26-foot three point jumper
28 - 28
10:00
Rudy Gay defensive rebound
28 - 28
9:53
Steve Novak misses 26-foot three point jumper
28 - 28
9:52
Kris Humphries defensive rebound
28 - 28
9:44
Kelly Olynyk offensive foul (Rudy Gay draws the foul)
28 - 28
9:44
Kelly Olynyk turnover
28 - 28
9:44
Amir Johnson enters the game for Tyler Hansbrough
28 - 28
9:44
Brandon Bass enters the game for Kelly Olynyk
28 - 28
9:44
Avery Bradley enters the game for Jordan Crawford
28 - 28
9:30
Avery Bradley blocks D.J. Augustin's
28 - 28
9:29
Rudy Gay offensive rebound
28 - 28
9:25
D.J. Augustin misses 25-foot three point jumper
28 - 28
9:25
Landry Fields offensive rebound
28 - 28
9:22
Landry Fields misses tip shot
28 - 28
9:22
Kris Humphries defensive rebound
28 - 28
9:04
D.J. Augustin personal foul (Courtney Lee draws the foul)
28 - 28
9:02
Steve Novak personal foul (Courtney Lee draws the foul)
28 - 28
8:48
Kris Humphries misses 17-foot jumper
28 - 28
8:48
Rudy Gay defensive rebound
28 - 28
8:37
Kris Humphries blocks Rudy Gay 's 4-foot layup
28 - 28
8:37
Jeff Green defensive rebound
28 - 28
8:32
Avery Bradley misses three point jumper
28 - 28
8:30
Steve Novak defensive rebound
28 - 28
8:14
Official timeout
28 - 28
8:14
Vitor Faverani enters the game for Kris Humphries
28 - 30
8:14
Avery Bradley personal foul (D.J. Augustin draws the foul)
28 - 30
8:14
Jonas Valanciunas enters the game for Steve Novak
28 - 30
8:14
Landry Fields makes two point shot (Amir Johnson assists)
28 - 30
7:52
Jeff Green misses 4-foot
28 - 30
7:52
Rudy Gay defensive rebound
28 - 30
7:35
Avery Bradley shooting foul (Landry Fields draws the foul)
28 - 30
7:35
Landry Fields misses free throw 1 of 2
28 - 30
7:35
Raptors offensive team rebound
28 - 30
7:35
Gerald Wallace enters the game for Jeff Green
28 - 30
7:35
Amir Johnson double lane violation
28 - 30
7:35
DeMar DeRozan enters the game for Rudy Gay
28 - 30
7:35
Brandon Bass vs. Jonas Valanciunas (Courtney Lee gains possession)
28 - 30
7:15
Avery Bradley misses 21-foot jumper
28 - 30
7:15
Vitor Faverani offensive rebound
28 - 30
7:11
Vitor Faverani makes two point shot
30 - 30
6:56
Vitor Faverani personal foul (Jonas Valanciunas draws the foul)
30 - 30
6:48
Landry Fields misses
30 - 30
6:45
Vitor Faverani defensive rebound
30 - 30
6:35
Avery Bradley bad pass (DeMar DeRozan steals)
30 - 30
6:30
Amir Johnson makes two point shot (DeMar DeRozan assists)
30 - 32
6:11
Amir Johnson blocks Vitor Faverani 's 3-foot shot
30 - 32
6:11
Raptors defensive team rebound
30 - 32
5:54
D.J. Augustin makes 19-foot jumper
30 - 34
5:39
Raptors Full timeout
30 - 34
5:39
Terrence Ross enters the game for Landry Fields
30 - 34
5:39
Kyle Lowry enters the game for D.J. Augustin
30 - 34
5:39
Phil Pressey enters the game for Avery Bradley
30 - 34
5:31
DeMar DeRozan shooting foul (Vitor Faverani draws the foul)
30 - 34
5:31
Vitor Faverani misses free throw 1 of 2
30 - 34
5:31
Celtics offensive team rebound
30 - 34
5:31
Vitor Faverani makes free throw 2 of 2
31 - 34
5:16
Kyle Lowry misses 26-foot three point jumper
31 - 34
5:16
Phil Pressey defensive rebound
31 - 34
5:11
Phil Pressey misses two point jumper
31 - 34
5:09
Terrence Ross defensive rebound
31 - 34
5:01
Terrence Ross makes 14-foot two point shot
31 - 36
4:37
Vitor Faverani bad pass (Terrence Ross steals)
31 - 36
4:31
Amir Johnson makes two point shot (Kyle Lowry assists)
31 - 38
4:22
Celtics Full timeout
31 - 38
4:22
Tyler Hansbrough enters the game for Amir Johnson
31 - 38
4:22
Jeff Green enters the game for Courtney Lee
31 - 38
4:07
Terrence Ross shooting foul (Jeff Green draws the foul)
31 - 38
4:07
Jeff Green makes free throw 1 of 2
32 - 38
4:07
Jeff Green makes free throw 2 of 2
33 - 38
3:55
Jonas Valanciunas offensive foul (Gerald Wallace draws the foul)
33 - 38
3:55
Jonas Valanciunas turnover
33 - 38
3:39
Jonas Valanciunas defensive 3-seconds (Technical Foul)
33 - 38
3:39
Brandon Bass makes technical free throw
34 - 38
3:30
Jeff Green makes 6-foot two point shot
36 - 38
3:18
Phil Pressey shooting foul (Kyle Lowry draws the foul)
36 - 38
3:18
Kyle Lowry misses free throw 1 of 2
36 - 38
3:18
Raptors offensive team rebound
36 - 38
3:18
Kyle Lowry makes free throw 2 of 2
36 - 39
2:57
Jeff Green misses 18-foot two point shot
36 - 39
2:56
Tyler Hansbrough defensive rebound
36 - 39
2:54
Phil Pressey personal foul (Kyle Lowry draws the foul)
36 - 39
2:54
Kyle Lowry makes free throw 1 of 2
36 - 40
2:54
Kelly Olynyk enters the game for Brandon Bass
36 - 40
2:54
Kyle Lowry makes free throw 2 of 2
36 - 41
2:43
Gerald Wallace bad pass (Terrence Ross steals)
36 - 41
2:38
Terrence Ross bad pass (Gerald Wallace steals)
36 - 41
2:31
Phil Pressey misses 25-foot three point jumper
36 - 41
2:31
Terrence Ross defensive rebound
36 - 41
2:23
Jonas Valanciunas makes 6-foot two point shot (Kyle Lowry assists)
36 - 43
1:59
Jeff Green possession lost ball turnover
36 - 43
1:59
Jeff Green loose ball foul (Terrence Ross draws the foul)
36 - 43
1:59
Terrence Ross makes free throw 1 of 2
36 - 44
1:59
Avery Bradley enters the game for Phil Pressey
36 - 44
1:59
Terrence Ross misses free throw 2 of 2
36 - 44
1:58
Raptors offensive team rebound
36 - 44
1:47
DeMar DeRozan misses 26-foot three point jumper
36 - 44
1:47
Celtics defensive team rebound
36 - 44
1:47
Jonas Valanciunas loose ball foul (Vitor Faverani draws the foul)
37 - 44
1:47
Vitor Faverani makes free throw 1 of 2
37 - 44
1:47
Vitor Faverani misses free throw 2 of 2
37 - 44
1:45
Tyler Hansbrough defensive rebound
37 - 44
1:27
DeMar DeRozan misses 16-foot jumper
37 - 44
1:25
Tyler Hansbrough offensive rebound
37 - 44
1:23
Tyler Hansbrough makes layup
37 - 46
1:20
Celtics 20 Sec. timeout
37 - 46
1:20
Landry Fields enters the game for Jonas Valanciunas
37 - 46
1:07
Landry Fields personal foul (Gerald Wallace draws the foul)
37 - 46
1:07
Gerald Wallace misses free throw 1 of 2
37 - 46
1:07
Celtics offensive team rebound
37 - 46
1:07
Gerald Wallace misses free throw 2 of 2
37 - 46
1:07
Landry Fields defensive rebound
37 - 46
0:46
DeMar DeRozan offensive Charge (Vitor Faverani draws the foul)
37 - 46
0:46
DeMar DeRozan turnover
37 - 46
0:24
Avery Bradley misses 6-foot
37 - 46
0:23
Tyler Hansbrough defensive rebound
37 - 46
0:01
Terrence Ross makes three point jumper (Kyle Lowry assists)
37 - 49
0:00
Jeff Green misses 69-foot three point running jumper
37 - 49
0:00
Celtics offensive team rebound
37 - 49
0:00
End of the 2nd Quarter
37 - 49

time
TEAM
PLAY
SCORE
11:45
Gerald Wallace bad pass (Jonas Valanciunas steals)
37 - 49
11:36
Kyle Lowry misses 26-foot three point jumper
37 - 49
11:34
Jeff Green defensive rebound
37 - 49
11:30
Jeff Green makes 3-foot two point shot
39 - 49
11:30
DeMar DeRozan shooting foul (Jeff Green draws the foul)
39 - 49
11:30
Jeff Green makes free throw 1 of 1
40 - 49
11:18
Avery Bradley personal foul (Jonas Valanciunas draws the foul)
40 - 49
11:07
Rudy Gay makes 27-foot three pointer
40 - 52
10:49
Gerald Wallace traveling
40 - 52
10:49
Celtics delay of game violation
40 - 52
10:32
Kyle Lowry bad pass (Gerald Wallace steals)
40 - 52
10:27
Gerald Wallace lost ball turnover (Rudy Gay steals)
40 - 52
10:19
DeMar DeRozan makes driving layup
40 - 54
10:03
Avery Bradley misses 20-foot jumper
40 - 54
10:03
Rudy Gay defensive rebound
40 - 54
9:59
Amir Johnson makes two point shot (Kyle Lowry assists)
40 - 56
9:33
Jeff Green misses 8-foot
40 - 56
9:30
Jonas Valanciunas defensive rebound
40 - 56
9:26
DeMar DeRozan bad pass (Brandon Bass steals)
40 - 56
9:21
Avery Bradley makes 4-foot two point shot (Brandon Bass assists)
42 - 56
9:03
Rudy Gay misses jumper
42 - 56
9:02
Amir Johnson offensive rebound
42 - 56
9:02
Vitor Faverani personal foul (Amir Johnson draws the foul)
42 - 56
8:52
Gerald Wallace personal foul (Rudy Gay draws the foul)
42 - 56
8:48
DeMar DeRozan makes jumper (Rudy Gay assists)
42 - 58
8:33
Brandon Bass makes 13-foot jumper (Jeff Green assists)
44 - 58
8:18
Jonas Valanciunas makes dunk (Amir Johnson assists)
44 - 60
8:04
Avery Bradley makes two point shot
46 - 60
7:50
Rudy Gay lost ball turnover (Jeff Green steals)
46 - 60
7:33
Kyle Lowry personal foul (Gerald Wallace draws the foul)
46 - 60
7:22
Amir Johnson shooting foul (Brandon Bass draws the foul)
46 - 60
7:22
Brandon Bass makes free throw 1 of 2
47 - 60
7:22
Brandon Bass makes free throw 2 of 2
48 - 60
7:01
DeMar DeRozan makes 26-foot three point jumper (Kyle Lowry assists)
48 - 63
6:50
Vitor Faverani offensive foul (Jonas Valanciunas draws the foul)
48 - 63
6:50
Vitor Faverani turnover
48 - 63
6:35
DeMar DeRozan misses 15-foot two point shot
48 - 63
6:33
Rudy Gay offensive rebound
48 - 63
6:28
Kris Humphries enters the game for Vitor Faverani
48 - 63
6:28
Raptors Full timeout
48 - 63
6:11
DeMar DeRozan bad pass (Gerald Wallace steals)
48 - 63
6:07
Gerald Wallace possession lost ball turnover
48 - 63
5:54
DeMar DeRozan bad pass (Gerald Wallace steals)
48 - 63
5:50
Amir Johnson shooting foul (Gerald Wallace draws the foul)
48 - 63
5:50
Gerald Wallace makes free throw 1 of 2
49 - 63
5:50
Tyler Hansbrough enters the game for Amir Johnson
49 - 63
5:50
Gerald Wallace misses free throw 2 of 2
49 - 63
5:48
Jonas Valanciunas defensive rebound
49 - 63
5:35
Rudy Gay bad pass (Avery Bradley steals)
49 - 63
5:31
Gerald Wallace makes driving layup (Avery Bradley assists)
51 - 63
5:15
Rudy Gay bad pass
51 - 63
5:00
Brandon Bass makes jumper
53 - 63
4:45
Kyle Lowry makes 18-foot two point shot
53 - 65
4:22
Avery Bradley misses 8-foot
53 - 65
4:20
Kris Humphries offensive rebound
53 - 65
4:16
Kris Humphries makes two point shot
55 - 65
3:59
DeMar DeRozan misses 19-foot two point jumper
55 - 65
3:58
Kris Humphries defensive rebound
55 - 65
3:50
Jeff Green makes 4-foot two point shot
57 - 65
3:21
Rudy Gay misses 18-foot two point jumper
57 - 65
3:20
Brandon Bass defensive rebound
57 - 65
3:13
Avery Bradley misses 27-foot three point jumper
57 - 65
3:12
Celtics offensive team rebound
57 - 65
3:12
Jonas Valanciunas loose ball foul (Kris Humphries draws the foul)
57 - 65
3:12
Kris Humphries makes free throw 1 of 2
58 - 65
3:12
Landry Fields enters the game for Jonas Valanciunas
58 - 65
3:12
Terrence Ross enters the game for DeMar DeRozan
58 - 65
3:12
Kris Humphries misses free throw 2 of 2
58 - 65
3:11
Tyler Hansbrough defensive rebound
58 - 65
2:47
Landry Fields misses jumper
58 - 65
2:47
Kris Humphries defensive rebound
58 - 65
2:34
Terrence Ross shooting foul (Jeff Green draws the foul)
58 - 65
2:34
Celtics Full timeout
58 - 65
2:34
D.J. Augustin enters the game for Kyle Lowry
58 - 65
2:34
Jeff Green makes free throw 1 of 2
59 - 65
2:34
Jeff Green misses free throw 2 of 2
59 - 65
2:33
Tyler Hansbrough defensive rebound
59 - 65
2:27
Avery Bradley personal foul (D.J. Augustin draws the foul)
59 - 65
2:27
Jordan Crawford enters the game for Avery Bradley
59 - 65
2:23
D.J. Augustin makes 21-foot two point shot
59 - 67
2:06
Brandon Bass makes 20-foot jumper (Jordan Crawford assists)
61 - 67
1:43
Rudy Gay misses driving layup
61 - 67
1:42
Landry Fields offensive rebound
61 - 67
1:39
Landry Fields makes layup
61 - 69
1:25
Kris Humphries makes dunk (Jordan Crawford assists)
63 - 69
1:01
D.J. Augustin traveling
63 - 69
0:47
Jeff Green makes three point jumper (Gerald Wallace assists)
66 - 69
0:47
delay techfoul
66 - 69
0:47
D.J. Augustin makes technical free throw
66 - 70
0:32
Gerald Wallace personal foul (Rudy Gay draws the foul)
66 - 70
0:32
Rudy Gay makes free throw 1 of 2
66 - 71
0:32
Rudy Gay misses free throw 2 of 2
66 - 71
0:31
Kris Humphries defensive rebound
66 - 71
0:12
Jordan Crawford makes 29-foot three pointer
69 - 71
0:02
Rudy Gay offensive foul (Gerald Wallace draws the foul)
69 - 71
0:02
Rudy Gay turnover
69 - 71
0:00
Jordan Crawford misses layup
69 - 71
0:00
Brandon Bass offensive rebound
69 - 71
0:00
Brandon Bass makes 3-foot two point shot
71 - 71
0:00
End of the 3rd Quarter
71 - 71

time
TEAM
PLAY
SCORE
11:44
Jeff Green blocks Terrence Ross 's 4-foot jumper
71 - 71
11:41
Jordan Crawford defensive rebound
71 - 71
11:22
Tyler Hansbrough blocks Jeff Green 's 2-foot layup
71 - 71
11:19
Landry Fields defensive rebound
71 - 71
11:18
DeMar DeRozan traveling
71 - 71
11:07
Landry Fields personal foul (Brandon Bass draws the foul)
71 - 71
10:52
Jeff Green makes 26-foot three point jumper (Jordan Crawford assists)
74 - 71
10:26
D.J. Augustin misses driving layup
74 - 71
10:25
Tyler Hansbrough offensive rebound
74 - 71
10:22
Tyler Hansbrough makes two point shot
74 - 73
10:04
Jeff Green misses 17-foot step back jumpshot
74 - 73
10:03
Tyler Hansbrough defensive rebound
74 - 73
9:52
DeMar DeRozan makes 19-foot two point shot (D.J. Augustin assists)
74 - 75
9:30
Landry Fields shooting foul (Brandon Bass draws the foul)
74 - 75
9:30
Brandon Bass makes free throw 1 of 2
75 - 75
9:30
Courtney Lee enters the game for Gerald Wallace
75 - 75
9:30
Brandon Bass makes free throw 2 of 2
76 - 75
9:06
DeMar DeRozan misses 18-foot
76 - 75
9:04
Jeff Green defensive rebound
76 - 75
8:59
Tyler Hansbrough blocks Jeff Green 's 3-foot layup
76 - 75
8:57
Tyler Hansbrough defensive rebound
76 - 75
8:41
DeMar DeRozan misses jumper
76 - 75
8:40
Tyler Hansbrough offensive rebound
76 - 75
8:38
Jeff Green shooting foul (Tyler Hansbrough draws the foul)
76 - 75
8:38
Official timeout
76 - 75
8:38
Amir Johnson enters the game for Landry Fields
76 - 75
8:38
Rudy Gay enters the game for Terrence Ross
76 - 75
8:38
Gerald Wallace enters the game for Brandon Bass
76 - 75
8:38
Kelly Olynyk enters the game for Jeff Green
76 - 75
8:38
Tyler Hansbrough misses free throw 1 of 2
76 - 75
8:38
Raptors offensive team rebound
76 - 75
8:38
Tyler Hansbrough makes free throw 2 of 2
76 - 76
8:27
Courtney Lee bad pass
76 - 76
8:12
D.J. Augustin misses 25-foot three point jumper
76 - 76
8:11
Courtney Lee defensive rebound
76 - 76
8:03
Jordan Crawford bad pass
76 - 76
8:03
Vitor Faverani enters the game for Kris Humphries
76 - 76
7:54
Rudy Gay makes 6-foot two point shot
76 - 78
7:41
Jordan Crawford makes 5-foot two point shot
78 - 78
7:41
delay techfoul
78 - 79
7:41
Rudy Gay makes technical free throw
78 - 79
7:41
Kyle Lowry enters the game for Tyler Hansbrough
78 - 79
7:41
Jonas Valanciunas enters the game for D.J. Augustin
78 - 79
7:24
Rudy Gay misses 20-foot jumper
78 - 79
7:22
Courtney Lee defensive rebound
78 - 79
7:03
Courtney Lee misses 26-foot three point jumper
78 - 79
7:01
Rudy Gay defensive rebound
78 - 79
6:54
Rudy Gay lost ball turnover (Courtney Lee steals)
78 - 79
6:50
Courtney Lee misses driving layup
78 - 79
6:48
Jordan Crawford offensive rebound
78 - 79
6:47
Jordan Crawford misses layup
78 - 79
6:46
Jordan Crawford offensive rebound
78 - 79
6:41
Courtney Lee steps out of bounds turnover
78 - 79
6:28
Vitor Faverani blocks Kyle Lowry's layup
78 - 79
6:26
Kyle Lowry offensive rebound
78 - 79
6:20
Amir Johnson makes 27-foot three point jumper
78 - 82
5:58
Vitor Faverani offensive Charge (DeMar DeRozan draws the foul)
78 - 82
5:58
Vitor Faverani turnover
78 - 82
5:58
Raptors Full timeout
78 - 82
5:58
Avery Bradley enters the game for Jordan Crawford
78 - 82
5:35
DeMar DeRozan misses 25-foot three point jumper
78 - 82
5:35
Jonas Valanciunas offensive rebound
78 - 82
5:33
Jonas Valanciunas misses tip shot
78 - 82
5:31
Amir Johnson offensive rebound
78 - 82
5:31
Avery Bradley personal foul (Kyle Lowry draws the foul)
78 - 82
5:20
Jonas Valanciunas misses 6-foot running hook shot
78 - 82
5:20
Jonas Valanciunas offensive rebound
78 - 82
5:16
Jonas Valanciunas misses tip shot
78 - 82
5:16
Jonas Valanciunas offensive rebound
78 - 82
5:09
Amir Johnson misses three point jumper
78 - 82
5:07
Gerald Wallace defensive rebound
78 - 82
4:48
Avery Bradley misses 23-foot two point jumper
78 - 82
4:47
Amir Johnson defensive rebound
78 - 82
4:26
Rudy Gay makes 17-foot jumper (Kyle Lowry assists)
78 - 84
4:26
Celtics Full timeout
78 - 84
4:26
Jeff Green enters the game for Vitor Faverani
78 - 84
4:26
Kris Humphries enters the game for Kelly Olynyk
78 - 84
4:26
Brandon Bass enters the game for Courtney Lee
78 - 84
4:07
Jeff Green makes 18-foot two point shot
80 - 84
3:47
Brandon Bass personal foul (DeMar DeRozan draws the foul)
80 - 84
3:32
Amir Johnson makes two point shot
80 - 86
3:17
Kris Humphries bad pass (Rudy Gay steals)
80 - 86
3:00
Rudy Gay makes 15-foot two point shot
80 - 88
2:44
Brandon Bass misses 16-foot jumper
80 - 88
2:43
DeMar DeRozan defensive rebound
80 - 88
2:33
DeMar DeRozan makes 5-foot two point shot
80 - 90
2:31
Celtics 20 Sec. timeout
80 - 90
2:17
Brandon Bass makes 21-foot jumper
82 - 90
2:17
Jonas Valanciunas away from play foul (Kris Humphries draws the foul)
83 - 90
2:17
Kris Humphries makes free throw 1 of 1
83 - 90
2:01
Brandon Bass personal foul (Rudy Gay draws the foul)
83 - 90
1:54
Rudy Gay misses jumper
83 - 90
1:54
Kris Humphries defensive rebound
83 - 90
1:31
Kris Humphries lost ball turnover (Kyle Lowry steals)
83 - 90
1:09
Rudy Gay misses 17-foot jumper
83 - 90
1:09
Gerald Wallace defensive rebound
83 - 90
1:04
Kris Humphries offensive rebound
83 - 90
1:04
Avery Bradley misses 4-foot
83 - 90
1:00
Kris Humphries makes 2-foot two point shot
85 - 90
0:48
DeMar DeRozan misses 21-foot jumper
85 - 90
0:47
Avery Bradley defensive rebound
85 - 90
0:38
Avery Bradley misses 25-foot
85 - 90
0:37
Rudy Gay defensive rebound
85 - 90
0:31
Kris Humphries personal foul (Kyle Lowry draws the foul)
85 - 90
0:31
Kyle Lowry misses free throw 1 of 2
85 - 90
0:31
Raptors offensive team rebound
85 - 90
0:31
Kelly Olynyk enters the game for Kris Humphries
85 - 90
0:31
Kyle Lowry misses free throw 2 of 2
85 - 90
0:31
Kyle Lowry offensive rebound
85 - 90
0:29
Avery Bradley personal foul (Kyle Lowry draws the foul)
85 - 90
0:29
Jordan Crawford enters the game for Avery Bradley
85 - 90
0:29
Kyle Lowry makes free throw 1 of 2
85 - 91
0:29
Kyle Lowry makes free throw 2 of 2
85 - 92
0:29
Celtics 20 Sec. timeout
85 - 92
0:29
Landry Fields enters the game for Jonas Valanciunas
85 - 92
0:24
Kelly Olynyk misses 25-foot three point jumper
85 - 92
0:23
Kyle Lowry defensive rebound
85 - 92
0:20
Jeff Green personal foul (Kyle Lowry draws the foul)
85 - 92
0:20
Kyle Lowry misses free throw 1 of 2
85 - 92
0:20
Raptors offensive team rebound
85 - 92
0:20
Kyle Lowry makes free throw 2 of 2
85 - 93
0:20
Raptors delay of game violation
85 - 93
0:07
Kelly Olynyk makes layup (Jordan Crawford assists)
87 - 93
0:00
End of the 4th Quarter
87 - 93
0:00
End of Game
87 - 93
Jalen Rose and David Jacoby announce their choices for sleepers in the 2016 NBA Draft.

Celtics fans might think that Kris Dunn is an unnecessary pick at No. 3 in the NBA draft, but there are several reasons to take the Providence guard.

Jeremy Lin did not sign a player option to remain in Charlotte next season, letting a Wednesday deadline pass which will make him an unrestricted free agent on July 2, sources say.
Regular Season Series
TOR wins series 3-1
2015-2016 Atlantic Standings