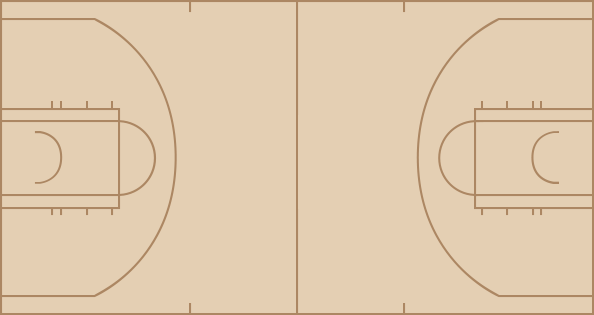 Nets
time
TEAM
PLAY
SCORE
12:00
Kevin Garnett vs. Nikola Pekovic (Shaun Livingston gains possession)
0 - 0
11:44
Kevin Garnett makes 14-foot two point shot
2 - 0
11:25
Corey Brewer makes 23-foot three point jumper (Ricky Rubio assists)
2 - 3
11:07
Corey Brewer personal block (Joe Johnson draws the foul)
2 - 3
10:56
Paul Pierce misses driving layup
2 - 3
10:56
Reggie Evans offensive rebound
2 - 3
10:53
Nikola Pekovic blocks Reggie Evans's layup
2 - 3
10:52
Kevin Love defensive rebound
2 - 3
10:42
Nikola Pekovic makes layup (Kevin Martin assists)
2 - 5
10:26
Paul Pierce misses 25-foot three point jumper
2 - 5
10:26
Kevin Love defensive rebound
2 - 5
10:15
Corey Brewer misses 24-foot three point jumper
2 - 5
10:14
Kevin Love offensive rebound
2 - 5
10:14
Kevin Love misses tip shot
2 - 5
10:11
Kevin Garnett defensive rebound
2 - 5
10:02
Ricky Rubio shooting foul (Shaun Livingston draws the foul)
2 - 5
10:02
Shaun Livingston misses free throw 1 of 2
2 - 5
10:02
Nets offensive team rebound
2 - 5
10:02
Shaun Livingston makes free throw 2 of 2
3 - 5
9:57
Corey Brewer misses 3-foot
3 - 5
9:56
Nikola Pekovic offensive rebound
3 - 5
9:49
Nikola Pekovic misses layup
3 - 5
9:48
Nikola Pekovic offensive rebound
3 - 5
9:48
Nikola Pekovic makes two point shot
3 - 7
9:42
Reggie Evans bad pass (Ricky Rubio steals)
3 - 7
9:38
Kevin Martin misses 22-foot jumper
3 - 7
9:37
Reggie Evans defensive rebound
3 - 7
9:33
Ricky Rubio personal foul (Paul Pierce draws the foul)
3 - 7
9:33
J.J. Barea enters the game for Ricky Rubio
3 - 7
9:21
Kevin Love personal foul (Kevin Garnett draws the foul)
3 - 7
9:15
Kevin Garnett misses 21-foot jumper
3 - 7
9:12
Kevin Love defensive rebound
3 - 7
8:56
Nikola Pekovic lost ball turnover (Joe Johnson steals)
3 - 7
8:56
Paul Pierce lost ball turnover (Kevin Love steals)
3 - 7
8:55
Paul Pierce personal foul (Kevin Love draws the foul)
3 - 7
8:48
Nikola Pekovic misses jumper
3 - 7
8:47
Paul Pierce defensive rebound
3 - 7
8:37
Kevin Garnett misses 14-foot jumper
3 - 7
8:37
Timberwolves defensive team rebound
3 - 7
8:37
Reggie Evans loose ball foul (Nikola Pekovic draws the foul)
3 - 7
8:26
Kevin Martin misses driving layup
3 - 7
8:26
Timberwolves offensive team rebound
3 - 7
8:22
Kevin Martin makes 10-foot jumper
3 - 9
8:03
Joe Johnson misses 17-foot step back jumpshot
3 - 9
8:00
Kevin Garnett offensive rebound
3 - 9
7:56
Joe Johnson makes 25-foot three point jumper (Kevin Garnett assists)
6 - 9
7:41
Corey Brewer makes 21-foot jumper (Kevin Love assists)
6 - 11
7:31
Shaun Livingston misses 15-foot jumper
6 - 11
7:31
Shaun Livingston offensive rebound
6 - 11
7:28
Shaun Livingston misses jumper
6 - 11
7:26
Nets offensive team rebound
6 - 11
7:18
Joe Johnson misses Running Jumper
6 - 11
7:16
Kevin Love defensive rebound
6 - 11
7:03
Kevin Love misses 25-foot three point jumper
6 - 11
7:01
Kevin Garnett defensive rebound
6 - 11
6:46
Shaun Livingston misses 14-foot jumper
6 - 11
6:46
Kevin Love defensive rebound
6 - 11
6:41
Corey Brewer misses 6-foot jumper
6 - 11
6:39
Paul Pierce defensive rebound
6 - 11
6:31
Reggie Evans 3 second turnover
6 - 11
6:31
Andray Blatche enters the game for Kevin Garnett
6 - 11
6:20
Kevin Martin misses 25-foot three point jumper
6 - 11
6:18
Reggie Evans defensive rebound
6 - 11
6:05
Andray Blatche offensive foul (J.J. Barea draws the foul)
6 - 11
6:05
Andray Blatche turnover
6 - 11
5:54
Kevin Love bad pass (Shaun Livingston steals)
6 - 11
5:41
Reggie Evans 3 second turnover
6 - 11
5:41
Timberwolves Full timeout
6 - 11
5:41
Alan Anderson enters the game for Paul Pierce
6 - 11
5:41
Mason Plumlee enters the game for Reggie Evans
6 - 11
5:26
Nikola Pekovic misses layup
6 - 11
5:26
Kevin Love misses tip shot
6 - 11
5:26
Kevin Love offensive rebound
6 - 11
5:24
Nikola Pekovic offensive rebound
6 - 11
5:24
Alan Anderson shooting foul (Nikola Pekovic draws the foul)
6 - 12
5:24
Nikola Pekovic makes free throw 1 of 2
6 - 12
5:24
Nikola Pekovic makes free throw 2 of 2
6 - 13
5:15
Andray Blatche bad pass (Corey Brewer steals)
6 - 13
5:09
Kevin Martin misses 14-foot jumper
6 - 13
5:07
Nets defensive team rebound
6 - 13
4:56
Andray Blatche makes 12-foot two point shot
8 - 13
4:41
Kevin Martin makes jumper (Kevin Love assists)
8 - 15
4:16
Andray Blatche misses 11-foot jumper
8 - 15
4:15
Shaun Livingston misses
8 - 15
4:15
Shaun Livingston offensive rebound
8 - 15
4:13
Mason Plumlee offensive rebound
8 - 15
4:09
Alan Anderson misses 15-foot jumper
8 - 15
4:09
Kevin Love defensive rebound
8 - 15
4:00
Corey Brewer misses layup
8 - 15
3:58
Joe Johnson defensive rebound
8 - 15
3:53
Alan Anderson misses 18-foot two point jumper
8 - 15
3:50
Nikola Pekovic defensive rebound
8 - 15
3:44
Kevin Martin misses 25-foot three point jumper
8 - 15
3:43
Kevin Love offensive rebound
8 - 15
3:43
Kevin Love makes 2-foot two point shot
8 - 17
3:43
Mason Plumlee shooting foul (Kevin Love draws the foul)
8 - 17
3:43
Dante Cunningham enters the game for Nikola Pekovic
8 - 17
3:43
Kevin Love makes free throw 1 of 1
8 - 18
3:28
Andray Blatche traveling
8 - 18
3:11
J.J. Barea makes 25-foot three point jumper
8 - 21
3:02
Nets Full timeout
8 - 21
3:02
Tyshawn Taylor enters the game for Shaun Livingston
8 - 21
2:51
Andray Blatche makes two point shot (Joe Johnson assists)
10 - 21
2:34
Dante Cunningham misses 17-foot jumper
10 - 21
2:33
Andray Blatche defensive rebound
10 - 21
2:24
Alan Anderson offensive Charge (Kevin Martin draws the foul)
10 - 21
2:24
Alan Anderson turnover
10 - 21
2:24
Tornike Shengelia enters the game for Alan Anderson
10 - 21
2:04
Kevin Martin misses 7-foot Running Jumper
10 - 21
2:03
Kevin Love makes two point shot
10 - 23
2:03
Kevin Love offensive rebound
10 - 21
1:44
Andray Blatche bad pass (Kevin Martin steals)
10 - 23
1:35
J.J. Barea makes 26-foot three point jumper (Dante Cunningham assists)
10 - 26
1:16
Tyshawn Taylor misses 20-foot two point jumper
10 - 26
1:15
Dante Cunningham defensive rebound
10 - 26
1:06
Kevin Martin misses 24-foot three point jumper
10 - 26
1:05
Mason Plumlee defensive rebound
10 - 26
0:56
Dante Cunningham shooting foul (Andray Blatche draws the foul)
10 - 26
0:56
Andray Blatche makes free throw 1 of 2
11 - 26
0:56
Robbie Hummel enters the game for Kevin Martin
11 - 26
0:56
Andray Blatche makes free throw 2 of 2
12 - 26
0:41
Corey Brewer misses 22-foot three point jumper
12 - 26
0:40
Kevin Love offensive rebound
12 - 26
0:40
Kevin Love makes 2-foot two point shot
12 - 28
0:26
J.J. Barea shooting foul (Tyshawn Taylor draws the foul)
12 - 28
0:26
Tyshawn Taylor makes free throw 1 of 2
13 - 28
0:26
Tyshawn Taylor makes free throw 2 of 2
14 - 28
0:07
J.J. Barea misses 26-foot three point jumper
14 - 28
0:06
Dante Cunningham offensive rebound
14 - 28
0:00
Kevin Love makes layup (J.J. Barea assists)
14 - 30
0:00
End of the 1st Quarter
14 - 30

time
TEAM
PLAY
SCORE
11:38
Corey Brewer misses 20-foot jumper
14 - 30
11:37
Tyshawn Taylor defensive rebound
14 - 30
11:34
Corey Brewer blocks Tyshawn Taylor 's 2-foot layup
14 - 30
11:33
Dante Cunningham defensive rebound
14 - 30
11:21
Tyshawn Taylor shooting foul (J.J. Barea draws the foul)
14 - 30
11:21
J.J. Barea makes free throw 1 of 2
14 - 31
11:21
J.J. Barea makes free throw 2 of 2
14 - 32
11:08
Paul Pierce makes 9-foot two point shot (Kevin Garnett assists)
16 - 32
10:56
Dante Cunningham misses 19-foot jumper
16 - 32
10:52
Reggie Evans defensive rebound
16 - 32
10:41
Tyshawn Taylor makes 12-foot jumper
18 - 32
10:19
J.J. Barea misses 25-foot three point jumper
18 - 32
10:19
Timberwolves offensive team rebound
18 - 32
10:19
Kevin Garnett loose ball foul (Kevin Love draws the foul)
18 - 32
10:19
Ricky Rubio enters the game for J.J. Barea
18 - 32
10:07
Robbie Hummel misses 23-foot three point jumper
18 - 32
10:07
Reggie Evans defensive rebound
18 - 32
9:57
Robbie Hummel shooting foul (Tornike Shengelia draws the foul)
18 - 32
9:57
Tornike Shengelia misses free throw 1 of 1
18 - 32
9:57
Nets offensive team rebound
18 - 32
9:57
Reggie Evans turnover (lane violation)
18 - 32
9:57
Dante Cunningham lane violation
18 - 32
9:47
Corey Brewer makes driving layup (Kevin Love assists)
18 - 34
9:37
Tyshawn Taylor bad pass
18 - 34
9:37
Kevin Martin enters the game for Corey Brewer
18 - 34
9:37
Nikola Pekovic enters the game for Kevin Love
18 - 34
9:25
Robbie Hummel makes 19-foot jumper (Nikola Pekovic assists)
18 - 36
9:07
Paul Pierce misses 24-foot three point jumper
18 - 36
9:06
Dante Cunningham defensive rebound
18 - 36
8:55
Ricky Rubio misses 21-foot jumper
18 - 36
8:53
Reggie Evans defensive rebound
18 - 36
8:36
Tyshawn Taylor traveling
18 - 36
8:36
Full timeout
18 - 36
8:36
Shaun Livingston enters the game for Tyshawn Taylor
18 - 36
8:36
Alan Anderson enters the game for Tornike Shengelia
18 - 36
8:25
Kevin Martin misses 19-foot jumper
18 - 36
8:23
Kevin Garnett defensive rebound
18 - 36
8:03
Dante Cunningham blocks Shaun Livingston's jumper
18 - 36
8:02
Timberwolves defensive team rebound
18 - 36
7:37
Nikola Pekovic misses two point shot
18 - 36
7:37
Shaun Livingston defensive rebound
18 - 36
7:28
Paul Pierce makes 19-foot two point shot
20 - 36
7:15
Nikola Pekovic makes driving layup (Ricky Rubio assists)
20 - 38
7:07
Robbie Hummel personal foul (Paul Pierce draws the foul)
20 - 38
7:01
Paul Pierce misses 19-foot step back jumpshot
20 - 38
7:00
Dante Cunningham defensive rebound
20 - 38
6:50
Ricky Rubio makes 20-foot jumper (Dante Cunningham assists)
20 - 40
6:26
Paul Pierce misses 13-foot two point shot
20 - 40
6:26
Ricky Rubio defensive rebound
20 - 40
6:20
Dante Cunningham makes layup (Ricky Rubio assists)
20 - 42
6:13
Nets Full timeout
20 - 42
6:13
Joe Johnson enters the game for Paul Pierce
20 - 42
6:13
Andray Blatche enters the game for Kevin Garnett
20 - 42
6:05
Shaun Livingston misses driving layup
20 - 42
6:03
Nets offensive team rebound
20 - 42
5:58
Kevin Martin personal foul (Alan Anderson draws the foul)
20 - 42
5:50
Andray Blatche makes layup
22 - 42
5:33
Nikola Pekovic makes 7-foot two point shot (Ricky Rubio assists)
22 - 44
5:07
Joe Johnson makes two point shot
24 - 44
4:52
Nikola Pekovic makes layup (Kevin Martin assists)
24 - 46
4:52
Andray Blatche shooting foul (Nikola Pekovic draws the foul)
24 - 46
4:52
Nikola Pekovic misses free throw 1 of 1
24 - 46
4:52
Reggie Evans defensive rebound
24 - 46
4:45
Joe Johnson makes 5-foot two point shot
26 - 46
4:33
Joe Johnson kicked ball violation
26 - 46
4:33
Kevin Love enters the game for Dante Cunningham
26 - 46
4:33
Corey Brewer enters the game for Robbie Hummel
26 - 46
4:20
Kevin Martin misses 14-foot jumper
26 - 46
4:18
Reggie Evans defensive rebound
26 - 46
4:03
Joe Johnson makes 15-foot two point shot
28 - 46
3:50
Joe Johnson shooting foul (Kevin Martin draws the foul)
28 - 46
3:50
Kevin Martin makes free throw 1 of 2
28 - 47
3:50
Kevin Martin makes free throw 2 of 2
28 - 48
3:33
Joe Johnson makes 27-foot three point jumper
31 - 48
3:19
Corey Brewer makes 24-foot three point jumper (Ricky Rubio assists)
31 - 51
3:10
Kevin Love kicked ball violation
31 - 51
2:59
Joe Johnson misses 12-foot two point shot
31 - 51
2:57
Nets offensive team rebound
31 - 51
2:57
Timberwolves Full timeout
31 - 51
2:57
Kevin Garnett enters the game for Reggie Evans
31 - 51
2:57
Paul Pierce enters the game for Alan Anderson
31 - 51
2:50
Andray Blatche makes layup (Joe Johnson assists)
33 - 51
2:31
Ricky Rubio bad pass
33 - 51
2:27
Andray Blatche misses 5-foot jumper
33 - 51
2:26
Kevin Love defensive rebound
33 - 51
2:08
Corey Brewer misses 24-foot three point jumper
33 - 51
2:06
Kevin Garnett defensive rebound
33 - 51
1:47
Kevin Garnett makes jumper (Joe Johnson assists)
35 - 51
1:25
Ricky Rubio makes 25-foot three point jumper (Kevin Martin assists)
35 - 54
1:05
Paul Pierce misses 18-foot two point jumper
35 - 54
1:05
Timberwolves defensive team rebound
35 - 54
0:48
Kevin Garnett blocks Kevin Love 's 1-foot layup
35 - 54
0:47
Andray Blatche defensive rebound
35 - 54
0:42
Andray Blatche misses 4-foot jumper
35 - 54
0:41
Kevin Garnett offensive rebound
35 - 54
0:41
Kevin Garnett makes two point shot
37 - 54
0:32
Kevin Love misses 25-foot three point jumper
37 - 54
0:31
Nikola Pekovic offensive rebound
37 - 54
0:31
Kevin Garnett shooting foul (Nikola Pekovic draws the foul)
37 - 54
0:31
Nikola Pekovic misses free throw 1 of 2
37 - 54
0:31
Timberwolves offensive team rebound
37 - 54
0:31
Nikola Pekovic makes free throw 2 of 2
37 - 55
0:18
Joe Johnson bad pass (Ricky Rubio steals)
37 - 55
0:15
Joe Johnson shooting foul (Kevin Love draws the foul)
37 - 55
0:15
Kevin Love makes free throw 1 of 2
37 - 56
0:15
Kevin Love makes free throw 2 of 2
37 - 57
0:04
Kevin Martin personal take foul (Joe Johnson draws the foul)
37 - 57
0:04
Nets 20 Sec. timeout
37 - 57
0:04
Robbie Hummel enters the game for Ricky Rubio
37 - 57
0:04
Dante Cunningham enters the game for Kevin Martin
37 - 57
0:01
Paul Pierce misses 24-foot three point jumper
37 - 57
0:00
Nets offensive team rebound
37 - 57
0:00
End of the 2nd Quarter
37 - 57

time
TEAM
PLAY
SCORE
11:41
Corey Brewer traveling
37 - 57
11:29
Kevin Garnett makes 21-foot jumper (Joe Johnson assists)
39 - 57
11:03
Kevin Martin makes 16-foot two point shot
39 - 59
10:48
Andray Blatche makes layup (Paul Pierce assists)
41 - 59
10:26
Ricky Rubio misses 23-foot three point jumper
41 - 59
10:26
Kevin Garnett defensive rebound
41 - 59
10:12
Shaun Livingston traveling
41 - 59
9:53
Ricky Rubio misses 19-foot jumper
41 - 59
9:52
Paul Pierce defensive rebound
41 - 59
9:47
Ricky Rubio personal foul (Kevin Garnett draws the foul)
41 - 59
9:44
Nikola Pekovic shooting foul (Paul Pierce draws the foul)
41 - 59
9:44
Paul Pierce makes free throw 1 of 2
42 - 59
9:44
Paul Pierce makes free throw 2 of 2
43 - 59
9:27
Kevin Garnett flagrant foul type 1 (Kevin Love draws the foul)
43 - 62
9:27
Kevin Garnett technical foul(1st technical foul)
43 - 59
9:27
Kevin Martin makes technical free throw
43 - 60
9:27
Kevin Love makes free throw 2 of 2
43 - 61
9:27
Kevin Love makes free throw 1 of 1
43 - 62
9:17
Corey Brewer makes 23-foot three point jumper (Ricky Rubio assists)
43 - 65
8:57
Joe Johnson misses 25-foot three point jumper
43 - 65
8:56
Kevin Love defensive rebound
43 - 65
8:47
Kevin Martin makes 25-foot three point jumper (Ricky Rubio assists)
43 - 68
8:37
Paul Pierce bad pass (Kevin Love steals)
43 - 68
8:27
Nikola Pekovic misses 8-foot jumper
43 - 68
8:26
Kevin Garnett defensive rebound
43 - 68
8:06
Paul Pierce misses 24-foot three point jumper
43 - 68
8:04
Ricky Rubio defensive rebound
43 - 68
8:02
Corey Brewer makes 2-foot two point shot (Ricky Rubio assists)
43 - 70
8:00
Nets Full timeout
43 - 70
7:41
Andray Blatche misses jumper
43 - 70
7:39
Kevin Love defensive rebound
43 - 70
7:22
Kevin Love misses 25-foot three point jumper
43 - 70
7:20
Corey Brewer offensive rebound
43 - 70
7:01
Nikola Pekovic misses 8-foot jumper
43 - 70
7:01
Joe Johnson defensive rebound
43 - 70
6:54
Andray Blatche misses driving layup
43 - 70
6:52
Kevin Love defensive rebound
43 - 70
6:33
Ricky Rubio makes 25-foot three point jumper (Kevin Love assists)
43 - 73
6:16
Shaun Livingston misses 17-foot jumper
43 - 73
6:15
Kevin Martin defensive rebound
43 - 73
6:09
Ricky Rubio makes driving layup
43 - 75
5:52
Paul Pierce misses 10-foot two point shot
43 - 75
5:50
Andray Blatche offensive rebound
43 - 75
5:50
Andray Blatche makes two point shot
45 - 75
5:33
Kevin Martin makes 25-foot three point jumper
45 - 78
5:31
Nets Full timeout
45 - 78
5:31
Alan Anderson enters the game for Paul Pierce
45 - 78
5:31
Mason Plumlee enters the game for Kevin Garnett
45 - 78
5:31
Tyshawn Taylor enters the game for Shaun Livingston
45 - 78
5:11
Joe Johnson makes two point shot
47 - 78
5:11
Corey Brewer shooting foul (Joe Johnson draws the foul)
48 - 78
5:11
Joe Johnson makes free throw 1 of 1
48 - 78
4:54
Mason Plumlee shooting foul (Nikola Pekovic draws the foul)
48 - 78
4:54
Nikola Pekovic makes free throw 1 of 2
48 - 79
4:54
Nikola Pekovic makes free throw 2 of 2
48 - 80
4:37
Andray Blatche misses 4-foot jumper
48 - 80
4:35
Nikola Pekovic defensive rebound
48 - 80
4:26
Ricky Rubio bad pass (Alan Anderson steals)
48 - 80
4:15
Andray Blatche misses 21-foot jumper
48 - 80
4:13
Nikola Pekovic defensive rebound
48 - 80
3:57
Mason Plumlee blocks Nikola Pekovic's layup
48 - 80
3:56
Kevin Love offensive rebound
48 - 80
3:55
Andray Blatche shooting foul (Kevin Love draws the foul)
48 - 80
3:55
Kevin Love makes free throw 1 of 2
48 - 81
3:55
Dante Cunningham enters the game for Nikola Pekovic
48 - 81
3:55
Tornike Shengelia enters the game for Joe Johnson
48 - 81
3:55
Kevin Love makes free throw 2 of 2
48 - 82
3:40
Mason Plumlee misses layup
48 - 82
3:39
Dante Cunningham defensive rebound
48 - 82
3:32
Kevin Love makes layup (Corey Brewer assists)
48 - 84
3:32
Mason Plumlee defensive goaltending violation
48 - 84
3:21
Tyshawn Taylor misses driving layup
48 - 84
3:19
Andray Blatche offensive rebound
48 - 84
3:19
Andray Blatche makes two point shot
50 - 84
3:00
Kevin Martin misses 24-foot three point jumper
50 - 84
3:00
Robbie Hummel enters the game for Kevin Love
50 - 84
3:00
Timberwolves offensive team rebound
50 - 84
3:00
Derrick Williams enters the game for Corey Brewer
50 - 84
3:00
Mirza Teletovic enters the game for Andray Blatche
50 - 84
3:00
Mason Plumlee vs. Dante Cunningham (Tyshawn Taylor gains possession)
50 - 84
3:00
Dante Cunningham lost ball turnover (Mason Plumlee steals)
50 - 84
2:49
Dante Cunningham shooting foul (Tyshawn Taylor draws the foul)
50 - 84
2:49
Tyshawn Taylor misses free throw 1 of 2
50 - 84
2:49
Nets offensive team rebound
50 - 84
2:49
Tyshawn Taylor makes free throw 2 of 2
51 - 84
2:39
Robbie Hummel misses 23-foot three point jumper
51 - 84
2:36
Mason Plumlee defensive rebound
51 - 84
2:30
Tyshawn Taylor bad pass (Ricky Rubio steals)
51 - 84
2:24
Kevin Martin makes dunk (Dante Cunningham assists)
51 - 86
2:04
Alan Anderson makes 24-foot three point jumper
54 - 86
1:47
Derrick Williams misses
54 - 86
1:46
Derrick Williams offensive rebound
54 - 86
1:44
Derrick Williams makes layup
54 - 88
1:25
Alan Anderson misses 24-foot three point jumper
54 - 88
1:24
Dante Cunningham defensive rebound
54 - 88
1:15
Tyshawn Taylor shooting foul (Ricky Rubio draws the foul)
54 - 88
1:15
Ricky Rubio makes free throw 1 of 2
54 - 89
1:15
Alexey Shved enters the game for Kevin Martin
54 - 89
1:15
Ricky Rubio makes free throw 2 of 2
54 - 90
1:04
Alan Anderson makes driving dunk
56 - 90
0:46
Dante Cunningham misses 21-foot jumper
56 - 90
0:45
Mirza Teletovic defensive rebound
56 - 90
0:38
Tyshawn Taylor makes driving layup
58 - 90
0:27
Ricky Rubio misses driving layup
58 - 90
0:26
Mirza Teletovic defensive rebound
58 - 90
0:08
Tyshawn Taylor misses 26-foot three point jumper
58 - 90
0:07
Derrick Williams defensive rebound
58 - 90
0:00
Derrick Williams misses 25-foot three point jumper
58 - 90
0:00
Timberwolves offensive team rebound
58 - 90
0:00
End of the 3rd Quarter
58 - 90

time
TEAM
PLAY
SCORE
11:48
Tornike Shengelia bad pass
58 - 90
11:25
J.J. Barea misses layup
58 - 90
11:23
Tornike Shengelia defensive rebound
58 - 90
11:10
Tornike Shengelia makes two point shot
60 - 90
10:57
Robbie Hummel makes 22-foot three point jumper (Alexey Shved assists)
60 - 93
10:38
Alan Anderson makes driving layup
62 - 93
10:22
Derrick Williams makes 20-foot jumper (Alexey Shved assists)
62 - 95
10:03
Tyshawn Taylor misses driving layup
62 - 95
10:02
Derrick Williams defensive rebound
62 - 95
9:56
Alexey Shved misses 26-foot three point jumper
62 - 95
9:55
Tornike Shengelia defensive rebound
62 - 95
9:48
Tornike Shengelia lost ball turnover (Dante Cunningham steals)
62 - 95
9:42
Derrick Williams makes 1-foot two point shot (J.J. Barea assists)
62 - 97
9:26
Mirza Teletovic misses 25-foot three point jumper
62 - 97
9:25
Robbie Hummel defensive rebound
62 - 97
9:11
Dante Cunningham makes 21-foot jumper (Robbie Hummel assists)
62 - 99
8:49
Alan Anderson makes driving layup
64 - 99
8:33
Alexey Shved misses two point shot
64 - 99
8:32
Alan Anderson defensive rebound
64 - 99
8:15
Mirza Teletovic makes 5-foot two point shot
66 - 99
8:06
Tyshawn Taylor personal foul (J.J. Barea draws the foul)
66 - 99
8:06
Full timeout
66 - 99
8:06
A.J. Price enters the game for J.J. Barea
66 - 99
8:06
Gorgui Dieng enters the game for Dante Cunningham
66 - 99
7:52
Derrick Williams misses 8-foot jumper
66 - 99
7:50
Gorgui Dieng offensive rebound
66 - 99
7:48
Gorgui Dieng makes layup
66 - 101
7:33
Gorgui Dieng blocks Alan Anderson 's 5-foot jumper
66 - 101
7:33
Gorgui Dieng defensive rebound
66 - 101
7:09
Alexey Shved misses 25-foot three point jumper
66 - 101
7:09
Mirza Teletovic defensive rebound
66 - 101
7:03
Derrick Williams shooting foul (Mason Plumlee draws the foul)
66 - 101
7:03
Mason Plumlee makes free throw 1 of 2
67 - 101
7:03
Mason Plumlee makes free throw 2 of 2
68 - 101
6:48
Robbie Hummel misses 25-foot three point jumper
68 - 101
6:48
Alexey Shved offensive rebound
68 - 101
6:41
Alexey Shved lost ball turnover (Alan Anderson steals)
68 - 101
6:37
Alan Anderson makes driving layup
70 - 101
6:18
Robbie Hummel misses 23-foot three point jumper
70 - 101
6:16
Mirza Teletovic defensive rebound
70 - 101
6:11
Gorgui Dieng blocks Tyshawn Taylor 's 2-foot layup
70 - 101
6:09
Robbie Hummel defensive rebound
70 - 101
5:56
Gorgui Dieng makes driving layup (A.J. Price assists)
70 - 103
5:28
Mirza Teletovic makes two point shot
72 - 103
5:01
Alexey Shved misses 25-foot three point jumper
72 - 103
5:00
Derrick Williams offensive rebound
72 - 103
4:50
Robbie Hummel misses 22-foot three point jumper
72 - 103
4:50
Mirza Teletovic defensive rebound
72 - 103
4:48
Gorgui Dieng personal foul (Mirza Teletovic draws the foul)
72 - 103
4:48
Timberwolves Full timeout
72 - 103
4:35
Mason Plumlee lost ball turnover (Derrick Williams steals)
72 - 103
4:26
Alexey Shved makes driving layup
72 - 105
4:05
Alan Anderson misses 23-foot three point jumper
72 - 105
4:05
Robbie Hummel defensive rebound
72 - 105
3:50
Gorgui Dieng traveling
72 - 105
3:31
Gorgui Dieng blocks Alan Anderson 's 9-foot jumper
72 - 105
3:30
Alan Anderson offensive rebound
72 - 105
3:28
Tornike Shengelia misses 25-foot three point jumper
72 - 105
3:26
Timberwolves defensive team rebound
72 - 105
3:06
A.J. Price misses 26-foot three point jumper
72 - 105
3:05
Alan Anderson defensive rebound
72 - 105
3:00
Gorgui Dieng shooting foul (Tyshawn Taylor draws the foul)
72 - 105
3:00
Tyshawn Taylor misses free throw 1 of 2
72 - 105
3:00
Nets offensive team rebound
72 - 105
3:00
Tyshawn Taylor makes free throw 2 of 2
73 - 105
2:45
Derrick Williams misses driving layup
73 - 105
2:44
Gorgui Dieng offensive rebound
73 - 105
2:41
Gorgui Dieng misses layup
73 - 105
2:40
Tyshawn Taylor defensive rebound
73 - 105
2:31
Mirza Teletovic makes 25-foot three point jumper
76 - 105
2:12
Tornike Shengelia shooting foul (Gorgui Dieng draws the foul)
76 - 105
2:12
Nets Full timeout
76 - 105
2:12
Gorgui Dieng makes free throw 1 of 2
76 - 106
2:12
Gorgui Dieng misses free throw 2 of 2
76 - 106
2:12
Mason Plumlee defensive rebound
76 - 106
2:00
Mirza Teletovic bad pass (Robbie Hummel steals)
76 - 106
1:49
Robbie Hummel misses 24-foot three point jumper
76 - 106
1:47
Mirza Teletovic defensive rebound
76 - 106
1:38
A.J. Price shooting foul (Tyshawn Taylor draws the foul)
76 - 106
1:38
Tyshawn Taylor makes free throw 1 of 2
77 - 106
1:38
Tyshawn Taylor makes free throw 2 of 2
78 - 106
1:28
A.J. Price makes 19-foot jumper (Gorgui Dieng assists)
78 - 108
1:22
Mason Plumlee misses 10-foot hook shot
78 - 108
1:21
Derrick Williams defensive rebound
78 - 108
1:15
Alexey Shved makes 22-foot three point jumper (A.J. Price assists)
78 - 111
1:00
Alexey Shved personal foul (Mason Plumlee draws the foul)
78 - 111
1:00
Mason Plumlee misses free throw 1 of 2
78 - 111
1:00
Nets offensive team rebound
78 - 111
1:00
Mason Plumlee misses free throw 2 of 2
78 - 111
0:58
Tornike Shengelia offensive rebound
78 - 111
0:49
Tyshawn Taylor makes 25-foot three point jumper
81 - 111
0:35
Robbie Hummel misses 25-foot three point jumper
81 - 111
0:34
Mirza Teletovic defensive rebound
81 - 111
0:12
Mirza Teletovic misses 25-foot three point jumper
81 - 111
0:11
Robbie Hummel defensive rebound
81 - 111
0:00
End of the 4th Quarter
81 - 111
0:00
End of Game
81 - 111
Kings guard Darren Collison was arrested on a charge of domestic violence after deputies responded to a report of a woman being assaulted inside a Northern California home, police said.

Ahead of the NBA Finals, Cavaliers coach Tyronn Lue explains his relationship with LeBron James and how he's "like a coach" but understands that Lue is the boss and treats him as such.

Cavaliers coach Tyronn Lue sits down with ESPN's Dave McMenamin to talk about the first few days after he was promoted to head coach, how he works with LeBron James and other stars on the team, and keys to the NBA Finals.
2015-2016 Atlantic Standings
2015-2016 Northwest Standings