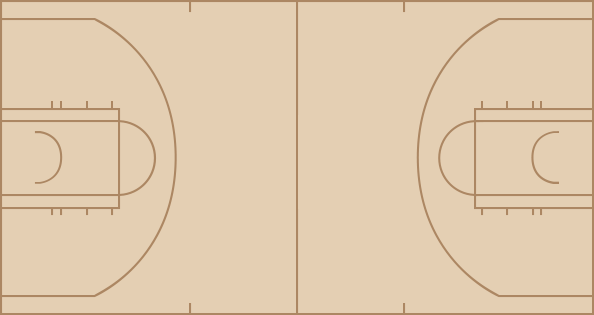 Trail Blazers
time
TEAM
PLAY
SCORE
12:00
Robin Lopez vs. DeAndre Jordan (Chris Paul gains possession)
0 - 0
11:37
Blake Griffin misses 22-foot jumper
0 - 0
11:37
Wesley Matthews defensive rebound
0 - 0
11:22
LaMarcus Aldridge misses jumper
0 - 0
11:22
Chris Paul defensive rebound
0 - 0
11:14
DeAndre Jordan makes two point shot (Chris Paul assists)
0 - 2
10:47
Wesley Matthews makes 25-foot
3 - 2
10:25
Jamal Crawford misses three point jumper
3 - 2
10:23
Wesley Matthews defensive rebound
3 - 2
10:12
Blake Griffin shooting foul (Robin Lopez draws the foul)
3 - 2
10:12
Robin Lopez makes free throw 1 of 2
4 - 2
10:12
Robin Lopez makes free throw 2 of 2
5 - 2
9:56
Chris Paul makes 16-foot jumper
5 - 4
9:47
Jamal Crawford personal foul (Nicolas Batum draws the foul)
5 - 4
9:40
Damian Lillard misses 11-foot jumper
5 - 4
9:38
Robin Lopez misses tip shot
5 - 4
9:38
Robin Lopez offensive rebound
5 - 4
9:36
Blake Griffin defensive rebound
5 - 4
9:33
Blake Griffin makes driving dunk (Chris Paul assists)
5 - 6
9:08
LaMarcus Aldridge makes 17-foot jumper (Damian Lillard assists)
7 - 6
8:56
DeAndre Jordan misses 5-foot hook shot
7 - 6
8:53
Blake Griffin makes 2-foot two point shot
7 - 8
8:53
Blake Griffin offensive rebound
7 - 6
8:37
LaMarcus Aldridge makes 19-foot jumper (Nicolas Batum assists)
9 - 8
8:33
Matt Barnes inbound turnover
9 - 8
8:19
Wesley Matthews misses 25-foot three point jumper
9 - 8
8:18
Blake Griffin defensive rebound
9 - 8
8:06
Blake Griffin misses 7-foot hook shot
9 - 8
8:04
Clippers offensive team rebound
9 - 8
7:58
Jamal Crawford misses 16-foot jumper
9 - 8
7:56
Wesley Matthews defensive rebound
9 - 8
7:41
LaMarcus Aldridge makes 21-foot jumper
11 - 8
7:26
Chris Paul makes jumper
11 - 10
7:13
LaMarcus Aldridge makes 19-foot jumper (Damian Lillard assists)
13 - 10
6:54
Blake Griffin makes 17-foot jumper (Chris Paul assists)
13 - 12
6:41
Damian Lillard misses 25-foot three point jumper
13 - 12
6:39
DeAndre Jordan defensive rebound
13 - 12
6:31
Chris Paul traveling
13 - 12
6:09
Wesley Matthews makes 24-foot three point jumper (Nicolas Batum assists)
16 - 12
5:54
Jamal Crawford misses jumper
16 - 12
5:54
Nicolas Batum defensive rebound
16 - 12
5:46
Wesley Matthews misses layup
16 - 12
5:43
Robin Lopez makes 2-foot two point shot
18 - 12
5:43
Robin Lopez offensive rebound
16 - 12
5:37
Blake Griffin makes driving layup
18 - 14
5:15
Wesley Matthews bad pass (DeAndre Jordan steals)
18 - 14
5:11
Damian Lillard shooting foul (Jamal Crawford draws the foul)
18 - 14
5:11
Clippers Full timeout
18 - 14
5:11
C.J. McCollum enters the game for Wesley Matthews
18 - 14
5:11
Jamal Crawford makes free throw 1 of 2
18 - 15
5:11
Jamal Crawford makes free throw 2 of 2
18 - 16
4:54
Nicolas Batum bad pass (Matt Barnes steals)
18 - 16
4:48
Blake Griffin makes 4-foot two point shot
18 - 18
4:30
Nicolas Batum makes 20-foot jumper (LaMarcus Aldridge assists)
20 - 18
4:16
LaMarcus Aldridge personal foul (Blake Griffin draws the foul)
20 - 18
4:16
Meyers Leonard enters the game for Robin Lopez
20 - 18
4:16
Mo Williams enters the game for Damian Lillard
20 - 18
4:09
Blake Griffin misses 15-foot jumper
20 - 18
4:09
Meyers Leonard defensive rebound
20 - 18
3:48
C.J. McCollum makes 24-foot three point jumper (LaMarcus Aldridge assists)
23 - 18
3:30
Matt Barnes misses 26-foot three point jumper
23 - 18
3:29
Nicolas Batum defensive rebound
23 - 18
3:19
LaMarcus Aldridge makes 19-foot jumper (Nicolas Batum assists)
25 - 18
3:11
C.J. McCollum personal foul (Jamal Crawford draws the foul)
25 - 18
3:11
Darren Collison enters the game for Matt Barnes
25 - 18
3:05
Chris Paul makes jumper (Darren Collison assists)
25 - 20
2:50
C.J. McCollum misses 27-foot three point jumper
25 - 20
2:49
Jamal Crawford defensive rebound
25 - 20
2:46
Jamal Crawford makes driving layup
25 - 22
2:43
Trail Blazers Full timeout
25 - 22
2:43
Hedo Turkoglu enters the game for DeAndre Jordan
25 - 22
2:43
Wesley Matthews enters the game for Nicolas Batum
25 - 22
2:25
Mo Williams makes 16-foot jumper (Wesley Matthews assists)
27 - 22
2:06
Jamal Crawford makes 26-foot three point jumper (Hedo Turkoglu assists)
27 - 25
1:42
LaMarcus Aldridge makes 27-foot three point jumper (C.J. McCollum assists)
30 - 25
1:35
Blake Griffin makes dunk (Jamal Crawford assists)
30 - 27
1:21
Mo Williams bad pass (Chris Paul steals)
30 - 27
1:10
Jamal Crawford misses 25-foot three point jumper
30 - 27
1:09
C.J. McCollum defensive rebound
30 - 27
0:59
Meyers Leonard misses jumper
30 - 27
0:58
Hedo Turkoglu defensive rebound
30 - 27
0:52
Jamal Crawford makes 4-foot two point shot
30 - 29
0:30
Wesley Matthews misses 23-foot three point jumper
30 - 29
0:29
Trail Blazers offensive team rebound
30 - 29
0:29
Chris Paul loose ball foul (Meyers Leonard draws the foul)
30 - 29
0:29
Jared Dudley enters the game for Chris Paul
30 - 29
0:29
Nicolas Batum enters the game for Meyers Leonard
30 - 29
0:29
Ryan Hollins enters the game for Blake Griffin
30 - 29
0:29
Robin Lopez enters the game for LaMarcus Aldridge
30 - 29
0:17
Mo Williams misses 28-foot three point jumper
30 - 29
0:16
Jared Dudley defensive rebound
30 - 29
0:04
Jamal Crawford makes 4-foot two point shot
30 - 31
0:00
C.J. McCollum misses 19-foot jumper
30 - 31
0:00
Trail Blazers offensive team rebound
30 - 31
0:00
End of the 1st Quarter
30 - 31

time
TEAM
PLAY
SCORE
11:38
Damian Lillard lost ball turnover (Ryan Hollins steals)
30 - 31
11:34
Hedo Turkoglu makes driving layup (Darren Collison assists)
30 - 33
11:15
Ryan Hollins blocks Robin Lopez 's 5-foot jumper
30 - 33
11:15
Darren Collison defensive rebound
30 - 33
11:11
Darren Collison makes driving layup
30 - 35
11:00
Nicolas Batum misses 25-foot three point jumper
30 - 35
11:00
Jared Dudley defensive rebound
30 - 35
10:49
Robin Lopez shooting foul (Darren Collison draws the foul)
30 - 35
10:49
Darren Collison makes free throw 1 of 2
30 - 36
10:49
Darren Collison makes free throw 2 of 2
30 - 37
10:40
Damian Lillard bad pass (Jared Dudley steals)
30 - 37
10:37
Mo Williams blocks Darren Collison 's 3-foot layup
30 - 37
10:37
Clippers offensive team rebound
30 - 37
10:30
Darren Collison misses 13-foot jumper
30 - 37
10:30
Nicolas Batum defensive rebound
30 - 37
10:18
Damian Lillard makes 27-foot three point jumper (Nicolas Batum assists)
33 - 37
10:00
Darren Collison bad pass (Dorell Wright steals)
33 - 37
9:56
Jared Dudley shooting foul (Dorell Wright draws the foul)
33 - 37
9:56
Dorell Wright makes free throw 1 of 2
34 - 37
9:56
Dorell Wright makes free throw 2 of 2
35 - 37
9:33
Darren Collison misses 18-foot jumper
35 - 37
9:32
Dorell Wright defensive rebound
35 - 37
9:25
Nicolas Batum makes 3-foot two point shot (Dorell Wright assists)
37 - 37
9:15
Clippers Full timeout
37 - 37
9:15
DeAndre Jordan enters the game for Ryan Hollins
37 - 37
9:02
Hedo Turkoglu misses driving layup
37 - 37
9:00
Robin Lopez defensive rebound
37 - 37
8:53
Mo Williams makes 17-foot jumper
39 - 37
8:37
Reggie Bullock misses 20-foot jumper
39 - 37
8:36
Robin Lopez defensive rebound
39 - 37
8:22
Mo Williams lost ball turnover (DeAndre Jordan steals)
39 - 37
8:14
Jared Dudley makes three point jumper (Darren Collison assists)
39 - 40
8:00
Nicolas Batum makes jumper
41 - 40
7:39
Darren Collison makes 16-foot two point shot
41 - 42
7:28
Nicolas Batum offensive foul (Darren Collison draws the foul)
41 - 42
7:28
Nicolas Batum turnover
41 - 42
7:15
Jared Dudley traveling
41 - 42
7:05
Damian Lillard makes driving layup
43 - 42
6:50
Reggie Bullock makes 25-foot three point jumper (Darren Collison assists)
43 - 45
6:28
Nicolas Batum misses 25-foot three point jumper
43 - 45
6:26
Reggie Bullock defensive rebound
43 - 45
6:22
Reggie Bullock makes driving layup (Jared Dudley assists)
43 - 47
6:05
Hedo Turkoglu personal foul (Dorell Wright draws the foul)
43 - 47
6:05
Chris Paul enters the game for Darren Collison
43 - 47
6:05
Jamal Crawford enters the game for Jared Dudley
43 - 47
6:05
Blake Griffin enters the game for Hedo Turkoglu
43 - 47
6:05
Wesley Matthews enters the game for Nicolas Batum
43 - 47
6:05
LaMarcus Aldridge enters the game for Mo Williams
43 - 47
5:52
Damian Lillard makes driving layup (LaMarcus Aldridge assists)
45 - 47
5:37
Chris Paul misses jumper
45 - 47
5:35
Trail Blazers defensive team rebound
45 - 47
5:35
Official timeout
45 - 47
5:35
Matt Barnes enters the game for Reggie Bullock
45 - 47
5:35
Meyers Leonard enters the game for Robin Lopez
45 - 47
5:18
Damian Lillard makes three point jumper
48 - 47
5:00
Blake Griffin makes 15-foot jumper (Chris Paul assists)
48 - 49
4:43
Meyers Leonard makes 4-foot two point shot (Dorell Wright assists)
50 - 49
4:31
Wesley Matthews personal foul (Chris Paul draws the foul)
50 - 49
4:31
C.J. McCollum enters the game for Dorell Wright
50 - 49
4:20
Jamal Crawford misses 12-foot jumper
50 - 49
4:18
C.J. McCollum defensive rebound
50 - 49
4:11
Wesley Matthews misses three point jumper
50 - 49
4:07
Meyers Leonard makes two point shot
52 - 49
4:07
Meyers Leonard offensive rebound
50 - 49
3:56
Blake Griffin makes 20-foot jumper (Chris Paul assists)
52 - 51
3:33
LaMarcus Aldridge misses 17-foot step back jumpshot
52 - 51
3:31
Matt Barnes defensive rebound
52 - 51
3:28
Blake Griffin makes alley-oop dunk (Chris Paul assists)
52 - 53
3:09
Damian Lillard makes driving layup
54 - 53
3:08
Damian Lillard personal foul (Chris Paul draws the foul)
54 - 53
2:55
Jamal Crawford misses 12-foot jumper
54 - 53
2:54
LaMarcus Aldridge defensive rebound
54 - 53
2:47
Damian Lillard lost ball turnover (Jamal Crawford steals)
54 - 53
2:42
Jamal Crawford makes driving layup
54 - 55
2:41
Trail Blazers Full timeout
54 - 55
2:41
Nicolas Batum enters the game for Damian Lillard
54 - 55
2:41
Mo Williams enters the game for C.J. McCollum
54 - 55
2:28
DeAndre Jordan blocks LaMarcus Aldridge 's 5-foot hook shot
54 - 55
2:23
Mo Williams offensive rebound
54 - 55
2:17
Mo Williams makes 26-foot three point jumper
57 - 55
1:55
Blake Griffin misses 20-foot jumper
57 - 55
1:54
Wesley Matthews defensive rebound
57 - 55
1:46
DeAndre Jordan personal foul (LaMarcus Aldridge draws the foul)
57 - 55
1:46
Robin Lopez enters the game for Meyers Leonard
57 - 55
1:37
Robin Lopez misses 4-foot hook shot
57 - 55
1:35
Chris Paul defensive rebound
57 - 55
1:19
Chris Paul makes 12-foot two point shot
57 - 57
1:00
LaMarcus Aldridge misses 19-foot jumper
57 - 57
1:00
Robin Lopez offensive rebound
57 - 57
0:59
DeAndre Jordan personal foul (Robin Lopez draws the foul)
58 - 57
0:59
Robin Lopez makes free throw 1 of 2
58 - 57
0:59
Robin Lopez makes free throw 2 of 2
59 - 57
0:42
Blake Griffin lost ball turnover (LaMarcus Aldridge steals)
59 - 57
0:37
Matt Barnes shooting foul (Nicolas Batum draws the foul)
59 - 57
0:37
Nicolas Batum makes free throw 1 of 2
60 - 57
0:37
Jared Dudley enters the game for DeAndre Jordan
60 - 57
0:37
Nicolas Batum makes free throw 2 of 2
61 - 57
0:32
Chris Paul makes driving layup
61 - 59
0:13
Wesley Matthews misses 4-foot jumper
61 - 59
0:11
Clippers defensive team rebound
61 - 59
0:11
Clippers 20 Sec. timeout
61 - 59
0:07
Mo Williams personal take foul (Jared Dudley draws the foul)
61 - 59
0:02
Chris Paul makes 15-foot jumper
61 - 61
0:00
LaMarcus Aldridge bad pass (Jamal Crawford steals)
61 - 61
0:00
End of the 2nd Quarter
61 - 61

time
TEAM
PLAY
SCORE
11:41
LaMarcus Aldridge misses 16-foot jumper
61 - 61
11:40
DeAndre Jordan defensive rebound
61 - 61
11:38
Nicolas Batum personal foul (DeAndre Jordan draws the foul)
61 - 61
11:25
Damian Lillard personal foul (Jamal Crawford draws the foul)
61 - 61
11:15
Chris Paul makes 11-foot jumper
61 - 63
10:53
Wesley Matthews makes 5-foot two point shot (Nicolas Batum assists)
63 - 63
10:30
Blake Griffin makes 22-foot jumper (Chris Paul assists)
63 - 65
10:11
LaMarcus Aldridge misses 6-foot jumper
63 - 65
10:10
Matt Barnes defensive rebound
63 - 65
9:51
Jamal Crawford misses 14-foot two point shot
63 - 65
9:49
Trail Blazers defensive team rebound
63 - 65
9:26
Damian Lillard makes driving layup (Robin Lopez assists)
65 - 65
9:08
Blake Griffin misses 19-foot jumper
65 - 65
9:07
Nicolas Batum defensive rebound
65 - 65
8:49
LaMarcus Aldridge makes 17-foot two point shot (Damian Lillard assists)
67 - 65
8:44
Matt Barnes makes driving layup (Chris Paul assists)
67 - 67
8:27
Wesley Matthews makes 27-foot three point jumper (Damian Lillard assists)
70 - 67
8:11
Jamal Crawford makes 15-foot jumper
70 - 69
7:50
Wesley Matthews misses 26-foot three point jumper
70 - 69
7:50
Jamal Crawford defensive rebound
70 - 69
7:47
Damian Lillard shooting foul (Jamal Crawford draws the foul)
70 - 69
7:47
Jamal Crawford makes free throw 1 of 2
70 - 70
7:47
Jamal Crawford makes free throw 2 of 2
70 - 71
7:47
Mo Williams enters the game for Damian Lillard
70 - 71
7:28
Blake Griffin shooting foul (LaMarcus Aldridge draws the foul)
70 - 71
7:28
LaMarcus Aldridge makes free throw 1 of 2
71 - 71
7:28
LaMarcus Aldridge makes free throw 2 of 2
72 - 71
7:11
Matt Barnes makes 26-foot three point jumper (Blake Griffin assists)
72 - 74
6:48
Robin Lopez makes layup (Nicolas Batum assists)
74 - 74
6:48
DeAndre Jordan shooting foul (Robin Lopez draws the foul)
74 - 74
6:48
Robin Lopez makes free throw 1 of 1
75 - 74
6:37
Blake Griffin makes 3-foot driving dunk (Matt Barnes assists)
75 - 76
6:09
Nicolas Batum bad pass (Jamal Crawford steals)
75 - 76
5:56
DeAndre Jordan makes driving dunk (Matt Barnes assists)
75 - 78
5:56
Trail Blazers Full timeout
75 - 78
5:56
C.J. McCollum enters the game for Nicolas Batum
75 - 78
5:56
Meyers Leonard enters the game for Robin Lopez
75 - 78
5:45
Wesley Matthews makes driving dunk (Mo Williams assists)
77 - 78
5:30
C.J. McCollum shooting foul (Jamal Crawford draws the foul)
77 - 78
5:30
Jamal Crawford makes free throw 1 of 3
77 - 79
5:30
Jamal Crawford makes free throw 2 of 3
77 - 80
5:30
Jamal Crawford misses free throw 3 of 3
77 - 80
5:28
Wesley Matthews defensive rebound
77 - 80
5:07
Meyers Leonard makes 4-foot two point shot (Mo Williams assists)
79 - 80
4:48
Jamal Crawford misses jumper
79 - 80
4:48
Trail Blazers defensive team rebound
79 - 80
4:35
Wesley Matthews misses 27-foot three point jumper
79 - 80
4:33
DeAndre Jordan defensive rebound
79 - 80
4:22
Chris Paul bad pass
79 - 80
4:07
Matt Barnes personal foul (Mo Williams draws the foul)
79 - 80
3:58
Trail Blazers Full timeout
79 - 80
3:55
Mo Williams misses 25-foot three point jumper
79 - 80
3:53
Blake Griffin defensive rebound
79 - 80
3:47
Meyers Leonard blocks Matt Barnes 's 3-foot layup
79 - 80
3:47
DeAndre Jordan offensive rebound
79 - 80
3:46
DeAndre Jordan makes 2-foot two point shot
79 - 82
3:31
Meyers Leonard makes 3-foot dunk (Mo Williams assists)
81 - 82
3:14
Chris Paul misses jumper
81 - 82
3:11
Meyers Leonard defensive rebound
81 - 82
3:02
Mo Williams misses 16-foot jumper
81 - 82
3:01
DeAndre Jordan defensive rebound
81 - 82
2:47
LaMarcus Aldridge personal foul (Blake Griffin draws the foul)
81 - 82
2:47
Blake Griffin makes free throw 1 of 2
81 - 83
2:47
Darren Collison enters the game for Chris Paul
81 - 83
2:47
Jared Dudley enters the game for Matt Barnes
81 - 83
2:47
Dorell Wright enters the game for Wesley Matthews
81 - 83
2:47
Nicolas Batum enters the game for LaMarcus Aldridge
81 - 83
2:47
Blake Griffin makes free throw 2 of 2
81 - 84
2:30
Nicolas Batum makes 25-foot three point jumper
84 - 84
2:21
C.J. McCollum personal foul (Jamal Crawford draws the foul)
84 - 84
2:21
Jamal Crawford makes free throw 1 of 2
84 - 85
2:21
Jamal Crawford makes free throw 2 of 2
84 - 86
2:10
Dorell Wright makes three point jumper (C.J. McCollum assists)
87 - 86
2:04
Dorell Wright personal take foul (DeAndre Jordan draws the foul)
87 - 86
2:04
DeAndre Jordan makes free throw 1 of 2
87 - 87
2:04
DeAndre Jordan makes free throw 2 of 2
87 - 88
1:53
C.J. McCollum makes 28-foot three point jumper (Mo Williams assists)
90 - 88
1:53
DeAndre Jordan shooting foul (C.J. McCollum draws the foul)
90 - 88
1:53
Reggie Bullock enters the game for DeAndre Jordan
90 - 88
1:53
C.J. McCollum misses free throw 1 of 1
90 - 88
1:52
Meyers Leonard offensive rebound
90 - 88
1:45
C.J. McCollum makes 27-foot three point jumper (Dorell Wright assists)
93 - 88
1:30
Jamal Crawford misses 26-foot three point jumper
93 - 88
1:29
Nicolas Batum defensive rebound
93 - 88
1:14
Nicolas Batum bad pass (Jared Dudley steals)
93 - 88
1:12
Mo Williams personal foul (Blake Griffin draws the foul)
93 - 88
1:12
Blake Griffin misses free throw 1 of 2
93 - 88
1:12
Clippers offensive team rebound
93 - 88
1:12
Blake Griffin makes free throw 2 of 2
93 - 89
0:59
C.J. McCollum makes two point shot
95 - 89
0:51
Meyers Leonard personal foul (Blake Griffin draws the foul)
95 - 89
0:51
Blake Griffin makes free throw 1 of 2
95 - 90
0:51
Blake Griffin makes free throw 2 of 2
95 - 91
0:28
Mo Williams misses 26-foot three point jumper
95 - 91
0:27
Jamal Crawford defensive rebound
95 - 91
0:17
Meyers Leonard personal foul (Blake Griffin draws the foul)
95 - 91
0:17
Blake Griffin misses free throw 1 of 2
95 - 91
0:17
Clippers offensive team rebound
95 - 91
0:17
Damian Lillard enters the game for C.J. McCollum
95 - 91
0:17
Blake Griffin makes free throw 2 of 2
95 - 92
0:03
Dorell Wright misses 26-foot three point jumper
95 - 92
0:00
Blake Griffin defensive rebound
95 - 92
0:00
End of the 3rd Quarter
95 - 92

time
TEAM
PLAY
SCORE
11:45
Darren Collison makes 18-foot jumper (Chris Paul assists)
95 - 94
11:18
Damian Lillard makes three point jumper
98 - 94
11:04
Jared Dudley makes 17-foot jumper (Darren Collison assists)
98 - 96
10:56
Mo Williams offensive foul (Chris Paul draws the foul)
98 - 96
10:56
Mo Williams turnover
98 - 96
10:48
Chris Paul bad pass
98 - 96
10:37
Damian Lillard lost ball turnover (Chris Paul steals)
98 - 96
10:32
Chris Paul makes 15-foot jumper
98 - 98
10:15
Nicolas Batum bad pass (Reggie Bullock steals)
98 - 98
10:10
Jared Dudley misses 27-foot three point jumper
98 - 98
10:08
Damian Lillard defensive rebound
98 - 98
9:48
Robin Lopez makes 9-foot jumper (Nicolas Batum assists)
100 - 98
9:48
Ryan Hollins shooting foul (Robin Lopez draws the foul)
100 - 98
9:48
Wesley Matthews enters the game for Nicolas Batum
100 - 98
9:48
LaMarcus Aldridge enters the game for Dorell Wright
100 - 98
9:48
Robin Lopez makes free throw 1 of 1
101 - 98
9:40
Chris Paul misses 9-foot jumper
101 - 98
9:40
Clippers offensive team rebound
101 - 98
9:40
Wesley Matthews loose ball foul (Ryan Hollins draws the foul)
101 - 98
9:40
Blake Griffin enters the game for Reggie Bullock
101 - 98
9:36
Ryan Hollins offensive foul (Wesley Matthews draws the foul)
101 - 98
9:36
Ryan Hollins turnover
101 - 98
9:18
LaMarcus Aldridge makes two point shot
103 - 98
8:53
Blake Griffin misses layup
103 - 98
8:52
Ryan Hollins makes two point shot
103 - 100
8:52
Ryan Hollins offensive rebound
103 - 98
8:47
Damian Lillard offensive foul (Ryan Hollins draws the foul)
103 - 100
8:47
Damian Lillard turnover
103 - 100
8:47
Official timeout
103 - 100
8:47
DeAndre Jordan enters the game for Ryan Hollins
103 - 100
8:47
C.J. McCollum enters the game for Damian Lillard
103 - 100
8:34
Chris Paul misses jumper
103 - 100
8:33
DeAndre Jordan offensive rebound
103 - 100
8:26
Robin Lopez shooting foul (Blake Griffin draws the foul)
103 - 100
8:26
Blake Griffin makes free throw 1 of 2
103 - 101
8:26
Blake Griffin makes free throw 2 of 2
103 - 102
8:07
C.J. McCollum misses 4-foot two point shot
103 - 102
8:06
Darren Collison defensive rebound
103 - 102
7:56
LaMarcus Aldridge shooting foul (Blake Griffin draws the foul)
103 - 102
7:56
Blake Griffin makes free throw 1 of 2
103 - 103
7:56
Blake Griffin makes free throw 2 of 2
103 - 104
7:39
LaMarcus Aldridge misses jumper
103 - 104
7:37
Chris Paul defensive rebound
103 - 104
7:15
Darren Collison misses 20-foot jumper
103 - 104
7:13
Wesley Matthews defensive rebound
103 - 104
7:11
Darren Collison personal foul (Wesley Matthews draws the foul)
103 - 104
7:11
Nicolas Batum enters the game for C.J. McCollum
103 - 104
7:01
Darren Collison personal foul (LaMarcus Aldridge draws the foul)
103 - 104
7:01
Jamal Crawford enters the game for Jared Dudley
103 - 104
6:56
Wesley Matthews misses jumper
103 - 104
6:54
Mo Williams offensive rebound
103 - 104
6:50
Trail Blazers Full timeout
103 - 104
6:48
Chris Paul shooting foul (Wesley Matthews draws the foul)
103 - 104
6:48
Wesley Matthews misses free throw 1 of 3
103 - 104
6:48
Trail Blazers offensive team rebound
103 - 104
6:48
Wesley Matthews makes free throw 2 of 3
104 - 104
6:48
Wesley Matthews makes free throw 3 of 3
105 - 104
6:35
Chris Paul misses 14-foot jumper
105 - 104
6:35
Blake Griffin offensive rebound
105 - 104
6:26
DeAndre Jordan makes two point shot (Chris Paul assists)
105 - 106
6:03
Mo Williams misses 8-foot two point shot
105 - 106
6:03
Trail Blazers offensive team rebound
105 - 106
6:03
Chris Paul loose ball foul (Wesley Matthews draws the foul)
105 - 106
6:03
Wesley Matthews misses free throw 1 of 2
105 - 106
6:03
Trail Blazers offensive team rebound
105 - 106
6:03
Damian Lillard enters the game for Mo Williams
105 - 106
6:03
Wesley Matthews misses free throw 2 of 2
105 - 106
6:03
Blake Griffin defensive rebound
105 - 106
5:52
Chris Paul makes 8-foot two point shot
105 - 108
5:31
LaMarcus Aldridge makes 20-foot jumper (Damian Lillard assists)
107 - 108
5:16
Blake Griffin misses 6-foot jumper
107 - 108
5:16
LaMarcus Aldridge defensive rebound
107 - 108
5:16
Blake Griffin personal foul (LaMarcus Aldridge draws the foul)
107 - 108
5:16
LaMarcus Aldridge makes free throw 1 of 2
108 - 108
5:16
Matt Barnes enters the game for Darren Collison
108 - 108
5:16
LaMarcus Aldridge makes free throw 2 of 2
109 - 108
5:01
Blake Griffin makes layup
109 - 110
4:43
Nicolas Batum makes 4-foot two point shot
111 - 110
4:33
LaMarcus Aldridge personal foul (Blake Griffin draws the foul)
111 - 110
4:24
Blake Griffin misses layup
111 - 110
4:22
Nicolas Batum defensive rebound
111 - 110
4:16
Damian Lillard misses 23-foot three point jumper
111 - 110
4:15
Blake Griffin defensive rebound
111 - 110
4:09
Jamal Crawford makes driving layup (Chris Paul assists)
111 - 112
3:48
LaMarcus Aldridge misses 17-foot jumper
111 - 112
3:47
Robin Lopez offensive rebound
111 - 112
3:46
Robin Lopez vs. Chris Paul
111 - 112
3:46
Chris Paul jump ball violation
111 - 112
3:34
Damian Lillard makes driving layup
113 - 112
3:26
Nicolas Batum personal foul (DeAndre Jordan draws the foul)
113 - 113
3:26
DeAndre Jordan makes free throw 1 of 2
113 - 113
3:26
DeAndre Jordan makes free throw 2 of 2
113 - 114
3:15
Matt Barnes personal foul (Damian Lillard draws the foul)
113 - 114
3:15
Damian Lillard makes free throw 1 of 2
114 - 114
3:15
Damian Lillard makes free throw 2 of 2
115 - 114
3:15
Official timeout
115 - 114
3:02
Chris Paul makes 9-foot jumper
115 - 116
3:00
Clippers delay of game violation
115 - 116
2:44
Nicolas Batum misses 26-foot three point jumper
115 - 116
2:43
Blake Griffin defensive rebound
115 - 116
2:31
Blake Griffin makes driving layup (Chris Paul assists)
115 - 118
2:11
Wesley Matthews misses 19-foot jumper
115 - 118
2:11
Trail Blazers offensive team rebound
115 - 118
2:03
Wesley Matthews misses 12-foot jumper
115 - 118
2:02
LaMarcus Aldridge offensive rebound
115 - 118
2:00
LaMarcus Aldridge makes layup
117 - 118
1:47
Wesley Matthews shooting foul (Chris Paul draws the foul)
117 - 118
1:47
Chris Paul misses free throw 1 of 2
117 - 118
1:47
Chris Paul misses free throw 2 of 2
117 - 118
1:47
Clippers offensive team rebound
117 - 118
1:47
Trail Blazers defensive team rebound
117 - 118
1:27
Damian Lillard lost ball turnover (Chris Paul steals)
117 - 118
1:24
DeAndre Jordan makes 3-foot two point shot (Matt Barnes assists)
117 - 120
1:04
Damian Lillard misses 20-foot jumper
117 - 120
1:01
Matt Barnes defensive rebound
117 - 120
0:43
Matt Barnes misses 26-foot three point jumper
117 - 120
0:42
Nicolas Batum defensive rebound
117 - 120
0:29
Nicolas Batum misses 27-foot three point jumper
117 - 120
0:28
Trail Blazers offensive team rebound
117 - 120
0:20
Nicolas Batum misses 27-foot three point jumper
117 - 120
0:19
Chris Paul defensive rebound
117 - 120
0:15
Wesley Matthews personal take foul (Jamal Crawford draws the foul)
117 - 120
0:15
Jamal Crawford makes free throw 1 of 2
117 - 121
0:15
Jamal Crawford makes free throw 2 of 2
117 - 122
0:15
Trail Blazers Full timeout
117 - 122
0:15
Mo Williams enters the game for Robin Lopez
117 - 122
0:08
Wesley Matthews misses 26-foot three point jumper
117 - 122
0:07
Blake Griffin defensive rebound
117 - 122
0:00
End of the 4th Quarter
117 - 122
0:00
End of Game
117 - 122
The latest notes, updates and analysis on the Hawks from around the web.

Kevin Arnovitz on four of the best available three point shooters and lock down defenders in this year's free agent class.

The Orlando Magic won't tender forward Andrew Nicholson a qualifying offer, and as a result he will enter July as an unrestricted free agent.
Regular Season Series
POR wins series 2-1
2015-2016 Northwest Standings
2015-2016 Pacific Standings