For today's 5-on-5, we asked NBA fans at our NBA on ESPN Facebook page and via NBA on ESPN's Twitter feed to send in their own questions for our writers.

Is Dirk the top dog in the West? Can he be stopped? Who wins Game 2?
1. Is Dirk Nowitzki one of the top 10 players of all time? Top 20? Top 30?
From Sharon Huang via Twitter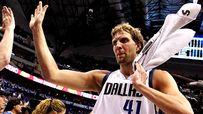 Jovan Buha, ClipperBlog: Let's not jump to conclusions based on one remarkable postseason. Nowitzki is undoubtedly a top-30 player and will probably be in the top 20 when it's all said and done. But the top 10 is an exclusive club reserved for the game's best at their respective positions (who also happen to have multiple championships).

Chris Palmer, ESPN The Mag: Let's not get carried away. Without seeing a comprehensive list, I'm not rushing to put him in the top 30. But he's an MVP. He's unstoppable. He's the best Euro ever. He's a far better shooter than Larry Bird ever was. He's a Hall of Famer. OK, in other words, he's in the top 30. Lock.

Rob Peterson, Hardwood Paroxysm: He's not top 10 or 20. He's an MVP and a future Hall of Famer, but he is not even the top power forward of his generation (Duncan and Garnett go ahead of him). He's on the outskirts of the top 30, though. Another trip to the Finals and a good showing in it may nudge him into that group.

J.M. Poulard, WarriorsWorld: Top 40. When we get into the top 30, we're talking about players that did countless things on the court to help their teams win. That's not to say that Dirk does not, but his offensive prowess alone cannot put him in the same category as David Robinson, Charles Barkley and Karl Malone, to name a few.

Ethan Sherwood Strauss, HoopSpeak: He's probably one of the 10 best who ever lived because the game progresses. But if we're judging players relative to their eras, he's not on that level. I've got him in the low 20s.
---
2. Is Dirk the best player in the Western Conference?
From Kings M Lara via NBA on ESPN's Facebook page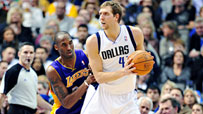 Jovan Buha, ClipperBlog: It's highly debatable. Kevin Durant and Kobe Bryant have to be in the conversation, even with Bryant's skill and athleticism quickly diminishing before our eyes. Although Nowitzki has been the league's best player in these playoffs, I'm not ready to possibly label him the conference's premier player until after this series.

Chris Palmer, ESPN The Mag: I still think Durant is better. Kobe, too, of course. But no one is playing better than Dirk right now. That's more important than being the best player.

Rob Peterson, Hardwood Paroxysm: He's the best player in the West left in the postseason, but I can't put him ahead of Chris Paul. He's slightly ahead of Kevin Durant, whom I think is better in the open court, and right now, he's better than Kobe Bryant for the simple reason that he's healthier and more productive than Kobe.

J.M. Poulard, WarriorsWorld: Nowitzki is a phenomenal talent and arguably the best power forward in the NBA. With that said, the title of best player in the Western Conference goes to Chris Paul, whose efficiency and ability to score, run a team, get teammates involved and defend are all unmatched out West.

Ethan Sherwood Strauss, HoopSpeak: Yes, and despite the mythology surrounding his "softness," I think Dirk's defense makes the difference. If I'm choosing between Nowitzki, Paul and Bryant, the mobile 7-footer's defensive impact is the tiebreaker.
---
3. What can Oklahoma City do to stop Dirk?
From James Lawton via NBA on ESPN's Facebook page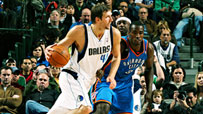 Jovan Buha, ClipperBlog: There's not much it can do. Dirk has literally become unguardable this postseason (more so than in past playoffs). He's going to get his 25-plus points, so the Thunder should be more concerned with stopping Jason Terry (24 points in Game 1), J.J. Barea (21 points) and the rest of the Mavericks' role players.

Chris Palmer, ESPN The Mag: Put sugar in his gas tank so he can't get to the game. Weld the arena doors shut. Hide his game shoes. Basically anything that prevents him from playing. When he steps onto the court it will be too late. They don't have an answer. Doubling just isn't going to work. Tough to stop a terrific talent playing his best ball.

Rob Peterson, Hardwood Paroxysm: They can double him. Serge Ibaka's length and athleticism trouble many a shooter, but Dirk has the finest step-back jumper since Jack Sikma's reverse pivot. The Thunder need to get the ball out of Dirk's hands and make other Mavs step up. They also need to keep their hands off; 24 freebies are too much.

J.M. Poulard, WarriorsWorld: Politely ask him not to show up the rest of the series. OKC's big men did an excellent job of guarding Dirk by pushing him and crowding his air space, and he still lit them up for 48 points. Whenever the Thunder sent an additional defender his way, Nowitzki found an open man to make them pay.

Ethan Sherwood Strauss, HoopSpeak: Nothing. They could swarm him before the catch, but that's asking for a cascading effect where the entire defense eventually breaks down. It's like shooting a hole through the bottom of your ship to ward off a pirate. Nowitzki's high release makes defense futile. You can only hope he misses those unperturbed shots, which he might.
---
4. Fact or Fiction: Westbrook must shoot over 40 percent for OKC to win.
From Brandon Tripp via NBA on ESPN's Facebook page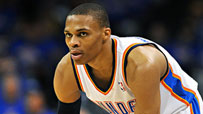 Jovan Buha, ClipperBlog: Fact. In the regular season, Russell Westbrook shot 45.7 percent in wins and 41 percent in losses. Additionally, the Thunder are 3-1 in the playoffs when Westbrook shoots over 40 percent and 5-4 when he shoots 40 percent or worse. I don't think that's a coincidence. With that said, his shot attempts, or lack thereof, may be more vital to OKC's success.

Chris Palmer, ESPN The Mag: Fact. Durant can't do it himself. Though he could be sub-40 percent if James Harden has a career series. But even if Harden plays above his head, an erratic Westbrook causes too many negative ripples in OKC's attack.

Rob Peterson, Hardwood Paroxysm: Fact. The Thunder are 3-5 in the past two postseasons when Westbrook shoots less than 40 percent and 7-4 when he shoots 40 percent or better. If Westbrook is hitting his shots, it opens up the Thunder's offense. He doesn't need to pour in the points, but he needs to be more efficient when scoring.

J.M. Poulard, WarriorsWorld: Fact. In the playoffs, Westbrook is shooting 41.1 percent in wins and 37.5 percent in losses. The difference might not seem like much, but the Thunder point guard tends to be more trigger-happy when he's "off" (22.4 field goal attempts per game in losses) than when he is shooting relatively well (18.3 field goal attempts in wins).

Ethan Sherwood Strauss, HoopSpeak: Fiction. Westbrook draws so many fouls that he can produce even while missing. Like a cooking pizza, Russ can get hot amid bricks.
---
5. Who wins Game 2, and does that decide the series?
From Raye Walker via NBA on ESPN's Facebook page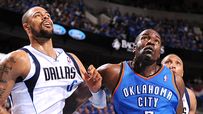 Jovan Buha, ClipperBlog: I'm going to go out on a limb and say Oklahoma City. Nowitzki's Game 1 was a performance for the ages, yet the Thunder still had a chance to steal the game in the fourth quarter. If the Thunder can get more production from Westbrook and contain the Mavericks' bench, they will steal home court.

Chris Palmer, ESPN The Mag: I originally had the Thunder winning the series. That was with the thought that they could at least slow Dirk. They can't. So Dallas will win Game 2. That would mean in all likelihood OKC would have to win a Game 7 on the road, but I don't see it happening at this point. Unless Kevin Durant has a 56-point game in that backpack.

Rob Peterson, Hardwood Paroxysm: Dallas wins Game 2 thanks to its depth and 3-point shooting. The Mavs' ball movement has been as fine as I've seen from any team in this or the past five postseasons. They always seem to have an open look. As for deciding the series, you need to win four, and the Mavs would just be holding serve. Still a long way to go.

J.M. Poulard, WarriorsWorld: The Mavericks surrendered 47.2 percent field goal shooting and allowed the Thunder to shoot 43 free throws in Game 1 and still managed to win. I expect the Mavs' defense to play better and carry them to a win in Game 2. With that said, we should still be in for a long series given the Thunder's resilience.

Ethan Sherwood Strauss, HoopSpeak: OKC wins Game 2 and that decides that series -- because I picked them and my intellectual vanity is at stake.
---


ESPN.com and the TrueHoop Network
Chris Palmer writes for ESPN The Magazine and ESPN Insider. Jovan Buha, Rob Peterson, J.M. Poulard, Ethan Sherwood Strauss write for the TrueHoop Network.
• Follow ESPN's NBA coverage on Twitter | On Facebook