The heat lost to the Mavericks in six games at the NBA Finals. Does that mean LeBron James shouldn't have taken his talents to South Beach?

We have answers.
1. Was the Heat's season a success?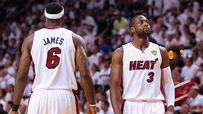 Kevin Arnovitz, Heat Index: The moment the Big Three hopped aboard that hydraulic lift at the July pep rally and James declared "not one, not two …" the Heat effectively set a championship-or-bust standard for themselves. In this respect, they failed, but the future will ultimately determine success. If the Heat win a couple of titles, 2010-11 was a steppingstone. If they don't, it was the first cornice in an avalanche.

Tom Haberstroh: Heat Index: If it's title or bust, then yes. But I don't think the Heat organization realistically expected they'd put it all together in a season. Considering they were two wins away from the title despite their fourth and fifth best players (Mike Miller and Udonis Haslem) being marginalized all season, I suspect they patted themselves on the back, even if they would never admit it.

Beckley Mason, Hoopspeak.com: It sure doesn't feel like a success, though the truth is that it probably was. They overcame adversity due to injury and a deficient bottom half of the roster to reach a 2-1 lead in the NBA Finals. Conquering Chicago was a major accomplishment that, fair or not, feels empty after fumbling away a golden opportunity to win a title.

Rob Peterson, Hardwood Paroxysm: No, it wasn't. Not when they had the preseason celebration of their greatness. Not when LeBron predicted multiple championships. Not when they made the Finals and then blew a 15-point lead with seven minutes to play in Game 2. Not when they still have as many questions as answers heading into 2011-12. In the end, they failed spectacularly.

Michael Wallace, Heat Index: No. But it was also far from a failure. When the stakes are as high as they were for the Heat, it's easy to lose big-picture perspective. The bottom line is this team made it to the Finals, had control of the series early and faltered badly down the stretch.
---
2. What happened to LeBron? What must he change going forward?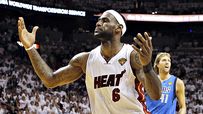 Kevin Arnovitz, Heat Index: Whether it was a lack of competitive will, discomfort with the offense, self-doubt, stage fright, exhaustion or some combination thereof, LeBron wasn't sufficiently assertive in a series that begged for his aggressiveness. It's impossible to offer a definitive diagnosis as an armchair psychologist (what do we call licensed psychologists who sit in actual armchairs?). Only LeBron knows for sure, and it's something he might want to explore this summer.

Tom Haberstroh: Heat Index: Something's up, but I doubt it's anything remotely scandalous. LeBron stopped being LeBron; even though he guaranteed after every loss that his aggressiveness would return, it never did. He went overboard with facilitation and that's a fairly minor style tweak that will have enormous results.

Beckley Mason, Hoopspeak.com: Whatever was going on, the result was incredibly bizarre. Assuming he first relocates his passion, James should either slim down a bit to regain some quickness and improve on his 3-point shooting, or stay huge and build out his post game. Either way, he should cement an offensive identity beyond "do it all" to complement, rather than duplicate, Wade's less mutable game.

Rob Peterson, Hardwood Paroxysm: He was great against the C's and the Bulls. He was distant and desultory against Dallas and was as passive as a shy kid at his first school dance. Going forward, he needs to add one post move (a jump hook, an up-and-under, a drop-step) to take advantage of his size and strength near the hoop.

Michael Wallace, Heat Index: That's the mystery for a second consecutive postseason. Last year, we knew the elbow and some silly rumors were in the picture. This year, there was no apparent injury and the rumors were even sillier. Only LeBron knows why he melted down again. He must eventually address that issue before his breakthrough comes.
---
3. Did LeBron make the right decision?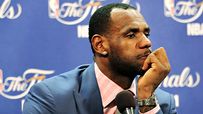 Kevin Arnovitz, Heat Index: Destination, home arena, teammates, coach and uniform aren't really the issues here. Whatever revisionist history might tell us, LeBron won 127 regular-season games during his last two seasons in Cleveland. Here in Miami, he's flanked by two of the best players in the world. Where LeBron plays is no longer the issue. What he does once he gets there is.
Tom Haberstroh: Heat Index: Yes, without a doubt. Switching teams to play with better players was a career decision, and he got closer to a championship than ever. This is Year 1 of at least a four-year commitment, and he's moving in the right direction, public perception aside.
Beckley Mason, Hoopspeak.com: Definitely. Staying in Cleveland was not a real option, given the Cavs' roster and cap situation. Going to Chicago and teaming with Rose would have presented a "two dribble-drive scorers, one ball" dilemma similar to the one stunting Miami's offense, and Bosh is clearly better than Boozer. He had a great shot at a ring; what more could he want?
Rob Peterson, Hardwood Paroxysm: Yes. Cleveland, with LeBron, didn't have the talent to make it to the conference finals, let alone the NBA's ultimate series. In Miami, he's playing with two All-Stars and they had their chances in the Finals. Absolutely he made the right decision to go to Miami. Now, about his decisions in the fourth quarter during the Finals …
Michael Wallace, Heat Index: If you mean by being so passive and disinterested at times in the Finals, then no, he didn't make the right decision. But if it's about his decision to bring his tankings -- er, talents -- to South Beach, he certainly made the right move.
---
4. Should Miami trade one of the Big Three, fire Spoelstra, both or neither?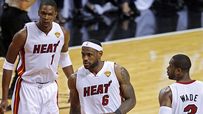 Kevin Arnovitz, Heat Index: Neither. James, Wade and Bosh have three of the best value contracts in basketball, and you don't ship those away because the team played some hellacious basketball in the NBA Finals. Despite Spoelstra's shortcomings in the series, he deserves a longer leash to refine what he's helped to build. Figuring this stuff out isn't easy, but Spoelstra has the brain and temperament to do it.
Tom Haberstroh: Heat Index: Neither. Didn't win the title? Blow it up! Seriously, rebuilding should not be the prescription for every team that didn't win the title. Ask Boston and Chicago if the Heat are irrecoverably flawed.
Beckley Mason, Hoopspeak.com: Neither. The Heat proved it has a championship-level core and coach, but just about everyone else should be considered expendable.
Rob Peterson, Hardwood Paroxysm:
Neither. They've had one season together. They weathered unfamiliarity, injuries and a shocking lack of depth and still made the Finals. It's way too early to make changes in personnel or in the person holding the clipboard.
Michael Wallace, Heat Index: Neither. Or should I make that none of the above? Unless there were some internal conflicts that rose above and beyond the normal growing pains under pressure, there's no need to break anything up after a year like this.
---
5. Fact or Fiction: The Heat are in good shape going into next season.

Kevin Arnovitz, Heat Index: Fact. When (or if) the 2011-12 season kicks off, the Heat will be the favorites in the Eastern Conference. They'll have to address their geriatric bench and polish their execution on both ends -- something that will inevitably improve with time. But 27 or 28 teams would gladly trade rosters with the Heat if given the opportunity.
Tom Haberstroh: Heat Index: Fact. If LeBron shows up in the Finals, we're talking dynasty. That's how close they are. Sure, they have some blind spots heading into next season, but that's no different than, you know, every other team in the NBA. They need to go younger filling out their roster instead of recruiting at the retirement communities like they did last summer.
Beckley Mason, Hoopspeak.com: Fact. The default status of a team with both James and Wade is "optimistic." Miami has worries, but it should be healthier, deeper and more comfortable with one another next season, even without making a single personnel move. South Florida is already full of old folks; going forward, the Heat doesn't need any more Howards or Dampiers calcifying on the bench.
Rob Peterson, Hardwood Paroxysm: Fact. The Heat have as many questions as answers, but they're not in bad shape going into next season. They need to establish a pecking order between LeBron and D-Wade, they need to shore up the bench and they need to ignore outside distractions and just play ball. They have the talent to rule the East for four or five years.
Michael Wallace, Heat Index: Fact. If LeBron looks in the mirror and comes back with a true postseason killer instinct, the Heat will be fine. A solid point guard and center won't hurt, either. This team isn't broken, despite its Finals breakdowns.
---


ESPN.com and the TrueHoop Network
Kevin Arnovitz, Tom Haberstroh and Michael Wallace write for the Heat Index. Rob Peterson and Beckley Mason write for the TrueHoop Network.
• Follow ESPN's NBA coverage on Twitter | On Facebook