LeBron James: No asterisk for champ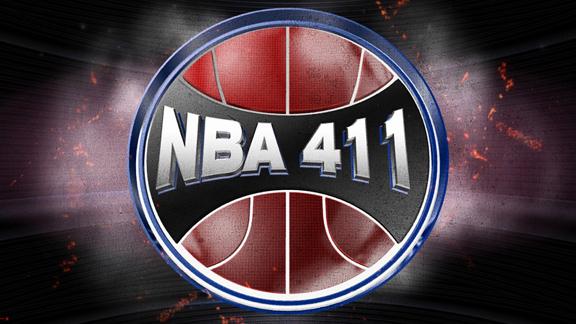 NBA 411: Finals Preview & Battle for LA
With two huge games this Wednesday, our bloggers predict who will be in the NBA Finals, with the Thunder and Heat as prime suspects. And in LA, our bloggers predict who will win the Battle of LA, Lakers or Clippers.
Tags:
NBA 411
,
NBA Finals
,
battle of LA
,
Thunder
,
Heat
,
Lakers
,
Clippers
NBA 411: Finals Preview & Battle for LA
NEW YORK -- LeBron James doesn't want to hear anything about an asterisk.
With a rash of injuries across the NBA and several playoff teams crippled because of it, there has been some talk that this might be remembered as a tainted season because of last year's lockout. There was some stigma attached to the last lockout season in 1998-99.

James
For years Phil Jackson referred to the San Antonio Spurs title that year as having an asterisk attached to it because of the circumstances of that shortened season.
The mere mention of that fired up James on Saturday as the Heat had a practice at Madison Square Garden. The Heat will look to close out the New York Knicks Sunday in Game 4.
"I don't think that's right to say," James said. "I'm not going to get involved in it. Every team works hard no matter if it's a lockout year or not. There's not much of a difference between 82 games and 66 games."
The Heat have become the favorites to win the Eastern Conference after the top-seeded Chicago Bulls lost Derrick Rose to a knee injury. Bulls center Joakim Noah suffered what appeared to be a severe ankle sprain Friday night. The Orlando Magic are without All-Star center Dwight Howard, and the Boston Celtics and Atlanta Hawks have dealt with injuries to key players.
"I don't discredit the effort San Antonio had when they won it in '99 after the lockout," James said. "We all know Gregg Popovich is an unbelievable coach and Tim Duncan is an unbelievable player. It shouldn't matter. They won multiple (titles) after that so are we going to say that first one wasn't good enough? I don't think that's true at all."
James said he believes the opposite is true. This has been a more difficult season than usual because of the demanding schedule and therefore the eventual champion would have had a more challenging road.
"This is a tough season; this is a difficult season for everyone," James said. "This is the toughest season since my rookie year. This is very challenging to us mentally and physically."
ESPN.com
ESPN.com NBA writer since 2010
Covered Cleveland Cavs for seven years
Author of two books
SPONSORED HEADLINES
MORE NBA HEADLINES
MOST SENT STORIES ON ESPN.COM
2012 NBA Finals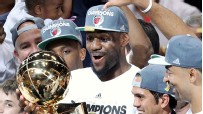 Follow the NBA on ESPN:
Twitter / Facebook / Google+
LATEST CONTENT
FINALS FEATURES
AUDIO/VIDEO
FINALS PAGE
MORE FROM ESPN CHICAGO

Check out the new ESPN Chicago, the place for your local Chicago sports coverage.
MORE FROM ESPN BOSTON

Check out the new ESPN Boston, the place for your local Boston sports coverage.
MORE FROM ESPN NEW YORK

Check out the new ESPN New York, your destination for sports coverage in the Big Apple.