Commentary
Doubting Lakers' Andrew Bynum
In playoffs, center hasn't shown consistency expected of a future star
Updated:
May 15, 2012, 1:41 AM ET
By
Jemele Hill
| ESPN.com
The most frustrating thing about watching Andrew Bynum is that despite his undeniable talent, he often leaves the impression that he isn't determined to be the greatest center in the game.
This has been Bynum's best season as an NBA pro, which theoretically should have given the Lakers more confidence in their decision to unofficially designate Bynum as their centerpiece once the Kobe Bryant era is finished.
[+] Enlarge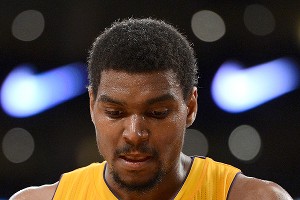 Harry How/Getty ImagesIs Andrew Bynum the next face of the Lakers?
But Bynum's immature antics during the Lakers' first-round series against the Denver Nuggets -- his no-show in Games 5 and 6 after making the silly comment that "close-out games are actually kind of easy" -- should generate serious doubt about whether Bynum is the right candidate to take the baton from Bryant.
Throughout the franchise's history, the most dominant Lakers teams were built around players who were not only driven to win and be the best at their position, but also be the best players in the NBA. Kobe is just as obsessed with winning as Magic Johnson was. And when he was healthy and focused, there was never a question that Shaq wanted to be the most dominant big man in basketball.
Does Bynum possess any of those same ambitious characteristics?
It may seem out of place to discuss Bynum's future in Los Angeles when he is coming off his first All-Star appearance (he averaged a career-high 18.7 points and 11.8 rebounds this season). Plus the Lakers are beginning their second-round series against Oklahoma City with a legitimate shot to make it to the Finals.
Bynum was having such a spectacular season, it seemed to be a foregone conclusion that trading him was out of the question.
It shouldn't be.
Mike and Mike in the Morning
ESPN LA 710's Dave Miller dishes on Chris Paul, Clippers-Spurs, Vinny Del Negro, Lakers-Thunder, Andrew Bynum, Pau Gasol, Metta World Peace, flopping and more.
The Lakers would be wise to entertain going after Dwight Howard.
Howard certainly has his own set of issues, and according to reports, the Lakers aren't his preferred destination.
But regardless of how much Howard has damaged his reputation with his flip-flopping in Orlando and sneaky attempts to undermine coach Stan Van Gundy, he has never demonstrated the arrogance that Bynum has.
After an unacceptable loss to the Wizards in March, Bynum admitted that a major reason the Lakers blew a 21-point lead was because he was "loafing" on defense.
"I was kind of loafing around and having a good time, and it caught up," Bynum said.
I suppose you could give Bynum credit for being honest, but didn't he essentially admit that he took the night off? And is that the kind of leadership you want your franchise player to exhibit?
Can you imagine Howard, a three-time defensive player of the year, ever saying something like that?
Bynum's attitude has irritated coach Mike Brown on a few occasions this season. A few weeks after the embarrassing loss to the Wizards, Bynum shot an ill-advised 3-pointer with the Lakers leading the Golden State Warriors 56-50 with 10:05 left in the third quarter. Bynum was benched and he retaliated by refusing to join the team huddle the rest of the game, and naturally, he wasn't very apologetic about his behavior afterward.
"I don't know what was bench-worthy about the shot, to be honest with you," said Bynum, who sat the last nine minutes of the game. "I made one last [game] and wanted to make another one. I swear that's it. I guess [Brown] took offense to it and he put me on the bench."
Had the Lakers lost to the Nuggets in the first round of the playoffs, it would not have been surprising if the Lakers jettisoned Brown, even though it was the big-mouthed starting center's words and uninspired play that gave the Nuggets new life. In the NBA, it's always easier to replace the coach rather than hold a player accountable.
There is no question that Bynum has the ability to be a top-five player, and despite the immaturity he displayed this season, he was still the best center in the league.
But I'm a firm believer that a teams takes on the personality of its best player. Bynum's dangerous sense of entitlement could not only prevent him from reaching his full potential, but also hinder the Lakers from winning a title. Howard still has some growing up to do, but he plays hard, and defensively, he doesn't make the conscious decision to give up the way Bynum sometimes does if he's not getting his way.
Bynum's game has grown immensely the seven seasons he's been in the NBA, but his attitude remains the same. Talented people always get more leeway, but surely the Lakers have to know that if they build around Bynum, his character won't magically change.
ESPN.com, ESPN The Magazine
Co-host of ESPN2's "Numbers Never Lie" and His and Hers podcast
Columnist for ESPN.com
Columnist for Orlando Sentinel (2005-06)
Writer for The Detroit Free Press (1999-2005)
SPONSORED HEADLINES
MORE NBA HEADLINES
MOST SENT STORIES ON ESPN.COM
2012 NBA Finals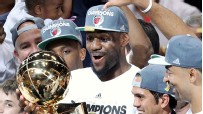 Follow the NBA on ESPN:
Twitter / Facebook / Google+
LATEST CONTENT
FINALS FEATURES
AUDIO/VIDEO
FINALS PAGE
ESPNNBA

NBA on ESPN


Got questions about the NBA? @AminESPN is ready to answer them in his SportsNation chat: http://t.co/l2iGHExGzS
40 minutes ago

kevinarnovitz

Kevin Arnovitz


There is no better place. RT @kirkgoldsberry: @kevinarnovitz Thanks, Kevin. Come visit Austin this season.
48 minutes ago

kevinarnovitz

Kevin Arnovitz


The Clippers Podcast w/@jordanheimer and me, Grizzlies-Clippers Edition. Guest: @HerringtonNBA | http://t.co/E8RwDWD8v6
about an hour ago

WallaceNBA_ESPN

Michael Wallace


Highlights from Rose: He won't rule out coming back this yr, he won't recruit free agents, he communicated with Westbrook
about an hour ago

JustinVerrier

Justin Verrier


George Saunders, talking about stuff. http://t.co/Hp4X3axqV9
about an hour ago

kevinarnovitz

Kevin Arnovitz


One of many cool items in @kirkgoldsberry's Heat piece -- the complementary charts of Allen & Battier http://t.co/4ygcqMZaKB …
about an hour ago

JustinVerrier

Justin Verrier


The Blazers Have Finally Returned From Carl's Jr.
about an hour ago

JustinVerrier

Justin Verrier


Where did the Blazers go that they have to return from it?
about an hour ago

ESPNNBA

NBA on ESPN


Derrick Rose won't rule out a playoff return -- http://t.co/Ey7laLWsOK
about 2 hours ago

ESPNNBA

NBA on ESPN


RT @tomhaberstroh: Latest at Per Diem: On the Miami Heat's reconstruction of Michael Beasley. http://t.co/RuyLmdmxiN [$]
about 2 hours ago

WallaceNBA_ESPN

Michael Wallace


Dwyane Wade missed shootaround with flu-like symptoms. heat could will be without Chris Andersen for personal reason
about 2 hours ago

tomhaberstroh

Tom Haberstroh


RT @CoupNBA: The best lineup with at least 100 minutes together this season? Beverley-Harden-Parsons-Jones-Howard at +23.3 per 100 possessi…
about 2 hours ago

kevinarnovitz

Kevin Arnovitz


I pledge to try best I can to find something to enjoy about watching James Harden play basketball. I say this with sincerity (smarm?)
about 2 hours ago

WallaceNBA_ESPN

Michael Wallace


Derrick Rose exits press conference on crutches, heading for another long rehab. http://t.co/Zwoho1oRmi
about 2 hours ago

tomhaberstroh

Tom Haberstroh


@kpelton ccing @AminESPN for Love love
about 2 hours ago

kpelton

Kevin Pelton


.@zf1897 WARP leaderboard: James 4.9, Love 4.7, George 4.5, Paul 4.4, Durant 4.3. James on top for first time this year.
about 2 hours ago

WallaceNBA_ESPN

Michael Wallace


What Rose would say to those ready to give up on him after 2 surgeries? "You can be a fool if you want to. I know I'm going to be alright."
about 2 hours ago

kevinarnovitz

Kevin Arnovitz


500 screens a day. RT @tomhaberstroh Latest at Per Diem: On the Miami Heat's reconstruction of Michael Beasley. http://t.co/FNdMqPHZGD [$]
about 3 hours ago

WallaceNBA_ESPN

Michael Wallace


Rose on possibly coming back for playoffs: "If I'm healthy and the situation is right - I'm playing."
about 3 hours ago

WallaceNBA_ESPN

Michael Wallace


Derrick Rose: "My story isn't done yet..I just know (God) has something bigger for me."
about 3 hours ago