Chris Bosh participates in drills
MIAMI -- Miami Heat forward Chris Bosh was observed going through an on-court workout at AmericanAirlines Arena late Sunday afternoon in what could be the most significant step he's taken in recovering from an abdominal strain that's sidelined him for two weeks.
Haberstroh: Bosh's Toughest Challenge

Chris Bosh's time in Miami has been challenging but being sidelined by injury while his team fights through the postseason is his toughest obstacle yet, Tom Haberstroh writes. Story
The team still considers Bosh "out indefinitely" as the Eastern Conference finals get underway against Boston. Bosh has been out since May 13, when he sustained the injury in the first half of Game 1 against the Indiana Pacers in the conference semifinals.
Bosh went through Sunday's workout with Heat assistant coach Keith Askins on the main court at AmericanAirlines Arena, with the sessions attended by team president Pat Riley. Bosh was seen going through drills that included catching and turning with the ball. He also did some work on his lateral movement across the court in addition to shooting free throws.
Bosh was not present on the practice court at the arena when the Heat wrapped up a workout earlier Sunday afternoon in preparation for Game 1. Heat coach Erik Spoelstra told reporters after practice that there was no change in Bosh's status, and that he was preparing to be without the perennial All-Star forward going into the series opener.
"I'm not even preparing for that right now," Spoelstra said earlier Sunday when asked about Bosh's status for the series. "I'm preparing for who we have in the gym. So our focus is (Monday). And that's all I can concentrate on. We have enough to win (Monday). That's all that any of our guys should be focused on."
Eastern Conference Playoffs


Get all the news and commentary on the Celtics-Heat matchup on ESPN.com's matchup page.
• Predictions: Simulator | SportsNation
• More: TrueHoop | Schedule | Bracket
• Celts blog | ESPN Boston | Heat Index
Spoelstra clarified Monday that Bosh's return to activity Sunday was simply a "progression" in his rehab.
"It was more of a progression of a rehab than it was a basketball workout, but I can see how it would be interpreted differently," said Spoelstra, while admitting it was an encouraging sign. "I wouldn't over-read into his workout yesterday. We'll continue to reevaluate every day. He'll continue to do his rehab. When he starts legitimate basketball work I'll pay attention a little bit more."
The Heat were able to regroup without Bosh to eliminate the Pacers in six games after falling into a 2-1 series hole. Spoelstra suggested the adjustments the Heat made were part of "reinventing ourselves" without Bosh, who has averaged 18 points and 7.9 rebounds during the season. He averaged 14.7 points and 6.8 rebounds in Miami's first six playoff games, including five against New York.
Results of an MRI confirmed the strain a day after Bosh was injured, and the Heat planned to re-evaluate the nine-year veteran after two to three weeks of rest and therapy. Bosh has repeatedly said his teammates would have to extend the season in order to give him enough time to return to action this season.
In the meantime, the Heat have had to rely on increased production from LeBron James and Dwyane Wade, who put together a historic stretch of games to pull away from the Pacers with three consecutive victories. James averaged 32.7 points, 11.3 rebounds and eight assists on 55 percent shooting. In that same span, Wade contributed 33 points, 7.3 rebounds and 3.7 assists on 62 percent shooting.
Considering the uncertainty around Bosh, Spoelstra suggested James and Wade would have to continue to produce at that level -- if not more -- for the Heat to advance past the conference finals and have a chance to win a title.
"What happened the last three games, now that has to be the norm," Spoelstra said of not only the play of Wade and James, but the overall team. "What I told them (Saturday) as a team is we have to go to the next level. That won't be enough for our ultimate goal."
While Celtics captain Paul Pierce said Monday he welcomes the challenge of facing the Heat with all of their top guys if Bosh is able to return, coach Doc Rivers noted that the Heat are still plenty dangerous without him.
"Obviously Bosh makes them better, in some ways, you can say they are more dangerous," said Rivers. "Those 15 shots that Bosh had, they are going to (Dwyane) Wade and LeBron (James). In some ways, they have the ball more, they are more aggressive, it almost activated them to be more aggressive. Which puts a lot of stress on the defense."
ESPNBoston.com's Chris Forsberg contributed to this report.
ESPN.com
ESPN.com NBA reporter
Blogs regularly on the Miami Heat
14 years covering the ACC, SEC, NFL and NBA
SPONSORED HEADLINES
MORE NBA HEADLINES
MOST SENT STORIES ON ESPN.COM
2012 NBA Finals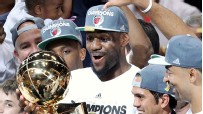 Follow the NBA on ESPN:
Twitter / Facebook / Google+
LATEST CONTENT
FINALS FEATURES
AUDIO/VIDEO
FINALS PAGE
Chris_Broussard

Chris Broussard


TRUE FREEDOM, Part 2: Becoming a Freedom Fighter http://t.co/6uZXT6Jayi
2 minutes ago

jadande

J.A. Adande


CEO of European golf tour winds up apologizing for his acceptance of Sergio's apology RT @CindyBoren: http://t.co/QDvjPckyp2
4 minutes ago

tomhaberstroh

Tom Haberstroh


Here's me and @IzzyESPN on @TrueHoopTV talking Heat-Pacers Game 1. Notecards are back! http://t.co/4Ip09ueZG6
8 minutes ago

kpelton

Kevin Pelton


Without intending to do so, I picked Pac-12 guys as the most overrated and most underrated prospects in the draft.
9 minutes ago

kpelton

Kevin Pelton


Joined @chadfordinsider @DaveTelep @franfraschilla @AminESPN for the latest Insider Draft 5-on-5: http://t.co/Z1pAQsbsY5 ($)
9 minutes ago

ESPNNBA

The NBA on ESPN


What to make of LeBron, Paul George and Frank Vogel in Game 1? Let's go 5-on-5: http://t.co/GyEWpV0Gun
27 minutes ago

LarryCoon

Larry Coon


Maybe I've been an imposter all along... Seriously, I don't know how it works. RT @TheThrill9: I don't get why your twitter isn't verified
34 minutes ago

Chris_Broussard

Chris Broussard


DWade did not foul George on 3-pt attempt, so George should not have gotten 3 FTs and hence, taken the lead for Indy.
35 minutes ago

tomhaberstroh

Tom Haberstroh


He knew. Just didn't adjust game plan. RT @BeckleyMason: So George didn't know Hibbert wasn't on the court? Or just couldn't adjust?
35 minutes ago

Chris_Broussard

Chris Broussard


Plus, Indy was lucky to have shot to win. George's 3pt was great shot but lucky; Ray Allen's missed FT was severe aberration and......
36 minutes ago

Chris_Broussard

Chris Broussard


Remember, the Pacers were 17-27 when he took over for Jim O'Brien. Vogel's turned them into contenders.
37 minutes ago

kpelton

Kevin Pelton


Now wondering where NBA is. RT @robneyer: Marching along the statistical color spectrum http://t.co/I9Yoi4mYk5 via @sbnbaseball
37 minutes ago

Chris_Broussard

Chris Broussard


Frank Vogel is a terrific coach. He's taking way too much heat today (no pun intended). I would've had Roy in,but Vogel rationale was sound
38 minutes ago

WallaceNBA_ESPN

Michael Wallace


Considering way Heat shot FTs, I'd at least foul LeBron hard to avoid &-1, made him make 2 shots from line instead of 1 pt-blank at rim
39 minutes ago

tomhaberstroh

Tom Haberstroh


Paul George on overplaying LBJ: "I'm used to having Roy back there. I gotta know who's going out on the floor with me."
40 minutes ago

chadfordinsider

Chad Ford


5-on-5 panel with me @DaveTelep @franfraschilla @AminESPN & @kpelton on draft's over & underrated prospects http://t.co/YETc6lHe30 (insider)
42 minutes ago

WallaceNBA_ESPN

Michael Wallace


We can all play hindsight game, but there were a number of ways Indy could have better defended LeBron on that play. They chose none.
43 minutes ago

tomhaberstroh

Tom Haberstroh


Paul George was up til 4 am: "I watched SportsCenter for so long that they continued to show the same highlights."
45 minutes ago

coachthorpe

david b. thorpe


One thing I'm sure will be changed if they are in the same spot-besides Hibbert staying in; George won't play James for the quick jumper.
49 minutes ago

tomhaberstroh

Tom Haberstroh


Vogel also said he would've put Hibbert on the ball but only if there was <1 second left. 2.2 seconds too much time.
53 minutes ago
MORE FROM ESPN BOSTON

Check out the new ESPN Boston, the place for your local Boston sports coverage.
ESPN.COM PARTNER: NBA.COM