Chris Bosh participates in drills
MIAMI -- Miami Heat forward Chris Bosh was observed going through an on-court workout at AmericanAirlines Arena late Sunday afternoon in what could be the most significant step he's taken in recovering from an abdominal strain that's sidelined him for two weeks.
Haberstroh: Bosh's Toughest Challenge

Chris Bosh's time in Miami has been challenging but being sidelined by injury while his team fights through the postseason is his toughest obstacle yet, Tom Haberstroh writes. Story
The team still considers Bosh "out indefinitely" as the Eastern Conference finals get underway against Boston. Bosh has been out since May 13, when he sustained the injury in the first half of Game 1 against the Indiana Pacers in the conference semifinals.
Bosh went through Sunday's workout with Heat assistant coach Keith Askins on the main court at AmericanAirlines Arena, with the sessions attended by team president Pat Riley. Bosh was seen going through drills that included catching and turning with the ball. He also did some work on his lateral movement across the court in addition to shooting free throws.
Bosh was not present on the practice court at the arena when the Heat wrapped up a workout earlier Sunday afternoon in preparation for Game 1. Heat coach Erik Spoelstra told reporters after practice that there was no change in Bosh's status, and that he was preparing to be without the perennial All-Star forward going into the series opener.
"I'm not even preparing for that right now," Spoelstra said earlier Sunday when asked about Bosh's status for the series. "I'm preparing for who we have in the gym. So our focus is (Monday). And that's all I can concentrate on. We have enough to win (Monday). That's all that any of our guys should be focused on."
Eastern Conference Playoffs


Get all the news and commentary on the Celtics-Heat matchup on ESPN.com's matchup page.
• Predictions: Simulator | SportsNation
• More: TrueHoop | Schedule | Bracket
• Celts blog | ESPN Boston | Heat Index
Spoelstra clarified Monday that Bosh's return to activity Sunday was simply a "progression" in his rehab.
"It was more of a progression of a rehab than it was a basketball workout, but I can see how it would be interpreted differently," said Spoelstra, while admitting it was an encouraging sign. "I wouldn't over-read into his workout yesterday. We'll continue to reevaluate every day. He'll continue to do his rehab. When he starts legitimate basketball work I'll pay attention a little bit more."
The Heat were able to regroup without Bosh to eliminate the Pacers in six games after falling into a 2-1 series hole. Spoelstra suggested the adjustments the Heat made were part of "reinventing ourselves" without Bosh, who has averaged 18 points and 7.9 rebounds during the season. He averaged 14.7 points and 6.8 rebounds in Miami's first six playoff games, including five against New York.
Results of an MRI confirmed the strain a day after Bosh was injured, and the Heat planned to re-evaluate the nine-year veteran after two to three weeks of rest and therapy. Bosh has repeatedly said his teammates would have to extend the season in order to give him enough time to return to action this season.
In the meantime, the Heat have had to rely on increased production from LeBron James and Dwyane Wade, who put together a historic stretch of games to pull away from the Pacers with three consecutive victories. James averaged 32.7 points, 11.3 rebounds and eight assists on 55 percent shooting. In that same span, Wade contributed 33 points, 7.3 rebounds and 3.7 assists on 62 percent shooting.
Considering the uncertainty around Bosh, Spoelstra suggested James and Wade would have to continue to produce at that level -- if not more -- for the Heat to advance past the conference finals and have a chance to win a title.
"What happened the last three games, now that has to be the norm," Spoelstra said of not only the play of Wade and James, but the overall team. "What I told them (Saturday) as a team is we have to go to the next level. That won't be enough for our ultimate goal."
While Celtics captain Paul Pierce said Monday he welcomes the challenge of facing the Heat with all of their top guys if Bosh is able to return, coach Doc Rivers noted that the Heat are still plenty dangerous without him.
"Obviously Bosh makes them better, in some ways, you can say they are more dangerous," said Rivers. "Those 15 shots that Bosh had, they are going to (Dwyane) Wade and LeBron (James). In some ways, they have the ball more, they are more aggressive, it almost activated them to be more aggressive. Which puts a lot of stress on the defense."
ESPNBoston.com's Chris Forsberg contributed to this report.
ESPN.com
ESPN.com NBA reporter
Blogs regularly on the Miami Heat
14 years covering the ACC, SEC, NFL and NBA
2012 NBA Finals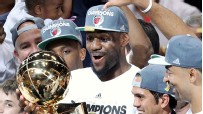 Follow the NBA on ESPN:
Twitter / Facebook / Google+
LATEST CONTENT
FINALS FEATURES
AUDIO/VIDEO
FINALS PAGE
WallaceNBA_ESPN

Michael Wallace


In other words, 9 years in Miami, I've seen Heat rise, fall, recover to historic heights, humbly stumble to earth - then sign Beasley again
about an hour ago

WallaceNBA_ESPN

Michael Wallace


Now covered Heat for 3 Beasley tours, Zo's 2nd stint, Wade's rise, Shaq's final dominance, LBJ's prime, pinch of Penny, Ricky Davis & Smush
about an hour ago

coachthorpe

david b. thorpe


Thorpe: Rookies making progress http://t.co/Ms8gmPF83T via @espnnba
about 2 hours ago

ESPNNBA

NBA on ESPN


Sacramento Kings point guard Darren Collison will have surgery next week and be sidelined for at least another month. http://t.co/42GOCcvMRT
about 2 hours ago

ESPNNBA

NBA on ESPN


Glad the llamas have been contained. (via @SacramentoKings) http://t.co/g6MqFUwTqR
about 3 hours ago

ESPNNBA

NBA on ESPN


#TBT Michael Jordan video from 1987http://t.co/7qahoa719U
about 3 hours ago

steventurous

Steve McPherson


Thellma & Llouise http://t.co/77rnAoErNd
about 3 hours ago

jadande

J.A. Adande


Reminds me of Pau patting CP3's head RT @Sherm_: When club security thought you finally calmed down http://t.co/ZSg5ZTb0cf"
about 3 hours ago

mr_jasonjones

Jason Jones


Kings announce Darren Collison will have surgery Tuesday to "repair a core muscle injury" and he will be re-evaluated in 3-6 weeks.
about 3 hours ago

jadande

J.A. Adande


I'd love to hear about this day from the llamas' perspective, rapping like Slick Rick in "Children's Story"
about 3 hours ago

jadande

J.A. Adande


#escapability RT @stephdom8626: "@Lizzs_Lockeroom: But that juke tho..... https://t.co/9zzSUGvNo0" who needs a running back?"
about 3 hours ago

etanthomas36

Etan Thomas


Here is a clip of @Chris_Broussard speaking the truth at The #BlackLivesMatter panel during all star wknd. Respect http://t.co/1YE9FeXB7i
about 3 hours ago

kwhalum

Kenneth T Whalum Jr.


Countdown to @Chris_Broussard AND another surprise. Hint: Music video world premiere! http://t.co/4Qzf0G3PHO
about 4 hours ago

exhoopsPRguy

exhoopsprguy


Outstanding 👏👏 RT @Suns: Llamas? Did someone say Llamas? http://t.co/K7cxv6cEU1
about 4 hours ago

ShaunKing

Shaun King


Ummmm. http://t.co/2fnkWCFLwz
about 4 hours ago

BBCWorld

BBC News (World)


First ever "space selfie" by #BuzzAldrin among rare #Nasa photos sold at auction http://t.co/1iLgJdA6ie #BBCGoFigure http://t.co/T12Zlfe4nZ
about 4 hours ago

Chris_Broussard

Chris Broussard


Freshman Dwayne Cohill from my alma mater throwing down a mean dunk on 6-6 dude! Wish I could say I used to do that! http://t.co/We2ULdFkfs
about 4 hours ago

coachthorpe

david b. thorpe


Anyone who knows me knows I love analytics and have in some form since the 80's when I began coaching-but it's hard to project w small data.
about 4 hours ago

coachthorpe

david b. thorpe


10. I hope the MIT conference comes up with a better way to project 1 and done guys. Cause Wiggins is amazing, to no one's surprise but them
about 4 hours ago

ESPNNBA

NBA on ESPN


On this date in 1987, Michael Jordan dropped 58 points on the New Jersey Nets in just 37 minutes. With zero three-pointers.
about 4 hours ago
MORE FROM ESPN BOSTON

Want to submit a question for Mike Reiss' weekly Patriots mailbag? Click here and come back every Tuesday around noon for the 'bag.
Latest headlines on ESPNBoston.com:
MOST SENT STORIES ON ESPN.COM