Chris Bosh might play in Game 5
MIAMI -- Heat All-Star Chris Bosh has been upgraded to a game-time decision for Tuesday's Game 5 of the Eastern Conference finals against the Boston Celtics. All indications are that Bosh will play after missing three weeks and nine playoff games with a lower abdominal strain.
"He was able to go through a workout yesterday, he was able to go through shootaround today and we'll have to continue to evaluate," Heat coach Erik Spoelstra said. "The last two days he's been able to do real basketball work."
Spoelstra later added that Bosh is "going to go through his warm up. If he does play he will not start and he will come in at some point in short bursts, that's all it will be."
Spoelstra also figures that since Bosh has not played since Game 1 of the Eastern Conference semifinals, the All-Star's role will be small, "that's all he'll have to be for us right now," Spoelstra said.
"He doesn't have to be Chris Bosh he was several weeks ago, we can build up to that," the coach added.
Whether he plays or not, Bosh will be dealing with a tragedy. A police report that became public Tuesday said a masseuse collapsed at his home Monday and later died at the hospital.
The woman initially appeared to be well but suddenly collapsed. The report says a friend of the victim told officials she had survived cancer about a year ago.
It was not clear if Bosh was at his home at the time.
The Heat sound optimistic about Bosh's recent workouts but are expecting him to be limited and rusty.
"He's looked great the last couple days that we've gotten to see him," LeBron James said. "He looks comfortable with what we've been able to do but I think we all know that a shootaround or a walk-through practice is totally different than game time."
Bosh averaged 14.7 points and 6.8 rebounds in six playoff games before suffering the injury on a dunk in Game 1 of the East semifinals against Indiana. The Heat have struggled without him, starting three different centers and sometimes using James at center.
Meanwhile, Celtics center Kevin Garnett has had an excellent series thus far going against Bosh's backups, averaging 20.5 points and 10.8 rebounds.
"It's going to help us a lot," James said. "He can spread the floor. Another big that can spread the floor. He rebounds as well. He can cover a lot of ground defensively. It'll be great to have him back but you never know what type of rhythm he'll be in."
Without having to worry about defending Bosh, the Celtics have been able to change their defensive strategies and give more attention to Dwyane Wade, who regularly has drawn double teams in the series. Wade has referred to Garnett's role in the series as being a roaming "safety" as he has often ignored his man to help defend Wade and James.
"We have other guys that he doesn't feel are much of an offensive threat," Wade said. "That's been the biggest difference in this whole series. I've played against Boston a lot of times and they haven't been able to play the way they're playing me now."
Celtics coach Doc Rivers, when asked at Tuesday's shootaround how much Garnett's coverage would change if and when Bosh takes the floor, said, "Not at all."
"We're not going to change our defense," Rivers said. "We're going to play the same way."
Rivers indicated that Garnett will continue to roam like he has in the first four games.
"Listen, we are kind of stuck with who we are," he said. "We couldn't make a lot of changes even if we wanted to. It's not like we can do a lot of different things. We've made some tweaks here and there, but we like what were doing so we're ready for the next step."
Garnett expects his role to change slightly, but he agreed with Rivers' sentiment that they are who they are.
"Right now, I'm doing a lot to help," Garnett said Tuesday before Game 5. "Our schemes will change a bit, but we know what we're coming into. We have to prepare for that."
The Heat were 4-5 without Bosh in the regular season and are 5-4 in the playoffs without him. In the regular season, they were 42-15 when Bosh played and 6-1 with him in the postseason before his injury.
Garnett knows a little something about what Bosh is going through. During Boston's championship season in 2008, Garnett missed slightly over three weeks with an abdominal strain and returned in a February game to tally four points, four turnovers and eight rebounds in just 20 minutes. The Celtics lost that February game to Denver.
Garnett remembers what it felt like to test his core muscles in a actual game setting, but Garnett is keeping his secrets close to the vest, in case Bosh might be looking for tips. When asked whether he had any specific memories from that game, Garnett made a simple reply.
"I don't. No memories that I'd like to share."
Information from ESPN.com's Tom Haberstroh and The Associated Press contributed to this report.
SPONSORED HEADLINES
MORE NBA HEADLINES
MOST SENT STORIES ON ESPN.COM
2012 NBA Finals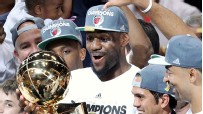 Follow the NBA on ESPN:
Twitter / Facebook / Google+
LATEST CONTENT
FINALS FEATURES
AUDIO/VIDEO
FINALS PAGE
ESPNNBA

The NBA on ESPN


On this date in 1988, Pistons completed a 4-1 series win vs. Bulls , the first of three straight years Detroit ended Chicago's season.
6 minutes ago

NBARumorCentral

ESPN


Jackson back with Tellem. Copeland wants big payday. Blazers consider moving up, eye Oladipo. Drew to meet with Bucks http://t.co/ZgvqNkdV31
15 minutes ago

ESPNNBA

The NBA on ESPN


30 years ago today, the 76ers beat the Bucks 115-103 to reach the NBA Finals. Moses Malone led the way with 28 points, 17 rebounds.
about an hour ago

ESPNNBA

The NBA on ESPN


Happy Birthday! Nets F Reggie Evans (33), retired 15-year vet Donyell Marshall (40) and ESPN's Jim Bowden (52).
about 2 hours ago

WallaceNBA_ESPN

Michael Wallace


ICYMI: Check out frontpage story from Miami Herald that details purpose for today's #Duffels4Kids Walk. Thanks. http://t.co/EgSK3YUbs8
about 2 hours ago

WallaceNBA_ESPN

Michael Wallace


Excited to wake up this morning to participate in a great cause. On to Miami's Jungle Island for #Duffels4Kids Walk http://t.co/HiXlGtjHQ2
about 3 hours ago

TrueHoop

Henry Abbott


Brian Scalabrine's risky head games, and what can happen in a league without a strict concussion policy. http://t.co/vqXtpgiA7U
about 5 hours ago

WallaceNBA_ESPN

Michael Wallace


I've seen/heard other celebs do this sort of thing before, but this was very cool of D-Wade: http://t.co/DmVTm7rndy
about 10 hours ago

WallaceNBA_ESPN

Michael Wallace


Wallace: Swift playoff progress tests Heat's patience yet again, but beats the alternative. http://t.co/KG4c15ADIz
about 11 hours ago

truehooptv

TrueHoop TV


He's been on a few times now. RT @hellawritn: @MrEddieHuang @TrueHoopTV eddie needs to be on here more often
about 12 hours ago

truehooptv

TrueHoop TV


RT @ZachLowe_NBA: Oh, man, the first 2:30 or so of this @coachthorpe segment on @truehooptv: http://t.co/MC2ysbExDx
about 12 hours ago

ESPNSteinLine

Marc Stein


Also psyched for @ESPNSoccerToday live SUN from San Antonio w/Champs League preview from @swish41 AND quality time w/Bulls super fan @bguzan
about 13 hours ago

ESPNSteinLine

Marc Stein


Privileged to see every dribble of Spurs/Grizz in 2011. Can't wait for 2013 edition .... though I worry who fills @ShaneBattier quote void
about 13 hours ago

ESPNSteinLine

Marc Stein


Says @ESPNStatsInfo: Harrison Barnes first rook to average 16 PPG & 6 RPG in single postseason (min. 10 games) since @DavidtheAdmiral in '90
about 14 hours ago

ESPNNBA

The NBA on ESPN


RT @pstiegman: Thorpe: Postseason MVP rankings http://t.co/kscLyVlimG
about 14 hours ago

chadfordinsider

Chad Ford


RT @nbastats: #NBACombine's best scores from each of 6 different athletic tests performed by 59 participants http://t.co/dpPNK0EX9F
about 15 hours ago

jadande

J.A. Adande


#nextround RT @RealMikeWilbon Adande and I will probably now be doing PTI w/out the cameras down in San Antonio during WCF...20 yrs of that!
about 15 hours ago

jadande

J.A. Adande


Do you know what PTI stands for? RT @arsenalgooners: You should work on your habit of interrupting people before they finish speaking.
about 15 hours ago

chadfordinsider

Chad Ford


RT @espn700bill: If you missed @chadfordinsider with us last hour on @ESPN700 here's a link to his interview. Talks #Jazz and #NBA http://t…
about 16 hours ago

JustinVerrier

Justin Verrier


Like four people with me at baggage check. Connecticut, you're adorable.
about 16 hours ago
MORE FROM ESPN BOSTON

Check out the new ESPN Boston, the place for your local Boston sports coverage.
ESPN.COM PARTNER: NBA.COM