Commentary
Best single-game performances: 2
Updated:
June 15, 2012, 12:20 PM ET
By
John Hollinger
| ESPN.com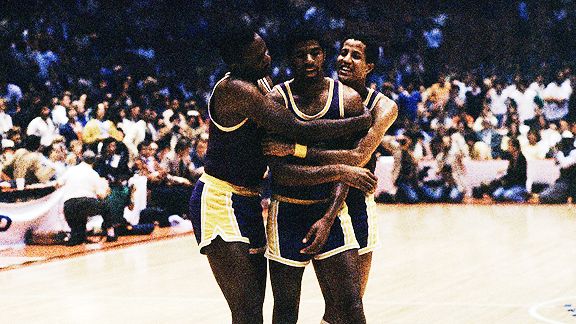 Jim Cummins/NBAE/Getty ImagesMagic Johnson was the man in the middle for the Lakers in every way for Game 6 of the 1980 Finals.
2. Magic Johnson, Lakers: 1980 Finals, Game 6
| MIN | FGM-A | FTM-A | REB | AST | STL | BLK | TO | PTS |
| --- | --- | --- | --- | --- | --- | --- | --- | --- |
| 47 | 14-23 | 14-14 | 15 | 7 | 3 | 1 | 5 | 42 |
Game Score: 36.5 Result: Lakers 123, 76ers 107 Series: Lakers win in 6
Years before Don Nelson invented the point-forward position, Magic Johnson, who was in his rookie season, played the most important game of the Lakers' season as a point-center. With Kareem Abdul-Jabbar, who had been dominating the series, sidelined by an ankle injury as the Lakers headed to Philadelphia for Game 6, the consensus was that L.A. would need to take their lumps and then return home for a Game 7 rubber match.
Magic had other plans. Starting at center, he played all but one minute and exploded for 42 points, 15 rebounds and seven assists, including an impressive 14-of-14 from the line. While Magic wasn't technically playing center for much of the night -- Jim Chones and Mark Landsberger handled that -- he played every spot on the floor during the course of the evening and even launched a Kareem-style skyhook from the post to start the game. More importantly, his work on the boards was a huge factor in the Lakers' ability to overcome Kareem's absence.
Had there not been such high stakes or a need to switch positions, this was still an impressive performance, ranking 13th-best in Game Score among post-merger Finals games. And the final score doesn't indicate how important Johnson's performance was. The Lakers were clinging to a two-point lead with just over five minutes left before Magic scored nine points in L.A.'s closing kick.
Add in that it was a title-clincher and that the rookie was forced into a role he had never manned that season, and it's easy to see why this was one of the most memorable performances in history -- for those few who saw it in person, and for the many who watched it later that night on CBS, by tape delay, because the practice at the time was to televise Finals games after prime time.
Intro | 1 | 2 | 3 | 4 | 5 | 6 | 7 | 8 | 9 | 10 | 11-20

| 21-30

| 31-40

| 41-50

SPONSORED HEADLINES
MORE NBA HEADLINES
MOST SENT STORIES ON ESPN.COM
Hollinger's Playoff Projects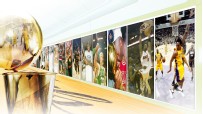 Follow the NBA on ESPN:
Twitter / Facebook / Google+
GREATEST PLAYOFF RUNS
GREATEST PLAYOFF SERIES
GREATEST FINALISTS
GREATEST FINALS PERFORMANCES
GREATEST SINGLE-GAME PERFORMANCES