Commentary
Stat Geek Smackdown 2012
Updated:
June 22, 2012, 12:19 AM ET
By
Henry Abbott
| ESPN.com
Stat geeks run NBA teams. Stat geeks make big dollars in Las Vegas. Stat geeks have multiple conferences, incredibly high rates of employment, prominent roles in government, Wall Street, health care and education.
But only right here do they get to pick NBA playoff winners in a contest against my mom.
Since its 2007 founding, the contest has featured some of the best in the business, as evidenced by the fact that they keep getting hired away by NBA teams.
The 2007 and 2008 champion, Basketball-Reference.com's Justin Kubatko, was removed from the mix thanks to the work he did for the Portland Trail Blazers. Basketball Prospectus' Kevin Pelton, a mainstay, works for the Indiana Pacers now and, as we're in the playoffs, is out of the Smackdown. Longtime Smackdown participant and Phoenix Suns analytical consultant Stephen Ilardi, who came in second last year, could only agree to join the contest after the Suns' postseason dreams died in that late-season game to the Utah Jazz.
The 2009 champion, author and professor David Berri is sitting this one out, although his associate, Arturo Galletti, is here to represent the Wages of Wins point of view. 2010 champion Jeff Ma -- who has consulted with NBA teams, wrote "The House Advantage," beat Vegas as a member of the MIT Blackjack team, and is now CEO of the firm tenXer -- is back once again, duking it out with the 2011 champ, the undefeated Benjamin Morris.
ESPN.com's John Hollinger has been making a habit of beating Las Vegas with his regular-season predictions; we'll see whether he can carry his regular-season success into the playoffs. In recent years he has been second and third, but the top spot on the podium has eluded him.
Also returning this year is Matthew Stahlhut. Two years ago, he e-mailed me round by round with picks before each series started and before everybody else's picks were published. In a very professional way, he even talked a little trash. And, even though he wasn't really in the contest, he "won" it. He uses sophisticated models that he created (with the help of others) as a consultant for a gambling group. Last year, his first in the contest, he finished third.
The rules are the same as ever: Based on stats, hunches and anything else, each expert predicts the outcome of every playoff series as the rounds unfold. Each correctly picked series is worth five points. Correctly predicting the number of games is worth two additional points. The winner gets something bizarre and arbitrary to be determined later.
Scoreboard
TRUEHOOP'S STAT GEEK SMACKDOWN SCOREBOARD
RD 1
CONFERENCE SEMIS
CONF. FINALS
FINALS
TOTAL
STAT GEEK
TOTAL
IND-
MIA
PHI-
BOS
LAC-
SAS
LAL-
OKC
BOS-
MIA
OKC-
SAS
MIA-
OKC
POINTS
Galletti
34
5
7
7
7
0
0
7
67
Hollinger
34
5
7
5
7
5
0
5
68
Ilardi
29
5
0
5
5
5
0
5
54
Ma
34
5
5
5
5
0
0
0
54
Mom
31
7
5
5
5
7
0
5
65
Morris
41
5
5
5
7
0
0
0
63
Stahlhut
43
5
7
5
7
5
0
0
72
The Crowd
36
7
7
5
5
5
0
0
65
TRUEHOOP'S STAT GEEK SMACKDOWN SCOREBOARD: FIRST ROUND
STAT GEEK
PHI-
CHI
NY-
MIA
ORL-
IND
ATL-
BOS
UTA-
SA
DAL-
OKC
DEN-
LAL
LAC-
MEM
TOTAL
Galletti
0
7
7
5
5
5
0
5
34
Hollinger
0
5
5
7
5
5
7
0
34
Ilardi
0
7
5
7
5
5
0
0
29
Ma
0
7
5
5
5
5
7
0
34
Mom
0
7
7
7
5
5
0
0
31
Morris
0
7
7
7
5
5
5
5
41
Stahlhut
0
7
7
7
5
5
7
5
43
The Crowd
0
7
7
7
5
5
5
0
36
---
Series Predictions (click on the links below to see picks for each matchup)
NBA FINALS
MIA-OKC
CONFERENCE FINALS
BOS-MIA | OKC-SAS
CONFERENCE SEMIFINALS
IND-MIA | PHI-BOS | LAC-SAS | LAL-OKC
FIRST ROUND
PHI-CHI | NY-MIA | ORL-IND | ATL-BOS | UTA-SA | DAL-OKC | DEN-LAL | LAC-MEM
(2) MIAMI HEAT VS. (2) OKLAHOMA CITY THUNDER

Galletti


Heat in 5


Hollinger


Heat in 7


Ilardi


Heat in 7


Ma


Thunder in 7


Mom


Heat in 6


Morris


Thunder in 6


Stahlhut


Thunder in 7


The Crowd


Thunder in 7
Smackdown Breakdown: Heat-Thunder
If the Heat win, and The Crowd were to pick the number of games perfectly, the Crowd could have won seven points to tie Matthew Stahlhut at the top of the leaderboard.
The Crowd, it turns out, is pretty good. (And the Crowd is also pretty bitter at the Memphis Grizzlies for falling to the Clippers -- the series that decided it.)
However, the Crowd and Stahlhut both picked the Thunder over the Heat in the NBA Finals, which means Stahlhut can't be beat and is already this year's winner.
And like everyone, he is excited for these NBA Finals. But with a caveat: "As much as I am excited to see this series, I'm afraid we are going to see a lot of free throws by both teams because the Heat and Thunder have been in the top four of the league in free throws per field goal attempt over the past two years."
Stahlhut's other thoughts on an NBA Finals he predicts will be extremely close:
"As we saw in the last series, having Chris Bosh back is very important to what the Heat do offensively. His ability to hit mid- to long-range 2-pointers really opens up the Heat's offense and his impact is apparent even in just examining raw on-court/off-court offensive efficiency numbers.
"The Heat's defense could potentially cause problems for the Thunder because they force a lot of turnovers, and the Thunder's primary weakness on offense happens to be committing turnovers.
"Although the Thunder have an average defense, they are an exceptional shooting defense because they defend the rim and the 3-point line very well due to their athleticism. This will be key to stopping Miami's offense. In addition, if the Thunder can use their athleticism to force Miami to turn the ball over they can both bog down the Heat's offense and get out in transition where they are very effective. This will require them to play the passing lanes more often and pressure the ball (similar to what the Celtics did in the last series). They can do this initially with limited risk because the Heat don't move well without the ball and their spacing is often questionable.
"This matchup is relatively even, so the fact that the Thunder have home-court advantage gives them the nod in seven."
2011 champion Benjamin Morris is also picking the Thunder, making this the second straight round he has picked the Heat to lose:
"In the last round, I picked the heavy-underdog Celtics largely because I thought there was a good chance the Heat would succumb to a well-designed veteran squad with championship experience. Following their victory over the Celtics, I still think that Miami is a poorly designed team, but with LeBron always being the best player on the floor -- and possibly the player with the most impact ever -- the consequence is that they're only very, very good.
"This series seems to be more evenly matched, as both teams feature a transcendent star player with an imperfect supporting cast. The Thunder have had the more impressive playoff run, dropping only three games against three former champions. But the playoffs are a strange beast, and only one game separated them in the regular season (of course, that game was enough to give the Thunder home court). The Thunder had the stronger start of the season, which has often been predictive in the past, but may have been less reliable this year. And if we really want to grasp at straws, the Thunder also scored more points in their two-game split.
"The Thunder really buck the trend of typical NBA championship contenders in that they are neither a former NBA champion, nor were they cobbled together out of pre-existing All-NBA players, nor are they coming completely out of left field: They seem to have grown into this position organically. The last team to do so very effectively was the '91 Chicago Bulls, which also featured a young multi-time NBA scoring champion. Of course, Jordan was already the best player in the game at that point, while Durant may not even be the best small forward on the floor.
"Ultimately, while I think the series isn't a mismatch by any stretch, the Thunder seem to edge the Heat in most categories other than 'LeBron James is due,' and six games is the most likely outcome for a home team in a 2-3-2 format."
Arturo Galletti says that, in an effort to win the contest, he made a long-shot pick of the Celtics in the last round. But this time, he's playing it straight, and he's picking the Heat.
"When I first look at all the playoff teams I like to look at a series of factors that I've found that all NBA champions (at least since the merger) have in common to identify those teams that are truly in it and those that are fatally flawed.
"Both the Thunder and Heat, weirdly enough, came up flawed when compared against past champions. OKC is too young. They lack the veteran star which every champion has. They are exactly a year short. OKC in 2013 will have those vets in Durant and Harden.
"Miami failed the big-man test. They lacked that dominant big [man] that controls the paint that is a hallmark of every [championship] team.
"So a choice between Miami and OKC is a choice between too young and too small, right?
"Not so fast. By necessity, Miami discovered that the dominant big man they needed was already on the roster. LeBron James has stepped up in dramatic fashion to fulfill that role for Miami. LeBron was an unstoppable force of nature in the last two series. Combine that with the fact that Miami shows up as a better team on a neutral floor no matter how I slice it and I have to think that history will reward the vets and disappoint the first timers once again. Given the 2-3-2 format the pick is Heat in five."
---
Bios
Arturo Galletti is the co-editor and director of analytics for the Wages of Wins Network. He is an electrical engineer in the lovely isle of Puerto Rico, where he keeps his production lines running by day and night (and weekends) and works on sport analysis in his free time.
John Hollinger writes for ESPN.com. He created the player efficiency rating (PER) and several other statistical measures.
Stephen Ilardi is a professor of clinical psychology at the University of Kansas, a former statistical consultant to the KU men's basketball team under Roy Williams and an expert on adjusted plus/minus.
Jeff Ma is the author of "The House Advantage" and is currently the CEO of tenXer.
Benjamin Morris publishes original research and criticism on his blog Skeptical Sports Analysis. After graduating from Yale University with a double major in philosophy and English, he spent the better part of the past decade as a professional gambler.
Matthew Stahlhut, who graduated from St. Louis University School of Law in 2007, has been both an attorney and a statistical analyst for a group of sports gamblers. He also contributes to DenverStiffs.com.
My mom: She hasn't watched all that much NBA since "JeRomeo" Kersey retired.
The Crowd is a collection of 61 ESPN.com and TrueHoop Network writers. Similar collectives of ESPN experts have been very good at predicting regular-season W-L records -- this is the first-time we have included such a group in the Stat Geek Smackdown. For more on "the wisdom of the crowd," see this Wikipedia page.
TrueHoop, NBA
Senior writer for ESPN.com
Founder of TrueHoop blog and network
Began writing about NBA for magazines in 1999
SPONSORED HEADLINES
MORE NBA HEADLINES
MOST SENT STORIES ON ESPN.COM
2012 NBA Finals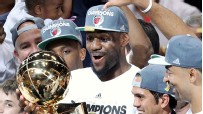 Follow the NBA on ESPN:
Twitter / Facebook / Google+
LATEST CONTENT
FINALS FEATURES
AUDIO/VIDEO
FINALS PAGE
NBARumorCentral

ESPN


Why #Nets are leery to deal Brook Lopez http://t.co/eIxJRwjF8z
about 2 hours ago

mcten

Dave McMenamin


New column up in the blog: Kevin Love ready for a better return http://t.co/J2gx7eDvfv
about 9 hours ago

ESPNNBA

NBA on ESPN


Eric Bledsoe is dropping dimes and taking names. http://t.co/vIPmpDGBt9
about 9 hours ago

ESPNNBA

NBA on ESPN


Bulls fall to Suns, 99-93. Chicago loses consecutive games for 4th time this month. Pau Gasol earns NBA-high 30th double-double of season.
about 10 hours ago

kpelton

Kevin Pelton


Klay Thompson scored 3 more points in the 3rd quarter last Friday (37) than Oregon State had in a loss to Arizona tonight (34).
about 10 hours ago

ESPNNBA

NBA on ESPN


Chris Bosh & D-Wade are 1st teammates named All-Stars in 5 straight seasons since Shaq & Kobe.(via @EliasSports) http://t.co/lHlGoacD5r
about 11 hours ago

ESPNSteinLine

Marc Stein


Denver, I'm told, has been pushing an offer of J.J. Hickson/JaVale McGee for B-Lopez. Nets have so far been firm in their refusal to take it
about 11 hours ago

ESPNSteinLine

Marc Stein


Tonight's Brook Lopez performance helps explain why Nets, even though they've seriously discussed trading him, feel they can't give him away
about 11 hours ago

ESPNNBA

NBA on ESPN


"Bright side for Bulls is that they're on pace to score lower than Tiger did in Phoenix." - @DougESPN
about 11 hours ago

ESPNNBA

NBA on ESPN


Jazz pull the upset! Utah beats Golden State, 110-100. Hayward records 26 points in win. Warriors drop 2nd in a row. http://t.co/1DaFptF6ft
about 11 hours ago

mcten

Dave McMenamin


Cleveland Cavaliers coach David Blatt in the Atlanta Hawks' 18-game win streak: http://t.co/RlFVBWz1Tq
about 11 hours ago

ESPNNBA

NBA on ESPN


This is the first time the Hawks have had the NBA's best record this late into a season since they moved to Atlanta for the 1968-69 season.
about 11 hours ago

ESPNSteinLine

Marc Stein


RT @NBATV: This date in 1996 @MagicJohnson came out of retirement with 19/10/8 http://t.co/nQDcCe2TKs (WILL NEVER FORGET COVERING THIS ONE)
about 12 hours ago

ESPNNBA

NBA on ESPN


Hey, @JalenRose...Happy birthday! Seems like only yesterday... http://t.co/6bwYB17BvT
about 12 hours ago

ESPNNBA

NBA on ESPN


Clippers fall to The Brow-less Pelicans, 108-103. Eric Gordon leads the way w/ season-high 28 Pts as Pels snap LAC 6-game win streak.
about 12 hours ago

ESPNNBA

NBA on ESPN


Mavs snap 7-game losing streak vs Heat, 93-72. Dallas outscores Miami by 33 points in 2nd half (23-0 run between 3rd & 4th quarters).
about 12 hours ago

DougESPN

Doug Kezirian


#Warriors down 17 pts in 2nd half. If they lose, the @ATLHawks will own the best record in @NBA
about 12 hours ago

ESPNNBA

NBA on ESPN


Despite a combined 70 point night from Jarrett Jack & Brook Lopez, Nets fall to Raptors in OT, 127-122. Raptors win 5th straight.
about 12 hours ago

ESPNNBA

NBA on ESPN


Kings might have lost, but Rudy Gay won with this RIDICULOUS 360 slam... http://t.co/rePbNTKXi0
about 12 hours ago

ESPNNBA

NBA on ESPN


Hawks are only 5th team in NBA history to win 18 straight before All-Star Break. 3 of previous 4 won the NBA title. http://t.co/8uKWKEiQC6
about 12 hours ago