Commentary
Warriors still learning on the fly
Originally Published:
May 1, 2013
By
J.A. Adande
| ESPN.com
DENVER -- Closing out a team on the road is the rite of passage to adulthood in the NBA playoffs. Tuesday night the Golden State Warriors reminded us they're still teenagers.
They took a 3-1 series lead into Game 5 but weren't ready to finish off the Denver Nuggets at the Pepsi Center. They fell behind early, with 39 percent shooting and 10 turnovers contributing to a 66-46 Denver lead at halftime. It was more than the Warriors could overcome, falling 107-100 despite outscoring Denver 56-41 in the second half. This isn't a reflection of their character; it's a function of their age. They started three players who are younger than 26. Five of the eight men who played the bulk of the minutes are enrolled in the postseason academy for the first time. They weren't quite ready for their caps and gowns.
"The [Nuggets] had a lot of energy at the beginning, in front of their home crowd," said Golden State's Stephen Curry, who was limited to 15 points on 7-of-19 shooting.
"It's tough to overcome. If you don't get it done on the defensive end, you can't outshoot somebody. Giving up 66 points in the first half is not going to get it done."
[+] Enlarge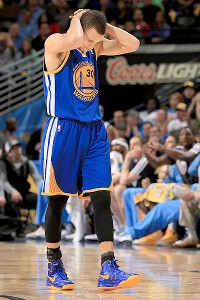 Doug Pensinger/Getty ImagesAfter his scoring barrage in Game 4, Stephen Curry couldn't find his rhythm in Denver.
It wasn't much of a crowd to speak of at the beginning of the game, a 6 p.m. MT start that began with many of the yellow rally towels placed on the 19,000 seats still in place. The energy slowly built, with the Warriors feeding it by coughing up turnovers and allowing the Nuggets to get offensive rebounds. The Nuggets scored 19 points off 17 Golden State turnovers and 20 second-chance points thanks to 15 offensive rebounds. And they owned the points in the paint, their prime emphasis all season, 50-24.
Andre Iguodala played an all-around game, scoring 25 points, grabbing 12 rebounds, handing out seven assists and guarding Jarrett Jack, whom Nuggets coach George Karl believed had hurt the Nuggets as much as Curry had in this series. That assignment was one tactical shift. Another was starting JaVale McGee at center.
Warriors coach Mark Jackson thought there was a third.
"They tried to send hit men at Steph," Jackson said. "There were some dirty plays early."
Curry noted, "There were a couple of plays I was cutting down the lane and I'm not really involved in the play, and somehow I get an elbow to my chest."
Curry faced little resistance in the previous three games, when he became the breakout star of the playoffs by making 14 3-pointers and scoring 90 points. In the first half of Game 5 he reverted to the jittered playoff novice we saw early in Game 1. Curry missed six of his first nine shots, including all three 3-point attempts.
To Nuggets guard Ty Lawson, everything was fair game for a team fighting to stay alive in the playoffs.
"We have to match their physicality," Lawson said. "The first couple of games, they were checking us. Draymond Green and their bigs hit us when we came to the lane like we did to them tonight. We just have to even it out, even the score."
The Nuggets upped the physical ante in the process of extending the series. The only thing they didn't do was put doubt in the mind of the Warriors.
Jackson and Richard Jefferson made the same point on their way out of the arena: Despite everything the Nuggets had going for them the Warriors were back within five points late in the fourth quarter.
They know what they have to fix, they doubt Curry will miss another six out of seven 3-point shots and they know their home crowd will be much more primed and ready than the Denver fans were Tuesday.
"We were two possessions away from getting it done," Curry said. "We feel good about where we are."
They're in the playoffs, up 3-2, learning as they go.
ESPN.com senior writer since 2007
Around The Horn panelist
Formerly at Los Angeles Times
The NBA Playoffs On ESPN.com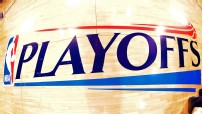 Follow the NBA playoffs on ESPN:
Twitter / Facebook / Google+
LATEST CONTENT
SERIES PAGES
Chris_Broussard

Chris Broussard


Man, @KyrieIrving was doing some Globetrotter stuff in that Cavs scrimmage today. Just saw it on SC. Oh my!
about 4 hours ago

mcten

Dave McMenamin


New story: All the sights and scenes from CLE as nearly 17,000 people packed LeBron's homecoming scrimmage http://t.co/HauyOafx2k
about 5 hours ago

ESPNNBA

NBA on ESPN


Carmelo Anthony says he's "the most underrated superstar" in the NBA. http://t.co/rv8Pp31RCP
about 7 hours ago

ESPNNBA

NBA on ESPN


Shane Battier reminisces on training camps from days past with @tomhaberstroh on @TrueHoopTV. http://t.co/VqpjMrxhRL
about 7 hours ago

kevinarnovitz

Kevin Arnovitz


Still a purist about some things: You're hosting a playoff game, Pirates. Put on your starchy home whites. Not those pajama tops. Yeesh.
about 7 hours ago

Chris_Broussard

Chris Broussard


My pick for Rookie of the Year. Bigger question: will Jabari become a superstar? http://t.co/nLPN3qP6It
about 7 hours ago

Chris_Broussard

Chris Broussard


J Kidd says he's happy n Milwaukee, looks 4ward to teaching their young players, they have right plan & bright future http://t.co/nLPN3qP6It
about 7 hours ago

mcten

Dave McMenamin


Blatt on LeBron: "I think overall he's fine. He's got a little bit of back soreness & we'll monitor that carefully & we won't overlook it"
about 7 hours ago

mcten

Dave McMenamin


David Blatt: "The obvious question is: 'Who is the starter, Tristan or Andy?' And I can tell you, I don't know."
about 7 hours ago

ESPNNBA

NBA on ESPN


After two straight trips to the East finals, the Pacers are headed in the wrong direction, writes @WindhorstESPN. http://t.co/IMs5TmqNLI
about 7 hours ago

kevinarnovitz

Kevin Arnovitz


Alma to host 2006 NBA games in 2015 RT @AriTaymor Yes, i did just hold up opening the restaurant so we could listen to sandstorm by darude.
about 7 hours ago

ESPNNBA

NBA on ESPN


Wilt Chamberlain puts his stamp on the world. ... Literally. http://t.co/P0KhK1Ztbx
about 7 hours ago

mcten

Dave McMenamin


David Blatt had a laugh after the scrimmage when an Israeli reporter ribbed him about taking a selfie with a fan during game action
about 8 hours ago

mcten

Dave McMenamin


The Cavs wrap up the scrimmage after three quarters. LeBron sat out the third.
about 8 hours ago

mcten

Dave McMenamin


Stats don't matter here at all, but for those who are curious: LeBron has 13 pts on 6-for-13 shooting with 3 reb, 2 ast in 19 mins so far
about 8 hours ago

tomhaberstroh

Tom Haberstroh


Veteran Duke move (see: http://t.co/dXGqKLGWFh) RT @Lakers: Injury: Ryan Kelly suffered a moderate left hamstring strain. Out indefinitely.
about 9 hours ago

mcten

Dave McMenamin


LeBron takes the court at The Q for the first time in more than four years as a Cavalier. http://t.co/mtwR26mB3Q
about 9 hours ago

tomhaberstroh

Tom Haberstroh


BREAKING: M-V-P chants for Dwyane Wade at Heat scrimmage.
about 9 hours ago

mcten

Dave McMenamin


LeBron hears it from the crowd during pregame (well, pre-scrimmage) player introductions. http://t.co/BhYzLp2on5
about 9 hours ago

mcten

Dave McMenamin


LeBron is again wearing two gold chains around his neck for this live-action scrimmage.
about 9 hours ago