The Boston Celtics and Los Angeles Lakers are both trying to dig out of 0-2 holes. Steph Curry and the Golden State Warriors return home looking to take a 2-1 series lead. Our crew breaks down the trio of Friday night games.
1. Is this how it ends for these Celtics?

Henry Abbott, TrueHoop: Yes. It's becoming increasingly clear that this roster needs more than the return of Rajon Rondo to contend. The critical blow: that the Celtics' offense has been so amazingly bad that it has made the Knicks look like they have the best defense in the world. The Knicks do not have the best defense in the world.
Dave McMenamin, ESPNLosAngeles.com: As good as the Knicks looked in Games 1 and 2, Celtic Pride will kick in back at TD Garden, and Boston will win Game 3. Jeff Green and Avery Bradley shot the ball terribly in Game 2; being back in Boston should help them find their range again.
Brian Robb, Celtics Hub: Boston's season likely will end against the Knicks. However, I don't see a first-round loss as the swan song for the core of Paul Pierce and Kevin Garnett. Rajon Rondo will plead this offseason for both players to push off retirement and wait for his return to action next season. I expect the trio to re-form for one final playoff run together next season.
Ethan Sherwood Strauss, Warriors World: Yes, and in reality, it's been over in terms of championship chances for a while. Last season was deceptive, as the Celtics benefited from injuries to Derrick Rose and Chris Bosh. It's commonly said that they were one game away from beating Miami, but the other perspective is that they were one quarter from losing to the eighth-seeded Philadelphia 76ers. Currently, the KG-era squad is too old and depleted to rally against New York.
Brian Windhorst, ESPN.com: No. It ends when Kevin Garnett and Paul Pierce call it a career, although that is clearly within sight for KG. This season's chances ended when Rondo went down. I thought in March they might have enough to scrap into the second round, but they just don't. They're getting nothing out of their bench, in which they invested so much last offseason, and their point guard play, if you can call it that, is untenable. They probably have a win in them yet, but it's just a matter of time before the Knicks take them out.
---
2. Is this how it ends for these Lakers?

Abbott: No. Well, the real answer is probably. But it's too soon to say they can't pull a rabbit out of this hat next season. Any team with Kobe Bryant and/or Dwight Howard has a chance, and they might have both. And, of course, they always have lots of money to spend.
McMenamin: Yes. The Lakers have been a bit like the Black Knight in "Monty Python and the Holy Grail" this season. They kept fighting despite all of the injuries that plagued their roster, but at this point -- with Kobe Bryant, Steve Blake and potentially Steve Nash's absence having them relying on Darius Morris and Andrew Goudelock in a must-win Game 3 -- they're just a lifeless stump that the Spurs will sidestep on their way to the second round.
Robb: Yes. A nightmare season in terms of health and team chemistry will come to a merciful end at the hands of the Spurs in five games. Given the team's alarming luxury-tax situation next season, it's hard to envision both Pau Gasol and Dwight Howard returning to L.A. after this summer. A long offseason featuring many tough decisions awaits the Lakers' front office.
Strauss: Yes, but take my words with a grain of salt: I was dumb enough to think they could win this series. There are just too many injuries on the perimeter right now to even offer a glimmer of hope. Steve Nash getting epidurals? Steve Nash in a wheelchair? Steve Blake with a hamstring strain? Jodie Meeks with a torn ankle ligament? The flurry of bad news keeps going, almost accelerating as the Lakers get closer to the assured end. With no guards, there's just no way.
Windhorst: No. I think they may bring the gang back for next season. I'm not sure I would do it that way; I would probably seriously think about amnestying Kobe and then trading Gasol to rebuild with shooters and better defenders around Howard. But that's easy for me to say, I don't have to explain it to a few million Kobe fans. They're toast this year, but then, we knew that in about February. It's been a long, strange and hard season, to say the least.
---
3. Do the Warriors have the upper hand in the series?

Abbott:
No. They have turned a long-shot series into a toss-up, which is a big accomplishment. But anything can happen, especially if Stephen Curry is really as beaten up as they say he is.
McMenamin: No. They managed to flatten the Nuggets' impressive Pepsi Center streak (soda ... flatten ... get it?), but lost David Lee for the season after Game 1 and have a hobbled Stephen Curry coming into Game 3 as he deals with a left ankle sprain suffered in Game 2. Not that Denver is totally healthy, either (Danilo Gallinari out, Kenneth Faried recovering from an ankle injury), but those were pre-existing injuries coming into the series.
Robb: Calling it the upper hand may be a bit misleading. The Warriors do have home-court advantage now, but overcoming the absence of David Lee for one game does not give them the series. The Nuggets will make adjustments to their small-ball lineup and should play with a renewed sense of urgency. The important thing for the Warriors now, though, is that they have confidence they can win without Lee.
Strauss: Yes, and that upper hand is crimped downward in a sweet follow-through. These guys can shoot, as their coach is all too eager to remind you. It's an evenly matched series, but it's hard to say that Denver has an upper hand with the way its defense looked last game. We can fixate on how GSW's historic shooting mark should regress to the mean, but that ignores how wide-open Klay Thompson and Jarrett Jack were on those 3-point attempts. Will the Warriors shoot over 60 percent in a game again? Probably not. But if their shots remain that wide-open, they'll win the series anyway.
Windhorst: No, although getting that win in Denver was enormous and so impressive. I do expect them to take the lead in the series by winning Game 3. But overall, I think the biggest thing working against them is their inexperience. Not only do they have a lot of young players, they have a group and a coach with very limited playoff experience. While that hasn't been an issue so far, history tells us the learning curve will arrive at some point.
---
4. Which player has been more impressive in the playoffs: Melo or Curry?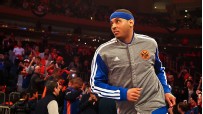 Abbott: Carmelo Anthony. He has shot the ball way more and still has a better true shooting percentage. Yes, Curry has played more minutes and passed the ball far more effectively. But I'd venture to say, without a lot of conviction, that maybe Melo's defense has been a little better than Curry's. Or, at least, he has been on the floor while some good defense has been played. (But see question No. 1.)
McMenamin: Carmelo Anthony averaged 35 points in two wins to start the series, Curry averaged 24.5 points and 11 assists, so the numbers of both are good, but the Knicks are up 2-0 and the Dubs are tied 1-1. Got to give the nod to Melo.
Robb: Carmelo Anthony. Melo has had to face the tougher defense in Boston, and a variety of defenders in Jeff Green and Brandon Bass who have covered him very well. Despite this challenge, Anthony has been a model of efficiency for the Knicks' offense, bailing his team out with tough shots.
Strauss: I'll go with Melo because Curry's mostly impressing those who never saw him before. Steph's games were in the wrong time zone, played by the wrong team. I wouldn't say that Curry's playing above and beyond the usual -- it's just that casual fans are getting exposed to how awesome the usual is. Carmelo, on the other hand, is playing above and beyond his impressive averages. After a 2011-12 season of turmoil and slights, Anthony has looked every bit the superstar this season, and he's looked even better in the first two postseason games (35 PPG, 5 3-pointers average).
Windhorst: Probably Curry. Moreso because Melo has really just been his average so far. He's the scoring champ, you figure he's going to score a lot. He hasn't had a great game yet, though I'm sure that is coming. The Warriors' win in Denver is the most impressive thing we've seen thus far, and Curry was the reason why.
---
5. Fact or Fiction: All three road teams will win Friday.
Abbott: Fiction. Nuggets vs. Warriors is enough of a toss-up, and the Knicks aren't exactly a "never have an off night" kind of outfit. For that matter, maybe the crazy up-against-the-wall Lakers situation creates a weird one-off result. Out of the Warriors, Celtics and Lakers, I predict somebody will figure it out.
McMenamin: Fiction. I've covered games where all three of those arenas were going absolutely bonkers for their home teams. I can't see the home-court advantage not kicking in for at least one of those teams.
Robb: Fiction. The Spurs' chances look promising to steal a road win in L.A., given how short-handed the Lakers will be for Game 3. Boston and Golden State have incredible crowds at home, though. I don't see both of those teams falling on their home courts in a pivotal Game 3 with the boost they'll be getting from their fan bases.
Strauss: Fiction. Home court matters, and I don't exactly want to rely on the Nuggets waltzing out of the Oracle noise machine with a victory. Granted, it could certainly happen. I just wouldn't bet on it.
Windhorst: Fiction. No way. Game 3s are very often the outlier in a series.


ESPN.com
Brian Windhorst and Henry Abbott cover the NBA for ESPN.com. Dave McMenamin covers the NBA for ESPN Los Angeles. Brian Robb and Ethan Sherwood Strauss contribute to the TrueHoop Network.
• Follow the NBA on ESPN on Twitter | On Facebook | On Google+