Who has the edge heading into Round 2? Our 5-on-5 panel breaks down the Eastern Conference semifinal matchup between the Indiana Pacers and the New York Knicks.
1. Who faces the most pressure on the Pacers?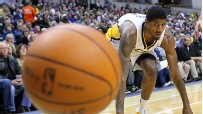 Jim Cavan, KnickerBlogger: Paul George. He began to look like a top-tier defensive stopper in his breakout third season. George will certainly have his hands full against the league's leading scorer, Carmelo Anthony, though Anthony's nagging shoulder could give George the slight advantage he needs and, if things pan out, the confidence to square off against LeBron.
Israel Gutierrez, ESPN.com: Paul George. I'd like to say David West, given how well his team responded once he got his game going against the Hawks. But this is a different series, and George will be most responsible for defending Carmelo Anthony.
Robert Silverman, KnickerBlogger: Roy Hibbert. If he can discourage the Knicks' pick-and-roll generators at the rim while simultaneously shadowing the alley-oops hunting Tyson Chandler, the Pacers stand a good chance of coaxing the Knicks into the stagnant, iso-heavy chuckery that was almost their undoing in the first round.
Jared Wade, 8 Points, 9 Seconds: Paul George. His potential has been touted since Indiana lost to Chicago in the 2011 playoffs. He ascended this season, earning an All-Star nod and the Most Improved Player award. If Indiana loses and he falters, George's stock will fall the furthest. But a great series could propel him into the not-quite-household-name-guy-who-hoop-heads-adore territory once occupied by wings like Brandon Roy and Manu Ginobili.
Brian Windhorst, ESPN.com: Roy Hibbert. Hibbert had a golden opportunity to make a difference in last season's playoff series against the undersized Heat, and he had exactly one good game. He's played better in the second half of this season after a terrible start and had a quality series against Atlanta. His most important role, other than to protect the rim, may be to keep Tyson Chandler honest so he can't play safety, as he prefers.
---
2. Who faces the most pressure on the Knicks?
Cavan: Amar'e Stoudemire. STAT is by no means a shoo-in to play this series, but if he does, he'll be doing so without the luxury of the learning curve he enjoyed earlier this season. Fair or not, Amar'e is seen these days less as a binding agent in waiting and more as an unnecessary ingredient that could muck up the whole recipe.
Gutierrez: Mike Woodson and his point guards. The Knicks abandoned their offense far too often in the first round and relied on isolations. Somehow, Woodson has to convince his team to stick to the offense that worked so well for segments of the season -- even if it means Raymond Felton and Jason Kidd wrestling the ball out of Melo's hands.
Silverman: Carmelo Anthony. Despite reaching the second round for only the second time in his career, Melo hardly lit up the Celtics, missing 19 consecutive 3-pointers and shooting an ungainly 38.1 percent from the field, mainly via a series of inefficient, midrange heaves. He needs to return to a semblance of the form he showed in April for the Knicks to prevail.
Wade: Carmelo, naturally. The Knicks didn't trade all those players for Anthony so he could make the regular season watchable. New Yorkers expect their team to play late into spring. Fans in the city know basketball; they understand that Indiana is stout competition. But they will view losing in the second round to a nationally unheralded team like Indiana -- especially considering the '90s history -- as a major failure.
Windhorst: Can't see any other answer than Melo. I know he was celebrated for his few hoops at the end of Game 6, and those should not be dismissed. But he's shooting 30 percent over his past three games, he's got an injured left shoulder that looks like it's bothering him more than he's letting on and, most distressingly, the Knicks' offense is breaking into iso ball more than ever when under duress. That means a whole lot on Melo's not-so-healthy shoulders.
---
3. What's the most intriguing matchup in this series?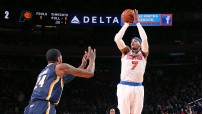 Cavan: Lance Stephenson and J.R. Smith. The two have come close to trading blows a couple of times recently, and the bright lights and high stakes should put both even more on edge. Stephenson knows how crucial Smith's productivity is to the Knicks, so expect him to leech under Earl's skin early and often.
Gutierrez: Lance Stephenson versus J.R. Smith. Stephenson is a starter, and Smith is not, but both will be on the court together plenty. That means two of the league's more impulsive, volatile players will be butting heads often. It has all the makings of a contentious clash.
Silverman: Iman Shumpert versus Paul George (when the Pacers have the ball). George will be tag-teaming Melo along with the brutishly strong and surprisingly nimble David West. But Shumpert, who did yeoman's work marking Paul Pierce and picking off wayward passes, will similarly be tasked with throttling George, one of the few Pacers capable of creating his own offense off the dribble.
Wade: Headline-wise, Anthony versus George. Basketball-wise, Frank Vogel versus Mike Woodson. Indiana is one of the few play-big offenses left in the NBA, and that personnel is the foundation of its defensive philosophy. Meanwhile, New York is the epitome of the NBA's modern, smaller, spread-you-out scoring attack. Adjustments are inevitable. One team will have to buck its identity and acquiesce, somewhat, to the other's style. The coaches will make those strategic decisions.
Windhorst: Whomever Lance Stephenson is guarding at any time. This is half for entertainment value and half because when Stephenson plays well, it makes a big difference for the Pacers. Indy also isn't very deep at the wing spots and they need production from him. He's bound to trade off guarding Melo with Paul George and he's also bound to try to get under Melo's skin.
---
4. Who or what is the X factor in this series?
Cavan: Tyson Chandler has, for the most part, had Roy Hibbert's number of late. Even if the Pacers' defense is firing on all cylinders, it'll need someone other than Paul George to step up on a consistent basis. Hibbert has the ability to give the thin Knicks backcourt endless fits, but actually doing it will be tantamount to the team's success.
Gutierrez: Raymond Felton. He can be New York's third consistent scorer, capable of putting up numbers against even the best defense in the Eastern Conference. But if he defers to Anthony and Smith too often, or if his aggressiveness translates into wild shots, then the Knicks could be entirely out of sorts.
Silverman: Amar'e Stoudemire. The absolute definition of an X factor, STAT could provide a deadly low-post scoring option in limited bursts. Or he might end up lumbering around on defense like a rusty '77 Chevy Nova, and discombobulating the rotation by encouraging Woodson to shift Melo back to small forward to accommodate his presence.
Wade: Lance Stephenson. When these teams play bad, the reasons why are obvious: New York fails to stop people, Indiana fails to score. There aren't many unknowns. Guys either do what's expected or they don't. But Stephenson is the one less-vital player who could swing games by playing over his head. If he scores 20 a few times or racks up big assist numbers, Brooklyn's native son could be the difference.
Windhorst: Pablo Prigioni is one of the most underrated players in the postseason. He does so many things for the Knicks, none more important than getting them into their offense. The more he plays, the more focus the Knicks seem to play with. It would be wise for Woodson to play him a little more late in games.
---
5. Who wins this series and in how many games?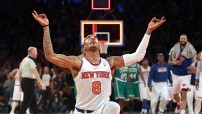 Cavan: Knicks in 7. While New York got a heavy dose of D-first evangelism from Boston in Round 1, Indiana sharpened its ax against a middling Hawks offense. The Knicks' attack -- when not overly dependent on iso-Melo -- is a different beast altogether. I expect each game to be close, with the difference being the Knicks' ability to get buckets when they need them most.
Gutierrez: Pacers in 6. This might strictly be a reaction to how the Knicks played against the Celtics -- and that's a trap people fall into too often -- but if New York had trouble scoring against Boston, it won't get any easier against Indiana.
Silverman: Knicks in 7. We'll be unpacking all of our favorite military/war metaphors for this low-scoring, grueling (and at times painful to watch) grind-it-out affair; a series that'd make Dale Davis, Antonio Davis, Charles Oakley and Anthony Mason grimly nod their battle-scarred heads in approval.
Wade: Pacers in 7. I actually believe being able to score is more important than being able to stop people from scoring in today's NBA. But I think Indiana's best-in-league defense will show up all series long while New York will slog through a few low-scoring games. Expect some double-digit victories each way with the Pacers managing to outlast the Knicks just enough in a few other games.
Windhorst: Knicks in 6. This is a series I've been looking forward to for a while, even though it will probably be quite ugly and a popular target for people to rip East basketball. But I wish the Pacers were playing more like they were in March.


ESPN.com and the TrueHoop Network
Brian Windhorst and Israel Gutierrez cover the NBA for ESPN.com. Jim Cavan, Robert Silverman and Jared Wade contribute to the TrueHoop Network.
• Follow the NBA on ESPN on Twitter | On Facebook | On Google+