The San Antonio Spurs made quick work of the Memphis Grizzlies in Game 1. Will the next showdown be more of the same? Our panel, which includes former NBA Sixth Man of the Year Jamal Crawford, addresses the pressing questions heading into Game 2 (ESPN, 9 ET).
1. Fact or Fiction: Game 1 changed how you view this series.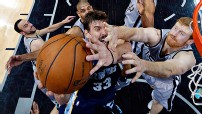 J.A. Adande, ESPN.com: Fiction. Game 1 validated my beliefs that the Grizzlies would have some stage fright and the Spurs would have more scoring options. Felt good to be so right for a change.
Jamal Crawford, Los Angeles Clippers: Fiction. I thought Memphis matched up well with San Antonio coming into the series. The Grizzlies never really challenged the Spurs in Game 1, but I still think it will be a long series. I think the beauty of playing on the road is no matter whether you lose by one or by 30, you just want to split the trip.
Andrew McNeill, 48 Minutes of Hell: Fact. Simply labeling Game 1 as a complete one-off is misguided. I don't think the Spurs will get what they want when they want it for the rest of the series, but San Antonio went into Game 1 with a specific game plan for beating the Grizzlies and it worked. The results were extreme, but the effects could largely be sustainable.
Danny Nowell, Portland Roundball Soc.: Fact. I'm still thinking Memphis can win this, but how could this not change your view? To say nothing of the Spurs' masterful execution, the Griz are now in a mathematical hole. I'm sticking to my Memphis prediction, but the ice is thinner than it was two days ago.
Marc Stein, ESPN.com: Fiction. Not yet. It's too soon. Another San Antonio rout probably would, but who's really going to be surprised if the Spurs go completely cold from outside and Memphis steals Game 2?
---
2. Fact or Fiction: Zach Randolph will bounce back in Game 2.
Adande: Fact. It wasn't just the off shooting; it was the passivity when it came to fighting for post position against the Spurs' fronting defense. If he uses his backside assets more aggressively, he can still get the ball where he wants it, and there's no way he continues to miss so many shots from in close.
Crawford: Fact, from what I know about "Z-Bo," having played with him in New York and played against him in the first round. Whenever he has a subpar game by his standards, he takes it personally and always bounces back. I think that's one of the great things about him: He accepts that challenge.
McNeill: Fact. How much he bounces back, though, is the concern. To say Z-Bo was a nonfactor is putting it kindly. He killed the Grizzlies, and the Spurs were largely to blame for that. I expect Randolph to be more of a factor offensively; that's not in doubt. But how will the Grizzlies hide his defensive shortcomings?
Nowell: Fact. Mostly. I believe the Spurs will continue to throw every intelligent method they have at disabling Memphis' most consistent source of buckets. But Randolph has been around long enough that I expect him to have at least a few adjustments of his own for aggressive coverage. If only a bit, he'll improve.
Stein: Fact. He's too skilled offensively not to look more Z-Bo-esque on Tuesday night. But Memphis is going to have to find some perimeter shooting from somewhere. The Grizzlies' starters didn't attempt a single 3-pointer in Game 1. What do the Spurs have to lose swarming Z-Bo if there's no one on the weak side who can punish them?
---
3. Fact or Fiction: Tony Parker is the best player in this series.
Adande: Fact. His best can have the biggest impact. When he's on, the Spurs look elite. Marc Gasol has the most capability of affecting the game on both ends; he just doesn't do domination.
Crawford: Fiction. I love Parker's game, and even with all he has accomplished, I feel he's underrated. But Mike Conley is really making a name for himself in these playoffs, and I think they will cancel each other out for the most part. At the end of the day, I think this series will come down to the bigs on both sides.
McNeill: Fact. I'll throw in the caveat about him being completely healthy. Parker doesn't have much of an effect on the defensive side of the ball, but his offensive impact makes the entire system click. He creates points for himself, gets into the lane and knows exactly where his open shooters are stationed.
Nowell: Fiction. I have Marc Gasol still here, although TP has proved himself many times capable of owning a postseason series.
Stein: Fiction. I'll co-sign the notion that Parker doesn't get enough credit when we talk about the elite point guards in this game. But I still say that everything in the Spurs' universe revolves around Tim Duncan, even after his subpar shooting in the Golden State series and his modest Game 1 numbers.
---
4. Fact or Fiction: 3-point defense is Memphis' biggest concern.
Adande: Fiction. The first step toward slowing down San Antonio's 3-point barrage is stopping the penetration (via both the dribble and the pass) that created it. Staying home with the outside shooters will only make the middle more vulnerable. If I'm Memphis, I'm willing to see whether the Spurs can hit 14 3-pointers every game.
Crawford: Fiction. I think the Grizzlies' biggest concern is keeping the Spurs' guards outside the paint. Once they do that, they have too many options, and they always make the right play. The Grizzlies won't have to collapse their defense, which spreads them out and gives up the 3-point shot.
McNeill: Fiction. Three-point defense is a major concern, but that starts with the initial penetration. Dealing with the Spurs' pick-and-roll and stopping the penetration there is the primary concern. If the Grizzlies stop or at least slow that, it limits the number of open looks on the perimeter that Matt Bonner, Danny Green & Co. are likely to see.
Nowell: Fact. This hasn't changed since before the series. When you play the Spurs, 3-point defense is always the main concern.
Stein: Fiction. Closing out to San Antonio's 3-point shooters effectively is certainly up there on the Grizzlies' to-do list, but I wouldn't put it quite at the top. They've managed to be an elite defensive team all season with Z-Bo and his, uh, slow-footed-ness on the floor most of the time. Getting enough shooting to loosen things up around their two big men strikes me as the bigger worry.
---
5. Fact or Fiction: The Spurs will win Game 2.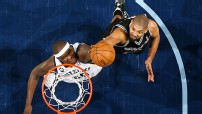 Adande: Fact. Memphis will close the gap. Randolph will play better, and there will be some new defensive wrinkles. But the flip side is, Tim Duncan won't shoot 33 percent again, either. As dominant as the Spurs looked in Game 1, they still had room for improvement -- enough room to counter the improvement that's sure to come from the Grizzlies.
Crawford: Fact. The Spurs will win Game 2 but that doesn't mean this series will be any easier. One of the Grizzlies' strengths is how they figure out what you like to do and adjust to it. They did it the first two rounds, and I don't think this series will be any different.
McNeill: Fact. Expecting the Spurs to roll like they did in Game 1 is unwise. The Grizzlies will adjust to the Spurs and play harder in Game 2. That said, I don't know whether Memphis will be able to cover all the areas in which the Spurs took advantage, especially on the pick-and-roll. Expect a close Spurs win in Game 2.
Nowell: Fiction. I picked the Grizzlies in six before the series, and since that's not technically out of the question, I'm holding. I have too much respect for the Grizzlies' ability to bend a series to their will over time to write them off now.
Stein: Fiction. This really feels like one of those times when Game 1 was so lopsided that it actually helps the routed team get lasered in for a big response in Game 2. At least that's my "ever-reliable" gut feel.


ESPN.com and the TrueHoop Network
J.A. Adande and Marc Stein are senior NBA writers for ESPN.com. Andrew McNeill and Danny Nowell are part of the TrueHoop Network. Jamal Crawford is a 13-year NBA veteran with a great crossover.
• Follow the NBA on ESPN on Twitter | On Facebook | On Google+