Will it be four and out for the Memphis Grizzlies? Our panel breaks down the Western Conference finals with the blue bears on the brink of postseason extinction heading into Game 4 (9 p.m. ET, ESPN).
1. Who or what is the most pleasant surprise of the West finals?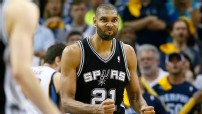 J.A. Adande, ESPN.com: Watching Tim Duncan take control in the overtime period -- watching him want to take control -- is refreshing and inspiring. He's the oldest player on the court and he seems to have the most desire. Those two things are probably related, as he has plainly articulated his need to get back on the big stage one more time.
Israel Gutierrez, ESPN.com: There's not much pleasant about the Grizzlies in this series, and not much surprising about the Spurs. So I'm going with Matt Bonner. It's not just his four 3s in Game 1, but he managed 27 minutes in Game 2, has a couple of blocks in the series and is holding his own inside.
Brett Koremenos, HoopSpeak: The revival of Tim Duncan. After being benched at the end of the final game in the Golden State series, Duncan opened the Western Conference finals with a rather forgettable performance in Game 1. It was a worrisome stretch for the Spurs and made it seem possible that at 37, the legendary big man was no longer equipped to handle a deep playoff run. But in the past two games Duncan has been sensational, turning back the clock and playing like the player he was in 2005, surprising perhaps both NBA fans and the Grizzlies alike.
Andrew McNeill, 48 Minutes of Hell: Matt Bonner proving the naysayers wrong. For a guy who has a rep as not coming through in the playoffs, Bonner's doing all right. The Red Rocket/Mamba is averaging 8.3 points per game on almost 55 percent shooting from the 3-point line in the conference finals. He's also been a major piece of San Antonio's physical interior defense.
Ethan Sherwood Strauss, ESPN Insider: Tim Duncan got his groove back -- or his wizard's wand, gaming headset, whatever can properly metaphorically qualify as Timmy falling back into a comfort zone. He often looked gassed against the Warriors, and his shot fell flat for long stretches. Somehow, against the Grizzlies, he's found the fuel to dominate two overtimes. All hail one of the best big men we've ever seen.
---
2. Who or what is the biggest disappointment of the West finals?
Adande: This was supposed to be Mike Conley's opportunity to go from underappreciated to understood. The basketball world could get a chance to see he belonged among the upper echelon of point guards in the league. But he has yet to have a 20-point game for a team that needs scoring punch. The end of regulation in Game 3, when Conley had time to orchestrate a good shot but couldn't get one and missed, was a microcosm of his series.
Gutierrez: Zach Randolph, and there isn't even a close second. He's shooting 30 percent for the series against a team he dominated two postseasons ago. He didn't take a free throw in Game 1, which seems impossible for someone with his game, and he has gone 7-of-16 from the line since. Without Randolph going to work, too much of a burden falls on Mike Conley.
Koremenos: The random Memphis rotation. Memphis coach Lionel Hollins has been mixing far too much this series, especially in Game 3, when he banished Darrell Arthur to the bench in favor of the overmatched duo of Ed Davis and Jon Leuer. The Grizzlies may not have been equipped to handle the Spurs, but their rotations certainly didn't help matters.
McNeill: That it's not going much longer. At this point in the playoffs, with only four teams remaining, you would hope that each series would go at least six games. But the Spurs are experts at putting teams out of their misery in a playoff series, and this one looks like it's headed for a swift conclusion this week.
Strauss: Zach Randolph has played like an amnesty candidate in this series. Some of it isn't his fault. When Tony Allen and Tayshaun Prince are in the game, San Antonio's sending its defenders Z-Bo's way. But even considering the cramped circumstances, Randolph's 12-of-40 shooting has been awful. He was the difference against the Spurs in 2011, and he's been the difference against the Spurs in 2013 for a very different reason.
---
3. This is the Spurs' best team since ...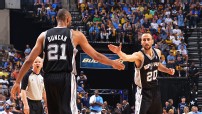 Adande: Gotta say 2006-07. That's the last time the Spurs won 11 playoff games. And even though the core has grown older, the supporting cast for this squad is younger. The Spurs have done a nice job of adapting.
Gutierrez: Last season. Just because that team didn't make the Finals doesn't mean it wasn't as good as this year's Spurs. It's quite possible the Thunder, even without James Harden, could've beaten the Spurs this year, too. Just goes to show how top-heavy the West is when healthy.
Koremenos: The 2005-06 San Antonio team that lost to Dallas in the Western Conference semifinals. Duncan and Manu Ginobili may not be anywhere near the players they were in '06, but Tony Parker is better than ever. This year's Spurs team also has better frontcourt depth than most of the groups from years past and two wings in Kawhi Leonard and Danny Green that represent the best perimeter duo the team has had since Michael Finley and Bruce Bowen were in black and silver.
McNeill: 2002-03. Tim Duncan isn't as good as he was in the mid-2000s -- though you wouldn't know it by his performances in these playoffs -- but the cast of characters around him is as good as he's ever had. Unlike most of San Antonio's championship teams, the 2012-13 Spurs have the ability to play any style and win.
Strauss: Last year's Spurs team. Manu Ginobili was better and the offense hummed like a dishwasher from the future. This (more defensively able) Spurs team is nearly as good, but it has the advantage of never having to face Kevin Durant, Russell Westbrook and James Harden. This year's Spurs team may well have beaten this year's Oklahoma City team, but I don't believe that this year's Spurs team would beat the 2011-12 Thunder.
---
4. What do the Grizzlies have to do differently in Game 4?
Adande: Get back to who they are. Don't try to win the game with 3-pointers again. Run the offense through Marc Gasol; let him shoot jumpers or feed Zach Randolph with high-low passes.
Gutierrez: Contain Tony Parker. Is there a way to actually contain him? That's another question entirely. He's nonstop, he's quicker than anyone on the floor, he makes about five good decisions per possession and he's surrounded by shot-makers. So good luck with that.
Koremenos: Play Quincy Pondexter. Memphis needs to be able to keep the floor spread for their big men and Mike Conley. Pondexter needs to be put on the floor as much as possible while avoiding the fouls that plagued him in Game 3.
McNeill: Play the entire game like they did the first quarter of Game 3. Maybe they don't have to force eight turnovers a quarter, but the Grizzlies were physical with the Spurs and didn't let them get to their spots. Memphis looked the best it had all series by slowing the Spurs and getting some easy points off turnovers.
Strauss: In general, they need to play better pick-and-roll defense. That's easier said than done, especially if Jerryd Bayless is on the floor. I'd suggest playing less of Tony Allen, though he did have a great first half in Game 3. The Spurs have schemed for Tony's weaknesses and there just isn't enough space on the court.
---
5. How many games total will this series last?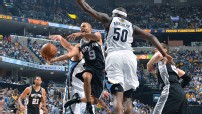 Adande: The Spurs have closed in their first two opportunities of these playoffs and they'll take care of business in this one. The lure of extra days off is too appealing to them. And probably necessary, too.
Gutierrez: Four. The Spurs would need to go ice cold for the Grizzlies to win Game 4. Belief can only go so far. At some point, the Spurs will make a run, similar to that in Game 3, that will demoralize the Griz and have them facing the inevitable. If Parker had never injured his ankle late in the season, this is what many would've expected anyway.
Koremenos: Five. Memphis may have the tenacity and resolve to win Game 4 at the Grindhouse, but there will be no miracle comeback here. This series should be wrapped when the Grizzlies head back to San Antonio.
McNeill: Five. Despite being in a 3-0 hole, it's hard to picture the Grizzlies giving up, especially at home. It seems like Memphis has improved in each game in this series, but the Spurs are clearly the better team. Game 4 could be the case of the Grizzlies having figured out just enough to squeak out a desperation win.
Strauss: Do you really want the opinion of a dope who picked Memphis to win this series? I'll pick five games, which might be generous to the Grizzlies. It looks like the cause of death is a lack of quality perimeter players. Aside from Mike Conley, the cupboard is pretty bare. Since they can't sign a free agent midseries, I'm not sure how the Grizzlies get back in this one.


ESPN.com and the TrueHoop Network
J.A. Adande and Israel Gutierrez cover the NBA for ESPN.com. Ethan Sherwood Strauss writes for ESPN Insider. Brett Koremenos and Andrew McNeill are part of the TrueHoop Network.
• Follow the NBA on ESPN on Twitter | On Facebook | On Google+