PLAYER MATCHUPS
BULLS
HEAT
R. Rondo

PG
G. Dragic

D. Wade
Points: 27.2
Rebounds: 5.7
Assists: 6.7

SG
J. Richardson

J. Butler

SF
J. Winslow

T. Gibson

PF
C. Bosh
Points: 22.5
Rebounds: 9.2
Assists: 2.6

R. Lopez

C
H. Whiteside

PLAYOFF HISTORY
Championships: 6
Championships: 1
Last Championship: 1998
Last Championship: 2006
Last Season:
Lost in Eastern Conference first round
Last Season:
Lost in Eastern Conference finals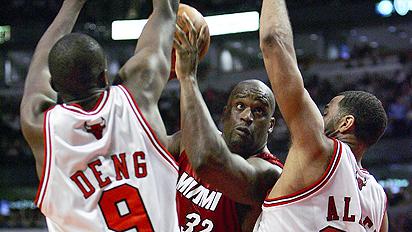 Restless Diesel
Shaq was back in a big way Thursday night, scoring 30 points, pulling down 20 rebounds and energizing the Heat in a 113-96 win that eliminated Chicago 4 games to 2. Miami will face the New Jersey Nets in the Eastern Conference semifinals.
Story
Scouts Inc.
Shaquille O'Neal was locked in and focused to start Game 5. The Heat need him in attack mode for Game 6 in Chicago, especially if Dwyane Wade is limited by his injury.

The Bulls need Mike Sweetney to step up in the next game as he did in Game 5. His steady offensive performance (16 points) will open up some lanes and drives for the three Chicago perimeters if he can duplicate that performance.

• Entire Game 6 scouting report
| Full series scouting report
EXPERT PICKS

Anthony

Broussard

Hollinger

Sheridan

Stein

(In 6)

(In 5)

(In 6)

(In 5)

(In 5)
ESPN RESEARCH
• Heat notes: This is Miami's 11th postseason appearance (seventh under Pat Riley).

• Bulls notes: This is Chicago's second straight postseason appearance since winning three straight NBA titles from '96-98. The Bulls lost to the Wizards in six games in the first round last year.