PLAYER MATCHUPS
LAKERS
SUNS
D. Russell

PG
B. Knight

J. Clarkson

SG
E. Bledsoe

L. Deng
Points: 14.3
Rebounds: 6.6
Assists: 1.9

SF
P. Tucker

J. Randle

PF
M. Chriss

T. Mozgov

C
T. Chandler
Points: 5.3
Rebounds: 9.0
Assists: 1.0

TEAM STATS (Regular Season)
LAKERS
SUNS
PPG
99.4
108.4
RPG
42.2
41.8
APG
21.1
26.6
FG%
45.285
47.858
FT%
74.494
80.610
3P%
.349
.399
PLAYOFF HISTORY
Championships: 14
(5 as Minneapolis Lakers)
Championships: 0
Last Championship: 2002
Last Championship: N/A
Last Season:
Did not qualify
Last Season:
Lost in Western Conference finals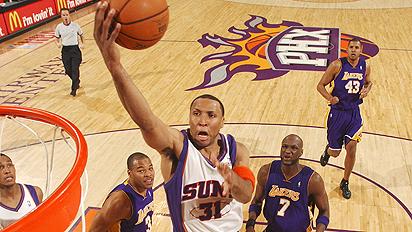 Sun-sational
The Suns played near-perfect ball, Marc Stein reports, to win Game 7 from the listless Los Angeles Lakers 121-90, while Kobe Bryant scored just one point in the second half.
Daily Dime
Scouts Inc.
The big question is: Did Kobe Bryant's 35 field-goal attempts lead to the Lakers loss? Bryant hit 20 out of 35 attempts, so it is hard to argue that he is hurting the team with bad shots, but the Lakers become disinterested on both ends of the floor when they don't get looks from Bryant.

The Suns should be prepared for the Lakers to focus on scoring in the paint in Game 7, but if the Lakers turn the ball over in the paint the way they did in Game 6 the Suns could be the first team to beat Phil Jackson in a series he has led. Jackson right now is 44-0.

• Entire Game 7 scouting report
| Full series scouting report
EXPERT PICKS

Anthony

Broussard

Hollinger

Sheridan

Stein

(In 6)

(In 6)

(In 7)

(In 7)

(In 5)
ESPN RESEARCH
•
Suns notes:
Phoenix advanced to the conference finals last season for the seventh time in team history.
•
Lakers notes:
This is the 53rd postseason appearance in franchise history. The Lakers have missed the playoffs only five times since the 1948-49 season.
---
ESPN Classic is going to air the Suns-Lakers Game 4 as an Instant Classic this coming Friday, 5 p.m. ET.