PLAYER MATCHUPS
BUCKS
PISTONS
M. Carter-Williams

PG
R. Jackson

K. Middleton

SG
K. Caldwell-Pope

G. Antetokounmpo

SF
M. Morris

J. Parker

PF
T. Harris

G. Monroe

C
A. Drummond

TEAM STATS (Regular Season)
BUCKS
PISTONS
PPG
97.8
96.8
RPG
41.2
40.5
APG
21.6
24.0
FG%
45.324
45.486
FT%
73.806
72.718
3P%
.380
.384
PLAYOFF HISTORY
Championships: 1
Championships: 3
Last Championship: 1971
Last Championship: 2004
Last Season:
Did not qualify
Last Season:
Lost in NBA Finals last year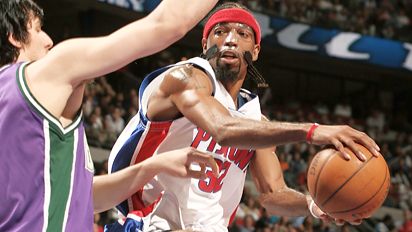 Ripping Good Time
The Pistons' quest for a second NBA title in three years got an added boost Wednesday. Rip Hamilton scored a playoff-career high 40 points as Detroit dominated Milwaukee 122-93, to win the best-of-seven series four games to one.
Story
|
Hamilton highlights
Scouts Inc.
Criticizing the Pistons defense is like saying that the weather could be better in Hawaii. Detroit could do a better job trailing picks and the Pistons could try and deny passing lanes on Michael Redd but when they have to shut a team down, few teams can dominate a possession like they do.

Jamaal Magloire officially has the worst dunk celebration in the history of the game, his hand over his eyes dunk from two feet away was as artistic as a child jumping into a pool with his nose pinched.

• Entire Game 5 scouting report
| Full series scouting report
EXPERT PICKS

Anthony

Broussard

Hollinger

Sheridan

Stein

(In 4)

(In 5)

(In 4)

(In 4)

(In 4)
ESPN RESEARCH
• Pistons notes: This is Detroit's fifth straight postseason appearance. The Pistons made the NBA Finals each of the previous two seasons and won the title in '04.

• Bucks notes: This is Milwaukee's sixth playoff appearance since 1999 after having none from '92-98.


MORE FROM ESPN.com
Pistons teach Bucks that playoffs are different game

The young Milwaukee Bucks have to learn how to win -- and quickly -- against the Detroit Pistons.

Bucks complain Pistons are holding Redd

The Milwaukee Bucks don't have much of a chance against the Detroit Pistons if Michael Redd is held to 11 points again.

Pistons hope Hamilton's ankle will be OK

Pistons trainers were doing everything they could to get Richard Hamilton ready for Game 2 against the Bucks.