Power Rankings: Warriors still No. 1
Updated:
February 23, 2015, 5:15 PM ET
By
Marc Stein
| ESPN.com
Monday, Feb. 23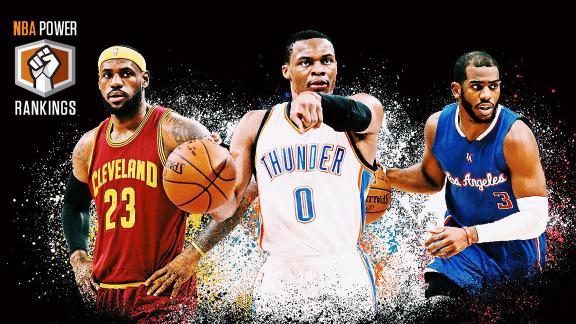 Warriors Still No. 1
Marc Stein and Cary Chow break down Week 17 of ESPN.com's NBA Power Rankings.
Warriors Still No. 1
NEXT VIDEO
The Memphis Grizzlies, for the first time in more than two months, are back in the top two of ESPN.com's weekly NBA Power Rankings.
The top spot, though, remains in the possession of the Golden State Warriors. They weren't going to surrender the summit after one road loss, with Steph Curry out resting a sore ankle, to a hot Indiana Pacers team.
No longer can the Warriors claim to boast a single-digit loss total, but their ongoing dominance in categories such as offensive efficiency (No. 2), defensive efficiency (No. 1) and nightly average point margin (No. 1 at plus-10.6) ensured that the Grizzlies' season-long wait to get a taste of No. 1 would continue.
We'll delve further into this week's order -- with Cleveland rising to No. 4, Oklahoma City edging to the brink of the top 10, and Washington skidding all the way down to No. 18 -- on Stein Line Live. You can comment below on the latest ladder, which as always was compiled with data and research assistance from our friends at ESPN Stats & Information and the Elias Sports Bureau.
2014-15 Power Rankings: Week 17
RANK
TEAM / RECORD
TRENDING
COMMENTS
1

--




Last Week: 1

Amid all the injury panic surrounding Kevin Durant and Anthony Davis, Steph Curry's absence at Indiana (sore foot) went somewhat under the radar. Not by the Dubs themselves, though, since they average 113.7 points per 100 possessions with Steph this season and just 100.4 without him.
2

1




Last Week: 3

The Griz were one of just three teams at the All-Star break with a winning percentage above .700. Each of the last seven NBA champions had membership in the .700 Club at the break. Only you can decide how meaningful that data is in terms of omens for a club that's 14-2 since Jeff Green's arrival.
3

1




Last Week: 2

The Hawks, held below 100 points in four of their last five games, haven't been outside our top two since Dec. 29. Could be worse, though. That mystery committee over at ESPN's Basketball Power Index has Atlanta at a mere No. 11 overall and FIFTH in the East behind the Cavs, Raps and Bulls.
4

2




Last Week: 6

This figures to be the week that LeBron James finally (and firmly) joins the MVP chatter, with his Cavs in the midst of that 16-2 surge dating to Jan. 15 and showdowns looming Thursday (Golden State) and Sunday (in Houston) against presumptive MVP co-favorites Steph Curry and James Harden.
5

--




Last Week: 5

The Raps' 14.5-game lead over Brooklyn in the Atlantic at the All-Star break was the third-biggest division lead at that juncture in league history. Toronto's first five-game road winning streak since 2001, meanwhile, has Team Canada on a 55-win pace. The first 50-win season in team history looms.
6

2




Last Week: 4

Four games left on the Rodeo Road Trip for the Spurs, who are off to an uncharacteristic 2-3 start and have never posted a losing record on this excursion since they started taking these trips in 2003. Another pressing source of curiosity: How much longer before Tony Parker is back to the real TP?
7

2




Last Week: 9

The Clips have followed up a rare four-game skid with four straight wins in which they've scored at least 110 points. DeAndre Jordan is averaging 18.2 PPG and 18.0 RPG when Blake Griffin sits, but quite a test looms for the All-Star snubee Monday night against Memphis' mammoth front line.
8

--




Last Week: 8

It was a quiet trade deadline by Rockets standards, but the December acquisition of Corey Brewer looks more and more like one of this season's better deals. Getting outrebounded by boards-challenged Dallas, however, hushed any suggestions that Houston isn't missing Dwight Howard.
9

2




Last Week: 11

The good news: Dallas certainly played its part in helping the West establish a new record with seven teams reaching the All-Star break at least 15 games over .500 for the first time in league history. The bad news: Dallas has one of the tougher remaining schedules and its own fair share of injuries.
10

--




Last Week: 10

The Blazers, No. 30 in the league in bench scoring each of the last two seasons, had only moved up to No. 28 before trading for Arron Afflalo. TiVo alert: Damian Lillard and Russell Westbrook square off Friday night on ESPN; both scored 40 and flirted with triple-doubles last time they dueled Dec. 23.
11

1




Last Week: 12

Russ Westbrook is a full-fledged MVP candidate, ESPN's Basketball Power Index suddenly rates OKC with nearly 80 percent odds to make the playoffs and the Thunder were widely tabbed as a trade deadline winner. And yet no one in Loud City can dare exhale thanks to the latest KD news.
12

5




Last Week: 7

First, first, fifth and second. That's where the banged-up Bulls ranked in defensive efficiency in Tom Thibodeau's first four seasons. This season? Chicago awoke Monday at No. 13 in DE, which helps explain the underwhelming 13-11 record in 2015 and an average point margin that's down to plus-2.9.
13

--




Last Week: 13

The young Bucks were one of three teams (along with Golden State and San Antonio) to return their top seven players from last season in terms of minutes played. But that was before they traded Brandon Knight in the midst of an 8-1 surge, having already doubled their 2013-14 win total. Bold.
14

4




Last Week: 18

The Pacers, like Detroit, have more playoff momentum than Miami or Brooklyn at the minute. They've won six out of seven, which would have been seven out of seven had they held a 14-point lead in San Antonio on Feb. 9. Imagine if Indy wasn't 3-11 in games decided by three points or less.
15

5




Last Week: 20

The All-Star break came at the right time for the Pistons, who entered it on a 4-7 slide and emerged with Reggie Jackson and two impressive W's. Not sure what Jackson's arrival means for Brandon Jennings -- on top of Greg Monroe's uncertain future -- but the present just got a lot more promising.
16

2




Last Week: 14

If Brandon Knight and Eric Bledsoe mesh, Phoenix can survive its messy parting with Goran Dragic. In the short term, though, there are only questions for the Suns after the rapid deterioration of their relationship with The Dragon and the surrender of that juicy Lakers pick in the deal to get Knight.
17

1




Last Week: 16

The Pels have quietly spruced up their depth with the additions of Dante Cunningham, Quincy Pondexter and Norris Cole, as well as Eric Gordon's return, but Anthony Davis, Ryan Anderson and Jrue Holiday are all ailing anew. Which is to say that the playoffs, just like that, are slipping away.
18

3




Last Week: 15

When you're losing by the margins we've seen from the Wiz since the All-Star break, Bradley Beal's absence isn't going to suffice as an alibi. It's a team in free fall that, thanks to a 2-7 funk, is as close to falling to No. 6 in the East as it is to reclaiming home-court advantage for the first round.
19

2




Last Week: 17

The Celts have somehow managed to flirt with .500 ball (8-10) since the Jeff Green trade, but that's naturally not the focus of the front office. That would be fitting in Isaiah Thomas, Jared Sullinger's recovery, and the nine first-round picks Danny Ainge has amassed over the next four NBA drafts.
20

2




Last Week: 22

The Nets might not have managed to move out any of their out-of-favor cornerstones, but this still has to go down as a good trade deadline when Brooklyn managed to import the long-coveted Thaddeus Young while also shaving its tax bill from $26.2 million to $19.7 million ... after last season's $71 million.
21

2




Last Week: 19

Trivia time: Mo Williams is just the fourth NBA player to record a 50-point game and get traded later that same season, joining Melo, Truck Robinson and Wilt. Not at all trivial: Charlotte has come unstuck again with five straight losses that scream "Kemba Walker can't come back soon enough."
22

2




Last Week: 24

The committee (of one) had the privilege of talking nicknames with Rudy Gobert at All-Star Weekend. The same Rudy Gobert who ranks as the only player in the league who's holding players below 40 percent shooting at the rim at .380, ahead of Ibaka (.404), Bogut (.408) and Hibbert (.424).
23

2




Last Week: 25

It's worth noting, before we get fully immersed in the KG hoopla, that the Wolves are 4-3 in February, with a three-point loss to the No. 1 team on our list. Russell Westbrook is the likely Player of the Month out West, but Kevin Martin and Ricky Rubio certainly merit a mention. Agreed?
24

3




Last Week: 21

Our friends at numberFire say Miami's playoff chances have dipped from 47 percent to 39.8 percent in the wake of the sad Chris Bosh news. The Heat also now face the prospect of signing Goran Dragic to a massive five-year deal without having seen the Dragon and Bosh play a second together.
25

2




Last Week: 23

With a playoff drought dating to 2006, George Karl is officially Sacramento's eighth coach in the last nine seasons. You can already see his impact on the Kings' offense and pace -- as well as Boogie Cousins' outlook -- but lifting them out of the bottom five in defensive efficiency is a huge priority.
26

1




Last Week: 27

Quite a week for the youngest coach in the NBA. First James Borrego was officially informed that he'll be coaching the Magic for the rest of the season. The 37-year-old then picked up weekend wins over New Orleans and Philadelphia to seal Orlando's first three-game win streak in more than a year.
27

1




Last Week: 26

Can Ty Lawson out-dime John Wall for the NBA assist crown? Will the Nuggets, once borderline invincible at home, actually post a losing record at The Can? After a busy trade deadline day, is there anything else worth tracking in Denver besides those two developments and Brian Shaw's future?
28

2




Last Week: 30

Say this much for Byron Scott's Lakers: They sure know how to celebrate those rare occasions when they do win. Can't remember the last postgame gaggle of giddy Lakers around sideline reporter Mike Trudell that didn't make its way onto "SportsCenter." We've also got video of Kobe talking to Grantland.
29

1




Last Week: 28

The departures of MCW and K.J. McDaniels have left the Sixers without a single player ranked in the NBA's top 140 in PER. The top 140, folks. Which is why we said they're trending toward resurrecting those annoying "Can they beat Kentucky?" questions that were so prevalent in November.
30

1




Last Week: 29

Carmelo Anthony has just joined Magic Johnson on the short list of players to miss the rest of the regular season after playing in the All-Star Game, and we're talking about Magic's famed All-Star cameo in 1992. For all other Knicks musings, we simply refer you to Phil Jackson's Twitter feed.