Power Rankings: Champs still No. 1
Updated:
September 26, 2014, 2:42 PM ET
By
Marc Stein
| ESPN.com
Friday, September 26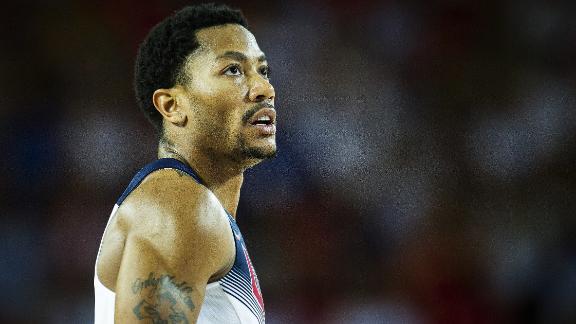 Bulls Rising
Marc Stein on why this summer was critically important to Derrick Rose and the Bulls.
Bulls Rising
With training camps about to open all over the NBA map, ESPN.com's NBA Power Rankings and your faithful Power Rankings committee (of one) are back.
The San Antonio Spurs return to work Friday with media day as our automatic No. 1, thanks to the longstanding tradition in this cyberspace to reserve the top spot for the reigning champs. Yet we have to admit that the Cleveland Cavaliers -- after reacquiring LeBron James and trading for Kevin Love in what has to be regarded as one of the greatest offseasons ever -- sure gave us something to think about and nearly forced a break from tradition. Nearly.
We'll meet up back here every Monday during the regular season to take the pulse of all 30 teams, relying on our trusted formula, sorting them by weighing what's happening in the present in conjunction with that team's big-picture outlook for the season . . . while always allowing for a dash of subjective whim.
Friendly reminder, though: Our preseason edition of the rankings, on top of the grand-scheme stuff, always gives significant weight to a team's personnel successes (or failures) from the summer, as well as any injuries, when making our calculations. Further background on how we established this week's order can be found on Stein Line Live.
The next edition of the rankings is scheduled for Oct. 27, on the eve of opening night, and we'll take the next month to get a better feel for all these teams during exhibition play. You can comment below on the rankings, which are compiled with the usual helpful dishing from ESPN Stats & Info and the Elias Sports Bureau.
Editor's note: The "Record" category reflects how each team finished last season.
2014-15 Power Rankings: Training Camp
RANK
TEAM / RECORD
COMMENTS
1
Back-to-back titles are the only prize to elude the Spurs during these 18 magical seasons. Pop surely will downplay their repeat chances as loudly as anyone, but I'll go ahead and pass on writing 'em off after the whole title team came back and most of the splashy upgrades were made by teams in the East.
2
When several teams enjoy big summers and you are still the clear-cut champs of the offseason -- without having to surrender your East membership -- you tempt the committee (of one) to break its own rules and put LeBron's new (and old) club ahead of everyone. Even the defending champs.
3
Has the conversation changed at last? Instead of all that fretting about Derrick Rose surviving his Team USA summer, Bulls fans have to be hopeful now about how much rust he's already chipped off. OK, OK: Maybe they don't have to be optimistic. But I'd argue that they should be.
4
The Clippers obviously rank as another big offseason winner simply by finally swapping Donald Sterling for Steve Ballmer. Now we'll find out how much on-court inspiration the team can really draw from The Donald's departure ... and how patient Ballmer is if his team can't rise above No. 3 in the West.
5
The Thunder aren't known for fervent free-agent pitches, but they went hard after Pau Gasol. Have to confess we spent a fair bit of the summer imagining what Pau might have done for KD, Russ and Serge, even though they still sit on the short list of true title contenders if all three stay healthy.
6
The Mavs had the splashiest summer of any team in the West thanks to the signing of Chandler Parsons and re-acquisition of Tyson Chandler. Yet those moves merely remind you how crazy deep the conference is, because Dallas can't be sure if it did enough to return to the top four.
7
Steve Kerr will be the coach who takes Golden State to a third successive playoff berth for the first time since Al Attles way back in the mid-1970s. But that'll be the easy part for Kerr, whose crew might have a ceiling of fourth in the West even if everything goes right post-Mark Jackson.
8
Knowing LaMarcus Aldridge intends to re-sign in the summer for the long term has to give the Blazers great comfort. In the short term, though, great challenges await, given the questions that remain about the Blazers' bench and the stiff competition everywhere you look in the West.
9
I can already hear the various jittery Wiz fans I know cursing me for raising expectations. Sorry, guys. I happen to think Paul Pierce has a fair bit left -- and this group's young stars could certainly use the guidance -- and I rightfully expect more from Wall/Beal/Gortat/Nene.
10
ESPN Forecast-ers had trouble choosing between the Raps and Wiz for No. 3 in the East. The Wiz get the slight edge here, but Toronto feels understandably good about its prospects after comfortably re-signing Kyle Lowry and seeing productive World Cup trips for DeMar DeRozan and Jonas Valanciunas.
11
The Grizz joined the Heat/Spurs/Thunder/Clips on the short list of teams that won 50-plus games in each of the past two seasons. I suspect they'll get there again, with no lack of interest here with all those lefties they have, but I also see Marc Gasol's free agency encroaching upon on-court matters.
12
After its home-run acquisitions of Harden and Howard, Houston found out how painful swinging for the fences can be, losing Parsons, Asik and Lin in well-chronicled gambles. The pain, however, won't necessarily last long, thanks to the cap room looming for some more big swings come July.
13
They reacquired their treasured old nickname. They landed Lance Stephenson on a bargain deal after missing out on Gordon Hayward. And they even heard Steph Curry say he'll always keep the idea of a Charlotte homecoming in his thoughts somewhere. Quite a summer for the Hornets.
14
Before all of this week's biz, I feared Phoenix was due for a crash thanks to all of the uncertainty about its stars' future. Let's see if the late flourish to secure Eric Bledsoe -- plus Zoran Dragic to make brother Goran happy -- can preserve enough of last season's crucial harmony and chemistry.
15
It's a good thing that The Franchise That Lost LeBron still has Erik Spoelstra. Someone as sharp as Spo will be needed to try to make a team out of all those names (Bosh, Wade, Deng, McRoberts and Granger) that sound fairly imposing but don't necessarily snap together so ideally.
16
It would be so much better to be focused here on Al Horford's comeback. Or the fact that the Southeast Division is suddenly so wide open. Unfortunately that's not going to be possible with the Danny Ferry cloud and sale-related uncertainty hovering over the franchise. Not for a while.
17
Not quite ready to anoint the Pelicans as playoff material, even with a healthy Jrue Holiday and Ryan Anderson, but they'll be in the running for Best Team You'll Never See status. After nine ESPN games in 16 days with Team USA, Anthony Davis gets just two games total on ESPN and TNT this season.
18
Melo wouldn't dare sign for $120-plus million and miss the playoffs again, would he? Last season was his first ever out of the playoffs and, like it or not, he's undoubtedly at risk for two in a row while he and rookie coach Derek Fisher wait for Phil Jackson's first cap-space summer in July 2015.
19
In Year 5 of the Mikhail Prokhorov regime, which he openly hoped would deliver a championship in five years or less, Brooklyn just wants to hang on as a playoff team until it has cap space to play with in 2016. 'Til then? Everything hinges on big comebacks by Brook Lopez and Deron Williams.
20
The proud Pacers will try to make the playoffs even after letting Lance Stephenson go and then losing Paul George in the most stomach-turning manner. Of course, since Indy resides in the East, it's not like there's a wide variety of options. You can only sink so far in that conference.
21
One of the bigger surprises to me, from a summer spent with Team USA, was hearing Kenneth Faried say he didn't think his voice carried as much weight with the Nuggets as it did under Coach K. Have to believe that'll change now even with Gallinari, JaVale and Arron Afflalo all back.
22
Early reviews of Stan Van Gundy's front-office work have been mixed after Detroit's big-money splash on Jodie Meeks and the Greg Monroe saga. There's no doubt, though, that the man can coach. So you bet on SVG to make a flawed roster look less flawed once the games start.
23
Laker Haters are advised to enjoy this season, because there's every chance they'll reload in free agency sooner rather than later. In the interim, whatever the results, I plan to be mesmerized by what happens when you add Boozer, J-Lin, Ed Davis and Julius Randle to Swaggy P, Nash and a comebacking Kobe.
24
The Wolves have much more to work with post-Kevin Love than they did post-KG. But you still figure that the only two active players left from Minnesota's last playoff game -- Kobe and KG himself on (gulp) May 31, 2004 ⬠are bound to be retired by the time Andrew Wiggins has 'em back in the postseason.
25
We have 25 more weeks of rankings to nitpick the progress (or lack thereof) Sacramento is making toward halting an eight-season playoff drought. One more hat-tip for Boogie Cousins seems more appropriate today, after that Team USA title game showed what sort of force he can be.
26
Will they? Or won't they? Are they keeping Rajon Rondo? Or trading him? One certainty amid all the questions: Danny Ainge's Celts will be newsy all season, no matter how ragged they get on the floor, given all the assets besides Rondo they're stockpiling for their next KG-style blockbuster.
27
This time a year ago, so many pundits wondered how Jason Kidd would fare coaching a win-now team filled with thirtysomethings. This committee, by contrast, is struggling far more trying to picture how he holds up nursing Jabari, Giannis & Co. through the inevitable growing pains.
28
The new season starts with the same question asked here in April: Don't the Magic, for all their youth, have to make some sort of step in 2014-15? The vet additions of note were modest -- Channing Frye, Ben Gordon, Luke Ridnour -- but it can't be easy selling another win total in the 20s.
29
Don't know if Trey Burke and Dante Exum can play together. Don't know if Gordon Hayward will have any more help offensively than he did last season. All we know for sure about this Jazz in this embryonic state: Quin Snyder is Coach K's first former player to become an NBA head coach.
30
If you've ever wondered how much angry noise would have greeted the 9-73 Sixers of 1972-73 had they been playing in the Twitter age, you need only follow the 2014-15 Sixers. They're bound to be blasted even louder than last season as they openly chase the No. 1 overall pick again.