Power Rankings: Spurs on the move
Updated:
March 30, 2015, 4:49 PM ET
By
Marc Stein
| ESPN.com
Monday, March 30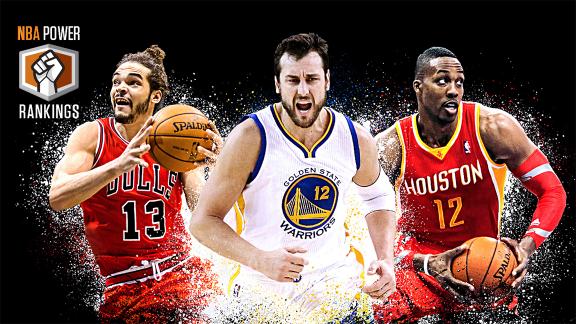 Steady Spurs on the Rise
Marc Stein and Cary Chow on the ultra-dependent Spurs rounding into playoff shape. Week 22 of the ESPN.com NBA Power Rankings.
Steady Spurs on the Rise
NEXT VIDEO
We've reached the point that the question has to be asked:
How many of Golden State's final nine games would the Warriors have to lose for ESPN's NBA Power Rankings committee (of one) to move them out of the No. 1 spot?
It's honestly hard to imagine any circumstance for the rest of the season, barring an unfortunate injury, that would knock the Dubs off their perch with only two more helpings of weekly rankings to go. They're the NBA's only 60-win team and just the 13th team all-time to win 60 of their first 73 games.
Of those previous 13 teams, in case you're curious, 10 went on to reach the NBA Finals ... with nine of them winning it all.
There were some other notable movers, upward and downward, in our latest 1-to-30 ladder, but we'll save the discussion of those for Stein Line Live. This space -- this whole regular season, really -- increasingly belongs to the Dubs, who happen to be 46-5 when ace rim protector Andrew Bogut joins Steph Curry, Klay Thompson, Draymond Green and Harrison Barnes in the starting lineup.
You can comment below on these rankings, which as always were compiled with data and research assistance from our friends at ESPN Stats & Information and the Elias Sports Bureau. Or you can rank the teams below yourself.
2014-15 Power Rankings: Week 22
RANK
TEAM / RECORD
TRENDING
COMMENTS
1

--




Last Week: 1

The Warriors are now a ridiculous 40-0 when holding the opposition below 100 points and, if they can sweep their final five home games, will go down as the second-best home team in league history, tying a handful of 39-2 teams behind the Celts' famed 40-1 mark at Boston Garden in 1985-86.
2

--




Last Week: 2

Setbacks suffered by Kevin Love (back) and Iman Shumpert (ankle) don't sound serious, but health is the biggest concern Cleveland has. Thanks to 16 straight wins at home -- tied for the third-longest such streak in franchise history -- really only health can mess with the Cavs' momentum.
3

2




Last Week: 5

The Spurs are 13-3 since Feb. 27, second only to Golden State and tops in the league in offensive efficiency in that span. More importantly: San Antonio is 17-5 in the mere 22 games in which Pop has been able to field his preferred starting lineup of Parker, Green, Leonard, Duncan and Splitter.
4

--




Last Week: 4

If you think we're tough, Atlanta, you don't want to hear about ESPN's Basketball Power Index. The BPI has the Hawks ranked at a mere No. 10, thanks to a 6-6 mark against teams .500 or better since Feb. 1, while giving them less than a 50 percent shot at reaching the Eastern Conference finals.
5

1




Last Week: 6

These Rockets are 30-5 when James Harden shoots at least 10 free throws, so I'm struggling to understand why his ability to get to the line is painted as some sort of knock on The Beard. If there's an issue to take with Harden's game at the moment, it's his .393 shooting since the All-Star break.
6

1




Last Week: 7

The Clips are 7-1 since Blake Griffin's return and have nosed past the mighty Warriors to reclaim the league's top spot in offensive efficiency. The not-so-good news: L.A. has sunk to 18th in defensive efficiency despite DeAndre Jordan's presence and is a mortal 19-20 against .500-or-better teams.
7

4




Last Week: 3

Marc Gasol, Zach Randolph, Mike Conley, Courtney Lee ... none of those Grizz starters will relish clicking to the splits section of their respective ESPN Player Cards since the All-Star break. Last week's schedule was an undeniable bear, but an 11-10 mark since the break adds up to a full-fledged funk.
8

2




Last Week: 10

The Bulls won't mind too much if Wednesday's game at fading Milwaukee is a first-round preview, having won each of the teams' last six meetings. Nikola Mirotic, meanwhile, just became the first rookie to lead the league in fourth-quarter points in any one month since Rodney Stuckey in April 2008.
9

--




Last Week: 9

That recent five-game skid was the Blazers' longest since the 13 in a row dropped to close out 2012-13 when they were playing for lottery position. But they just rebounded with three nice wins, including road Ws at Utah and Phoenix, largely because LaMarcus Aldridge keeps ballin' through pain.
10

2




Last Week: 8

Can't remember many seasons stranger than OKC's. Bad injury news typically leads to significant drops in our rankings, but how do you punish Russ & Co. harshly when they keep following up depressing news bulletins on Kevin Durant with historic comebacks like we saw in Phoenix?
11

--




Last Week: 11

Rest assured that the sliding Mavs, for all their recent concern about Monta Ellis' play, would much prefer having Ellis in the lineup as opposed to trying to play without him as they must now. One bright spot: Chandler Parsons is shooting .483 from the field (and .421 on 3s) since the All-Star break.
12

3




Last Week: 15

On March 18, New Orleans and OKC were tied in the standings with the Pelicans holding the head-to-head tiebreaker. Since then? The Pels are a mere 2-4, including losses at Phoenix and at home to Houston they simply couldn't afford, while OKC has gone 5-2 to all but clinch No. 8 in the West.
13

--




Last Week: 13

Monday night affords Utah an opportunity to go to Minnesota and avenge a rough home loss to the Wolves in OT that greased the first four-game skid for the Jazz since their nine-gamer that began Nov. 21 and lasted through Dec. 8. No one will soon forget Enes Kanter's return to SLC, either.
14

2




Last Week: 12

Does anything else matter in Toronto right now besides nursing Kyle Lowry back to something resembling full strength? The ailing All-Star ranks as one of just four players this season (alongside Paul Millsap, Trevor Ariza and Josh Smith) whose shooting percentage goes down in each successive quarter.
15

1




Last Week: 16

How big was last Monday's W in the nation's capital? Without it, Indiana would have joined the 1993-94 Celtics, 1977-78 New Orleans Jazz and 1958-59 Syracuse Nationals as the only teams in history to lose seven consecutive games after a win streak of seven or more games in the same season.
16

2




Last Week: 14

The Wizards are down to 10-22 against teams sporting a .500-or-better record, good for a winning percentage of .313. That puts the Wiz below the league average of. 366 in that situation, but which of the following is the biggest culprit: injuries? A lack of depth? Randy Wittman's responsibility?
17

1




Last Week: 18

These Heaters are 2-0 against LeBron James' Cavs with Dwyane Wade in uniform heading into Thursday's finale of the teams' season series in Cleveland. Miami, though, is absurdly banged up right now, which is why it's hard to imagine D-Wade and Co. truly troubling them in a playoff series.
18

2




Last Week: 20

Winning seven of nine hasn't given the Nets any breathing room in the East's highly congested 7-through-11 range, but they do have a certifiable player of the week candidate in the resurgent Brook Lopez, who rumbled for 28.8 PPG, 8.5 RPG and 2.3 BPG in a week that included a W over Cleveland.
19

3




Last Week: 22

Last week, remarkably, was Milwaukee's first week since the All-Star break in which it won more than one game. Yet these last two wins couldn't have been much bigger in terms of the Bucks' bid to hang onto the East's No. 6 seed, coming against Miami and Indy by a combined five points.
20

3




Last Week: 17

It was Jeff Hornacek, not us, who described Sunday's home date with OKC as "do or die." The Suns' subsequent failure to turn a 20-point lead into a W, after two home L's, means their season is basically over, thanks to a four-game deficit with eight to play and with OKC holding the tiebreaker.
21

2




Last Week: 19

Maybe they'll catch a break in April, when Cleveland or Toronto might see an opening to rest some regulars. But the Celts can't count on such breaks, so this week's games in Charlotte and at home against Indiana and Milwaukee are vital. Especially after ill-timed home L's to Detroit and Miami.
22

1




Last Week: 21

The Hornets have quietly worked their way up to No. 7 in defensive efficiency and continue to revel in what Mo Williams is doing in Charlotte (18.9 PPG and 7.0 APG in 20 games). The flip side: Kemba Walker is shooting a mere 32.6 percent from the field -- and 28.6 percent on 3s -- since knee surgery.
23

--




Last Week: 23

Reggie Jackson's lines have been undeniably gaudy lately: 31 points, nine assists and six boards Sunday night to take Jackson to 17.9 PPG, 9.1 APG and 5.2 RPG for the month. But you tell us, Motown: Do you like Jackson as the straw that stirs the Pistons definitively better than Brandon Jennings?
24

--




Last Week: 24

When the playoffs arrive and take in Kevin Love, Charlie Villanueva and Anthony Morrow for the first time, that will leave only one active player with at least 400 NBA games on his resume without a single taste of the postseason. That would be Sacramento's Jason Thompson (531 games).
25

--




Last Week: 25

Since his 40-point eruption in Orlando, Danilo Gallinari managed a combined 21 points in outings against Philadelphia and Utah on 7-for-24 shooting, then was granted a night off Saturday in Portland. Seven of Gallo's eight 20-point games this season have been recorded since the All-Star break.
26

--




Last Week: 26

Tonight's Lakers at Sixers extravaganza sets up this way: Philadelphia inherits L.A.'s first-round pick if it falls outside of the top five in May. The Lakers have an 82.8 percent chance of retaining their pick if they finish with the fourth-worst record ... and a 96 percent chance if they wind up third worst.
27

2




Last Week: 29

Considerable time was spent on Sunday's season-ending NBA Insiders show on ESPN Radio detailing how Nikola Mirotic, Nerlens Noel and Elfrid Payton have combined to give Andrew Wiggins some much-welcomed ROY competition. Wiggins, though, does lead all rooks with 25 20-point games.
28

1




Last Week: 27

According to the Orlando Sentinel, Magic GM Rob Hennigan will soon be receiving a contract extension. It presumably doesn't hurt that Elfrid Payton is averaging 11.8 points, 8.3 assists and 5.8 rebounds since the All-Star break to make his own case for a little Rookie of the Year noise.
29

1




Last Week: 30

Over the last five seasons, teams that finished with the league's fourth-worst record landed fifth (Jazz in 2014), fifth (Suns in 2013), first (Pelicans in 2012), sixth (Wizards in 2011) and sixth (Warriors in 2010) in the lottery. So now you know why we've devoted two comments down here to this topic.
30

2




Last Week: 28

The Knicks have trailed by 30 or more points at halftime at home only three times in the shot-clock era. But two of those forgettable nights have happened since January: Charlotte's 31-point halftime lead at Madison Square Garden on Jan. 10 and the Clips' 39-point cushion this past Wednesday.