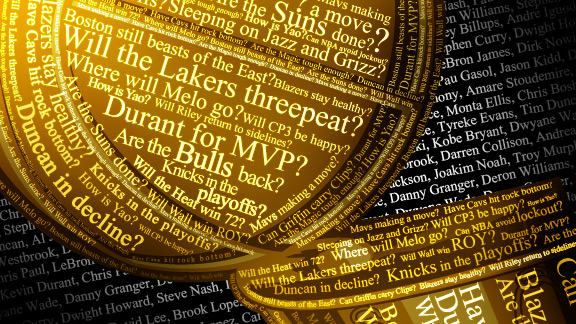 Decisions, Decisions
The new NBA season brings loaded questions. Looking for answers? We weigh in. Experts| Vote!
Hollinger: Hidden questions

Shelburne: Blake's back » NBA Preview » Expert Predictions »
ESPN.com Illustration
DimeUpdate

Dime Update


The Bobcats kicked up their offensive efficiency and had an 11-point lead, but the Jazz have whittled the it down 46-42 at the half
2 minutes ago

DimeAlert

Dime Alert


Tony Parker (shin contusion), Manu Ginobili (old) and Tim Duncan (older than dirt) are all back in action tonight for the #Spurs.
3 minutes ago

DimeAlert

Dime Alert


Kawhi Leonard is out of tonight's #Spurs-#Thunder game after having a dental procedure today.
3 minutes ago

DimeSmash

Dime Smash!


Hello there, @drew_48moh here with your updates from tonight's #Spurs-#Thunder contest at the AT&T Center in San Antonio.
4 minutes ago

DimeUpdate

Dime Update


Hello there, @drew_48moh here with your updates from tonight's #Spurs-#Thunder contest at the AT&T Center in San Antonio.
4 minutes ago

DimeAlert

Dime Alert


Hello there, @drew_48moh here with your updates from tonight's #Spurs-#Thunder contest at the AT&T Center in San Antonio.
4 minutes ago

ESPNNBA

NBA on ESPN


Charlotte is unveiling its Hornets brand identity at halftime. They're still the Bobcats for now, and they lead the Jazz 46-42.
5 minutes ago

DimeAlert

Dime Alert


Pistons trim the Rockets lead to just ten.
5 minutes ago

DimeSmash

Dime Smash!


J-SMOOVE PUT-BACK SMASH!
6 minutes ago

DimeUpdate

Dime Update


Huh, pretty sure Al Jefferson just tipped a ball in on behalf of the Jazz. Woulda been nice last year, but not this season for big Al
7 minutes ago

DimeUpdate

Dime Update


Time out with 5:45 to play in the first half. 52-37 Rockets over the Pistons. Dwight Howard is taking no prisoners.
9 minutes ago

DimeUpdate

Dime Update


Rockets lead 51-35 over Detroit with 7 minutes to play in the first half. Dwight Howard already with 20-10.
12 minutes ago

DimeAlert

Dime Alert


Dwight Howard has a double-double less then 4 minutes into the second quarter: 18 points, 10 rebounds.
15 minutes ago

DimeUpdate

Dime Update


Back-to-back-to-back threes for Houston gives them a 17 point lead over Detroit with 9:25 to play in the first half.
18 minutes ago

DimeUpdate

Dime Update


The Commodores would be proud of the brick house built in Charlotte tonight. 39% shooting from both teams as the Jazz are down 25 to 28
20 minutes ago

ESPNNBA

NBA on ESPN


#TripleDoubleWatch for Isaiah Thomas (13p, 4r, 5a), but the Kings trail the Magic 58-56 at halftime.
23 minutes ago

DimeUpdate

Dime Update


HALFTIME: Magic 58, Kings 56.
23 minutes ago

DimeAlert

Dime Alert


Congrats! RT @DwyaneWade: She said YES!!! @itsgabrielleu http://t.co/YfSWSvIGld
25 minutes ago

DimeUpdate

Dime Update


That's the end of the first quarter here in Detroit, with the Rockets leading 33-24. Dwight Howard leads all with 14 points.
25 minutes ago

DimeAlert

Dime Alert


Andre Drummond has 3 blocks in this first quarter.
27 minutes ago
HOLLINGER PROJECTIONS

What's in store for the 2010-11 season? John Hollinger has all 30 NBA teams covered.

Scouting reports. Stat projections. Lineups. We break down every 2010-11 NBA roster.
MEDIA
TV
NBA On ESPN/ABC

Wednesday, Dec. 25
Bulls-Nets, 12 ET
Thunder-Knicks, 2:30 (abc)
Heat-Lakers, 5 ET (abc)
Rockets-Spurs, 8 ET
Clippers-Warriors, 10:30 ET

Radio
Mike D'Antoni, Lakers
Play Podcast Lakers coach Mike D'Antoni comments on moving forward from Kobe Bryant's injury, the long-term outlook for his team, his experiences coaching L.A., developing young players on his roster and more.
John Ireland, NBA
Play Podcast ESPN LA 710's John Ireland gives his takes on whether Kobe Bryant's injury impacts the Lakers' thinking regarding Pau Gasol, Bryant's contract extension and more.
Bruce Bowen, NBA
Play Podcast ESPN NBA analyst Bruce Bowen gives his take on Kobe Bryant's injury, adjustments Bryant must make when he returns, the Lakers' chances of signing another big name, Carmelo Anthony's future and more.
Podcasts
NBA Lockdown
Play Podcast Bruce Bowen and Israel Gutierrez discuss what Kobe Bryant's knee injury means for Kobe and the Lakers, preview the Christmas games and weigh in on Omer Asik and the Rockets.
NBA Lockdown
Play Podcast Bruce Bowen and Israel Gutierrez get ready for the Pacers and the Heat. Plus, Henry Abbott shares some thoughts on what a few teams are missing this season.
Chuck Klosterman: 12/17
Play Podcast Chuck Klosterman puts on his "Ethicist" hat and examines contract dilemmas facing Kobe Bryant, Dwyane Wade and Carmelo Anthony.

FANTASY
Prepare for your draft with mocks and more.