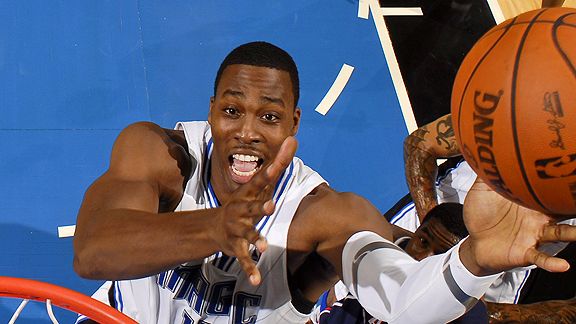 In Your Face
Miami's SuperFriends might be the East's frontrunners, but Superman and the Magic still loom large.
Hollinger: Magic forecast

Dwight Howard

Ford's summer grades

Power Rankings »
Fernando Medina/NBAE/Getty Images
MUST READ
Marc Stein ranks all 30 teams heading into training camp. Check out Orlando's spot.

Chad Ford grades all 30 teams on how well they did this offseason.
• Player movement
MEDIA
Podcasts
NBA Today: 10/26
Play Podcast Ryen Russillo and John Hollinger break down some of the major storylines worth keeping an eye on during the new season and prepare for Heat-Celtics.
NBA Today: 10/19
Play Podcast Ryen Russillo previews the Eastern Conference with a little help from Zach Harper and Kevin Arnovitz.
The B.S. Report: 10/20
Play Podcast Bill Simmons previews the NBA season with ESPN NBA analyst Mark Jackson. Do the Heat have the supporting cast to win the title? Can the Thunder win the West?
TRUEHOOP NETWORK

COACH CORNER

STAN VAN GUNDY | Profile
Experience: 6 years
Record: 282-149
Playoffs: 45-31
NBA titles: 0

FANTASY
Prepare for your draft with mocks and more.
SUMMER SERIES

Our NBA experts forecast where the Magic will finish in the standings this season.

Offseason Buzz

John Hollinger and Chris Broussard examine the changes on the Magic.