After 196 days without pro basketball action (that counts, at least), the NBA makes its return on Christmas Day with a star-studded five-game lineup on ESPN, ABC and TNT. First up: Old rivals from the Atlantic Division, the Celtics and Knicks, lock up at noon ET.
Will the addition of Tyson Chandler in the center give New York the boost it needs to avenge a playoff sweep at the hands on Boston? Where do the aging C's stand in the Eastern Conference landscape? Our panel dissects all that and more:
1. Which team will finish higher in the East?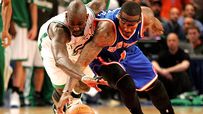 Henry Abbott, TrueHoop: The Celtics. The Knicks have been abysmal on defense, which Tyson Chandler can really help. But if "big guy at the rim" counts as a defensive scheme, it's a risky one that results in all kinds of fouls and falls. New York is also even thinner at guard than it was last season. Meanwhile, the Celtics are an aging and threadbare version of their former selves, but -- key point -- those former selves were champions, a level these Knicks have yet to sniff.
Chris Forsberg, ESPN Boston: Celtics (with the usual disclaimer assuming good health for Boston, which is no slam dunk given the loss of Jeff Green and Paul Pierce's bothersome heel already this season). Chemistry aids Boston out of the gates, while the Knicks figure things out.
Brendan Jackson, CelticsHub: Celtics. I see the C's firmly in control of the No. 3 seed behind Miami and Chicago. The Knicks traded their third option on offense for their only option on defense. While Tyson Chandler makes up for the Knicks' interior woes, he does nothing to replace Chauncey Billups. Even worse for the Knicks? Neither do Baron Davis or Mike Bibby.
Mike Kurylo, KnickerBlogger: Age isn't the only thing creeping up on the Celtics. New York grabbed the best center available in free agency and added three point guards to its roster, addressing both of its major positional needs. I'll take the Knicks, but it'll be a dogfight to the end.
David Thorpe, Scouts Inc.: I'm going with New York, because I see these teams going in opposite directions. The chance it all blows up for Boston is more than just slight.
---
2. Who do you want leading your team: Carmelo Anthony or Paul Pierce?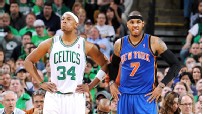 Henry Abbott, TrueHoop: I'd pick Kevin Garnett or Amare Stoudemire ahead of either of those guys, but if I had to pick, I'd go with Pierce. In part because I recently read an NBA scout's critique of Anthony that said he's an amazingly skilled scorer who will blossom when he learns to make his teammates better on both ends of the floor. That was from 2004. Has anything changed?
Chris Forsberg, ESPN Boston: Melo is younger and his stats are glossier, but Pierce's overall contributions remain more important to his team overall. Boston's ship doesn't go far without its captain. That said, Pierce's age now matches his jersey number (34), so how long can he keep it up?
Brendan Jackson, CelticsHub: Paul Pierce. I know that sounds like a homer pick but I value ball movement over a guy who can "get his" whenever he wants. Having someone capable of going one-on-five is a luxury, not an offense.
Mike Kurylo, KnickerBlogger: Right now, if I had to choose for a single game, I'd take Pierce because of his stronger commitment to defense. On the other hand, Anthony is six years and 229 days younger, so he's the better choice for the long term.
David Thorpe, Scouts Inc.: Neither. Melo is simply not a leader, and Pierce is both long in the tooth and not someone locked in all year 'round to earn my captaincy anymore.
---
3. Whose failure to get Chris Paul will matter more in the long run?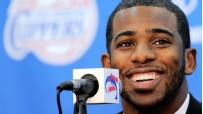 Henry Abbott, TrueHoop: The Knicks. Celtic fans understand there's rebuilding on the horizon, while Knick fans are expecting big things. That said, if things go south in Clipperland, the Knicks will always be on his radar.
Chris Forsberg, ESPN Boston: Knicks. The Celtics could have used Paul to aid their 2011-12 title quest, but they've still got cap flexibility next year to overhaul their roster long term. New York is locked in with its new Big (Apple) Three for the foreseeable future and better hope this is a trio capable of making it a title contender.
Brendan Jackson, CelticsHub: The Knicks. The Celtics were never banking on Chris Paul long term. In fact, they were pretty much resigned to the opposite. If Paul didn't stay in Boston, the C's were still going to have a ton of cap room. The Knicks, on the other hand, wanted Paul as part of their Big Three for the next several years.
Mike Kurylo, KnickerBlogger: The Celtics, who struck out with both Chris Paul and David West. Boston's offensive efficiency has dropped three straight seasons, so it desperately needed a shot in the arm to heal its deteriorating offense. And besides, the Knicks were unlikely to land Paul with their lack of assets and cap space.
David Thorpe, Scouts Inc.: Gotta be the Knicks. I love the way Chandler complements the forwards on defense and on the glass, but Paul would have made every Knick a better player on both sides of the ball. He would have attracted other players going forward, too.
---
4. Make one bold prediction for either the Celtics or Knicks.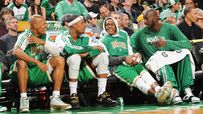 Henry Abbott, TrueHoop: Bold prediction: The Knicks won't win more than two playoff games this year. That thin, injury-prone roster will combine with a dense schedule to put them in the middle of the pack on a collision course with the East's power teams in the first round.
Chris Forsberg, ESPN Boston: Bold prediction: The Celtics will suffer an early playoff exit. Too much has to go right for Boston this season, especially in terms of health. I just don't think this roster is equipped to get past the Heat or Bulls with the minor tweaks the Celtics have made. Like last year, a second-round exit seems a likely possibility.
Brendan Jackson, CelticsHub: Bold prediction: The Celtics will lose in the first round. I don't necessarily believe this to be true but I do find it very plausible. The Celtics' title chances are completely contingent on depth and health, both of which have been unattainable in recent history.
Mike Kurylo, KnickerBlogger: Bold prediction: The Knicks will be in the top 10 for defensive efficiency. While New York boasts a lot of scorers, it also has a number of stout defenders in Tyson Chandler, Toney Douglas, Jared Jeffries, Renaldo Balkman and rookie Iman Shumpert. Of course, Mike Woodson will get all the credit.
David Thorpe, Scouts Inc.: Bold prediction: Paul Pierce will suffer the worst season of his career, unless he gets traded to a contender. Seems strange seeing that Boston looks like a contender on paper, I know. But I don't think the Celtics are legit, and Pierce's motivation will suffer. A Pierce that is not properly motivated is not a pretty sight.
---
5. Who will get the first win of the 2011-12 NBA season?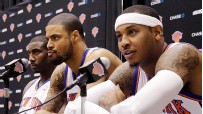 Henry Abbott, TrueHoop: I'd normally take the home team in any close matchup, but I'll pick the Celtics. New York will be integrating Chandler and be without its only real distributor, the injured Baron Davis. Meanwhile, Doc Rivers' Celtics have a freakish track record of coming out of camp on fire.
Chris Forsberg, ESPN Boston: Celtics. Chemistry will work in their favor early on. No reason for them not to have energy in the first game of the year. The Celtics thrive in Madison Square Garden -- though having Pierce would aid that cause. C's assert that the Atlantic Division remains theirs.
Brendan Jackson, CelticsHub: Celtics. If Paul Pierce goes, there isn't a game this season the C's will be fresher for. Furthermore, the backcourt matchup is so far in the C's favor that it negates any edge the Knicks may have in the frontcourt. Add their depth and defense and the Celtics are 1-0 to start the season.
Mike Kurylo, KnickerBlogger: The Knicks. Boston has the advantage of familiarity and chemistry, but New York's new look with Anthony running the offense and Chandler manning the paint will give them the element of surprise. Also, when in doubt take the home team.
David Thorpe, Scouts Inc.: I'll side with the Knicks, mostly because of the loss of both Jeff Green and Pierce (likely out). There is a buzz in New York again and Madison Square Garden will be rocking. A healthy Pierce in the opening game would make Boston a very tough team to beat because the Celtics are so mentally tough. But even if Pierce plays he won't be close to 100 percent, so it should be a merry Christmas in Gotham.


ESPN.com and the TrueHoop Network
Henry Abbott and David Thorpe cover the NBA for ESPN.com. Chris Forsberg covers the Celtics for ESPN Boston. Brendan Jackson and Mike Kurylo contribute to the TrueHoop Network.