Commentary
Dwight Howard and the road ahead
In his Lakers debut, big man shows the way his new team will succeed this season
Updated:
October 22, 2012, 3:53 PM ET
By
J.A. Adande
| ESPN.com
LOS ANGELES -- Even when it doesn't work out, you can see how it will work. Dwight Howard changes the Los Angeles Lakers in more ways than you could have imagined.
Howard's Lakers debut started with him victimized by a prank usually played on rookies, and ended with the Lakers' sixth loss in as many preseason games. In between were all the ingredients for a team that Howard predicted, in the one bit of understatement around the Lakers, is "going to be good."
Sure there were lob passes slammed home and shots knocked away and even free throws clanking off the rim -- everything you would have expected from Howard. What really surprised me was the impact he had on their biggest weakness: transition defense.
Opponents have been pushing the tempo against the Lakers throughout the preseason and the Lakers starters' aging legs have not been able to get back in time. Since the Lakers didn't acquire Howard for his speed, it seemed those problems would continue even after he took the floor. Not so, for two key reasons.
First, if he's going to help the Lakers' offense be this effective then opponents won't get many fast-break chances. Tough to run off of alley-oop dunks and swished 3-pointers. The Lakers shot 60 percent in the first half.
[+] Enlarge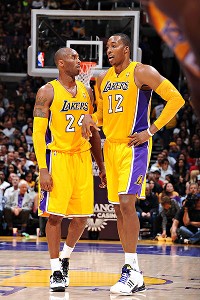 Andrew D. Bernstein/Getty ImagesAfter their first game together as Lakers, Kobe Bryant and Dwight Howard have a better idea of where this team is headed.
The other, more surprising benefit for the Lakers: Howard's poor free throw shooting. Because teams are so quick to foul him around the basket it stops the game and allows the Lakers to get set on defense. So while the Lakers will lose points with the numerous missed free throws from Howard, they also won't be giving up as many easy buckets at the other end when he's in.
The Kings had only four fast-break points in the first half and 11 for the game. That's after Sacramento had 28 of them in a 103-98 victory over the Lakers in Las Vegas on Friday night. Utah scored 53 fast-break points in two games against the Lakers last week. You see where this was headed.
You could also see from the Lakers' first half-court defensive set how Kobe Bryant feels free to cheat on the high side or gamble for steals knowing that Howard is protecting the paint. Or the reluctance dribblers will feel in attacking the basket.
As for the lanes created by the defense's reluctance to leave Howard alone near the basket? The only way to describe it is in terms of local traffic: it's like the difference between the 405 freeway at 5 p.m. and 5 a.m.
Are you going to leave Howard on the block? Abandon Pau Gasol at the free throw line? There are some daunting dilemmas for opponents.
"They're like The Avengers out there," Sacramento's Chuck Hayes said.
And if Howard's man does stray to help out? Get ready for lots of lob passes like the one Bryant threw over his head to Howard.
"With the offense that we have, on top of the talent we have, it opens up the floor a lot," Bryant said. "For me, I'll get two backdoors a game, for layups at the rim. There's more spacing in the middle. There's quick post-ups. You won't see me holding the ball too often unless I'm in the post."
One thing noticeable about this lineup was it induced Kobe to pass more than we're accustomed to seeing. There was an equality to the shot distribution. Howard equaled Bryant's 12 field goal attempts, and Metta World Peace was right behind him with 11. (World Peace made five, including three of six 3-pointers).
Howard made eight of his 12 shots, but he also bobbled away a couple of easy scoring opportunities and had five turnovers. It was his first game of any kind since his last in an Orlando Magic uniform on April 7, when his back injury became too insufferable and forced him to the sidelines and then the operating table. (The Lakers gave him the "honor" of running out of the tunnel first, then left him hanging by staying back and laughing at his expense while he took the court alone). Howard had to laugh too; they got him.
HOLLINGER'S PLAYER PROFILES

Check out Hollinger's player scouting reports and '12-13 stat projections for the Lakers' roster. Player Profiles

Even though he had 19 points, 12 rebounds and 4 blocked shots, his timing was off, and he was late on some defensive rotations.
"I think I was very active on both ends of the floor," Howard said. "Other than that, I was a little rusty."
He said his back felt fine, even after he crashed to the floor (with the help of a shove from DeMarcus Cousins) after a putback.
Even with Howard providing a glimpse of how good these Lakers can be, there's no need for them to rearrange the stars they added to the court to commemorate their 16 championships and find a spot for 2013 just yet.
The second unit couldn't be trusted to walk a dog, let alone hold a lead in an NBA game. Lakers coach Mike Brown will have to leave in at least two starters on the court at all times, and even that might not be enough. The Lakers' bench was outscored by their Kings' counterparts 57-18 Sunday night.
There's a long way for the starters to go before they're comfortable in the Princeton offense, or simply accustomed to playing with the new guys. There were an abundance of three-second violations as the Lakers were so convinced they could get a better shot they sometimes held the ball while their teammates congregated in the lane.
PLAY FANTASY HOOPS!
Fantasy hoops season is here! Check out our player rankings, projections, cheat sheets and more. Sign up for free! »
Their advancing years make them susceptible to injuries; in this game it was a dislocated finger for World Peace and a sore foot for Nash. The Oklahoma City Thunder are younger and have been through three playoff journeys together.
For all the star power that's accumulating in the L.A. area lately -- from the Lakers to the Clippers, to baseball's Dodgers and Angels -- the local team that actually delivered a championship this year was the overachieving hockey Kings. Their prize was on display outside the Lakers' locker room Sunday night, and Howard stopped to pose with it.
There they were, Dwight Howard and the Stanley Cup, the two biggest things to hit the Los Angeles sports scene this year, together for the first and possibly last time. The locked-out Los Angeles Kings are running out of places to take the trophy they won in June. They brought it to the Coliseum for the USC football game Saturday, then perched on its case outside the Lakers' locker room Sunday night.
Howard made a series of goofy poses next to the Cup for photographers. The concept of Howard helping the Lakers get some championship hardware of their own? It doesn't seem so laughable.
ESPN.com senior writer since 2007
Around The Horn panelist
Formerly at Los Angeles Times
EDITORS' PICKS
Josh Smith returned to Atlanta with a few choice words.
Story »

Stuck in the bottom of the West, the skidding Nuggets have fired Brian Shaw.
Story »

February return

MOST SENT STORIES ON ESPN.COM