What's in store for the Memphis Grizzlies? Our panel of five looks back at the offseason moves (and non-moves) and forward to what lies ahead in the 2013-14 NBA season.
1. What grade would you give the Grizzlies' offseason?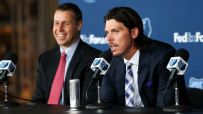 Kevin Arnovitz, ESPN.com: B+. There was no big trophy for the wall, but the Grizzlies made a series of solid transactions across the board. By promoting Dave Joerger, the team maintains continuity but also gets someone who appreciates the new vision. The acquisition of Kosta Koufos gives the Griz the deepest frontcourt in the league. Tony Allen's deal might be slightly oversized, but you pay a spiritual premium for certain guys. If Nick Calathes can be the novel playmaker he's capable of being, this quickly becomes an A-minus or above.
D.J. Foster, ClipperBlog: A-. It's all about turning nickels into dimes. Koufos is a better fit than Darrell Arthur, and Jamaal Franklin is a perfect Padawan to learn Tony Allen's Jedi mind tricks. Adding a legitimate backup point guard (Calathes) and a proven outside shooter (Mike Miller) was the perfect cap to a nifty, thrifty offseason.
Darius Soriano, Forum Blue and Gold: B. Letting Lionel Hollins go could turn out to be a bad decision, but replacing him internally should provide some continuity. And by retaining Allen and adding Miller, the team simultaneously kept a major part of its identity and addressed its outside shooting issues. All in all, solid work.
Amin Vafa, Hardwood Paroxysm: B+. Memphis made a good upgrade this summer by bringing Miller back to give them some outside shooting. And while parting ways with a good coach in Hollins could upset the team dynamic, they made a great choice to go with Joerger.
Jack Winter, WarriorsWorld: B. Always-cash-conscious Memphis had limited flexibility this summer. Re-upping Allen, signing Miller on the cheap and netting Koufos via trade are underwhelming moves on the surface, but go a long way toward keeping the Grizzlies in contention. The league's best teams got better this offseason, Memphis included.
---
2. What's the biggest question facing the Grizzlies in 2013-14?
Arnovitz: It's the same question that's loomed over Memphis for some time: How far can a team with limited outside shooting advance? You can't score on the Grizzlies, a condition that's unlikely to change much. They can beast inside. But what happens when smart defensive teams wall off the paint and force the Grizzlies to shoot from distance?
Foster: Can Ed Davis replace Zach Randolph? Although he's practically a Memphis institution at this point, Randolph is on the other side of the NBA hill at 32 years old and has already shown signs of decline. This might be the best chance to receive fair value for Randolph in a trade, but it's Davis who will have to push Randolph out with superb play.
Soriano: Did they do enough to improve their shooting? Miller was a nice add and, if he can stay healthy, should help solve some of Memphis' spacing issues. But he was the only significant shooter added. Unless Jerryd Bayless or Allen can become consistent outside shooters, spacing will probably still be an issue that needs addressing.
Vafa: With the Spurs and Thunder expected to stay strong and teams like the Rockets on the rise, has this Grizzlies team gone as far as it can go in the West? Or do they have one more deep playoff run in them?
Winter: Can they space the floor effectively? The Grizzlies scored at a rate just outside the league's top 10 last season after trading Rudy Gay, but the offensive malady that's plagued them for years reared its ugly head again in the playoffs. Miller is the swing guy here; will he be healthy enough to contribute consistently come April? If so, Memphis could threaten for the conference crown.
---
3. Who's the Grizzlies' most intriguing player?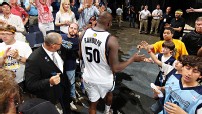 Arnovitz: Randolph is a longtime trafficker in intrigue. For years he was the among the league's most frustrating talents, but completely rebuilt his career in Memphis. When the Grizzlies first established their identity, Randolph was the catalyst, a hard-nosed, relentless offensive force. He's still a handful, but he's also getting up in years. There will eventually be a point when he's no longer helping the team win games on a nightly basis and his large contract feels like an albatross. Will that be this season?
Foster: Quincy Pondexter. If he can sustain his playoff excellence, Q-Pon should push Allen or Tayshaun Prince from crunch-time minutes. The Grizzlies have a lot of options on the wing all of a sudden, but Pondexter's continued development into a premier 3-and-D player will be fun to watch.
Soriano: On a team full of characters, there's not a wrong answer here, but I'll go with Mike Conley. The lefty has turned into one of the better two-way point guards in the league, and how he continues to improve on his recent trajectory could be the difference between a second-round ouster or a trip to the NBA Finals.
Vafa: Marc Gasol is fascinating. The man has transformed his career from "Pau's pudgy little brother stashed overseas" to "Maybe that Pau-to-the-Lakers trade wasn't so bad for Memphis" to his current stage as the franchise centerpiece and reigning defensive player of the year. I'm excited to see his next career milestone.
Winter: Gasol. The reigning defensive player of the year is arguably Memphis' best on the other end, too. Gasol shows glimpses of an offensive game that's close to dominant on a nightly basis. Should he take a mini-leap as a scorer this season, the Grizzlies will be better than anyone's anticipating.
---
4. What's one bold prediction about the Grizzlies?
Arnovitz: Gasol gets a legitimate mention in the MVP conversation. His offensive trajectory is still rising, and he's going to benefit from an offense that will work more quickly to find early post opportunities for the big men. The defensive reputation speaks for itself, and with the offensive numbers approaching 18 points, 10 rebounds and 5 assists per game, voters are going to give him a look, at least for the four to eight slots on the ballot.
Foster: The Grizzlies won't finish last in 3-point makes and attempts like they did last season, despite the fact that they attempted 136 fewer 3-pointers than the 29th-place team. Less bold: Grizzlies minority owner Justin Timberlake will remain handsome and Miller will look like he's walking on Legos at all times.
Soriano: By the end of the season, Davis will be starting at power forward next to Gasol instead of Randolph. Z-Bo has been key to this team's identity, but I could see it moving away from him in favor of the younger, cheaper Davis, who offers two-way skills that could help them take the next step as a team.
Vafa: Midway through the season, Memphis will decide it won't be a title contender as presently constructed. As a result, they will attempt to trade Randolph to try to get into the 2014 draft lottery. Unlikely, but bold nonetheless.
Winter: This will be Randolph's last season in Memphis. The inevitable impasse we've all seen coming is nearly here: Z-Bo is on the downside of his career and has a $17 million player option for next season. Gasol and Conley are this team's foundational players now, and Davis is waiting in the wings. The Grizzlies will grit and grind without Randolph soon enough.
---
5. Prediction time: How far will the Grizzlies go this season?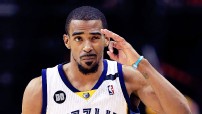 Arnovitz: They'll return to the conference finals. I wouldn't put this at a likelihood of better than 50 percent, but they've got as good a chance as anyone else. If we project a probable top-three finish in defensive efficiency, a slightly-above-average offense should earn them a win total in the high 50s. That could be good for a No. 2 seed this season, with the upper echelon of the West very competitive.
Foster: To the second round. Joerger will likely want to skew younger at some point, but he'll have to weigh the chemistry risk of sitting veteran players. The Grizzlies are the league's deepest team, but that can be a gift and a curse for a young coach.
Soriano: I don't see them advancing past the second round. Memphis mostly stood pat, and while that would be good enough most seasons for a team coming off a conference finals appearance many of the other Western powers improved, passing the Grizzlies in the process.
Vafa: My prediction has a couple of moving parts: I think Memphis will play well all season and land the fourth seed in the West. However, I believe Houston will give it trouble all season and will -- as luck would have it -- get the fifth seed. The Grizzlies will lose to the Rockets in the first round in six games.
Winter: First round of the playoffs. Memphis is a very good team. That might be enough for a return trip to the conference finals some seasons, and certainly an opening-round win in most of them. But not this season; the competition is that steep. The Grizzlies go home after a hard-fought first-round series.