7:30 PM ET, December 3, 2001
Amway Arena, Orlando, FL
| | | | | | |
| --- | --- | --- | --- | --- | --- |
| | 1 | 2 | 3 | 4 | T |
| MEM | 19 | 26 | 15 | 11 | 71 |
| ORL | 25 | 37 | 29 | 22 | 113 |
Top Performers
Mem: S. Battier 12 Pts, 3 Reb, 1 Ast, 5 Stl
Orl: M. Miller 26 Pts, 6 Reb, 3 Ast, 1 Stl
ORLANDO, Fla. (AP) -- After the Orlando Magic snapped a three-game home losing streak, coach Doc Rivers couldn't help but rave about his team.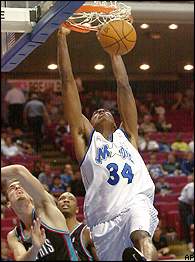 Steven Hunter and the Magic took their recent frustration out on the Grizzlies.
"I thought the movement of the ball was flawless and the defense was as good as it gets," Rivers said after the Magic cruised to a 113-71 victory over the Memphis Grizzlies on Monday night.
"We caught a team that was tired and we played with great energy, so I am just really happy with the victory."
Mike Miller scored 26 points, Tracy McGrady added 22 points and eight rebounds, and Pat Garrity had 18 points, including 13 in the second quarter for the Magic. Orlando shot 56 percent and outrebounded the Grizzlies 52-33 en route to their second-biggest home victory and fourth-largest overall.
Stromile Swift scored 13 points, and rookies Shane Battier and Pau Gasol each had 12 for Memphis, which ended a six-game road trip.
"Regardless of whether we were tired or not, they still hit shots and knocked them down one after another," Memphis coach Sidney Lowe said. "If you catch a team on the end of a back-to-back, you try to run them off the floor -- and they did that well."
The Grizzlies scored only 26 points on 11-for-41 shooting (27 percent) in the second half, and looked nothing like the team that won at Philadelphia the night before.
The victory was important for Orlando -- and not just for re-establishing home-court advantage and getting back to a .500 record at 9-9. It was also a first step in taking advantage of a soft schedule before a six-game West Coast road trip, the longest of the Magic's season.
Beating Memphis kicked off a three-game homestand for Orlando in which its opponents' combined record was 12-37, entering Monday's action. Chicago (2-13) visits Wednesday and Atlanta (6-12) comes in Friday.
"We have to get above the (.500 mark) going into this trip because you never know what can happen out West," said Garrity, who had four 3-pointers. "We're playing some tough teams out there, so we have to win games at home."
Memphis center Lorenzen Wright bruised his left knee midway through the third quarter and didn't return. Wright was injured when Orlando's Darrell Armstrong collided with the back of his knee. He had four points and seven rebounds in 18 minutes before the injury.
Wright entered as the NBA's fifth-leading rebounder, with 11.6 per game.
"We might have to get an X-ray, but he was walking in the locker room, so he's probably going to be OK," Lowe said.
After Wright left the game, Memphis put together a brief rally.
Jason Williams hit a 3-pointer as Wright fell to the floor to make it 66-52. Two minutes later, Memphis trailed by 11 points, the closest the game had been since late in the first half.
But Orlando, following a timeout, put the game away with nine unanswered points. Miller had a three-point play, and Armstrong and McGrady followed with back-to-back 3-pointers to put the Magic ahead 78-58 with 4:20 remaining in the period.
Orlando then closed the period on a 13-2 run for a 31-point lead entering the fourth quarter.
Game notes
The last time Orlando lost four straight home games was December 1996. ... Rivers said forward Grant Hill might return by Friday. Hill hasn't played since Nov. 26 because of a sore left foot. ... Memphis forward-guard Nick Anderson missed his second straight game with a sprained left ankle. Anderson played for Orlando from 1989-99, and still leads the franchise in many categories, including games played (692) and points (10,650). He received a loud ovation from the 13,340 fans when he was shown on the replay board during a third-period timeout.
Copyright by STATS LLC and The Associated Press
Team Stat Comparison
| | MEM | ORL |
| --- | --- | --- |
| Points | 71 | 113 |
| FGM-FGA | 26-77 (.338) | 44-78 (.564) |
| 3PM-3PA | 2-10 (.200) | 11-19 (.579) |
| FTM-FTA | 17-29 (.586) | 14-16 (.875) |
| Rebounds (Offensive-Total) | 14-33 | 11-52 |
| Assists | 19 | 27 |
| Turnovers | 19 | 22 |
| Steals | 16 | 8 |
| Blocks | 1 | 8 |
| Fast Break Points | 20 | 17 |
| Fouls (Tech/Flagrant) | 15 (2/0) | 20 (1/0) |