7:00 PM ET, March 6, 2002
US Airways Center, Phoenix, AZ
PHOENIX (AP) -- Jason Kidd's shooting was as icy as his reception from a large share of the crowd in his first game in Phoenix as a member of the New Jersey Nets.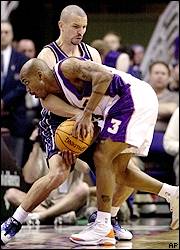 New Jersey's Jason Kidd ties up Phoenix guard Stephon Marbury, on a night the pair combined to go 12-for-41 from the field.
Kidd shot just 4-for-18 as the Suns rallied to hand the Nets their fourth consecutive road defeat, 89-87 Wednesday night.
Keith Van Horn, a 79 percent free throw shooter, had a chance to tie the game from the foul line for the Nets, but missed the first of two attempts with 0.4 seconds to go.
"I thought it was good," Van Horn said. "I was kind of shocked that it didn't go in."
He had to purposely miss the second, but failed to hit the rim to end any hope of a tip-in to tie it.
Stephon Marbury, the player the Suns got in the trade that sent Kidd to New Jersey, scored 20.
"This is going to be an ongoing thing," Marbury said. "This is a rivalry now."
Kidd, booed loudly each time he touched the ball, had 10 points, 10 rebounds and eight assists. He made a 3-pointer on his first shot, but was shot 2-for-15 after the first quarter and 1-for-10 in the second half.
"I wanted him to shoot," Marbury said, "because I know that's not how he plays."
Nets coach Byron Scott said Kidd was a little too hyped for the game.
"Any time you come back home to a place you played for so many years, you want to play extremely well," Scott said. "I think he did press a little bit. But if he doesn't press, we're not 39-21. That's how Jason is. That's how he plays."
Kidd shrugged off the rude reception.
"I wasn't surprised at all," he said. "They're trying to help their team win a ballgame. It didn't bother me at all. Hopefully, the fans got their money's worth."
The boos stemmed from Kidd's comments critical of Suns owner Jerry Colangelo and former coach Scott Skiles. Kidd was pressed on the subject of Colangelo and his son, Suns president Bryan Colangelo.
"I don't work for the Colangelos," he said. "If I did, I'd probably want to quit."
Dan Majerle, after a strong game off the bench, missed two free throws with 4.7 seconds left, then fouled Van Horn. Fortunately for Phoenix, Van Horn's foot was barely on the 3-point line when he was fouled while shooting.
"I went from the penthouse to the outhouse in a hurry," Majerle said.
Shawn Marion led Phoenix with 24 points. He was 8-for-8 at the foul line, including two free throws that gave the Suns an 89-85 lead with 46.5 seconds to play.
Kenyon Martin, back after a one-game suspension for flagrant foul points, scored inside with 32 seconds left to cut the lead to 89-87. Marbury missed a long jumper but got the rebound, and Majerle was fouled with 4.7 seconds remaining.
Jake Tsakalitis had 12 points and 12 rebounds in a career-high 42 minutes, including a tip-in that gave Phoenix its first lead since the opening quarter, 86-84, with 2:07 to play.
Penny Hardaway, who scored seven of his 12 points in the fourth quarter, led the late rally.
"Jake and Penny were the MVPs of the game," Marbury said.
The Nets used a 15-4 surge to go up 72-60 when Kerry Kittles made one of two free throws with 3:07 left in the third quarter. Kittles scored six, Richard Jefferson five and Jason Collins four in the run.
Majerle's running bank shot at the third-quarter buzzer cut it to 76-69 entering the fourth.
The Nets went more than seven minutes without a point as the Suns scored 11 in a row to tie it at 76 on Marion's basket with 6:12 to play.
The Suns were 12-for-15 from the foul line in the fourth quarter. The Nets scored just 11 points in the fourth on 5-for-22 shooting.
At the game's end, Kidd joked with Suns interim coach Frank Johnson, a good friend, and the two bumped chests and smiled.
Game notes
Kidd's wife Joumana and 3-year-old son T.J. watched the game from courtside in Nets jerseys. ... Nets guard
Lucious Harris
left the game with a bruised right hip in the third quarter. ... The Suns are 4-6 since Johnson replaced Scott Skiles as coach. ... Both teams lost Tuesday night, the Nets to the Lakers and the Suns at Dallas. ... The Nets have lost eight in a row in America West Arena. ...
Anthony Johnson
was called for a technical for shoving Hardaway during Phoenix's early fourth-quarter run.
Copyright by STATS LLC and The Associated Press
Team Stat Comparison
| | NJ | PHX |
| --- | --- | --- |
| Points | 87 | 89 |
| FGM-FGA | 35-87 (.402) | 33-81 (.407) |
| 3PM-3PA | 4-12 (.333) | 2-7 (.286) |
| FTM-FTA | 13-19 (.684) | 21-25 (.840) |
| Rebounds (Offensive-Total) | 19-48 | 13-44 |
| Assists | 25 | 15 |
| Turnovers | 15 | 15 |
| Steals | 11 | 7 |
| Blocks | 5 | 7 |
| Fast Break Points | 6 | 0 |
| Fouls (Tech/Flagrant) | 24 (1/0) | 18 (0/0) |
Next 5 Games
New Jersey
Phoenix
03/08 @POR 7:00pm
03/09 @SEA 7:00pm
03/12 TOR 8:00pm
03/13 @BOS 7:00pm
03/15 MIA 7:30pm

03/08 MIN 7:00pm
03/10 CHA 7:00pm
03/12 @MIA 8:00pm
03/13 @ORL 7:30pm
03/15 @ATL 7:30pm

Complete Schedule: New Jersey | Phoenix