Hornets
81
(18-12, 11-2 home)
Coverage: FSSW
7:30 PM ET, December 26, 2002
Smoothie King Center, New Orleans, LA
| | | | | | |
| --- | --- | --- | --- | --- | --- |
| | 1 | 2 | 3 | 4 | T |
| DAL | 22 | 20 | 26 | 15 | 83 |
| NO | 23 | 21 | 22 | 15 | 81 |
Top Performers
Dallas: D. Nowitzki 23 Pts, 7 Reb, 1 Ast, 2 Stl, 4 Blk
New Orleans: D. Wesley 24 Pts, 5 Reb, 3 Ast, 1 Stl
NEW ORLEANS (AP) -- The league-leading Dallas Mavericks are in what is for them a scoring drought. Yet it hasn't stopped them from winning.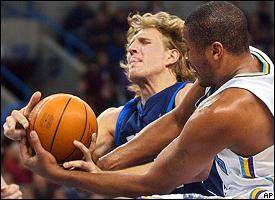 Dallas' Dirk Nowitzki, left, battles New Orleans' Jamaal Magloire for this rebound. Nowitzki finished with 23 points and seven rebounds.
Dirk Nowitzki's 23 points was a bright spot in one of Dallas' lowest-scoring outputs of the season Thursday night, but the Mavericks held on to defeat the New Orleans Hornets 83-81.
''We were lucky. We got away with one,'' Nowitzki said. ''They had chances. They just missed their shots.''
The Mavericks, who came into the game scoring a league-high average of 103.5 points, shot 37.8 percent and failed to surpass 92 points for the fourth consecutive game. Dallas has lost only one game during that stretch.
Nowitzki hit a turnaround to give Dallas an 80-79 lead with just more than three minutes left, and the Mavericks held on from there, helped by New Orleans' sudden cold spell to close the game.
The Hornets, who committed an uncharacteristically high 18 turnovers, gave the ball away twice in the final three minutes. Then David Wesley, who had 24 points, missed a pair of long jump shots that could have given New Orleans a late lead. Jamaal Magloire also missed an inside shot.
''The Force was with us tonight,'' Dallas coach Don Nelson said. ''The Hornets had three good looks at the basket but somehow the ball didn't go in.''
Steve Nash added 15 points for Dallas despite shooting only 4-for-16. He was 7-for-8 from the foul line. Nick Van Exel scored 13 points, Michael Finley 12 and Shawn Bradley added 10 for the Mavericks.
Nowitzki said teams have done a better job slowing down Dallas' fastbreak of late. But he also question his team's hustle.
''If we rebound we've got to have five guys running. We can't just have some guys giving 60 percent,'' Nowitzki said. ''We're not running hard enough. I think teams have outworked us.''
Hornets coach Paul Silas said he wanted to slow the pace of the game and for the most part was pleased with the result.
''Our game plan was not to get into an up-and-down game with them,'' Silas said. ''Rather than penetrate on the break, we opted to pull it out. They couldn't stop us in the half-court.''
But Silas was frustrated not so much by the Hornets' high turnover count as the way New Orleans lost the ball at times.
''They were inadvertent ones -- ones where we're not trying to make a big play,'' Silas said. ''Against a team like that you need every possession.''
Baron Davis and P.J. Brown had 11 points apiece, and Davis dished out 10 assists for the Hornets. Magloire added 10 points and 15 rebounds for New Orleans, which shot 39 percent in losing for only the second time at home in 13 games.
The defeat was New Orleans' second consecutive at home.
Wesley, who hit his first four 3-pointers, couldn't explain the last two open ones he missed in the final minute.
''I'm not going to get much sleep over those two. When they left my hand you couldn't tell me they weren't good,'' Wesley said. ''They probably felt better than any shot I shot all night.''
After the Wesley misses, the Hornets forced Dallas to miss a tough shot, but the rebound was batted out near midcourt to Van Exel and the Hornets could not foul him until there was about a half-second left.
New Orleans led 44-42 after a first half in which there were 12 lead changes -- and no advantage large than five points -- as both teams matched one another's hot and cold spurts.
Wesley led New Orleans through the first two quarters on 5-for-8 shooting, including all three 3-pointers he took, for 15 points. The Mavericks scored only six points from inside during the half.
Nash missed his first five shots, while Finley shot only 2-for-8. Nowitzki kept Dallas close with 13 points on six mid-to-long-range jumpers, including the only 3-pointer he took.
Game notes
Elden Campbell
, who did not dress for the game Monday night in San Antonio because of soreness in his right knee, dressed Thursday night and entered the game at the beginning of the second quarter. He had seven points in 17 minutes. ... Dallas has won its last six games against the Hornets. ... Dallas had no inside points through the first quarter but only trailed 23-22 at that point. ... Van Exel hit two shots in his first five minutes of play to surpass his shooting total of his last two games combined, when he went 0-for-5 and 1-for-7. ... The Hornets announced a standing-room-only, season-high crowd of 18,015. Capacity at the New Orleans arena is listed at 17,200.
Copyright by STATS LLC and The Associated Press
Team Stat Comparison
| | DAL | NO |
| --- | --- | --- |
| Points | 83 | 81 |
| FGM-FGA | 34-90 (.378) | 31-79 (.392) |
| 3PM-3PA | 3-14 (.214) | 4-14 (.286) |
| FTM-FTA | 12-15 (.800) | 15-20 (.750) |
| Rebounds (Offensive-Total) | 9-43 | 13-53 |
| Assists | 20 | 27 |
| Turnovers | 8 | 18 |
| Steals | 5 | 2 |
| Blocks | 10 | 3 |
| Fast Break Points | 8 | 1 |
| Fouls (Tech/Flagrant) | 20 (1/0) | 19 (2/0) |
Next 5 Games
Dallas
New Orleans
12/28 NY 7:30pm
12/30 MIL 7:30pm
01/02 LAC 7:30pm
01/04 PHI 12:30pm
01/06 DEN 7:30pm

12/28 @IND 7:00pm
12/29 @HOU 7:30pm
12/31 IND 7:30pm
01/03 ORL 7:30pm
01/05 @TOR 3:30pm

Complete Schedule: Dallas | New Orleans