8:00 PM ET, January 2, 2003
US Airways Center, Phoenix, AZ
Top Performers
Philadelphia: K. Thomas 20 Pts, 6 Reb, 7 Ast, 1 Stl
Phoenix: A. Stoudemire 20 Pts, 11 Reb, 1 Ast, 2 Stl, 2 Blk
PHOENIX (AP) -- Shawn Marion couldn't find the basket, or the ball for that matter, in the first half against Philadelphia.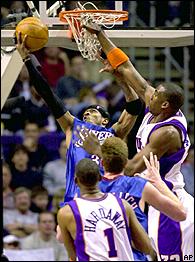 Allen Iverson goes underneath to try to find the basket, on his way to just 12 points on 4-for-17 shooting.
The second half was another story as the Phoenix Suns pulled away for their seventh consecutive home victory 96-78.
Marion was 3-for-10 in the first half for eight points and committed seven turnovers. In the second, he was 7-for-10 for 16 points with no turnovers. He saved his best for the fourth quarter, going 4-for-4, two of them 3-pointers.
''My teammates believe in me and I believe in myself,'' Marion said. ''Sometimes you start off slow, but it's a 48-minute game.''
Rookie Amare Stoudemire, coming off a 38-point performance Monday night at Minnesota, added 20 points and 11 rebounds, his 12th double-double in the last 21 games. Penny Hardaway scored 17, 14 in the second half.
The surprising Suns have won 10 of 12 overall and at 20-12 have the third-best record in the Western Conference, and their confidence is building each night out.
Coach Frank Johnson traces the team's growing belief to consecutive road victories at Boston, Philadelphia and Atlanta.
''I've sensed that for the past two weeks,'' Johnson said, ''and it started on that road trip.''
With 44.2 seconds to go, someone in the crowd threw a live rat onto the court. The same thing happened Saturday night when the 76ers played at Utah.
''I don't know,'' Philadelphia's Eric Snow said. ''I hope we won't start a trend. They need to stop, because they're throwing it up so high that thing is going to hurt somebody.''
Security personnel did not apprehend whoever threw the animal.
Marion's first 3-pointer capped a 10-1 run that put the Suns in control for good 85-68 with 4:12 to play.
Kenny Thomas scored 20 for the 76ers, who fell to 1-4 on their Western road trip with one stop remaining Saturday night in Dallas. Aaron McKie and Greg Buckner added 13 and 12 points respectively.
Philadelphia's Keith Van Horn didn't play because of the stomach flu.
Allen Iverson scored 12, one more than his season low, on 4-for-17 shooting. He barely ran his NBA-best streak of consecutive double-digit games to 152 with a three-point play that gave him 11 points with 3:24 remaining. Iverson had six assists.
Iverson credited the Suns' Bo Outlaw.
''I think Bo Outlaw changed the whole game defensively,'' Iverson said. ''It was hard for me to get any one-on-ones or anything like that because he kept shadowing me. Every time I came off a screen he was right there helping.''
Iverson's Phoenix counterpart Stephon Marbury also scored 12 on 4-for-13 shooting but had 10 assists.
Hardaway sank three 3-pointers and scored 11 points in a 23-5 third-quarter outburst. His third 3-pointer capped the run and put Phoenix up 65-51 with 2:47 left in the quarter.
''I did it with my eyes closed,'' Hardaway joked. ''I felt the rhythm. Once I start making shots I just have a feeling in me that I can't miss.''
Phoenix led 73-63 entering the fourth quarter. Philadelphia twice cut the lead to eight early in the quarter but got no closer.
''We couldn't make shots,'' 76ers coach Larry Brown said. ''I thought they defended us well, and they made shots when it really mattered.''
Stoudemire had 11 points in the first quarter, giving him 49 in his last five quarters of play.
McKie sank a pair of 3-pointers from the corner as the 76ers outscored the Suns 17-5 at the end of the second quarter. Iverson's layup after the last of Marion's seven first-half turnovers put Philadelphia up 43-42 at the break. It was Iverson's second basket in nine shots.
Game notes
Among those at the game were the cheerleaders, mascots and marching bands of Miami and Ohio State, warming up for the Fiesta Bowl on Friday night. ... Suns' center
Jake Tsakalidis
underwent back surgery to ease the pain of a bulging disc on Thursday and will be sidelined six to eight weeks. ... Phoenix's Frank Johnson was named NBA coach of the month after the Suns went 11-5 in December. ... Phoenix won the season series 2-0.
Copyright by STATS LLC and The Associated Press