Coverage: TNT
8:30 PM ET, May 22, 2013
AmericanAirlines Arena, Miami, FL
MIAMI -- LeBron James caught the inbounds pass, changed direction and immediately attacked the rim.
There was no one in his way.
More from Heat-Pacers Game 1

LeBron James won Game 1 for the Heat, but the Pacers let him do it -- mainly because they left Roy Hibbert on the bench for the game's final play, Brian Windhorst writes. Daily Dime
---

It wasn't too long ago that performances like this one, complete with the last-second heroics, would elicit bold statements about LeBron. Now, it hardly draws a shrug, Israel Gutierrez writes. Story
• TrueHoop: LeBron thrives in clutch
• Heat Reaction | Heat Index
• SportsNation: Twitter reaction
• Reaction on ESPN Radio: Jon Barry | P.J. Carlesimo | Indy Star's Bob Kravitz | Bruce Bowen | Brian Windhorst
There was no stopping him, either.
James made a layup as time expired in overtime, capping a 30-point, 10-rebound, 10-assist effort as the Miami Heat found a way to outlast the Indiana Pacers 103-102 in a wildly back-and-forth Game 1 of the Eastern Conference finals Wednesday night. There were 18 ties and 17 lead changes, the last two of those coming in the final 2.2 seconds.
"Two teams fought hard," James said. "We were able to make one more play."
If this is how this series is going to go, then get ready for a classic between teams that absolutely wanted to face the other with a trip to the NBA Finals on the line.
Paul George saved the Pacers at the end of regulation with a 32-footer with 0.7 seconds left, and then made three free throws with 2.2 ticks left in overtime to give Indiana a one-point lead. George pumped his fist gently after the third free throw, then extended his index finger skyward as the teams retreated to their benches to get ready for the final play.
He just left James too much time, and the Pacers left their best shot-blocking option on the bench. Roy Hibbert wasn't on the floor for the final play, and without a 7-foot-2 barrier to contest him, James made the winner look easy.
"Two great teams just throwing punch for punch," Indiana coach Frank Vogel said. "Our spirit is very high, very confident. We know we can play with this basketball team."
Vogel said he left Hibbert off the floor for the final play out of concern of what defending champion Miami would do with Chris Bosh in that scenario. Afterward, he acknowledged he might have different thinking next time.
"I would say we would probably have him in next time," Vogel said.
Game 2 is Friday night in Miami.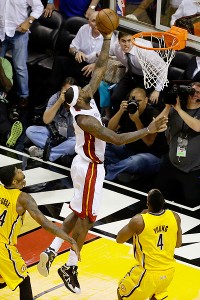 AP Photo/Wilfredo Lee
LeBron James' game-winning layup in overtime went uncontested by the Pacers.
Officials reviewed James' play at the end, though it was clear he beat the clock, and the Pacers walked slowly toward their locker room, lamenting one that got away -- by no fault of George's.
George was fouled by Dwyane Wade on the play where the Pacers had to think they had stolen the series opener. Referee Jason Phillips said Wade hit George, and the Pacers' star made all three free throws for the 16th lead change of the night.
The final lead change came moments later.
"Welcome to the Eastern Conference finals," Heat coach Erik Spoelstra said. "Back and forth the whole way."
Wade scored 19 points, Bosh had 17 and Chris Andersen had 16 on 7-for-7 shooting for Miami.
George scored 27 for the Pacers, who got 26 from David West and 19 from Hibbert. The Pacers have won only two series in NBA franchise history after dropping a Game 1.
"It just felt like everything was in our favor," George said.
The final few seconds of regulation were stunning, with Ray Allen -- the sixth-best free-throw shooter in NBA history -- missing one that proved big, and George making a miracle happen.
Trailing by two with 17.7 seconds left, the Pacers had to foul Allen, who surely would have been their last choice. But he missed one of the two free throws, and it remained a one-possession game. Indiana brought the ball into the frontcourt, called time, and then seemed to have nothing really working as the final seconds of regulation ticked away.
So George simply made something happen.
Moving On Up
LeBron James' gem of a night against the Pacers on Wednesday -- 30 points, 10 rebounds and 10 assists -- was good for his ninth career playoff triple-double, fifth-most in NBA history. Here's where he ranks:
Player
Triple-doubles
Magic Johnson
30
Jason Kidd
11
Rajon Rondo
10
Larry Bird
10
LeBron James
9
Wilt Chamberlain
9
-- Elias Sports Bureau
From 32 feet -- from the newly applied Eastern Conference finals sticker on the side of the court, technically -- George connected with 0.7 seconds left, tying the game and giving Indiana life.
Allen didn't get much of a desperation shot off at the end of regulation, and to overtime the teams went.
"It took an overtime to get it done," Spoelstra said. "Glad to get that one."
The Pacers kept landing the first punches in the extra session. George made a pair of free throws to open the OT, and Andersen tied it with a pair of his own. Hibbert scored from close range, and Wade answered with an easy one after a runout for the 16th tie of the night.
George was far from done. He went past James, got into the lane, tossed up a shot after contact and started what became a three-point play that put the Pacers up 99-96. Miami had three chances at the tie -- a desperation 3-pointer by Shane Battier as the shot clock was expiring, then a 3-point try by Battier and another 3 attempt by Battier.
All missed.
But Bosh grabbed the rebound of the last Battier shot that bounced off the rim in that sequence, scored while being fouled by George with 49.7 seconds left, calmly swished the free throw and the teams were -- what else? -- tied again at 99-all.
James scored on a drive with 10.8 seconds left in the overtime, and George answered with the three free throws. With Hibbert on the bench, Indiana had one plan for James on the last play.
"We wanted LeBron to shoot a jumper right there," George said.
He was just better.
And after 3 hours, 18 minutes, it was over.
"We're excited about the win," James said. "But we have to get better going into Game 2."
Game notes
Celebrities in attendance included Jimmy Buffett and Anna Kournikova. ... James picked up two first-quarter fouls for just the ninth time in 125 career playoff games. ... West's 18 first-half points were his most before halftime since March 24, 2011, when he had 20 through two quarters against Utah. ... From the not-often-seen department, a lane violation against the Pacers that led to James getting a second (and successful) chance on a missed free throw, and a 5-second call against Wade, both of those coming in the first half.
Copyright by STATS LLC and The Associated Press
Photo Wire
MIAMI, FL - MAY 22: A Miami Heat fan walks outside the arena prior to Game One of the Eastern Conference Finals...
(Photo by Mike Ehrmann/Getty Images)
Around The Association
MVP: LeBron James. Despite not being as impressive as we've seen for the full 48 minutes, he scored 30 points on 24 shots and made an incredible move to win the game. That alone says something of our expectations. His drive to win will go down as one of the greatest plays of this postseason.
X factor: Paul George. He struggled to make shots early but hit a 3-pointer to force overtime and then made 3 of 3 clutch free throws to set up Indiana for the win. His last-possession defense on LeBron was questionable, but the game never gets that far without him.
That was ... entertaining: Common wisdom said that the Heat are clearly the better team, but the Pacers dictated the style of Game 1 in many ways in Miami. We might be in for a long series where each game comes down to the wire.
Research Notes
LeBron James
was much more aggressive getting closer to the basket in Game 1 when
Roy Hibbert
was out of the game. In just nine minutes played with Hibbert on the bench, James went 4-for-6 for 8 points inside 5 feet of the basket. In 38 minutes played with Hibbert on the court, James scored half as many points in that area.
[+]
For as much as everyone is talking about
Roy Hibbert
being on the bench for the final play last night: In Game 1: The Heat shot 47.7% with Hibbert on the court (31-65). The Heat shot 47.6% with Hibbert off the court (10-21).
From Elias:
LeBron James
was already in the category of elite players. LeBron's go-ahead shot last night has now put him in the clutch - perhaps even most clutch. When LeBron has success late in games, it's in large part because he attacks the rim. Interestingly, the average distance for LeBron's made field goals in these situations is 5.8 feet. And, 4 of those 5 shots were within 3 feet of the rim (source: Elias Sports Bureau). The average made field goal for the rest of the league is 16.0 feet.
[+]
From Elias: In NBA history, when the road team loses Game 1 of a 7-game series in overtime, they've only come back to win the series 20% of the time.
Since LeBron came into the league in 2003-04, nobody in the NBA has made more game-tying and go-ahead shots in the final 24 seconds of playoff games than LeBron, who is 7-of-16 on those shots. His 43.8 field-goal percentage on those clutch shots ranks the best in the NBA since his rookie season among players with at least 10 attempts. Along with his buzzer-beater layup, LeBron also made a go-ahead layup with just under 11 seconds remaining in overtime.
[+]
FROM ELIAS:
LeBron James
is the 2nd player in NBA history with at least 30 points, 10 rebounds, 10 assists and 3 blocks in a playoff game. The other was Ralph Sampson in 1986. Sampson had 33 Pts, 17 Reb, 10 Ast & 5 Blk against the Nuggets. Blocks became an official stat in 1973-74.
LeBron James
is the first player in NBA postseason history with a triple-double and a buzzer-beater game-winner in the same game.
The Heat scored 60 points in the paint in Game 1 against the Pacers, shooting 72.2% (13-of-18) in the 4th quarter and overtime. In the regular season, the Heat averaged 30.7 points per game in the paint against the Pacers, their fewest against any opponent. The Heat outscored the Pacers 40-26 in the paint in the 2nd half and overtime after the Pacers outscored the Heat by 2 in the 1st half.
David West
was limited to 2 points in the paint (1-of-2 FG) in the 2nd half and overtime after scoring 10 in the 1st half (5-of-7 FG).
[+]
LeBron James
drove five times in the first three quarters, committing two turnovers and recording three assists on those plays. In the 4th quarter and overtime, James drove eight times and shot on five. James scored two go-ahead field goals on drives, including the game-winner, in the final 11 seconds of overtime.
[+]
LeBron James
was able to hit both of his driving layups in the final 11 seconds without the threat of
Roy Hibbert
, who was subbed out in favor of
Sam Young
. This season including playoffs, the Heat have shot 73.7% inside 5 feet (21-of-26 in Game 1) when Roy Hibbert was either off court or unable to contest the shot. The Heat have shot 46.9% (5-of-10 in Game 1) when Hibbert contested the attempt.
Since the 2006 postseason, a player has had a playoff triple-double with at least 30 points 4 times. All 4 of those players are named
LeBron James
.
[+]
ESPN Stats & Information