Coverage: ABC
5:00 PM ET, December 25, 2013
STAPLES Center, Los Angeles, CA
Heat beat Lakers for sixth straight win, fifth straight Christmas victory
LOS ANGELES -- The Los Angeles Lakers missed having Kobe Bryant out on the court on Christmas Day. Same for LeBron James.
Playing without its biggest star, Los Angeles stayed right with the Miami Heat for most of the day before slipping to a 101-95 loss against the defending NBA champions on Wednesday.
Chris Bosh and Dwyane Wade had 23 points apiece, and James added 19 points in the Heat's sixth straight win. Bosh grabbed 11 rebounds and Ray Allen made four 3-pointers for 12 points, helping Miami improve to 5-0 against the Lakers on the holiday.
More Heat-Lakers Coverage

Despite the league's best intentions, it's clear that there may no longer be a reason to look forward to these LeBron-Kobe marquee matchups, Michael Wallace writes. Dime
---

Moral victories were once not in the Lakers' vocabulary, but in the team's current state, they really should be, writes Kevin Arnovitz. TrueHoop
---

The Lakers are as bad as they've been all season, but a break in the schedule could help them inch back toward .500, Dave McMenamin writes. Story
• Stats & Info: Key to victory
• Heat Grades | Heat Index
• Lakers Reaction | ESPN Los Angeles
"I knew we would get a good game out of them, and I think the NBA wanted a good game," James said, noting the blowout results of the first two games on the league's holiday schedule.
Bryant was relegated to the sideline with his fractured left knee, leaving him unable to extend his NBA record for Christmas Day appearances to 16.
"It's not as special when Kobe's not out there," said James, who shared a postgame hug with Bryant.
Streaky reserve Nick Young scored 20 points for the Lakers, who were tied four times in the fourth quarter. Jodie Meeks added 17 points, Xavier Henry had 14 and Pau Gasol added 13 points and 13 rebounds.
Miami shot 51 percent from the field while improving to 7-0 against the Western Conference this season. It was its 19th straight win overall against West opponents.
Bosh scored 13 of his 23 points in the first half, when Miami trailed 27-21 after the first quarter.
"I just made an effort to get to the basket a little more," he said. "We just kept wearing on them offensively. They made some tough shots."
Los Angeles shot 42 percent in its third straight loss. The Lakers were 14-of-36 from 3-point range as they tried to go over the top to beat the Heat's rugged interior.
"Teams will try to get us moving and play out of our rotations," Heat coach Eric Spoelstra said. "Early on they were getting some wide-open ones. Some of those Nick Young hit were tough."
Jordan Farmar returned from a left hamstring tear after missing 10 games, giving the Lakers a true point guard to run the offense. But he was ineffective, with three points and two assists in 32 minutes.
"I hadn't even played 5-on-5 since I got hurt, so this is the first time I've actually played basketball," he said. "Health-wise, everything stayed intact and I felt good out there, so it's progress."
The Lakers played a competitive game against the loaded Heat despite their poor shooting and the absence of Bryant, Steve Nash (nerve root irritation) and Steve Blake (right elbow). They led by 10 points and never trailed by more than that.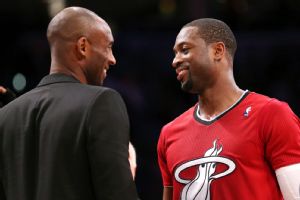 Stephen Dunn/Getty Images
Kobe Bryant could only watch as Dwyane Wade and the Heat beat the Lakers for their fifth straight win against the purple-and-gold on Christmas.
"I thought we attacked them the way we wanted to," Lakers coach Mike D'Antoni said. "We can step it up a bit and be a little bit tougher, especially on the boards and places like that. Those things are irritating, but the effort is good."
Young's basket tied the game for the last time at 83-all. The Heat promptly took off on a 13-5 run. Wade, Norris Cole and James scored all of the Heat's points.
Young answered with his fourth 3-pointer of the game and Meeks made 1 of 2 free throws to pull the Lakers to 96-92 with 1:26 to play. But Wade had an acrobatic reverse layup and James made two foul shots to give Miami some breathing room.
Young scored 12 points in the third, when the Lakers trailed by nine before scoring the final seven points of the period, capped by Young's 3-pointer, to trail 76-74 heading into the fourth.
Allen and Wade combined to score the Heat's first 13 points of the second, with Allen hitting 3-pointers to bookend the run and pull the Heat into a 34-all tie.
Bosh took over and scored 10 points in a row, including a layup that gave Miami just its second lead of the game, 40-39. James interrupted Bosh's offensive spurt with a one-handed dunk off Wade's fast-break alley oop.
"Any time Dwyane gets on the break I try to chase him down," James said. "I didn't know what he was going to do. The only way I can catch it is with my left (hand). I just tried to improvise. I got to see it again."
Game notes
Heat F
Chris Andersen
didn't play in the second half after his back tightened and his neck became sore. ... The Lakers played for the 40th time on Christmas and fell to 21-19, including 13-10 at home. ... Miami improved to 8-2 on the holiday, including 5-2 on the road. ... The Lakers used their 14th different starting lineup through 29 games. ... The teams played with sleeves on their jerseys. "Every time I shot I felt a little tug," James said. ... The Heat wore a mix of holiday-themed red and green shoes, some with touches of glitter. Some of the Lakers wore green-soled shoes. ... Bryant got up and hugged Samuel L. Jackson during a timeout in the second quarter. Jack Nicholson, Kevin Hart, George Lopez and Dyan Cannon were among the other celebs in attendance.
Copyright by STATS LLC and The Associated Press
Photo Wire
LOS ANGELES, CA - DECEMBER 25: LeBron James #6 of the Miami Heat arrives at STAPLES Center before a game against...
(Photo by Andrew D. Bernstein/NBAE via Getty Images)
Around The Association
MVP: Dwyane Wade had a sneakily efficient performance, scoring 23 points (11-of -17 shooting), grabbing six rebounds and dishing out seven assists. Defensively, his three steals helped pace Miami's dynamic fast-break attack (21 points).
Defining moment: LeBron James grabbed a rebound and threw an outlet pass to Wade, who dribbled once and lobbed the ball off the backboard. James caught the pass with his left hand, ducked his head under the rim and flushed it home.
That was ... surprisingly close: With the first two Christmas games featuring lottery-level teams getting blown out, it seemed as if the Lakers would suffer the same fate against the two-time defending champs. Instead, L.A.'s ragtag bunch hung around and almost stole the game.
Next 5 Games
Miami
Los Angeles
12/27 @SAC 10:00pm
12/28 @POR 10:00pm
12/30 @DEN 9:00pm
01/02 GS 7:30pm
01/04 @ORL 7:00pm

12/27 @UTAH 9:00pm
12/29 PHI 9:30pm
12/31 MIL 10:30pm
01/03 UTAH 10:30pm
01/05 DEN 9:30pm

Complete Schedule: Miami | Los Angeles
Research Notes
LeBron James
was 1-of-8 shooting outside the paint (6-of-6 inside the paint) Wednesday. He drove to the basket 9 times, which resulted in 15 points (11 points and 2 assists). His season averages as highlighted by player-tracking data on NBA.com are 5.9 drives per game and 6.9 team points per game.
*Credit: Player-tracking data on NBA.com
[+]
Dwyane Wade
was 11-of-17 (23 points) for the game with an average distance of 7.3 feet, Wednesday. He scored 20 of his 23 points in the paint, his second most paint points this season and tied for the fourth most by a guard this season. Wade leads all guards with 10.9 paint points per game this season.
[+]
Dwyane Wade
scored 20 of his 23 points in the paint Wednesday, his second most paint points this season and tied for the fourth most by a guard this year. Wade leads all guards with 10.9 paint points per game this season.
[+]
The
Miami Heat
had a paint point differential of +32 points Wednesday (58 to 26), which is their highest of the season. Their previous high was 28 points against the
Minnesota Timberwolves
on Dec. 7th.
Chris Bosh
was 8-of-12 from inside 5 feet Wednesday. He's averaged only 3.5 field goal attempts per game from that distance this season.
From Elias:
Kobe Bryant
played on Christmas each of the past 14 years (1999-2012), the longest such streak in NBA history, which ends today.
LeBron James
now has the longest *active* streak, playing on 7 straight Christmas Days.
The Heat were +12 with
Norris Cole
on the court Wednesday, and Cole has a plus-minus of +5.9 per game this season, the second-highest on the Heat (
Dwyane Wade
- +6.2) and in the top 25 in the league.
[+]
ESPN Stats & Information