Coverage: ESPN/WatchESPN
10:30 PM ET, February 19, 2014
STAPLES Center, Los Angeles, CA
Top Performers
Hou: J. Harden 29 Pts, 6 Reb, 11 Ast, 4 Stl, 1 Blk
LAL: K. Marshall 20 Pts, 1 Reb, 16 Ast, 3 Stl
LOS ANGELES -- There was no warm welcome. No video montage of highlights that brought back the good old days.
That didn't keep Dwight Howard from thoroughly enjoying his first road game against the team he left as a free agent after one tumultuous season.
Howard had 20 points and 13 rebounds for the Houston Rockets in 134-108 rout of the Los Angeles Lakers on Wednesday night, a victory that extended the Rockets' winning streak to eight games.
More Rockets-Lakers Coverage

Lakers fans never had this version of Dwight Howard, the one who dismissed their hearty boos with 20 points, 13 rebounds and three blocks Wednesday night, J.A. Adande writes. Dime
"We're always going to have fun when we're playing basketball. We love what we're doing," Howard said. "We're playing great, and we just want to have as much fun as possible."
The streak is Houston's longest since a franchise-record, 22-game run in 2007-08 under Rick Adelman. James Harden scored 11 of his 29 points in the final 1:25 of the third quarter and added 11 assists.
Wesley Johnson scored 24 points for Los Angeles, and Kendall Marshall had 20 points and 16 assists. The injury-ravaged Lakers remained tied for last place in the Western Conference with Sacramento at 18-36.
"The Lakers have always found a way to get back to the top, and they will one day. But I can't focus on the Lakers," Howard said. "My focus is on the Rockets and what we're trying to accomplish."
It was Howard's third game against the Lakers since leaving the organization to sign a four-year, $88 million contract with the Rockets in July. Los Angeles offered the eight-time All-Star and three-time defensive player of the year a five-year, $118 million deal to stay.
"He's having a great year there, but I felt he did the same thing here," Lakers guard Jodie Meeks said. "The numbers are almost identical. He had a pretty good year last year -- and for whatever reason, some people didn't think so."
Howard played 76 games last season, averaging 17.1 points and a league-best 12.4 rebounds per game despite residual pain from back surgery -- compounded by a torn labrum in his right shoulder.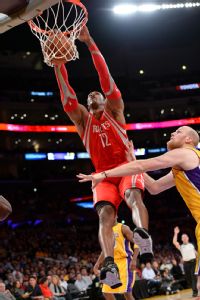 Noah Graham/Getty Images
"The Lakers have always found a way to get back to the top, and they will one day. But I can't focus on the Lakers," Dwight Howard said after Houston's rout.
Howard's only season in Tinseltown ended with a whimper -- a four-game sweep by San Antonio in the first round of the playoffs, and he was ejected from what would turn out to be his final game as a Laker for protesting a non-call.
The sellout crowd booed Howard every time he touched the ball. It began during warm-ups about 45 minutes before the game, after a few of his ex-teammates went over to say hello at midcourt. The fans then drowned out public address announcer Lawrence Tanter before he could get Howard's name out of his mouth during the introductions.
Howard received a technical foul just 78 seconds into the game after dunking on Chris Kaman.
"I think it was more emotion than anything," Howard said. "I don't know if the ref thought I was talking to Kaman, but one of my friends was sitting courtside and I was just looking at him and having some fun. It wasn't nothing toward the Lakers or any of their guys. I was just talking trash to one of my friends."
Less than 90 minutes before tipoff, the Lakers dealt guard Steve Blake to the Golden State Warriors for reserve guards Kent Bazemore and MarShon Brooks. Coach Mike D'Antoni was still talking about Blake in the present tense during his pregame session with reporters before the deal was consummated, and the trade left him with only eight players in uniform and his 28th starting lineup due to injuries to Kobe Bryant, Pau Gasol, Steve Nash, Xavier Henry and Nick Young.
Jordan Farmar returned to the lineup after missing four games because of a sore hamstring, and Meeks was back in action after sitting out five games with a sprained right ankle.
Harden helped the Rockets build a 64-43 halftime lead with 15 points in the first game for both teams following the All-Star break. Howard added 14 points and 10 rebounds -- the 10th time this season that he had a double-double by halftime.
Game notes
The Rockets were 18-for-35 on free throws, after attempting more than 50 in each of the previous two meetings. ... Bryant hasn't played in any of the games against Houston since he and Howard became ex-teammates. In fact, he's played in only six games altogether. The season series concludes April 8 at Los Angeles. ... The Lakers have lost seven games by margins of at least 20 or more points. ... Harden scored at least 30 points in each of his previous four games against the Lakers. ... The Rockets began a five-game trip that will end right back here at Staples Center against the Clippers.
Copyright by STATS LLC and The Associated Press
Photo Wire
LOS ANGELES, CA - FEBRUARY 19: Dwight Howard #12 of the Houston Rockets stands before a game against the Los...
(Photo by Andrew D. Bernstein/NBAE via Getty Images)
Around The Association
MVP: It may have been Dwight's return, but James Harden had 29 points, 11 assists to just one turnover. He scored the last 11 points for Houston in the third quarter, and temporarily quelled the concerns about his defense with four steals.
Defining moment: On the very first play, Dwight Howard sank a hook shot. On the next play, he spun and dunked. And then he scored again. Howard's play against the Lakers on Wednesday night was particularly fierce for some peculiar reason.
LVP: Chris Kaman was completely and totally overmatched by Dwight Howard. Howard had two particularly vicious blocks on Kaman in the post, Kaman finished with only eight points on 11 shots.
Next 5 Games
Houston
Los Angeles
02/20 @GS 10:30pm
02/23 @PHX 9:00pm
02/25 @SAC 10:00pm
02/26 @LAC 10:30pm
03/01 DET 8:00pm

02/21 BOS 10:30pm
02/23 BKN 9:00pm
02/25 @IND 7:00pm
02/26 @MEM 8:00pm
02/28 SAC 10:30pm

Complete Schedule: Houston | Los Angeles
Research Notes
The Rockets had 116 points either in the paint or on 3-point field goals Wednesday against the Lakers, their highest total of the season. The Rockets attempted 9 mid-range jump shots Wednesday, consistent with their league-low 8.8 per-game average. No other team averages fewer than 16.4 mid-range shots per game (76ers).
[+]
Like the rest of the Rockets,
Dwight Howard
had his way offensively against the Lakers Wednesday. Howard especially enjoyed success against
Chris Kaman
.
[+]
Between
Chris Kaman
,
Robert Sacre
and at times
Pau Gasol
, the Lakers have tried to manage their center position after the departure of
Dwight Howard
. What they've done pales in comparison to Dwight's numbers this season as his 18.8 points per game is 2nd among centers this season.
[+]
ESPN Stats & Information