Seventeen years, four titles, countless memories. It's been a match made in basketball heaven for Tim Duncan and Gregg Popovich.
Nathaniel S. Butler/NBAE/Getty Images
The Spurs duo nearly broke apart in 2000, but Tim Duncan ultimately hung around ... and the rest is history.
Chris Covatta/NBAE/Getty Images
TIMMY TUG OF WAR
The other big what-if from the early days of the Duncovich Era, as some in South Texas have taken to calling it, involves Doc Rivers again.
By the summer of 2000, Rivers had moved from the Spurs' broadcast booth to the Orlando Magic's bench. San Antonio's nightmare scenario soon followed: The rookie coach sold his new bosses on the idea that he could persuade Duncan to leave behind Pop and Admiral Dave and the championship they all won together in 1999 to relocate to the Magic Kingdom.
Doc came close to pulling it off, too.
By his own admission at the time, Duncan said he found himself swaying back and forth.
"I was in and I was out," Duncan said then.
Together with Grant Hill, Duncan visited the Magic in the sort of hoopla-filled courtship of a free-agent duo that you'd struggle to imagine Duncan so much as watching on television today.
He ultimately decided that he couldn't bring himself to leave what he was building in the Alamo City, or Robinson, or the rabid fans who had transformed the city's longstanding "Go, Spurs, Go" chorus into "Stay, Tim, Stay." He ultimately decided he couldn't leave Pop and the steely coach/player bond they had so quickly formed ... and Duncan never seriously considered playing anywhere else again. For the rest of his career at contract time, Duncan has almost immediately signed new deals that put him in position for the rare privilege of playing for the same coach his entire career.
"I would say he came pretty close [to leaving]," former Spurs forward Rose said. "Pop was pretty much walking on eggshells. He was upset with our agent, Lon Babby, because he thought [Babby] was putting something together to send Tim and Grant to Orlando [together]. I heard he was going, and then it changed at the last minute and he was staying."
"My personal opinion," Spurs owner Peter Holt tells ESPN now, "is that Timmy didn't want to leave but certainly felt like he had to test the waters."
Robinson's 11th-hour personal plea to Duncan to let Hill and Tracy McGrady have the Magic Kingdom was widely credited as the clincher. Just don't discount the relationship he had built with his screaming coach over those first few years.
Said Spurs president of basketball operations Buford: "Was it a 50 percent chance we lost him? Was it a 20 percent chance? I don't know how you gauge that. I would guess it was higher than that, but I would also guess that [Duncan's] trust in Pop -- versus the Disney World portrayal of what the opportunity was in Orlando -- was a big reason why he stayed."
While the Jazz were at their peak, the Spurs were taking a page out of Jerry Sloan's book.
Andrew D. Bernstein/NBAE/Getty Images
PICK-AND-ROLL MODELS
The Spurs weren't always the NBA's model franchise. Even they needed a blueprint.
Long before they became a factory for coaches and general managers, even before Duncan made it to the Alamo City, San Antonio looked at the Utah Jazz with the same sort of reverence with which rival teams study the Spurs today.
The Spurs saw the exacting execution and no-excuse manner in which Jerry Sloan, Karl Malone and John Stockton conducted their business and strained to emulate them.
The toughness. The precision. The physicality. The professionalism. The fact that Utah's offense was consistently effective even when everyone on the other side of the ball knew what was coming.
The unbreakable bond, above all, between the coach and his two stars in a city no one saw as glamorous.
The Spurs, before they really became the Spurs, wanted to be the Jazz.
"They weren't in a high-profile market, but they were incredibly consistent," Buford says. "They were incredibly competitive, defensively tough-minded and had a mentality that we knew we needed to get to. We knew we had to get tougher to get to their level.
"It wasn't so much style of play as it was the demeanor and the competitiveness and the consistency with which they kept their group together. We were also in similar markets, so it helped us to think, 'If they can do it, so can we.' It helped us believe there's no reason we can't be successful because we were in San Antonio."
Years later, after a slew of playoff battles that usually went Utah's way, Pop and Sloan have established a friendship, which everyone discovered when Sloan showed up at Spurs training camp at the start of the 2012-13 season as an invited guest. The ties between the NBA's execution masters of the '90s and the 2000s were only strengthened that same fall when Buford responded to a number of raids on his front office by hiring former Jazz executive Scott Layden as his assistant general manager.
The Pop-and-Timmy Spurs, of course, wound up taking what the Jazz built in Salt Lake City to a new level with those four championships. Things have come so full circle that Utah, when it needed a new GM to chart its post-Sloan course, hired trusted Buford aide Dennis Lindsey away from San Antonio to succeed Kevin O'Connor.
"By the time he gets done, [Popovich] will probably be here longer than [the 21 seasons] Sloan was in Utah," Dallas Mavericks coach Rick Carlisle, another Pop pal, said admiringly during the first round of the playoffs.
"And that's unthinkable that that could happen."
THE TIME POP GOT POP'D
Good luck to the guy whose editor asks him to dredge up a tale about Gregg Popovich winding up on the wrong end of a verbal exchange or (gasp) a practical joke.
Maybe it's happened more than we think. But let's face it: If any current or former Spurs players or coaches were slick enough to pull one off, they're certainly not going to be foolish enough to let anyone see or hear their touchdown dance now.
So we had to dig deep on this request. Fortunately for us, though, Pop has been close pals for nearly 25 years with lifelong schemer Don Nelson.
And Nellie most certainly got him.
"Best I ever got anybody," Nelson boasts.
"[Popovich] had this college coach from Air Force, and he just loved the guy. He was a really good painter, so I called him for Pop's birthday to see if there was anything I could buy from him. He had to stop painting because he had [developed] arthritis, but he said he thought he had a few things left in his attic. He wouldn't let me buy anything; he just sent me a beautiful painting of a Native American.
"So the essence of it was we were going to lunch at Alioto's on the wharf [in San Francisco] with the whole coaching staff for Pop's birthday. I told the guys that I had to stop at the art store to pick up some things I had framed. The owner of the shop was a friend of mine, so I made a deal with the guy, told him the whole plan, gave him the painting. I asked him to put a big number on it, and I gave him the whole story so he would be ready in case Pop asked any questions. We get in there and I tell the guys: 'Why don't you look around? There's a lot of nice paintings in here.'
"I had to kind of tell [Pop], 'Let's go down this aisle.' I steer him over there and he sees this beautiful painting and he starts staring at the thing. He sees the little autograph and starts thinking it could be the same guy he knows. 'He's got the same name as our old coach. Nah, that can't be.' I told him, 'Why don't you go check and find out?' So now I know I got him.
"He goes to the guy who owns the store, not knowing this guy's in my pocket. The owner starts telling him that 'it's some basketball coach from Colorado who's a painter and we have one of his works in here.' So Pop comes running back to me [saying], 'It's him, it's him, it is him.' I can still hear him saying it.
"I say, 'You really like that?' And Pop says, 'I love it.' So I say, 'Then it's yours for your birthday.' He starts going, 'Nellie, Nellie, it's $50,000, you can't do that, I won't let you.' But I yell at the guy, 'What the hell, wrap it up for Pop and put it on my tab.'
"We finally had to tell him, 'Got you, I got you, m-----f-----.' And then for the whole lunch I had to hear what an a--h--- I was instead of what a great guy I was. ... I think the picture still hangs in his living room to this day. The whole thing was pretty special."
So, yes, at least once in his quarter-century working in the NBA, Pop got "Pop'd" ... as we discovered this time a year ago that the sideline reporters call it.
Who has been the driving force behind all those championships? Well, the answer depends on whom you ask.
AP Photo/Eric Gay
WHO'S THE (REAL) BOSS?
The Spurs' organizational chart doesn't quite flow in the same sort of obvious manner as the Spurs' everyone-gets-a-touch offense.
Especially when you listen to the principals try to explain it.
Pop is widely assumed to be the unquestioned monarch of Spursdom, ahead of even his boss, which is something Mr. Holt isn't in a rush to dispute.
"I'm lucky to work for him," Holt said with a hearty laugh last month.
It sounds good and simple until you hear the stock line from Pop's trusty sidekick Buford, whose scouting eye and knack for finding not only Parker and Ginobili but so many others who've snapped in around Duncan so snugly has been as consistent for nearly two decades as Duncan himself.
"The truth is we all work for Timmy," Buford likes to say.
Popovich, for his part, has essentially been making the same proclamation for more than a decade. He said it again in April to a pack of local reporters shortly before the playoffs began when asked to reveal the secret of San Antonio's success and endurance: "Get the No. 1 pick in the draft every 10 years and make sure it's a franchise player."
And don't screw it up is how Pop usually tags that thought.
See there?
There's a lot of syrupy selflessness to wade through to try to solve the riddle.
"We all see it R.C.'s way," says Spurs broadcaster and former small forward Sean Elliott. "We're not dumb. We all know we wouldn't have any rings without Timmy. Everybody understands that. We all feel like we're working for Timmy.
"We joke about it, but I think the organization feels that way because he's such a special talent. They've been trying to surround him with the right group ever since they got him. They're always working for him."
Said former Spurs swingman Michael Finley: "At the end of the day, it's more true than joking because they've worked so hard to put players around him that can complement Tim. When I got there, Tim was right in the middle of his so-called decline, if you can even call it that, but you see the Spurs still put the players around him to this day. The team is definitely revolving around him."
It doesn't hurt, mind you, that egoless Popovich and Buford are empowered by perhaps the most hands-off owner in sports. The Spurs actually have as many as three bosses when you factor in Buford's contributions -- which were finally recognized by a long-overdue NBA Executive of the Year award on May 7 -- and all the autonomy they get from the owner.
"Obviously, I have 110 percent trust in Pop and R.C. and Rick Pych, who runs our business operations," Holt says. "I've been [in San Antonio for] 18 years, and the funny thing is all three of them were there in somewhat different positions when I showed up. The smartest thing I've done is just hanging on to all of them. And I mean that sincerely.
"The way we run our team is character first, skill second and third we understand we're in a small market. So let's take pride in trying to win and not overspending. I think we've only been taxpayers two or three times because, like it or not, we need to do that in our market. But I've been pretty fortunate. I trust those guys implicitly and just try to be there to support them. And, obviously, it's paid off."
For every climb to the top for San Antonio's star trio, there has been an equal amount of playoff heartbreak.
AP Photo/Darren Abate
POP'S BEST COACHING JOB
Amid all the bouquets gathered here in honor of what they've achieved, on top of all the admiration they get from rival teams that long to emulate what they've built -- starting with Sam Presti, Kevin Durant and the very same Oklahoma City team in the way of its dream Finals rematch with Miami -- we can't ignore the most consistent source of pain in the lives of Pop, Timmy, Tony and Manu.
The reality that, for almost every dribble of championship glory they've experienced, there's a corresponding dose of absolute playoff agony.
Derek Fisher's "Point Four" buzzer-beater. Ginobili's fatal foul on a driving Dirk Nowitzki to catapult the Dallas Mavericks to a Game 7 triumph on the Spurs' floor in 2006. And the lowlight of them all: San Antonio's failure to finish off Miami last June with a five-point lead and 28 seconds to go in Game 6, followed by an equally torturous loss to the Heat in the series decider two nights later.
"Think about it," said Spurs lifer Elliott. "If you look back from '03 through '07, we could have put three or four championships together."
Yes.
Think about it.
Think about how much differently history would view these Spurs if they had just repeated once. Four championships in a span of 17 seasons is the envy of roughly 27 or 28 franchises. But it's not quite dynastic.
"We should have three-peated," Robert Horry claims, "if Manu doesn't foul Dirk."
But he did. The Spurs were forced to settle for three titles in five seasons at their peak, unavoidably establishing themselves as the Odd-Year Champions of their generation, then needed six more years just to get back to the biggest stage in the sport, only to crash to the first Finals defeat in franchise history.
Putting the crestfallen Spurs back together as quickly as he has, resulting in a league-best mark of 62-20 in the regular season despite a slew of injuries early on, is what earned Pop his record-tying third NBA Coach of the Year award last month.
But his lifelong sidekick, Buford, insists that just getting San Antonio ready to play a quality Game 7 on South Beach after the Game 6 nightmare is actually Pop's finest hour of their two-decade run together.
"The emotions were raw after the series," Buford said. "The emotions along with losing two people who lived through a lot of good times and bad times with him, now to have them [top assistants Budenholzer and Brett Brown] missing from the group this year made it a very different environment.
"I think Pop was as raw and vulnerable as any of us after what happened. I don't know that the feelings are any less raw now, but maybe they're not as aggravated. He has been totally focused on moving us forward, even though, through the midpoint of this season, this group was still going through a lot of growing among the coaching staff and the team and the health concerns about Manu [Ginobili] from the end of last season and the fatigue factor for Tony [Parker].
"From the second Game 6 was over and he was out of the locker room, [Popovich] was focused on, 'We gotta play well in Game 7.' We feel like we actually played better in Game 7 than we did in Game 6 ... and that's because of the meal we had afterward with all the players and their families. Everybody cried, everybody bitched, everything you do after something like that. But Pop was at every table, touching every player, relating to all their loved ones, sharing the emotions of that moment and moving on to what was going to happen in Game 7.
"That was the most amazing coaching job, pulling that group up off the canvas and having it ready to go."
When asked in a recent visit with ESPN.com about the 2013 Finals, Ginobili ultimately confessed: "It was harder [than any previous loss] because you know how close we were. But after a few months, we were in training camp and ready to try again. If that's the worst thing that happens to you in your life, you are a lucky, lucky man. And I think we are.
"I do know I'm very lucky, not only to have played for one coach but the type of coach he is. And for three guys to play their whole careers [with one team] and never leave, we know it's very unique. We're all very proud of what we've accomplished, but at the same time we don't have time for that. I don't want to think so much about what we've accomplished and what we have here and what we've [done]. We just want to keep going."
Who needs to use words when you can utilize hand signals the way Gregg Popovich does?
AP Photo/USA Today Sports
DIAMOND VISION
The next time you see the Spurs in person, when you really have a chance to focus on the bench for a bit, give this a try:
Watch Pop's hands.
He's hardly the only coach with an extensive array of what scouts refer to as "visuals," but he's the only one who, in the words of former Spurs forward Kurt Thomas, flashes signals as if he's "on a baseball diamond."
"He could have been a great third-base coach," said fellow Spurs alumnus Horry.
Almost every trip down the floor, even as he calls plays out, Pop adds clear-as-day hand signals to leave nothing to chance. This ensures that none of his players can claim he didn't hear the call.
Some examples:
When he wants something out of his "Cross" series -- typically asking a smaller player to set a cross screen on a big man -- he'll cross both arms against his chest. When he opts for something out of the "Lift" set to float a big man out beyond the 3-point line, it's a tap on the head. Mimicking a traveling call is "Roll" (sideline pick-and-roll), dragging his hand down his tie is "Rub" (middle pick-and-roll) ... and pointing his thumb downward, showing four fingers and then pointing to his eye is the "Thumb Down 4 Ice" call that the Spurs ran religiously for Duncan to get him frequent isolations when they cruised to an NBA Finals sweep of LeBron James' Cleveland Cavaliers in 2007.
And those are merely a few of the options out of Pop's Joe Maddon handbook.
(As legend has it, Pop was asked several years ago to change the way he signals for "Shake," which calls for a sideline pick-and-roll with another Spur stationed in the strong corner. The league is said to have decreed at the time that Pop would have to make sure his rolling-dice motion for "Shake" was done with his arm to his side -- as opposed to straight down the middle of his body -- to avoid anything suggestive.)
Yet it's the sheer volume of the signals, more than the complexity, that can confound even vets who've been around the block.
"Do you know how hard it is to look at the point guard -- and the coach -- when you're the guy inbounding the ball all the time?" Horry says. "But you gotta get used to it, 'cause with Pop, pretty much every play has a hand gesture."
Said Thomas: "Everyone is not going to pick up Pop's system fast. He'll do [signals] real fast; he'll do it standing, he'll do it sitting in a chair. I've played for [other] coaches that used hand signals, but I've also played for some that do none."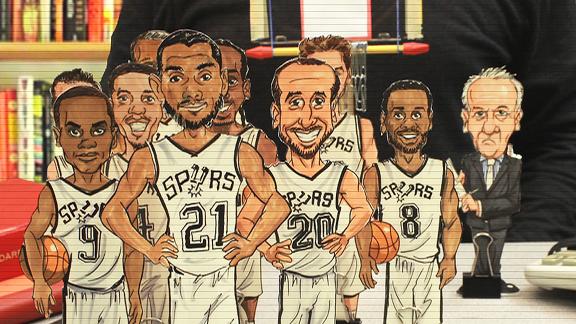 Crunch Time: The Spurs Way
Why are the Spurs so good in crunch time? They get everyone in on the act.
THE SCIENCE OF GOING 'SERBIAN'
So how does it feel?
How does it feel to absorb the full-blast wrath of Gregg Popovich when Pop, in his own words, goes "Serbian" on a particular Spur with an all-out eruption in front of all his teammates?
"It's not pleasant," Thomas confirms.
"You're pretty much deflated," said former Spurs captain Johnson, "and borderline depressed."
"It sucks," adds former Spurs forward Elliott. "If you play for him long enough, it doesn't matter who you are. You're gonna get torn down. You're gonna get it during film sessions, you're gonna get it on the court, you're gonna get in practice."
But here's the thing with the Spurs. It ranks as one of the more amazing aspects of Pop's long tenure in charge:
No one ever seems to quit on Pop no matter how loudly he screams. No one checks out. Pop's been a yeller since he took over for Bob Hill just 18 games into the 1996-97 season and hasn't mellowed yet. To this day, though, Pop has the rare privilege of knowing his best player is still willing to step face-first into the coach's full-throttle spittle if Pop thinks that's what the team needs to see.
"That's who Tim Duncan is," says Hawks coach Budenholzer, having received countless scoldings of his own, like every key Spurs staffer, over the course of his lengthy run as one of Pop's top assistants.
"Timmy wants to be coached. He wants to be coached to this day."
Adds former Duncan teammate Rose: "Once you learn how to focus on what he's saying and not how he's saying it -- and that's a big obstacle to get over -- you're in."
As Johnson went on to explain: "He just wants to know who he can depend on. Pop would say things to David [Robinson] like, 'I don't understand how you ever made the All-Star Game,' but then he'll support it with video. He always has the video to back up his point. He was always on me for being the worst defensive point guard in the league. 'You don't get long rebounds; you don't get your knees dirty enough; you take shots from the wrong spots on the floor. I told you you're a poor shooter from 80 percent of the spots on the floor, and you won't go to your 20 percent areas.' On and on and on.
"But he's also got that short-term memory. It's one of his greatest assets. Whatever happens in the moment, fine, but he's always thinking about moving on, moving on, moving on. I guess that's why we're so close. We've had lots of run-ins -- there were times my wife had to separate us -- but guess what? I love him. That's my main man.
"Tony Parker, when he first got there, he got it the same way. There were some days he wanted to go back to France, but once he figured out Pop's heart, then the rest was history. Pop was trying to figure out what the kid was made of. Now look at him: three championships and four [trips to the] NBA Finals."
Said ESPN analyst and ex-Spurs defensive ace Bruce Bowen: "There were lots of times Pop would send messages through getting on me. I don't mind taking the heat -- it was never an issue for me -- because I understand. It happened to Tim. It happened to Tony. It happened to Manu [Ginobili]. Some of it is to see exactly what type of individual you are and see how you respond. If you go into the tank and there's nothing he can do with you, then, OK, your time might be limited here."
Serbian blood on Pop's father's side is the inspiration for the term. Yet the coach's tirades are never a lasting problem, Ginobili concludes, "because you know why he does it."
"He's very honest and straightforward," Ginobili says. "He says what he thinks, but usually what he thinks is not out of nowhere. If he unloads on you, it's because there's a reason. He knows who to unload on, too.
"There's no other way. You're not going to go back at him; that's something you don't do. We all understand him."
"Continuity and consistency have been really important," Popovich says in a new "SportsCenter" essay by our own Michael Wilbon. "And we trust each other. We can argue and fight and disagree, but we're going to step onto the court and cheer for each other.
"But if one wants to be totally up front, when you have a David Robinson and you follow him with a Tim Duncan, that's a helluva way to start."
At 38 years old and with 17 seasons under his belt, Tim Duncan still hasn't lost the drive.
Jesse D. Garrabrant/NBAE/Getty Images
FATHER TIME, STUBBORN TIMMY
It's not film sessions behind a locked door with a seething Pop. It's not the sight of old nemesis Joey Crawford showing up to call that night's game. It's not even one of those dreaded but mandatory trips to the interview room with a bunch of pesky reporters waiting with their annoying questions.
What unnerves the unflappable Duncan?
"The only thing I've seen that scares Timmy is golf," says Spurs broadcaster Elliott, Duncan's former teammate and, to this day, one of his closest friends.
"He won't admit it, but he's terrified. You ever see that man swing a club? Uglier than his jumper."
In a surprise to pretty much no one, since Duncan is not exactly Sir Charles, that footage of him playing golf isn't what you would call readily available. So we'll have to take Elliott's word for it there.
But it's tough to mount an argument against Elliott's assertion that nothing else is a bother, given the way Duncan has stared down and conquered the free throw woes that plagued him early in his career. Ditto for the way he's more recently developed such convincing counters to ward off old age and heavy mileage and what looked to be the beginning of the end in the 2010 playoffs, when the Spurs were swept by Phoenix after tormenting the Steve Nash-led Suns for years.
New Golden State Warriors coach Kerr, who played alongside Duncan for four seasons and was the Suns' GM at the time, marvels at where Duncan was in those playoffs compared with where he is now after changes to his diet and an even greater commitment in the workout room.
"He was missing easy shots against us," Kerr recalls. "He just wasn't himself in that series. It was easy to say, 'Well, this is it, he's got one or two years left and he's going to have to play 25 minutes a game and settle for being a solid player.' And here he is three years later and he's All-NBA again."
Says Elliott: "This guy works so hard in the summertime. You don't even know. I go to the practice facility about five or six times during the summer to shoot baskets or work out or give someone a tour ... and Timmy will be there every time.
"The assistant coaches tell me stories about how they'll bring in free agents to woo or some of the kids they're thinking about drafting, they'll go in and Timmy's in the gym working out. And they're like, 'Tim Duncan is here?' They're shocked.
"He's an anomaly. He's a big man and a gym rat. That's an oxymoron. You have a lot of bigs who play because they're big. Guards play because they love it. Timmy has a guard's mentality. He has a guard's passion for the game in a big body. That's why he's been so good."
Says Spurs owner Holt: "People don't realize he had to change the way he runs. How many people do you see with a metal brace on their leg that cocks their knee back? How many players are willing to do that, much less can do it?"
It's a work ethic and hunger that runs counter to the notion that the native of the Virgin Islands just wants to keep things laid-back. Duncan turned 38 in April, has clocked more than 50,000 minutes in this league when you add the postseason to his total and, according to his good buddy Rose, isn't looking ahead to retirement with any semblance of relish.
"He's not ready for it all to end, and he doesn't want it to end," Rose says. "I know that for a fact."
The Big Fundamental's other job title? Family man.
Tom Pennington/Getty Images
DUNCAN UNPLUGGED
He's so serious about paintball that he owns his own custom-made guns. He's so into his cars that he opened a full-service customization shop literally around the corner from the Spurs' practice facility. He's so hooked on gaming that he lobbied one of his closest former teammates to name his son after a certain virtual-football empire.
Duncan is also an extremely devoted single father of two who, as his coach is constantly preaching, clearly has plenty of interests away from the hardwood.
"He just wants to be with his family and enjoy his hobbies," says Elliott, who knows Duncan better than most.
Rose has a 3-year-old son of his own named Miles. Duncan is the young boy's godfather.
"And Tim is mad at me to this day," Rose says. "We used to play so much 'Madden' football on the road that he wanted me to name my son Madden. He calls him Madden anyway."
Rose also happens to be part of Duncan's Team Wolfpack, which is how folks -- no joke -- refer to Timmy's paintball posse.
"Most people rent guns," Rose says. "His gun can make it from end zone to end zone."
Adds fellow former Spur Finley: "He invited the whole team out for paintball once, but I had never played. I called him to ask him what we have to wear. He said long pants and a long-sleeve shirt 'so it can protect you from the paint.' But he showed up in a tank top, shorts and knee pads. When I asked him why, he said: 'Well, I'm not gonna get hit.'
"It's the most I've ever seen him talk strategy. He had special guns. I was like, 'Wow.' I had never seen that side of him. ... I don't think he'll ever grow out of that as long as his body is able to do it."
Yet after playing against Duncan for years and then playing alongside him for five seasons, seven-time NBA champion Horry actually thinks his old foe and friend will decide to stick around and keep his day job for "three or four more years."
"He ain't goin' nowhere," Horry insists. "He's still a top-five center in this league, and he didn't play too much as a kid like most of us."
Others aren't so sure. Elliott, furthermore, fears we won't see much of Duncan, a la AT&T Center courtside fixture Robinson, when he finally does walk away.
"I think he'll be almost a recluse because he's got so many other interests," Elliott says. "He's gonna have his hands full. But he's gonna be just fine."
Courtesy Shea Serrano and Sean Mack
SO HOW MUCH DO THE SOUL MATES ACTUALLY SPEAK?
It's a question that's been in circulation ever since Pop teased us early last season with the suggestion that he and his favorite player had become the proverbial old married couple.
"He doesn't really even talk to me anymore," Pop claimed.
It's a fib, of course. It's a line manufactured for a media chuckle. The truth is that they still talk all the time, just like always, having connected instantaneously on that first trip Pop took back to the Virgin Islands -- before Pop was POP! - shortly after the Spurs had won the 1997 draft lottery.
So say those who've worked with them and watched them from close range ever since.
Buford, Spurs president of basketball operations: "They are kindred spirits. The things that are important to both of them are in alignment. They communicated on a different level pretty quickly. And they've grown even closer as Tim's life experiences have changed."
Finley: "It's almost like a father-son relationship. Pop gets mad at Tim. Tim gets mad at Pop. But at the end of the day they don't go to bed mad at each other. Their relationship is like nothing I've seen on any team I've ever been on. I always thought me and [Don Nelson] were close in Dallas ... but I always thought Nellie would have traded me if he got the right offer."
Budenholzer, Hawks coach and former Spurs assistant coach: "He coaches Timmy very hard. There are high standards, high expectations, and Timmy doesn't always meet them, as great a player as he is. So sometimes they get pissy and stop talking, but there's always a very deep understanding there."
Spurs alumnus Thomas: "If you see the way he talks to Tim Duncan, you don't have a problem with him getting on your ass. If Tim can take it, you can take it. From the top guy all the way to the bottom of the totem pole, he treats them all the same."
Buford: "Every year they have their yearly divorce, then eventually one or the other will break the ice. I think he's counsel for Tim in a lot of different areas. And it's a different level for Tim because he doesn't have other people he goes to, especially now that [former agent] Lon [Babby] went to Phoenix."
Ex-Spurs forward and current broadcaster Elliott: "[Pop] expects a lot out of you, but away from the court is what gets him that respect. Because he is like a pop. He's like a father to a lot of the guys. He doles out great advice."
Former Spurs executive and current New Orleans general manager Dell Demps: "I know the media doesn't see it a lot, but Pop has a great understanding of people. I think [former Spurs player and executive ] Danny Ferry said it best, so I'm going to steal this from Danny: Pop has a way of making you feel like the most important guy in the world. He'll ask your opinion on a situation even when he knows he's probably got a better answer. But he makes you feel a part of it. When I was there, I always felt a part of it."
BORN TO BE MILD
The NBA announced in April that Tim Duncan, who used to struggle to move merchandise in his own city, had one of its 15 best-selling jerseys this season in terms of nationwide sales.
It was the first time Duncan landed on the league's official Most Popular Jerseys list since 2007.
Compare that with an ESPN survey conducted in 2012 -- in which zero teenagers in a survey pool of 18,000 fans of all ages named Duncan as their favorite player -- and you're tempted to conclude that the Duncan-led Spurs might finally be trending away from the "boring" tag they've lugged around for years.
Or maybe not.
"Are you kidding?" says Rose, now a broadcaster for the Philadelphia 76ers and Sirius Radio in retirement.
"Being boring is one of the things he and Pop vibed on from the start. They both want the same thing. He's a superstar who doesn't want the limelight, and Pop is a coach who doesn't want the limelight. It's one of the reasons those two are close."
"The only one who likes the limelight," says Spurs ex Horry, "is Tony [Parker]."
The likes and dislikes of the greater basketball public have, by contrast, been much tougher to pinpoint. It's perhaps the game's ultimate modern paradox: Why do we so often hear fans lobbying to see more attention paid to the sort of team-first, right-way-to-play, wildly successful organization that the Spurs have built, but then pay so little attention themselves when given the choice?
The Spurs' view has always been that it's a question better answered by the fans than by the Spurs themselves. Especially since Duncan, with that bank shot of his right out of some old-school textbook, is perfectly content to remain the most anonymous all-time great in the sport's history.
"The lack of recognition bugs me sometimes," Elliott says, "but I think it bugs us [around the team] way more than it bugs Timmy or Tony or Manu."
You can safely presume that the whole "boring" concept bugs Popovich least of all, especially if you buy into an interesting theory advanced by Big Shot Rob.
ESPN.com's Kevin Arnovitz, in a wonderful profile digging into various layers of the San Antonio machine during last June's NBA Finals, reminds us that, yes, even the staid Spurs would have happily drafted LeBron James if they had the chance in 2003, even if that meant taking on an entirely different persona had they won a third game-changing lottery.
But it's Horry's belief that Pop does deliberately try to keep things boring, rather than just letting the humdrum flow naturally from Duncan's determination to dodge the spotlight and stick to just keeping working on those window-kissing bankers.
"Others players around the league are jealous of the LeBrons and the Kobes," Horry says. "They want to beat those guys so bad. They try their hardest against those guys. Pop shuts everything down [in terms of endorsements and glamour] because he doesn't want anyone coming at the Spurs like that. He won't admit it, but I really believe that's why Pop shuts it all down."
As Duncan told Arnovitz last spring: "People around the game are envious of what we have. They're envious of the way we run things and how we do things and how we get things done and the kind of coach that Pop is. They're envious of that stuff. They're not envious of the image."
What will the Spurs look like when Gregg Popovich and Tim Duncan walk away from the game?
Derick E. Hingle/USA TODAY Sports
WHAT ON EARTH DO THE SPURS DO FOR AN ENCORE?
Public enemy No. 1 Barkley and his running spat with the women of San Antonio gets all the headlines, but this is the topic that is truly met with universal dread throughout the Alamo City.
This is the looming source of angst that the Spurs' chief architect, even in the best of times, can't seem to excise from his head.
What in the world do the Spurs do when Pop and Timmy decide to retire?
Asked how often he ponders the daunting hereafter, Buford confesses: "Every day. Hundreds of times every day."
Pop himself has always tried to deflect questions about the future with humor, lobbing in a few dozen quips of his own over the years about how he'll be the first guy to follow Duncan out the door when No. 21 decides to turn that jersey in for near-instantaneous hoisting to the rafters, typically followed by nervous laughter from Pop's skittish media audience.
The reality?
It's all guesswork from the outside. Multiple theories abound when it comes to the actual Pop-and-Timmy exit strategy, but that's largely because neither, quite predictably, has ever shown any willingness to discuss the matter with any depth. Which keeps true to Pop's long-held determination, Air Force Academy-style, to keep everything classified.
Will they suddenly decide to walk away together if the Spurs win it all this June for the fifth time in franchise history? Does Duncan secretly have it in him to play on for three or four more seasons as Horry suggested above? Won't Pop stay on as some sort of Red Auerbach-style patriarch to oversee the return of Budenholzer or the Lil' General Avery Johnson as his successor on the bench?
"For the longest time," says former Spurs forward Thomas, "we thought it was going to be Coach Bud [replacing Popovich as coach]."
Says Spurs alumnus Finley: "Pop and Tim leaving together would be the perfect ending to a perfect relationship. Although one thing I think may happen is Pop staying an extra year to make sure things are going in the right direction, so it won't be such a shock to the franchise with both of them leaving at the same time."
"I would hope they leave together," Rose says. "Kind of like how David [Robinson] won it all in '03, kissed the big Spur at center court and walked off a champion. If those two did it together, it would be so fitting for them to leave together. I would bet money Pop and Tim leave together ... and it's gonna be really, really cool."
Stay tuned. If the world's media can get them trapped at the NBA Finals lectern, with no escape, perhaps they'll be coerced into sharing some level of clarity. Perhaps these two will find a way, at last, to see off the stubbornly spry and hyperactive Thunder, avenge last June's Finals heartbreak and then be forced to decide whether to seize the opportunity to leave the game in the same triumphant and storybook manner The Admiral did.
If Pop and Timmy, that is, can actually bear to tear themselves away from everything they've built since that magical combination of pingpong balls threw them together for life in the late spring of 1997.
Seventeen sweet years ago.
"Tim is supercompetitive, and Pop is supercompetitive," says former Spurs executive Demps. "I don't think you understand just how competitive until you're around them, but they really share that in common. When I was there, Tim would come to draft workouts and draft meetings. Pop would ask his opinion on free agents and trades and stuff happening in the locker room. He's in. The care factor with Tim is unbelievable."
"All I know is they're irreplaceable," Spurs lifer Elliott says. "You can't replace 'em. It's gonna be an entirely new era here in San Antonio.
"I tell people all the time that we're spoiled. We don't have the real NBA here. We've had two superstars in Timmy and David who didn't read the superstar handbook."
Said Thomas: "Trust me. If anyone has a plan, it's Popovich. There's no doubt about it. We don't know, but he already knows. Trust me. He already knows."