Kevin Durant, Washington win city battle
Updated:
August 21, 2011, 3:02 AM ET
Associated Press
WASHINGTON -- Kevin Durant scored 44 points to lead Washington's Goodman League to a thrilling 135-134 victory over the Drew League from Los Angeles on Saturday night.
Locked-out NBA stars from both cities played in the game on the campus of Trinity University. The stands were packed beyond the listed 1,500 seat capacity and the crowd watched local hero Durant walk away with the game's Most Valuable Player honors.
The overflow crowd ringed the court while scores of local and national media lined the track above the court, basking in the hardwood contest for coastal supremacy, one that was more intense than even the players anticipated.
Stars Put On One-Night Show

Saturday's high-intensity summer league showdown had everything a deprived NBA fan could want, writes TrueHoop's Beckley Mason. Story
"Yeah, it was," said Durant, who sank a pair of throws with 21 seconds to put Goodman up one point, then blocked his Oklahoma City Thunder teammate James Harden's baseline jumper at the buzzer. "It was fun though. We hadn't played together or anything, but in the end we came together."
The most anticipated game of the summer, one trying to answer that age old question of which city balls best, might be the last time for a while this many NBA players take to the same court at the same time.
The Goodman side let a 16-point, third-quarter lead slip away and Harden's late 3-pointer tied the game at 133. The lefty guard then sank one of two free throws with 29 seconds left to put Drew up one, before Durant reclaimed the lead.
On the final possession, Brandon Jennings was matched up against former No. 1 pick John Wall of the Wizards, who scored six of the Goodman League's final 10 points and dove head first into a group of photographers while going for a loose ball after sinking a jumper for that late three-point edge.
[+] Enlarge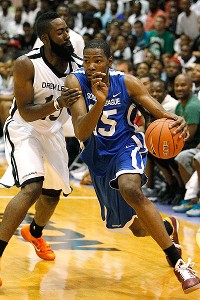 AP Photo/Charles DharapakKevin Durant, right, playing for Washington's Goodman League, drives on Thunder teammate James Harden, left, playing for L.A.'s Drew League, on Saturday. Durant had 44 points.
Jennings, who led Drew with 34 points, settled for a long shot that missed. The rebound was corralled by Harden, who scored 29, along the left baseline with Durant in pursuit.
Harden's game face was showing behind his full beard before the game, intensity that was not surprising considering the Los Angeles players paid their way to travel East.
He said the battle to show which city has the best talent was "why we set this whole thing up. Both teams are going to play hard."
Though his Thunder teammate was in the next stall of lockers over, Harden made it clear they were not teammates on this day.
"I don't want to hear nothing about that Kevin Durant or Thunder up," he said. "We're enemies."
That was obvious in the final seconds as Durant swarmed Harden, forcing a double clutch shot that never reached its target as the long limbed forward from the D.C. suburbs got a piece of it.
"It was a good battle, it was back and forth," said Denver Nuggets guard Ty Lawson, another D.C. area native. "The L.A. team came back, made a game of it. In the end KD made the free throws and made the right plays. So did John Wall."
The dunking started off the opening tip and never let up, though defensive intensity existed throughout. Washington Wizards center JaVale McGee won the initial jump ball and then flushed home an alley-oop for the Drew squad. Moments later his NBA teammate Wall set up Durant for a high-rising dunk.
"Whenever you team up with the leading scorer in the NBA, it's always going to be easy to find assists," said Wall, who finished with 28 points.
San Antonio Spurs guard Gary Neal and Sacramento Kings center DeMarcus Cousins were among the nine NBA players on the court late in the game, both playing for the Goodman League. McGee and Toronto Raptors forward DeMar DeRozan joined Jennings and Harden along with NBA veteran Marcus Banks.
NBA players have been a part of summer league action for years, from the asphalt court in D.C's Barry Farms to the indoor gym at the Drew League. This offseason the participation has been greater then in past years because of the work stoppage.
"I would say so, a lot more guys are playing in the summer leagues, a lot veteran guys as well," Harden said. "It's a good thing to get everyone on the court at the same time."
Wall has been a staple on the summer league and exhibition game circuit this summer, far more he said than if the offseason was of the normal kind. Happy to play in these games, sure, but Wall expressed his frustration over the labor standoff and for a very pure reason.
"Everybody thinks it's all about the money," he said. "It's not about the money. I just want to play basketball, I love to play basketball."
That was evident from both the right and left coasters Saturday night, all of whom represented their leagues well. Right now, that's about all they can do.

Copyright 2011 by The Associated Press
EDITORS' PICKS
Meet the draft's international man of mystery, Emmanuel Mudiay.
Ford

Heartbreak city

Is it time for the Spurs to panic?
Michael Wallace »
MORE FROM ESPN LOS ANGELES

Check out the new ESPN Los Angeles, the place for your local Los Angeles sports coverage.
MOST SENT STORIES ON ESPN.COM