Tentative NBA labor deal reached
Updated:
November 26, 2011, 7:20 PM ET
ESPN.com news services
NEW YORK -- NBA owners and players reached a tentative agreement early Saturday to end the 149-day lockout and hope to begin the delayed season on Christmas Day.
Neither side provided many specifics but said the only words players and fans wanted to hear.
TrueHoop: Winners and losers

With a tentative deal done between the owners and players, who came out ahead and who came out hurting? Henry Abbott breaks it down. Blog
• Abbott: What's in it for players
• Five-on-Five: Questions, answers
• Coon: What's in the new deal
• Reaction: Players, fans chime in
• More reaction: Twitter, sounding off
---
ESPN City Sites

A canceled season would've been a disaster, so both parties did what they needed to do, writes ESPNNY's Stephen A. Smith. Story

If the schedule holds, it means reigning MVP Derrick Rose and the Bulls start the season against the Lakers, ESPNLA's Dave McMenamin writes. Blog
• Caplan: Real work begins for Mavs
• Kamenetzky: Effect on the Lakers
• May: Good news for the aging Celtics
"We want to play basketball," NBA commissioner David Stern said.
After a secret meeting earlier this week, the sides met for more than 15 hours Friday, working to try to save the season. This handshake deal, however, still must be ratified by both owners and players.
Stern said it was "subject to a variety of approvals and very complex machinations, but we're optimistic that will all come to pass and that the NBA season will begin Dec. 25."
Barring a change in scheduling, the 2011-12 season will open with the Boston Celtics at New York Knicks, followed by Miami at Dallas in an NBA Finals rematch before MVP Derrick Rose and Chicago close the tripleheader against Kobe Bryant and the Lakers.
President Barack Obama gave a thumbs-up when told about the tentative settlement after he finished playing basketball at Fort McNair in Washington on Saturday morning.
The league plans a 66-game season and aims to open training camps Dec. 9. Stern has said it would take about 30 days from an agreement to playing the first game.
"All I feel right now is 'finally,' " Dwyane Wade told The Associated Press.
Multiple league sources confirmed to ESPNLosAngeles.com's Dave McMenamin that the NBA All-Star Game would be held in Orlando as scheduled, though a date has yet to be finalized.
Just 12 days after talks broke down and Stern declared the NBA could be headed to a "nuclear winter," he sat next to union executive director Billy Hunter to announce the deal.
"We thought it was in both of our interest to try to reach a resolution and save the game and to be able to provide the kind of superb entertainment the NBA historically has provided," Hunter said.
When The Weather Outside Is Frightful
The NBA plans to start a 66-game schedule on Christmas Day after training camps open and free agency begins Dec. 9:
• Celtics at Knicks, noon ET (TNT)
• Heat at Mavs, 2:30 ET (ABC)
• Bulls at Lakers, 5 ET (ABC)
• Magic at Thunder, 8 ET (ESPN)
• Clippers at Warriors, 10:30 ET (ESPN)
A majority on each side is needed to approve the agreement. The NBA needs votes from 15 of 29 owners. (The league owns the New Orleans Hornets.)
Stern said the labor committee plans to discuss the agreement later Saturday and expects them to endorse it and recommend to the full board.
The union needs a simple majority of its 430-plus members. That process is a bit more complicated after the players dissolved the union Nov. 14. Now, they must drop their antitrust lawsuit in Minnesota and re-form the union before voting on the deal.
Because the union disbanded, a new collective bargaining agreement can be completed only once the union has re-formed. Drug testing and other issues still must be negotiated between the league and the players.
"We're very pleased we've come this far," Stern said. "There's still a lot of work to be done."
SportsNation: Your chance to weigh in

A tentative NBA labor deal still needs approval from owners and players, but will you be back?
• Cast your votes!
Participating in the talks for the league were Stern, deputy commissioner Adam Silver, Spurs owner Peter Holt, the chairman of the labor relations committee, and attorneys Rick Buchanan and Dan Rube.
The players were represented by executive director Billy Hunter, president Derek Fisher, vice president Maurice Evans, attorney Ron Klempner and economist Kevin Murphy.
Owners locked out the players July 1, and the sides spent most of the summer and fall battling over the division of revenues and other changes owners wanted in a new collective bargaining agreement.
They said they lost hundreds of millions of dollars in each year of the former deal, ratified in 2005, and they wanted a system where the big-market teams wouldn't have the ability to outspend their smaller counterparts.
[+] Enlarge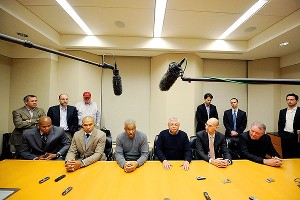 Patrick McDermott/Getty ImagesMaurice Evans, Derek Fisher, Billy Hunter, David Stern, Adam Silver and Peter Holt announce a tentative labor agreement to end the 149-day lockout.
Players fought against those changes, not wanting to see any teams taken out of the market when they became free agents.
"This was not an easy agreement for anyone. The owners came in having suffered substantial losses and feeling the system wasn't working fairly across all teams," Silver said. "I certainly know the players had strong views about expectations in terms of what they should be getting from the system. It required a lot of compromise from both parties' part, and I think that's what we saw today."
But it was never easy. The day required multiple calls with the owners' labor relations committee, all the while knowing another breakdown in talks would mean not only the loss of the Christmas schedule, but also throw the entire season in jeopardy.
Stern said that despite some "bumps" Friday evening, "the greater good required us to knock ourselves out and come to this tentative understanding."
NBA Lockout

The NBA lockout began on July 1, but a tentative agreement has been reached to save the season. ESPN.com Topics keeps you up to date with all of the latest on the NBA's labor situation. Topics Page »
He denied the litigation was a factor in accelerating a deal, but things happened relatively quickly after the players filed a suit that could have won them some $6 billion in damages if the court ruled the lockout was illegal.
"For us the litigation is something that just has to be dealt with," Stern said. "It was not the reason for the settlement. The reason for the settlement was we've got fans, we've got players who would like to play and we've got others who are dependent on us.
"And it's always been our goal to reach a deal that was fair to both sides and get us playing as soon as possible, but that took a little time."
And led to the second shortened season in NBA history, joining the 1998-99 lockout that reduced the schedule to 50 games. This time the league will miss 16 games off the normal schedule.
Information from The Associated Press was used in this report.
NBA Lockout: Sides Agree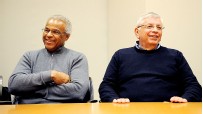 Follow the NBA on ESPN:
Twitter / Facebook / Google+
LATEST NEWS
COLUMNS, REACTION
WallaceNBA_ESPN

Michael Wallace


Wallace: Defending champ Spurs battle rare distress as Parker desperately seeks health, old form http://t.co/PJr12hZnh2 via @espnnba
6 minutes ago

chadfordinsider

Chad Ford


What type of NBA potential does Emmanuel Mudiay have? @FranFraschilla gives his answer in this film session. http://t.co/OKmnEbiPYO (in)
13 minutes ago

tomhaberstroh

Tom Haberstroh


Good Q from @kpelton: Should we consider Steve Kerr part of the Phil Jackson coaching tree?
15 minutes ago

mcten

Dave McMenamin


Canadian customs agent in Toronto: "How much do you think the Raptors are going to win by? We the North!"
23 minutes ago

tomhaberstroh

Tom Haberstroh


Following up on @teamziller's chart, Phil Jackson's coaching tree now has 237-528 (.310) record in NBA. http://t.co/VgRbDrrIyP [in]
23 minutes ago

tomhaberstroh

Tom Haberstroh


Time to kill the "Leastern" Conference moniker. Inside the numbers on the East's recent revival. http://t.co/VgRbDrrIyP [in]
28 minutes ago

Chris_Broussard

Chris Broussard


Anthony Davis participated in NO's shoot around & will try to play tonight Vs Detroit barring any setbacks throughout the day.
29 minutes ago

chadfordinsider

Chad Ford


Emmanuel Mudiay's great China experiment is over. What's next? A run for the No. 1 pick: http://t.co/cJdvqGs4lx (in)
32 minutes ago

chadfordinsider

Chad Ford


Emmanuel Mudiay's great China experiment is over. What's next? A run for for the No. 1 pick: http://t.co/cJdvqGs4lx (in)
33 minutes ago

Barryathree

Brent Barry


@kpelton I say more of a Rex Walters guy
44 minutes ago

kpelton

Kevin Pelton


Dating back to summer league, Tyler Johnson has given me a bit of a smaller @Barryathree vibe.
46 minutes ago

ESPNSteinLine

Marc Stein


McGee's big contract with Nuggets, of course, was awarded by Raps GM Masai Ujiri, who had strong relationship with the 7-footer in Denver
about an hour ago

ESPNSteinLine

Marc Stein


Also hearing you can add Toronto to the list of teams weighing whether to make a play for JaVale McGee, who clears waivers today at 5 PM
about an hour ago

ESPNSteinLine

Marc Stein


My man @IAmDPick reports former Mavs guard Josh Akognon is signing with Partizan Belgrade. Means I have even more reason to visit Belgrade
about an hour ago

SherwoodStrauss

Ethan Strauss


TrueHoopTV at 2pm EST today. I'll tell viewers what a 5 hour car ride with @aminespn is like http://t.co/55WmNSduOl
about an hour ago

truehooptv

TrueHoop TV


ICYMI @tomhaberstroh with @dmorey on Harden for MVP, Barkley as Sloan headliner, the underpaid Battier and NBA memos. http://t.co/N45MnNtPDv
about an hour ago

tomhaberstroh

Tom Haberstroh


Mo Williams with the Hornets: 22.8 points and 8.0 assists per game along with a 58.8 TS% and 23.2 PER. MVP?
about an hour ago

BigOShow

Orlando Alzugaray


Today on the show @WallaceNBA_ESPN #Heat 11, #Dolphins @ChrisPerk 11:40 & @OhioStAthletics WR Devin Smith 12:20 http://t.co/mAnSNdIfK0
about an hour ago

NBARumorCentral

ESPN


Where's Danny Granger? #Suns http://t.co/wgbTvGi6hD
about 2 hours ago

WallaceNBA_ESPN

Michael Wallace


Nugget from ESPNstats: Spoelstra's .636 career win pct is tied for 6th in NBA history (min. 500 gms). Who's he tied with? Pat Riley.
about 2 hours ago

MOST SENT STORIES ON ESPN.COM