Commentary
Updated: Most likely amnesty cuts
If a team chooses to free one player from its salary-cap number, here's who it could be
Pretty much everyone in the NBA has a decent handle on how the return of the so-called "amnesty" clause, conceived in 2005, is designed to operate in 2011.
That's the good news.
The bad news: Looks like the magic bullet that teams will be granted in the new labor agreement, inviting them to take a mulligan on their most unpalatable contract, will not lead to the sort of free-agent bonanza that so many of us transaction-game lovers were anticipating. At least not immediately.
And here's why: Teams will be permitted to waive one player with pay prior to any season of the labor deal -- only for contracts in place with the team making the move as of July 1, 2011 -- and have 100 percent of the player's salary removed from a team's payroll for both salary-cap and luxury-tax purposes. That means teams can save this mulligan for next season or beyond, unlike in 2005 when teams had just two weeks in August to use or lose the original amnesty clause forever.
Also: Players who are released via the new amnesty clause don't instantly become free agents like they did in 2005, when Michael Finley was not only paid millions to leave the Dallas Mavericks but also had the right to head straight to San Antonio and collect a championship ring with the Spurs within two seasons. Players released through the 2011 amnesty clause have to go through a modified waiver process before becoming a free agent that gives teams with salary-cap space first crack at submitting offers in the manner of a blind auction to claim an amnestied player by bidding the amount of the player's contract they're willing to eat.
The combined effect of those restrictions are what prompted one unnamed team executive to tell The New York Times earlier this week that three to six teams, at most, will release players via amnesty before the Dec. 25 scheduled start of the 2011-12 season. No one is disputing that estimate, either, because the temptation to save the amnesty card, as insurance against truly dire circumstances down the road. is going to be too tough for most teams to resist.
All teams, though, continue to draft their own mock amnesty lists, attempting to forecast which players do or don't have a shot to ultimately join the free-agent pool through the amnesty hatch. And we've re-done our own team-by-team breakdown of the amnesty thought process for each of the NBA's 30 front offices, in consultation with various team executives and agents, since these mulligans have to be cashed in between Dec. 9 and Christmas Day or pocketed until the summer of 2012 at the earliest.


ESPN.com's Brian Windhorst and Larry Coon and ESPNLosAngeles.com's Ramona Shelburne contributed to this report.
NBA Lockout: Sides Agree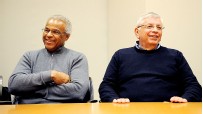 Follow the NBA on ESPN:
Twitter / Facebook / Google+
LATEST NEWS
COLUMNS, REACTION
ESPNNBA

NBA on ESPN


You can't stop CP3! Paul goes off for 23 Pts, 8 Reb and 12 Ast to lead the Clippers to a 120-100 win over the Suns. http://t.co/y2yOVqLCTp
about a minute ago

ESPNNBA

NBA on ESPN


Pacers hang on to beat the Magic, 106-99. Roy Hibbert records 11 Pts & 13 Reb to get the double-double. http://t.co/aAuOFKEiUM
6 minutes ago

ESPNNBA

NBA on ESPN


All they do is win! Hawks beat Wolves, 112-100, to win their 16th straight game! Paul Millsap leads the way with 20 Pts, 5 Reb and 6 Ast.
13 minutes ago

kpelton

Kevin Pelton


Klay Thompson misses his first shot against Boston. "He's cooled," quips the great Mike Gorman.
17 minutes ago

kpelton

Kevin Pelton


http://t.co/vVtdpbJ40T RT @kenpomeroy: Washington's 2-pt defense last season: 327th. This season: 5th.
27 minutes ago

WallaceNBA_ESPN

Michael Wallace


Who is Hassan Whiteside? A dude who 'was just chillin at the downtown YMCA' 3 months ago begging for an NBA call http://t.co/koI9LX7BR6
28 minutes ago

ESPNSteinLine

Marc Stein


Next up with your NBA Insiders on @espnradio: @AminESPN, @WindhorstESPN and I are joined by one & only Jerry West -- http://t.co/NZI2OB6gv0
29 minutes ago

ESPNNBA

NBA on ESPN


UPDATE: X-rays on Tyson Chandler's knee were negative and he has returned to the game.
32 minutes ago

tomhaberstroh

Tom Haberstroh


Not good. RT @espn_macmahon: Tyson Chandler is grabbing his left knee. Had to be helped off the court.
51 minutes ago

WallaceNBA_ESPN

Michael Wallace


Feel same about Whiteside as I do Hawks. The more I see, much more I believe this isn't some sort of fluke. They are what they've shown.
54 minutes ago

WallaceNBA_ESPN

Michael Wallace


Still not sure if Whiteside will prove to be more Jerome James/Javalle McGee or Theo Ratliff/Amir Johnson in terms of sustainable impact.
about an hour ago

ESPNNBA

NBA on ESPN


Rick Carlisle does not expect to continue to bench Rajon Rondo in the 4th quarter as he did against the Bulls. http://t.co/Ff3gUViqjp
about an hour ago

IzzyESPN

Israel Gutierrez


"@JonFilet: My girlfriend on @IzzyESPN: "He would make a beautiful woman, just like Anderson Cooper.""Pretty sure she's hitting on me.
about an hour ago

kpelton

Kevin Pelton


This Dwight Powell thing is happening.
about an hour ago

ESPNSteinLine

Marc Stein


Half-hour away from first-ever edition of NBA Insiders on @espnradio. Surprise guest No. 2: Scheduled to be joined by one & only Jerry West
about an hour ago

kpelton

Kevin Pelton


The Mavericks are still looking for a good defensive matchup for Anthony Davis. Might be a while before they find it.
about 2 hours ago

WindhorstESPN

Brian Windhorst


A week ago Cavs were 29th in league in field goal defense. They've now held 4 straight opponents under 42% shooting.
about 2 hours ago

ESPNNBA

NBA on ESPN


Have a game, LeBron! Cavs defeat Thunder, 108-98, behind 34 Pts, 7 Reb and 5 Ast from King James. http://t.co/xQO9IQ4hzX
about 2 hours ago

mcten

Dave McMenamin


Cavs run win streak to 6 in a row with a 108-98 victory over OKC. LeBron 34p 7r 5a; Love 19p 13r; Kyrie 21p 6a; Tristan Thompson 10p 16r
about 2 hours ago

ESPNNBA

NBA on ESPN


LeBron James is 🔥🔥🔥!!
about 3 hours ago