Chris Paul trade to Lakers off
Updated:
December 9, 2011, 11:42 AM ET
By
Marc Stein
| ESPN.com
On the eve of the sport's formal re-opening for business after a five-month lockout, NBA commissioner David Stern sent shockwaves throughout the league Thursday night by nixing the league-owned New Orleans Hornets' plans to trade guard Chris Paul to the Los Angeles Lakers.
Within an hour of the Hornets striking an agreement in principle with the Lakers and Houston Rockets on a three-team trade that would have landed Paul in the same backcourt as Kobe Bryant, Stern informed the Hornets that they couldn't make the trade, stunning team officials who had been working around-the-clock for days in hopes of bringing an end to the Paul saga before the season officially started.
More From ESPN.com

NBA owners revealed themselves to be vindictive, onerous, agenda-driven and spectacularly petty Thursday night when they complained to the point that David Stern, in a gutless move, essentially vetoed a legitimate trade, writes Michael Wilbon. Story
---

This is the same NBA that was willing to kill an entire season. So it only make sense that the league would nix a trade that represented a pretty good solution to a bad situation, writes J.A. Adande. Story
---

The questionable decision to nix the Chris Paul trade only helps pave way for Dwight Howard to L.A., writes John Hollinger. Story

• Kreidler: Same old, same old
• Shelburne: Dangerous precedent
• Cuban: Move was justified


• Markazi: Stars nearly aligned
• Stephen A. Smith: Bad call


• Timeline: Of the the non-trade
• ESPN Los Angeles | Lakers Blog
Amid a stream of reports that angry owners were demanding the trade be vetoed, on the same day those owners had gathered in New York to ratify a new labor pact purportedly designed to foster competitive balance and prevent small-market teams from being raided for their stars, league officials tried to dispute claims of a revolt by insisting that the decision was Stern's.
"It's not true that the owners killed the deal," NBA spokesman Mike Bass said. "The deal was never discussed at the Board of Governors meeting and the league office declined to make the trade for basketball reasons."
Yet in an email to Stern obtained by Yahoo! Sports, The New York Times and Cleveland Plain Dealer, Cleveland Cavaliers owner Dan Gilbert called the proposed deal "a travesty" and urged Stern to put the deal to a vote of "the 29 owners of the Hornets," referring to the rest of the league's teams.
The proposed trade would have sent Paul to the Lakers, Pau Gasol to the Rockets and furnished New Orleans with three top-flight NBA players in Kevin Martin, Luis Scola and Lamar Odom as well as playoff-tested guard Goran Dragic and a 2012 first-round pick that Houston had acquired from the Knicks. The general reaction among rival executives was that Hornets general manager Dell Demps did as well as he could under the circumstances after Paul told the Hornets on Monday he would not sign a contract extension this season and instead planned to become a free agent July 1, 2012.
But Stern stepped in to nix the swap and leave all three teams with several shell-shocked players and officials heading into Friday's scheduled start of training camps, after the commissioner insisted for months that Hornets general manager Dell Demps and the rest of the team's front office had autonomy over basketball decisions. Sources close to the situation said Demps and teams that have pursued Paul had been assured the Hornets had the clearance to trade Paul as they saw fit.
"WoW," was Paul's reaction on Twitter.
Said Odom via his Twitter feed: "When a team trades u and it doesn't go down? Now what?"
In Paul's case, sources told ESPN's Stephen A. Smith that the angry All-Star will not be reporting to Hornets camp on Friday and will instead explore his legal options with NBA Players Association executive director Billy Hunter, while maintaining the stance the deal is merely "on hold" as opposed to squashed.
The Los Angeles Times, meanwhile, reported that Odom also intends to skip the first day of Lakers camp, while the Rockets were said to be crestfallen after missing out on Gasol, who was targeted to fill the void created by Yao Ming's retirement.
[+] Enlarge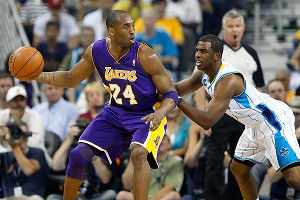 AP Photo/Patrick SemanskyKobe Bryant and Chris Paul will continue to play against each other, after a trade to send Paul to the Lakers was stopped by the NBA.
"Maybe I'll see you there tomorrow [at practice]," Odom told the Times in a telephone interview. "But I doubt it. You don't want to go to no place you're not wanted. I'll try to give them what they want as much as possible."
Numerous sources close to the process expressed skepticism that the deal has a chance of being revived, amid a growing sense the league is now determined to keep Paul in New Orleans for an unspecified length of time -- perhaps even for the entire season -- to support the notion that lockout wasn't for naught and that the new labor deal has improved small-market teams' ability to retain star players.
The problem there, of course, is that the Hornets -- thinking they had avoided the drama that engulfed the Denver Nuggets for months last season until they finally traded Carmelo Anthony -- are left with a disgruntled star who can still opt out of his contract and leave the franchise with nothing as of July 1, 2012. Stern's decision to block the deal has likewise raised the question of whether New Orleans can trade Paul anywhere until a new buyer for the team is found, since any deal that does go through could create the appearance that Stern hand-picked the destination.
At a news conference, before word of the blocked deal had spread, Stern was asked if the pending Paul deal to the Lakers was a signal that the new labor pact was already failing on the issue of improving competitive balance.
"I'm happy that people are back to talking about basketball," Stern said. "Superstars, under any collective bargaining agreement, will always have tremendous leverage in this league, because an individual player can be so impactful on a franchise. But we'll see how it plays out.
"With a new deal that's six or 10 years (long), I wouldn't look to a 24- or 48-hour period (as evidence how it will work)."
Said NBA deputy commissioner Adam Silver on how involved the league is in Hornets decision-making: "Ultimately the buck stops with the league office. But we're relying on the management -- Jac Sperling, Dell Demps, Hugh Weber -- we're relying on the management of that team to make decisions that are in the best interest of that franchise. But ultimately the decision rests with the league office. The final final say."
Odom said the league's action left him disoriented.
"I don't know what to do for the Lakers," Odom told the Los Angeles Times. "I'm even weirded out by the league doing what they did. I don't know what to do."
A "somber" Odom told the newspaper he thought it was a lie when he was first told about the trade to the Hornets.
"And then it doesn't go through," Odom said. "Oh, lord. I don't know what I'm going to do. I'll pray about it."
Odom also said he felt bad for Gasol.
"Imagine how Pau feels," Odom told the Times. "Pau came to the Lakers and played here for four years, went to the Finals and lost, won two NBA championships and then got swept [by the Mavericks this year]. Wow! Imagine how he must feel.
"Man, I'm just in total disbelief about all of this," Odom added. "They don't want my services, for whatever reason. I don't know what I'm supposed to do. I was proud to be a Laker, so I'll try to help them in the process as much as possible."
Despite the 149-day lockout, uncertainty over Paul's future and the fact that the league had to step in to buy the team last December from floundering owner George Shinn, fan support has been building in New Orleans, where the team has advertised their season-ticket drive as an effort to lure a permanent local buyer who is committed to keeping the team in Louisiana. The Hornets had increased their season ticket base from just over 6,000 last season to 10,019 as of Thursday afternoon.
Paul was drafted No. 4 overall by the Hornets out of Wake Forest in 2005. He's been an All-Star in the West for the past four seasons and also was a member of the United States' Olympic gold medal-winning team in Beijing in 2008.
Marc Stein is senior writer for ESPN.com. ESPN The Magazine's Chris Broussard, ESPN's Stephen A. Smith and the Associated Press contributed to this report.
Senior Writer, ESPN.com
• Senior NBA writer for ESPN.com
• Began covering the NBA in 1993-94
• Also covered soccer, tennis and the Olympics
EDITORS' PICKS
The Nets survived late heroics by Steph Curry to beat the Warriors on a game-winner by Jarrett Jack.
Recap

Goran Dragic is an example of the value of using the right stats.
Kevin Pelton

James Harden has been suspended one game for kicking LeBron James.
Story »

MOST SENT STORIES ON ESPN.COM