No Chris Paul trade deadline, GM says
Updated:
December 14, 2011, 4:28 PM ET
ESPN.com news services
NEW ORLEANS -- The Hornets won't be rushed into dealing Chris Paul and there's no timeline for a trade, general manager Dell Demps said.
More From ESPNLosAngeles.com

Whichever way the Chris Paul deal turns out in L.A., the Los Angeles Clippers are in the right spot, writes Ramona Shelburne. Story
•&nbspPalmer: Steep price for Clippers


• Blogs: Clippers | Lakers | ESPN LA
"It has to be the right fit," Demps said at the Hornets' media day. "When you're building an organization and putting together a program, you don't want to make rash decisions. ... We're here to put a team on the court that will be good for the city of New Orleans and our community for a long time. We don't want to make decisions now that can negatively affect that mission."
Still, it appears the Hornets would prefer a quick resolution. The team excused Chris Paul from Wednesday's media day, which is normally mandatory. Paul has not spoken with reporters since reporting for training camp last Friday.
There remain "many options" for the NBA-owned Hornets to pursue in trading their four-time All-Star point guard, Demps said, adding that the team and league will be diligent in "looking for the best one."
NBA commissioner David Stern, acting as the team's owner, has the final say on whether the Hornets can pull the trigger on a trade, Demps said he has not been discouraged or frustrated by the length of time it has taken to reach a deal that satisfies all parties.
"I'm working hand in hand with the commissioner's office," Demps said, adding that it would be normal for general managers to have to go to ownership for approval of a trade on any team.
What makes Paul's situation abnormal, Demps said, "is the level of player and who the owner is."
League officials representing the Hornets and Los Angeles Clippers continued discussions into Tuesday night on a trade that would put Paul on the same team with Blake Griffin, according to sources briefed on the talks.
But the sides have yet to find a framework that satisfies both, sources said, with the NBA not relenting on its desire to acquire the Clippers' top five available trade assets in return for Paul, who would invoke the 2012-13 option in his contract as part of any trade between the teams to ensure the Clippers would have him for at least two seasons.
"They're still asking for everyone," said one source with knowledge of the Clippers' thinking.
The Hornets play their first preseason game on Friday at Memphis. Currently, Paul is one of only six returning veterans on the roster, with shooting guard Marco Belinelli just joining the squad after signing his $3.3 million restricted free agent offer from New Orleans on Tuesday.
The Hornets have not yet decided whether they will allow Paul to play if he has not been dealt by the time games start.
Demps said the risk of injury won't be a major factor in that decision, which will be based more on progression of trade talks.
Hornets coach Monty Williams said he would like to have those matters settled quickly, but understands the need for patience even as the NBA takes a public relations beating over the lingering uncertainty surrounding Paul's status, and how that may be holding up the Hornets' ability to move forward with free-agent moves.
"People are forgetting that the league is trying to put this team in good position," Williams said.
With a deal seemingly imminent, talks hit an impasse Monday when the Clippers finally decided that the league's asking price for the All-Star guard was too steep. Sources told ESPN.com that the Clippers balked when the Hornets, at the league's insistence, asked for Clippers shooting guard Eric Gordon, youngsters Al-Farouq Aminu and Eric Bledsoe, former All-Star center Chris Kaman and Minnesota's unprotected 2012 first-round draft pick.
Sources said one of the wrinkles added to the deal in Tuesday's talks involved the inclusion of Clippers point guard Mo Williams going to the league-owned Hornets in a swap for swingman Trevor Ariza, an L.A. native. But the Clippers, feeling even stronger about their position after acquiring Chauncey Billups on Monday on a waiver claim, are insisting that the league has to scale back its demands if it wants a trade, believing that they're the only reasonable trade suitor in circulation for Paul.
The Los Angeles Lakers, however, continue to loom as a potential destination, sources said, despite their apparent exit from the Paul sweepstakes on Saturday. The Lakers walked away from the table after multiple attempts to complete a three-team trade with the Hornets and Houston Rockets for Paul, and then agreed to trade New Orleans-bound Lamar Odom to the Dallas Mavericks instead.
ESPN.com learned Tuesday that a Lakers deal for Paul has not yet been ruled out, contingent on the fact that they can recruit at least one other team to supply some of the young pieces that the league is demanding. But the Lakers do still have Gasol as a centerpiece, who could either replace Paul as the Hornets' franchise player or give New Orleans a top-20 player to be dangled in subsequent deals.
"The Lakers are definitely still in this," said one source close to the talks.
Information from ESPN.com NBA writer Marc Stein, ESPN The Magazine NBA writer Chris Broussard and The Associated Press was used in this report.
2011 NBA OFFSEASON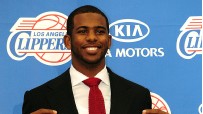 Follow the NBA on ESPN:
Twitter / Facebook / Google+
LATEST CONTENT
CP3 TRADED TO CLIPPERS
CHANDLER, DAVIS TO KNICKS
NENE, GASOL STAY PUT
CLIPS GET BILLUPS, BUTLER, JORDAN
HEAT INK BATTIER
OTHER TRANSACTIONS
ESPNSteinLine

Marc Stein


RT @swish41: Arsenal and Norwich win. City lost. Great Sunday. @ESPNSteinLine (BRING THAT TRASH TALK ONTO @ESPNSoccerToday, NOWITZKI)
about an hour ago

ESPNSteinLine

Marc Stein


Liverpool ledge @SteveNicol61 joins @ESPNSoccerToday NOW after his beloved club has wrecked my weekend. Listen live: http://t.co/fzC9XEhoki
about an hour ago

ESPNNBA

NBA on ESPN


Timberwolves fan known as "Jiggly Boy" returns with these sweet dance moves and Kevin Garnett approves. VIDEO: http://t.co/bAW27PzmS5
about an hour ago

ESPNSteinLine

Marc Stein


Starting NOW: @ESPNFC stars @AleMorenoESPN & @SteveNicol61 join us on @ESPNSoccerToday. Listen live on @KESN1033: http://t.co/fzC9XEhoki
about an hour ago

WindhorstESPN

Brian Windhorst


From Elias: LeBron James has averaged 31 pts & shot .603 in 3 games he played after sitting out the Cavs' previous game.
about 2 hours ago

ESPNNBA

NBA on ESPN


ICYMI: Monta Ellis scores an IMPRESSIVE 360 layup. VIDEO: http://t.co/nP13TOmIGt
about 3 hours ago

ESPNNBA

NBA on ESPN


ICYMI: Zach LaVine throws down a thunderous one-handed slam. VIDEO: http://t.co/CH1qR976Q0
about 4 hours ago

kpelton

Kevin Pelton


Not sure why Gonzaga was so frantic on that final defensive possession down 3. Just needed a stop, not a turnover.
about 12 hours ago

CJ12_

Cardale Jones


Had a great time at the St. V game, S/O to that great basketball team and coach #No3InTheNation #22-0 #PlayOffs!!!! Let's get it!!!
about 12 hours ago

ESPNSteinLine

Marc Stein


Pretty safe to say that Willie Cauley-Stein has already sewn up my 2015-16 Rookie of the Year vote
about 13 hours ago

ESPNNBA

NBA on ESPN


Need a favor... Derrick Favors has you covered. Favors puts up 16 Pts and 12 Reb as Jazz beat Bucks, 82-75. http://t.co/z6ZrIoafdf
about 13 hours ago

ESPNNBA

NBA on ESPN


Kawhi Leonard erupts for 22 Pts & 10 Reb as Spurs steamroll Suns, 101-74. San Antonio wins its 2nd game in a row. http://t.co/AqI4CllOB0
about 13 hours ago

ESPNNBA

NBA on ESPN


Vintage D-Will takes a trip down memory lane. Deron Williams goes off for 25 Pts as Nets surprise Mavs, 104-94. http://t.co/W7QPJnhk3v
about 13 hours ago

ESPNNBA

NBA on ESPN


Michael Beasley climbs the ladder with this powerful #SCtop10 slam on Mike Muscala. http://t.co/vfGWFaU0hK
about 13 hours ago

ESPNNBA

NBA on ESPN


Kevin Garnett wasn't the only one making his return to Twin Cities... "Jiggly Boy" returns as well. http://t.co/bAW27PzmS5
about 14 hours ago

ESPNNBA

NBA on ESPN


Marc Gasol makes his mark with 27 Pts & 11 Reb as Grizzlies claw out a victory against Timberwolves, 101-97. http://t.co/5tBXbccRRx
about 14 hours ago

ESPNNBA

NBA on ESPN


Nene splits Pistons' defenders with this one-handed riveting jam. http://t.co/gTLZ1UuTz2
about 14 hours ago

ESPNNBA

NBA on ESPN


Paul Millsap drops 22 Pts as Hawks outlast Heat, 93-91. Atlanta wins its 4th game in a row. http://t.co/0sr7FDjJ2A
about 14 hours ago

ESPNNBA

NBA on ESPN


Wizards withstand Pistons comeback, 99-95, as John Wall scores 22 Pts. Washington finishes w/ a 3-9 record in Feb. http://t.co/IJD2GKYOiH
about 15 hours ago

Simplymario22

Mario Rodriguez


Gotta agree with @AminESPN on this one @TrueHoopTV @kevinarnovitz I can't think of a team that's won it all that didn't have a star closer
about 15 hours ago
MORE FROM ESPN LOS ANGELES

Check out the new ESPN Los Angeles, the place for your local Los Angeles sports coverage.
MOST SENT STORIES ON ESPN.COM