Sources: No Dwight Howard trade
The Orlando Magic abruptly pulled Dwight Howard off the trade market Wednesday in the midst of discussions with other teams, according to sources close to the process.
Sources told ESPN.com that the Magic have decided that none of the various offers they've received, most notably from the New Jersey Nets and Los Angeles Lakers, is worth executing.
Howard
So the Magic, sources said, began informing teams Wednesday that they're no longer fielding calls for the reigning NBA Defensive Player of the Year. Earlier Wednesday, ESPN.com reported that the Nets and Magic were in advanced discussions on a multi-team deal that would have paired Portland Trail Blazers swingman Gerald Wallace with Nets center Brook Lopez as the two main players Orlando would have received in a trade package for Howard in addition to future draft considerations and the right to shed the long-term contracts of Hedo Turkoglu and Chris Duhon.
Yet sources say that Magic officials, after consultation with ownership Wednesday, decided to stick to their belief that they can still win Howard over and convince him to extend his contract despite Howard's repeated vows to opt for free agency in July. New Magic CEO Alex Martins, promoted to the position after last week's surprising resignation of Bob Vander Weide, insisted as much to reporters Monday, saying that the organization was not yet prepared to field offers for the All-Star center.
"I'm an optimist," Martins said. "I am confident that we can work with Dwight and convince him to stay here long term."
That hasn't stopped the Brooklyn-bound Nets from continuing to lob trade pitches at the Magic. Sources say they were prepared to include five future first-round picks in the deal to satisfy both the Magic and the Blazers, who wanted multiple first-rounders in exchange for surrendering Wallace and facilitating the trade. The Nets, sources said, offered to sweeten the deal for Orlando and Portland by including their own first-round picks in 2012, 2014, 2016 and 2018 as well as a 2012 first-rounder previously acquired from Houston.
Sources maintain that Howard, however, continues to press for a trade in his dealings with Magic officials. And New Jersey has been targeting Howard for months, convinced that pairing him with All-Star guard Deron Williams now will convince both Team USA stalwarts to make long-term commitments to the Nets and new owner Mikhail Prokhorov in the summer. The Nets' push only intensified Tuesday night after their top free-agent target, Denver Nuggets center Nene, reached terms with Denver on a new five-year, $67 million deal.
SportsNation: Your chance to weigh in

What will the Magic do with Dwight Howard at the end of this season? Does money matter more to Howard than championships? Vote now!
The Nets also know they could well have to fend off the Los Angeles Lakers, who have long been linked with a possible trade for Howard with an offer built around young center Andrew Bynum. The Nets, though, privately believed they were in the lead for Howard as of Wednesday morning, with the Lakers known to be dangling Pau Gasol to re-enter the Chris Paul trade sweepstakes and the Magic determined to hold out for bringing back both Gasol and Andrew Bynum if they ever consent to trade Howard to L.A.
The Nets, Lakers and Dallas Mavericks -- who are amassing the requisite salary cap space to pursue both Howard and/or Dallas-area native Deron Williams in the summer of 2012 -- are the only teams that the Magic had granted Howard's agent, Dan Fegan, permission to speak to this month about possible trade scenarios.
Howard himself is known for changing his views on his future on a near-daily basis, torn by his desire to move to a more glamorous market such as Brooklyn or Los Angeles and the prospect of staying with the team that drafted him and delivering the championship to Orlando that Shaquille O'Neal could not.
Martins met with Howard one-on-one Monday and Howard emerged sounding as if he'd softened on the possibility of leaving town -- as long as the Magic some unspecified changes.
"I love this city, there is no place I'd rather be but Orlando," Howard said. "I just want to make sure we have the right things here so we can win a championship. I'm all about change. If you're willing to change and you're willing to do what it takes to win then, you know, you got me."
On Tuesday, ESPN The Magazine's Chris Broussard reported that the Lakers, Nets, Mavericks and Magic are the only four teams Howard is willing to commit to long-term. In a SportsCenter interview Wednesday morning, Mavericks owner Mark Cuban acknowledged that Dallas has "had discussions" with Howard's representatives but stressed that they were merely exploratory.
Marc Stein is a senior NBA writer for ESPN.com. Chad Ford is an ESPN NBA Insider. Information from ESPN.com's Brian Windhorst was used in this report.
Senior NBA Writer for ESPN.com
ESPN Insider NBA Draft Analyst since 2002
Writes ESPN's NBA Draft Top 100 and Lottery Mock Draft
Senior Writer, ESPN.com
• Senior NBA writer for ESPN.com
• Began covering the NBA in 1993-94
• Also covered soccer, tennis and the Olympics
2011 NBA OFFSEASON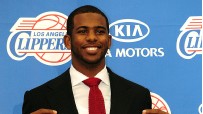 Follow the NBA on ESPN:
Twitter / Facebook / Google+
LATEST CONTENT
CP3 TRADED TO CLIPPERS
CHANDLER, DAVIS TO KNICKS
NENE, GASOL STAY PUT
CLIPS GET BILLUPS, BUTLER, JORDAN
HEAT INK BATTIER
OTHER TRANSACTIONS
mcten

Dave McMenamin


New column up in the blog: Cavs won't let LeBron take blame for the Houston loss http://t.co/zoEUjd75aI
52 minutes ago

ESPNSteinLine

Marc Stein


RT @murrunaga: Here's what I've been workin on: NBA Insiders pod w/ @ESPNSteinLine @WindhorstESPN @ramonashelburne - http://t.co/OAlkWWywTr
about an hour ago

ESPNNBA

NBA on ESPN


The Pelicans are 5-0 since Anthony Davis went down with an injury. http://t.co/l02UF3I1lw
about an hour ago

ESPNNBA

NBA on ESPN


Pelicans defeat Nuggets 99-92, remain 1/2 game behind OKC for last playoff spot.Tyreke Evans: 22 Pts, 7 Reb, 7 Ast. http://t.co/QWYqmRdveR
about an hour ago

ESPNSteinLine

Marc Stein


Don't panic, @JohnnyNBA. Full podcast from tonight's NBA Insiders show on @espnradio is in the works
about an hour ago

ESPNSteinLine

Marc Stein


Visits with @Bucks coach Jason Kidd (http://t.co/OVOCPSiEim) & Hollywood's own @kenjeong (http://t.co/vUJwj2WMtQ) from @espnradio tonight
about an hour ago

ESPNNBA

NBA on ESPN


KG returned last week for the TWolves. So did "Jiggly Boy" in this AWESOME arena video.KG couldn't help but smilehttp://t.co/IgTFSrLYMk
about 2 hours ago

ESPNNBA

NBA on ESPN


GALLO!!!!!Halfcourt shot at the buzzer after the Pelicans throw it away. It's all tied up at 65 at the end of 3.
about 2 hours ago

ESPNSteinLine

Marc Stein


The inimitable @kenjeong -- That Guy From That Thing! -- is with us right now on the NBA Insiders on @espnradio
about 2 hours ago

ESPNNBA

NBA on ESPN


Like father like son http://t.co/JIQiD2uEkp
about 2 hours ago

ESPNNBA

NBA on ESPN


Most 30-point games this season:1) James Harden: 262) LeBron James: 173) Russell Westbrook: 164) Anthony Davis: 135) Steph Curry: 12
about 2 hours ago

ESPNSteinLine

Marc Stein


Eager to lobby the committee (of one) on our weekly NBA Insiders Power Rankings segment on @espnradio? Start tweeting now #powerrankings
about 3 hours ago

ESPNNBA

NBA on ESPN


Serge Ibaka powers the Thunder past the Lakers 108-101.Ibaka: 18 Pts, 14 RebsKanter: 16 Pts, 15 Rebs http://t.co/YyFgsgCVxS
about 3 hours ago

mcten

Dave McMenamin


New story: LeBron James/James Harden react to the flagrant foul called on Harden for appearing to kick LeBron http://t.co/B1O5ABR7dp
about 3 hours ago

ESPNNBA

NBA on ESPN


Just another night for LMA: 26 pts, 15 reb.Blazers get past Kings 110-99 http://t.co/ALJ1FU1sLJ
about 3 hours ago

ESPNNBA

NBA on ESPN


FINAL: Warriors come from 26 points down to defeat the Celtics 106-101.Curry: 37 pts, 4 reb, 5 ast http://t.co/1603vvX7Yk
about 3 hours ago

kpelton

Kevin Pelton


Boston's 109 FGAs were the most in a regulation NBA game since 4/16/2008, per @bball_ref: http://t.co/OB4T6tRPnR
about 3 hours ago

ESPNNBA

NBA on ESPN


Steph Curry is lighting it up!Steph has 33 pts on 14-for-22 shooting.Warriors up by 2 with 2:20 left http://t.co/IvPUn8Lu8e
about 4 hours ago

ESPNSteinLine

Marc Stein


RT @espnradio: Next on NBA Insiders hear what LeBron had to say after missing those FTs ...w/ @WindhorstESPN @ramonashelburne @ESPNSteinLine
about 4 hours ago

kpelton

Kevin Pelton


Eventually, the Warriors' ball movement is going to expose and exploit your defensive weakness.
about 4 hours ago
MORE FROM ESPN NEW YORK

Check out ESPN New York, your destination for sports coverage in the Big Apple.
MORE FROM ESPN LOS ANGELES

Check out the new ESPN Los Angeles, the place for your local Los Angeles sports coverage.
MOST SENT STORIES ON ESPN.COM