Wizards acquire Nuggets' Nene
Updated:
March 16, 2012, 3:27 AM ET
Associated Press
DENVER -- George Karl was sad to see his big man traded away for more reasons than just his contribution on the court.
Nene also helped the Denver Nuggets' coach through his battle with cancer two years ago.
"There's a connection there that I hope I will always have with him," Karl said.
Arnovitz: What Young means for Clippers

Nick Young won't improve the Clippers' defense, but he brings plenty offensively to the table, writes Kevin Arnovitz. Blog
The Nuggets sent the talented yet often-injured Nene to Washington in a three-team deal Thursday, with the Wizards shipping JaVale McGee and Ronny Turiaf to Denver and Nick Young to the Los Angeles Clippers.
Washington also picked up forward Brian Cook in the deal along with a second-round pick in 2015 from the Clippers, the Wizards and Nuggets both announced.
The Nuggets signed Nene to a new five-year, $67 million contract in December. He was averaging 13.4 points and 7.4 rebounds in an injury-plagued season. But the recent play of rookie forward Kenneth Faried made Nene expendable.
Still, Karl will always hold a soft spot for Nene, who fought back from a serious knee injury in 2005 and overcame a bout of testicular cancer in 2007-08.
When Karl disclosed he was battling neck and throat cancer in February 2010, Nene was someone to lean on.
"His family was good to me through my cancer situation," Karl said. "There's more than just a basketball friendship there; there's a humanist, a mindfulness and soulfulness."
It's the second straight season the Nuggets have orchestrated a deal at the deadline. They sent Carmelo Anthony to the New York Knicks in a blockbuster deal in February 2011. That move fired up the Nuggets, who went 18-7 down the stretch before falling to the Oklahoma City Thunder in the first round of the playoffs.
The Nuggets, who are in the thick of the playoff chase once again this season, are without a superstar. Instead, Karl relies on his superior depth to wear teams down and McGee figures to help in that regard.
Turiaf is on the mend after breaking his left hand on Jan. 1, though Nuggets executive Masai Ujiri said Thursday night the plan is to waive Turiaf.
Denver remains hopeful of working out a long-term deal with Wilson Chandler, who played for Zhejiang Guangsha of the Chinese Basketball Association during the lockout.
"We did (this trade) with the intention of the big picture. Make the team better," Ujiri said. "We felt that the direction of the organization at this time was we wanted to go a little bit younger."
The deal ends up costing the Clippers virtually nothing. Cook hasn't cracked their rotation since signing with the club before last season.
This also will be a homecoming for Young, a Los Angeles native and a two-time all-conference standout at Southern California before becoming a consistent NBA scorer in five seasons with Washington, averaging 17.4 points per game last season and 16.6 this year. The versatile swingman seems to be an ideal fit for the Clippers, who have been eager to add perimeter scoring to their talented lineup after losing veteran guard Chauncey Billups to a season-ending Achilles tendon injury last month.
More from ESPN.com

Teams like the Blazers and Lakers were busy before Thursday's trade deadline. John Hollinger grades all of the deals. Story



• Trade Tracker | Rumors


• Fantasy: Winners, losers
Although Young is notorious for his reluctance to pass, the Clippers have plenty of playmakers with Chris Paul, Eric Bledsoe and even Blake Griffin. Young, a free agent after the season, will be asked to provide some added offense as the Clippers move toward their second playoff berth in 15 years and just their second winning season in two decades.
"Just to get a player of his caliber on the roster is very, very positive," Clippers coach Vinny Del Negro said. "I'm looking forward to working with him, and I think he'll give us some help. Obviously, he's got to learn our plays. That takes a while, and there's not much practice time, so we'll have to do that between games and just make it work as quick as possible."
This represents Wizards president Ernie Grunfeld's latest -- and perhaps last -- attempt to reconfigure the roster of a team that used to be built around All-Stars Gilbert Arenas, Antawn Jamison and Caron Butler.
The Wizards are pretty much starting over again, constructing a team around point guard John Wall, the No. 1 overall pick in the 2010 draft.
Having already fired coach Flip Saunders this season, Washington is 10-32 and four games up on last-place Charlotte in the Eastern Conference. Young was their second-leading scorer, and McGee was their leading rebounder, averaging 8.8, along with 11.9 points.
At one point, Young and McGee were considered potential building blocks for Washington. But their play often has been selfish or undisciplined.
And their behavior off the court had the Wizards wary as well.
During last offseason, a video circulated on the Internet showing Young and McGee engaging in something called the "Cinnamon Challenge," in which they swallowed spoonfuls of the spice.
As Saunders put it after the lockout ended: "The biggest thing is they're not young players anymore. So they have to show the discipline, maturity, not only on the floor, but off the floor."
And then Saunders added: "The cinnamon -- that thing doesn't cut it."
Asked about whether the maturity levels of Young and McGee contributed to the decision to part ways now, Grunfeld said in a telephone interview: "Nick and JaVale did good things for us ... but (the trade) probably will change the makeup of our locker room."
Grunfeld dismissed concerns about injury problems for Nene, who missed more than a third of Denver's games so far this season.
"We feel good about his situation," Grunfeld said. "What we really like about him is his attitude, his toughness, his ability to defend the post."
Adding Nene gives Washington more experience, too, but Grunfeld noted: "We're still keeping with the rebuild. ... We'll have good salary-cap flexibility."
Referring to Nene and Wall, Grunfeld said: "The toughest positions to fill are the front-court big man and the back-court guard, and we have those two positions. So now we can put some more players around them."

Copyright 2012 by The Associated Press
2012 NBA Trade Deadline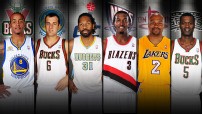 Follow the NBA on ESPN:
Twitter / Facebook / Google+
LATEST CONTENT
DEADLINE DEALS
kpelton

Kevin Pelton


Not sure why Gonzaga was so frantic on that final defensive possession down 3. Just needed a stop, not a turnover.
10 minutes ago

CJ12_

Cardale Jones


Had a great time at the St. V game, S/O to that great basketball team and coach #No3InTheNation #22-0 #PlayOffs!!!! Let's get it!!!
12 minutes ago

ESPNSteinLine

Marc Stein


Pretty safe to say that Willie Cauley-Stein has already sewn up my 2015-16 Rookie of the Year vote
38 minutes ago

ESPNNBA

NBA on ESPN


Need a favor... Derrick Favors has you covered. Favors puts up 16 Pts and 12 Reb as Jazz beat Bucks, 82-75. http://t.co/z6ZrIoafdf
48 minutes ago

ESPNNBA

NBA on ESPN


Kawhi Leonard erupts for 22 Pts & 10 Reb as Spurs steamroll Suns, 101-74. San Antonio wins its 2nd game in a row. http://t.co/AqI4CllOB0
about an hour ago

ESPNNBA

NBA on ESPN


Vintage D-Will takes a trip down memory lane. Deron Williams goes off for 25 Pts as Nets surprise Mavs, 104-94. http://t.co/W7QPJnhk3v
about an hour ago

ESPNNBA

NBA on ESPN


Michael Beasley climbs the ladder with this powerful #SCtop10 slam on Mike Muscala. http://t.co/vfGWFaU0hK
about an hour ago

ESPNNBA

NBA on ESPN


Kevin Garnett wasn't the only one making his return to Twin Cities... "Jiggly Boy" returns as well. http://t.co/bAW27PzmS5
about an hour ago

ESPNNBA

NBA on ESPN


Marc Gasol makes his mark with 27 Pts & 11 Reb as Grizzlies claw out a victory against Timberwolves, 101-97. http://t.co/5tBXbccRRx
about an hour ago

ESPNNBA

NBA on ESPN


Nene splits Pistons' defenders with this one-handed riveting jam. http://t.co/gTLZ1UuTz2
about 2 hours ago

ESPNNBA

NBA on ESPN


Paul Millsap drops 22 Pts as Hawks outlast Heat, 93-91. Atlanta wins its 4th game in a row. http://t.co/0sr7FDjJ2A
about 2 hours ago

ESPNNBA

NBA on ESPN


Wizards withstand Pistons comeback, 99-95, as John Wall scores 22 Pts. Washington finishes w/ a 3-9 record in Feb. http://t.co/IJD2GKYOiH
about 2 hours ago

Simplymario22

Mario Rodriguez


Gotta agree with @AminESPN on this one @TrueHoopTV @kevinarnovitz I can't think of a team that's won it all that didn't have a star closer
about 3 hours ago

ESPNSteinLine

Marc Stein


Then Sunday night from 7-10 ET on @ESPNRadio: Your NBA Insiders return w/special guest @kenjeong direct from Hollywood! Plus more surprises
about 3 hours ago

ESPNSteinLine

Marc Stein


Sunday 10A CT/11A ET: @ESPNFC stars @AleMorenoESPN & @SteveNicol61 join us on @ESPNSoccerToday. To listen: http://t.co/fzC9XEhoki @KESN1033
about 3 hours ago

ESPNSteinLine

Marc Stein


For you radio tuning purposes ... two important tweet bulletins follow
about 3 hours ago

mcten

Dave McMenamin


Go Cuse. Purposefully covering the Duke score with @miketirico and pallilo https://t.co/91wOkE0zWi
about 3 hours ago

kpelton

Kevin Pelton


The master at work: @AminESPN conducts a radio interview at the table. http://t.co/RMKgpNbYcF
about 3 hours ago

kpelton

Kevin Pelton


The matter at work: @AminESPN conducts a radio interview at the table. http://t.co/Hy4YN01olO
about 3 hours ago

WallaceNBA_ESPN

Michael Wallace


Oh, can't forget about Miss Delta's, Fresh Pot coffee shop in Mississippi Ave historic district and also Powell's Bookstore. Much love PDX
about 3 hours ago
MORE FROM ESPN LOS ANGELES

Check out the new ESPN Los Angeles, the place for your local Los Angeles sports coverage.
MOST SENT STORIES ON ESPN.COM