No. 30 with a bullet
Rookie Norris Cole finds his place with the Heat
Updated:
April 5, 2012, 3:11 PM ET
By
Jordan Brenner
| ESPN The Magazine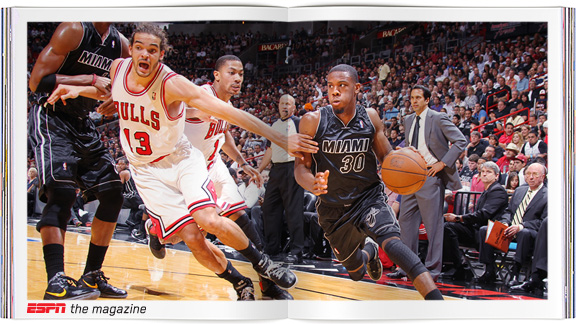 Nathaniel S. Butler/NBAE/Getty Images"I was getting drafted, but I was getting to play with my favorite player too," Cole says.

This story appears in the April 16, 2012 "One Day, One Game" issue of ESPN The Magazine.
MOMENTS BEFORE TIP-OFF against the Bulls, AmericanAirlines Arena has transformed into a sea of LeBron and D-Wade jerseys. Which makes it all the more conspicuous that a middle-aged man is sporting the No. 30 of rookie guard Norris Cole. "I was totally impressed with him the first time I saw him," says Barry Sickles of Parkland, Fla. "It's the speed and the fact that he plays like a five-year veteran. Drafting him was a genius move by Pat Riley."
Cole has a way of making his believers -- as scant as they've sometimes been -- look good. The 23-year-old came into the Chicago contest averaging 8.8 ppg and pushing Mario Chalmers for time at the point. Not bad for a guy who had no D1 scholarship offers as a high school senior in Dayton, Ohio, until Cleveland State came calling late. By his senior season, he averaged 21.7 points, 5.8 rebounds and 5.3 assists. Cole says his goals for that final season included leading the Horizon League in points and assists, winning the awards for conference player of the year and defensive player of the year and getting drafted. He succeeded on all fronts, but the bonus was landing with the Heat. "I was getting drafted, but I was getting to play with my favorite player too," Cole says.
That would be LeBron James, a fellow Ohio native who Cole never realized was keeping tabs on him at Cleveland State and in high school. When the Heat snagged Cole in a deal for the 28th pick, James invited Cole to work out with him in Akron, then Miami; and they continued to put in work at Cleveland State during the lockout.
Now they're seatmates on team flights, with LeBron offering advice as Cole eagerly studies film with his idol. But Cole became trapped in a funk in the 14 games following the All-Star break, with just 2.9 ppg and 1.5 apg. It helps, however, to have an MVP as your biggest supporter.
"Being a shortened season, not as much rest, it's tough on him and all rookies," James says. "And here we play at such a high level that it can be even more taxing. But he's handled it well."
Just ask Barry Sickles.
Follow The Mag on Twitter (@ESPNmag) and like us on Facebook.
ESPN The Magazine contributing writer
Brenner writes for ESPN The Magazine and ESPN Insider. He covers the NBA and college basketball.
ESPN The Magazine: April 16, 2012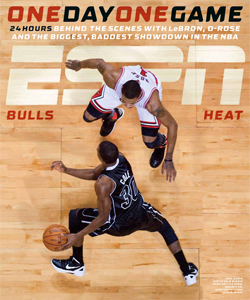 FEATURES IN "ONE DAY, ONE GAME"

COLUMNS

MORE FROM THE ISSUE

MOST SENT STORIES ON ESPN.COM