Rockets introduce Jeremy Lin
Updated:
July 20, 2012, 8:19 PM ET
ESPN.com news services
HOUSTON -- Jeremy Lin figured he'd be having this kind of news conference in New York.
Instead, he was talking about his new deal with the Houston Rockets on Thursday on the same practice court where he worked in virtual anonymity seven months ago before he was waived. Lin became a Rocket again when the Knicks decided not to match Houston's three-year, $25 million offer.
Lin Gives Rockets Boost
If Jeremy Lin, the Rockets get a player that posted higher averages than their point guards last season -- Kyle Lowry and Goran Dragic -- in both points and assists per 36 minutes last season.
Per 36 Minutes Last Season
Pts
Ast
Jeremy Lin
19.6
8.3
Kyle Lowry *
16.0
7.4
Goran Dragic *
15.9
7.2
* No Longer With Rockets
powered by

"It's been an unbelievable ride," Lin said. "Just a lot of things I didn't expect to happen, in terms of just the way last season went. I still have to kind of remind myself that this is all actually happening, sometimes. But it's a huge blessing. I can't believe how it all shaped up and for me to be here right now. I'm definitely excited and thankful."
Lin said he expected to be re-signed by the Knicks after he electrified the Big Apple last season before he was sidelined by a knee injury. Shortly after the Knicks officially declined to match, Lin was quoted on SI.com as saying, "Honestly, I preferred New York."
Lin said the question he answered was set in the context of before the start of the free agency period.
"The question was, 'Going into free agency, which team did you prefer?' " Lin said. "Before July 1, I didn't even know what teams were interested in me. But all I was hearing was, 'You're going back to New York.' At that time, before free agency started, I preferred New York. By the time it came to the offer sheet, I was just excited about both opportunities.
"Houston and New York," he said, "I was definitely excited about the possibility to go to both."
But probably not as excited as the Rockets were to get him.
Houston has missed the playoffs the past three seasons, and when Linsanity skyrocketed in New York, general manager Daryl Morey was kicking himself for waiving him on Christmas Eve. When Lin hit a winning 3-pointer in Toronto on Valentine's Day, owner Leslie Alexander called Morey to tersely ask him again why Lin was no longer a Rocket.
"He was killing me," Morey said with a smile. "I think one of the reasons Mr. Alexander is a great owner is because we're constantly evaluating our past decisions and deciding what did we know at the time? What could we have done better? How can we improve?
"People are making a lot of us admitting to our mistake. But the only way to get better is to quickly say, 'That was a mistake. How can we do better next time?' "
At the time Lin was released, the Rockets had Goran Dragic and Kyle Lowry on the roster -- two point guards with NBA experience. And who knew what Linsanity would become?
"We had very fair reasons to waive him," Morey said. "But the reality is, we shouldn't have."
The Knicks didn't initially see his potential, either, dropping him briefly to the developmental league in January. He was recalled in early February and with team floundering at 8-15, coach Mike D'Antoni turned to Lin.
The 23-year-old undrafted point guard out of Harvard scored 25 points in a 99-92 win over New Jersey and a global phenomenon was born. He proved to be more than a one-game wonder, becoming the first player in league history to average 20 points and seven assists in his first five games.
SportsNation: Jeremy Lin And The Playoffs

Do you believe Jeremy Lin when he says he wasn't healthy enough to play in last season's playoffs? Comment and vote!
Lin jerseys became the league's top sellers, he made the cover of Sports Illustrated in consecutive weeks and had drinks named for him in New York. He initially was overwhelmed by the media glare. Now, he takes it in stride.
He went to dinner with new teammate Chandler Parsons in Houston on Wednesday night, and Parsons estimated they were interrupted 15-20 times by fans asking for autographs and photos.
"This past year, it took me by surprise and it was just this huge storm," Lin said. "It was kind of baptism by fire. You get thrown into it and you've just got to make adjustments and learn. That's a lot of what I had to do."
While Alexander said the decision to pursue Lin was "all basketball," he acknowledged he could potentially impact the Rockets' brand in the way that Yao Ming did, expanding its reach in Asia. But that, Alexander said, depends on how good Lin becomes and if the team improves along with him.
Lin is American-born, but of Chinese and Taiwanese descent, and the number of Chinese media at the press conference was about equal to the American contingent.
"If you don't win, what difference does it make?" Alexander said. "If you get him, and he's not a very good player, you look like a fool. How does that help you in any way?"
SIX DEGREES OF SEPARATION: JEREMY LIN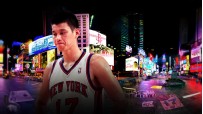 Why did Jeremy Lin and the Knicks split? Here are six sides to the story.

• Chapter 1: The Family »
• Chapter 2: The Knicks »
• Chapter 3: The Rockets »
• Chapter 4: The Poison Pill »
• Chapter 5: The Financials »
• Chapter 6: The Lin Camp »

There's an added caveat for Lin and the Rockets this season -- the All-Star Game will be played in Houston on Feb. 17. Yao was named to eight All-Star teams, largely on the strength of Chinese fans who voted online.
"It's great for the city, it's great for the fans, it's great for everybody," Alexander said of getting Lin. "The sponsors, everybody associated with the team."
On the court, though, all Houston really needed was a point guard. The Rockets lost the unrestricted free agent Dragic to Phoenix, then dealt Lowry to Toronto for a first-round pick, made more valuable because it has lottery protection.
Lin averaged 14.6 points and 6.2 assists in 35 games (25 starts) for the Knicks last season. His aim is to improve his statistics every year -- and how good they get, not even he would venture to guess.
"I don't know what my ceiling is, I don't know what my potential is," he said. "We don't know what the ending is going to be. But I'm excited to find out."
With Lin in place, the roster is still taking shape. Morey says the team plans to sign Bulls center Omer Asik to a three-year, $25 million offer sheet on Friday.
Lin thanked Knicks fans in a Facebook post Tuesday, calling last season "easily the best year" of his life.
Some Knicks fans, according to the Houston Chronicle, responded with racially insensitive posts.
On Thursday, Forbes posted an article on Lin with the headline: "Jeremy Lin May Be The Dumbest Harvard Grad Ever."
In the article, Forbes questions why Lin would decide to leave the country's biggest media market.
Information from The Associated Press was used in this report.
Jeremy Lin Leaves New York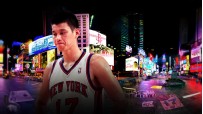 Follow the NBA on ESPN:
Twitter / Facebook / Google+
mcten

Dave McMenamin


Great read on a special player RT @DonnaDitota1 What you don't know about Rak Christmas, aka the 'Mayor of Syracuse' http://t.co/IXejkewMrF
15 minutes ago

coachthorpe

david b. thorpe


@BillSimmons now known as the "Wiggins draft". Though Parker, Nurkic, maybe Exum have star potential. And a few others perhaps.
18 minutes ago

DavidZavac

David Zavac


LeBron without Kyrie on the floor: Uses 41.5% of team's possessions, 53.3 true shootingLeBron with Kyrie on the floor: 30.6 USG, 59.9 TS
25 minutes ago

kpelton

Kevin Pelton


@billbarnwell @YourManDevine Returned with @jonahkeri to the scene of PACHULIA on Saturday night. Needed you guys there!
41 minutes ago

BenAlamar

Ben Alamar


Did a little research on the historic season the @russwest44 is having with @tomhaberstroh http://t.co/CKHHW1IPUV
about an hour ago

jadande

J.A. Adande


I like the stadium financing idea in this: tax the players & coaches. Better than car rental tax. I hate paying those http://t.co/SIzSYn6swa
about an hour ago

WindhorstESPN

Brian Windhorst


Podcast from last night NBA Insider's show with guests Jason Kidd & Ken Jeong + discussion of MVP race: http://t.co/DWfSWk0Ltx
about an hour ago

NBARumorCentral

ESPN


P.J. Hairston back in the doghouse #Hornets http://t.co/2u5mCHrhMR
about an hour ago

NBARumorCentral

ESPN


Could Greg Monroe re-sign with #Pistons? http://t.co/n1klgEkjsE
about an hour ago

NBARumorCentral

ESPN


JaVale McGee's FA market http://t.co/oJCzDnULQ5
about an hour ago

tomhaberstroh

Tom Haberstroh


On that note, LeBron '09 & Westbrook '15 are only players since '74 to put up 40-10-10 per 100 poss. (via @bball_ref) http://t.co/PfQ2kVNkq6
about 2 hours ago

tomhaberstroh

Tom Haberstroh


When Oscar won MVP in 1964, average team had 65.9 rebounds per game. Today it's 43.2. Triple-doubles are way harder now...
about 2 hours ago

tomhaberstroh

Tom Haberstroh


Something to always keep in mind re: Oscar Robertson's stats: There were ~25% more possessions in Big O's days. Biig effect on per-gm stats.
about 2 hours ago

ESPNSteinLine

Marc Stein


Those Westbrook stats are another way of saying you should be zero percent surprised when he's named West Conf. Player of the Month for FEB
about 3 hours ago

ESPNSteinLine

Marc Stein


Russ Westbrook averaged 31.2 PPG, 10.3 APG and 9.1 RPG in FEB. Oscar Robertson is only other player EVER to average 30/10/9 for whole month
about 3 hours ago

ESPNNBA

NBA on ESPN


"If you want to win, do the ordinary things better than anyone else does them day in and day out." -- Chuck Noll
about 3 hours ago

ESPNSteinLine

Marc Stein


Quite a coup for JaVale if he gets all money owed him AND ability to be playoff-eligible with new team because he was waived before midnight
about 10 hours ago

ESPNSteinLine

Marc Stein


ESPN reported Sunday that sides were in serious buyout talks, but @sam_amick reports McGee ultimately did not have to surrender any salary
about 10 hours ago

ESPNSteinLine

Marc Stein


After game tonight in Indy, @Sixers indeed consented to waive newly acquired JaVale McGee, who'll become a free agent once he clears waivers
about 10 hours ago

mcten

Dave McMenamin


New column up in the blog: Cavs won't let LeBron take blame for the Houston loss http://t.co/zoEUjd75aI
about 12 hours ago
MORE FROM ESPN NEW YORK

Check out ESPN New York, your destination for sports coverage in the Big Apple.
MOST SENT STORIES ON ESPN.COM
ESPN.COM PARTNER: NBA.COM